Total housing starts dropped 30.2% in April, with single-family starts down 25.4%. Those plunges were only slightly offset by 4.9% and 1.8% upward revisions to the March estimates for total and single-family starts, respectively. That revisions of this magnitude are mere drops in the bucket is another testament to the devastating declines seen in various economic indicators over the last two months.
All told, total starts are down 43.1% since February, with single-family starts down 37.1%. In contrast to other indicators, which are at 80-year lows, housing starts are still well above 2009 lows. Then again, the 2007-09 recession had its "epicenter" in the housing market.
It is also true that the virus-induced economic shutdown is hitting housing with more of a lag than other sectors are seeing. Construction spending was one of the few sectors to contribute positively to 1Q20 GDP growth, thanks largely to increases in homebuilding. Similarly, downstream homebuilding indicators such as homes under construction and home completions have as yet shown only mild declines.
Single-family home completions is plotted alongside permits and starts in the accompanying chart, and you can see there the much milder—to date—declines for home completions. Single-family homes under construction (not shown) are holding at levels "just" 4.3% below the February highs and are about equal to the levels of mid-2019. In the South and West, comprising about 75% of US homebuilding, homes under construction in April were down only slightly from their early-2020 highs.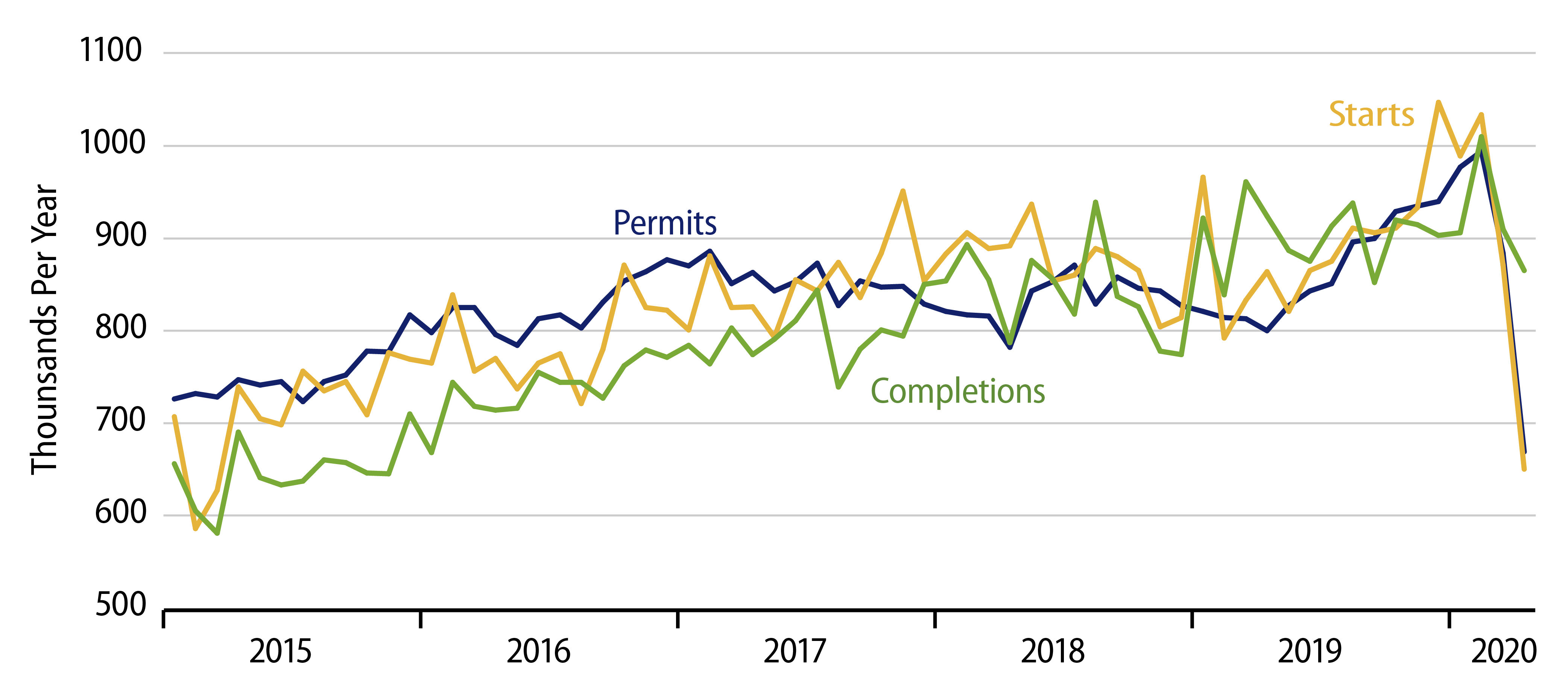 So, it appears that in response to the economic shutdown, homebuilders have slowed down activity, but not suspended it. This will prevent housing from being as big a drag on 1H20 GDP growth as would otherwise have been the case. However, it will delay the post-shutdown rebound in housing activity, as builders will begin the coming recovery with an inventory hangover (assuming that new-home sales continue to decline faster than home construction).