Municipals Posted Negative Returns
Municipals posted negative returns last week and underperformed Treasuries in most maturities. Munis followed Treasury rates higher and underperformed in long maturities amid hawkish Federal Reserve comments. Meanwhile, high-grade municipal yields moved 6 to 12 bps higher across the curve and market technicals remained weak as fund outflows continued. The Bloomberg Municipal Index returned -0.47% while the HY Muni Index returned -0.55%. This week, as schools begin to open, we highlight growing opportunities in the charter school sector.
Technicals Remained Weak as Fund Outflows Continued
Fund Flows: During the week ending August 24, weekly reporting municipal mutual funds recorded $1.2 billion of net outflows, according to Lipper. Long-term funds recorded $1.0 billion of outflows, high-yield funds recorded $167 million of outflows and intermediate funds recorded $39 million of inflows. The week's outflows extend year-to-date (YTD) outflows to $81.2 billion.
Supply: The muni market recorded $7 billion of new-issue volume, down 39% from the prior week. Total YTD issuance of $263 billion is 9% lower than last year's levels, with tax-exempt issuance trending 1% higher year-over-year (YoY) and taxable issuance trending 42% lower YoY. This week's new-issue calendar is expected to remain steady at $7 billion ahead of the holiday weekend. Large deals include $1.8 billion Chicago O'Hare Airport and $600 million Chandler Industrial Development Authority (Intel, Inc.) transactions.
This Week in Munis: Back to School with Charter Opportunities
Charter schools are embedded in the US public educational system with more than 7,500 charter schools serving 3.4 million students. Charter schools offer education alternatives for families that seek performance or philosophical differences from the traditional K-12 institution. Unlike traditional public school districts, charter schools have no taxing power and are typically funded by states, based on a formula that tracks enrollment. Overall charter school enrollment comprises just 7% of the 47 million students in public schools, but has more than tripled since 2005, a period during which traditional K-12 enrollment had remained unchanged, according to the National Alliance for Charter Schools.
Rising enrollment trends have expanded the need for charter facilities, which has contributed to a significant increase in charter school issuance over the past decade. Charter school issuance has increased from $365 million in 2005 (0.1% of total issuance) to nearly $6 billion in 2021 (1.2% of total muni issuance).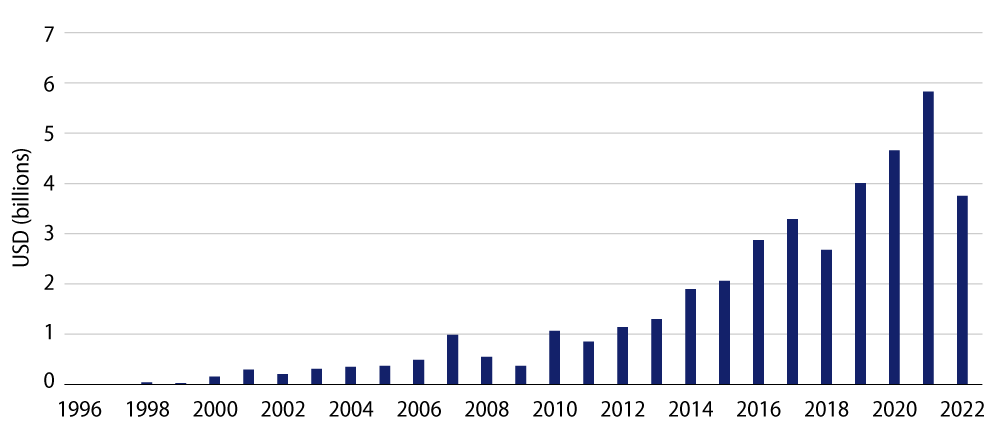 Charter schools are subject to renewal by an authorizing entity, typically a local district, higher education institution or state authority. Considering this renewal risk along with the lack of taxing power, municipal investors and rating agencies have tread carefully on charter schools, focusing on the ability to achieve enrollment growth, maintain competitive academic performance and sustain finances. The sector generally maintains lower public credit ratings and trades at higher spreads versus traditional K-12 public issuance.
Despite these concerns, overall credit within the sector has remained resilient. Of the over 1,200 obligors in the sector, just 19 charter schools defaulted since 2005. Even through the pandemic conditions, charter schools quickly adapted to remote learning and in many cases experienced an improved fiscal position due to the Elementary and Secondary School Emergency Relief funds and Paycheck Protection Program loan forgiveness. All told, the sector has recorded more public agency upgrades versus downgrades this year.
Western Asset remains constructive on the growing charter school sector which we believe will continue to offer relative value opportunities. However, diligent credit analysis is required at the individual obligor level. We favor charter schools that maintain high enrollment levels, particularly those with strong waitlists and retention levels. We also look to strong academic results that potentially can attract philanthropy while providing a framework for growing demand, ensuring that the charter schools remain important to their communities. Lastly, a management assessment is crucial given that we have observed several cases of fraud that have threatened the sustainability of select issuers in recent years.