After a favorable CPI report and an even more favorable report for the PCE price index in July, financial markets were hoping for a similarly encouraging August CPI report. That was not to be. While the headline CPI rose a scant 0.1%, the so-called core CPI index, consumer prices excluding volatile food and energy components, rose 0.6%, nearly as fast as the increases earlier this year.
The commentary we've seen in the financial press this morning assert increases in most sectors other than petroleum products. That is effectively true, though not completely accurate. The August report did show price declines for a number of products and services, such as fresh fruits and vegetables, major appliances, textbooks, airfares, sporting events and others. However, these declines were eclipsed in magnitude by large increases in prices of processed foods and meats, furniture, cosmetics, housing costs and medical care services.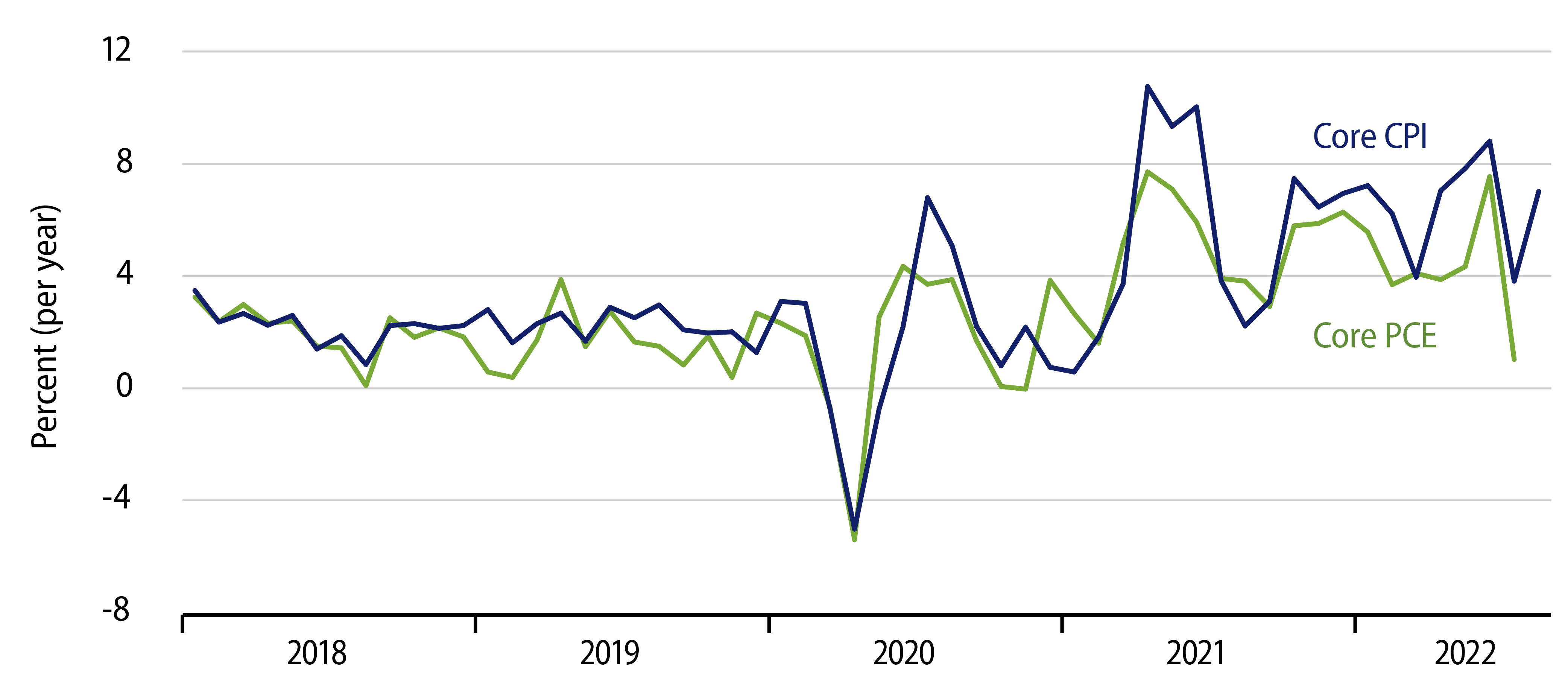 Raw materials prices are declining on a number of fronts, most notably industrial metals, and the softness there has given rise to expectations that finished goods prices would reflect this moderation. That has not yet been the case.
Since the favorable July inflation reports, Fed officials have worked to prepare markets for further hikes in borrowing rates. They either had an early peek at these August data or else were following our own oft-provided advice that "one month does not make a trend." In either case, there is nothing in today's report to indicate that the Fed's battle against inflation has been won—or even is in the process of being won.
True, the Fed's preferred measure of inflation, the core PCE, showed a more pronounced slowing in July, as shown in the chart, and there is reason to think that its August change, when announced, will be more moderate than that for the CPI. However, it is most likely that the core PCE will also show a noticeable upturn in August from its July pace.
Also, the Fed's attention to the core PCE rather than the core CPI is a matter of preference, not of exclusive focus. Fed officials can't afford to ignore the CPI readings even if they wanted to. The August CPI report was not good news, and both the Fed and financial markets will react accordingly.