This month's regional election in Madrid attracted a reasonable amount of attention, which provides an opportunity for us to share our thoughts, to explain both why we think the national impact is limited and the reasons why our investment view remains intact.
Background
At the 2019 regional election in Madrid, the Spanish Socialist Workers' Party (PSOE) won the largest share of the vote, but a left-of-centre grouping with Más Madrid (More Madrid) and Podemos fell short of a majority. This led to Isabel Díaz Ayuso of the People's Party (PP) forming a right-of-centre coalition with the Ciudadanos (Citizens) party, with support from Vox.
A similar PP-Citizens coalition existed in the region of Murcia, but there in March of this year, the Citizens party, conspiring with the PSOE party, called for a vote of no confidence against PP in an (ultimately unsuccessful) attempt to remove them from power.
Against the threat of a similar maneuver, and with polls showing a shift in her favour, Ayuso called for a snap election in Madrid, which was held on May 4.
The Results
Ayuso's party more than doubled its tally to 65 seats. While this remains four short of an absolute majority, the Vox party pledged to facilitate Ayuso's return to power.
In contrast, support for both PSOE and Citizens collapsed, with the latter even removed from the regional assembly.
Podemos party founder and leader Pablo Iglesias, who had stepped down as Deputy Prime Minister in order to run against Ayuso, modestly increased Podemos' share of the votes, but the result saw him announce his withdrawal from politics after a polarizing campaign.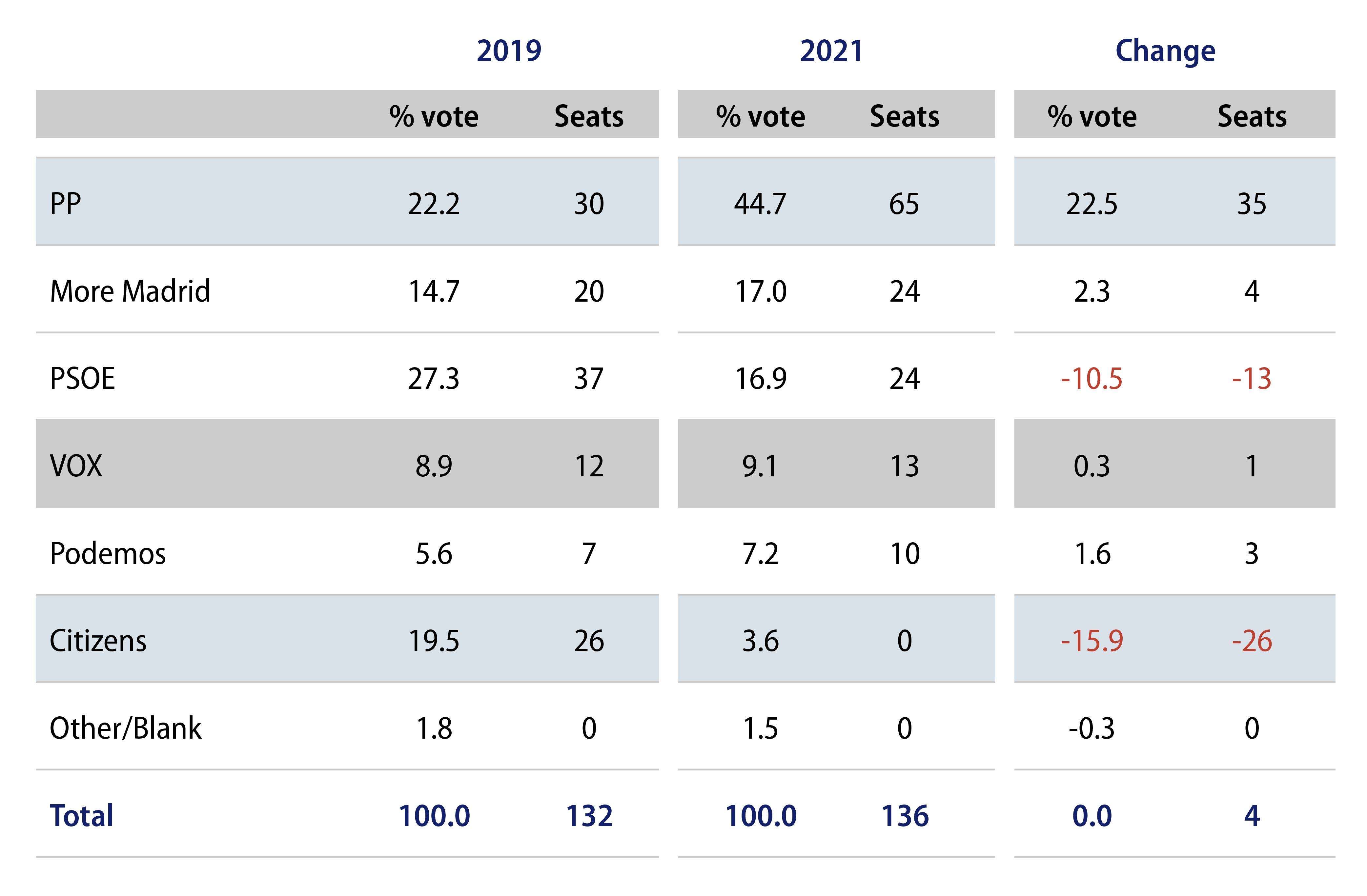 Implications
Local issues and personalities can skew the results of regional elections in ways that should be considered before extrapolating any conclusions. In the case of Madrid, PP has held power for 26 years, but this shouldn't take too much away from the strength of Ayuso's victory.
As the President of Madrid during the pandemic, Ayuso adopted an anti-lockdown stance, calling for looser restrictions. Her campaign centred on this, resonating strongly with fatigued voters in the region, despite a higher COVID-19 infection rate than the national average.
Ayuso's success may lead to a reassessment of PP's strategy on the national level. However, this may be difficult to sustain as Spain continues to see vaccination progress, and as focus should shift to the removal of restrictions and economic recovery, with the deployment of NextGenerationEU (NGEU) funds providing a tailwind.
We have written previous blogs—both when Spain's new coalition took office in early 2020 and later last year reassessing our investment view—about how we believed the current Spanish government should be long-lasting. This remains true for the same key reason: a vote of no confidence in the Prime Minister requires support for an alternative candidate by an absolute majority. Add to that the current political fragmentation, and we think an early national election is highly unlikely. The next national election is not due until 2023.
Our Investment View
Our global portfolios maintain an overweight exposure to Spanish government bonds and we remain constructive given the low-yield backdrop, accommodative monetary policy and extended forward guidance from the European Central Bank.
Earlier this week, the Spanish Treasury indicated that this year's funding estimate was conservative and would be revised lower by the summer. Reduced borrowing, which has been front-loaded given the prospect for rising interest rates as the economic recovery takes hold, would add additional support to the bonds.
Finally, growth expectations are likely to move higher as inoculation progress boosts the prospects for the important tourism industry this summer and Spain stands to be one of the largest beneficiaries of the NGEU, as disbursements are set to coincide with looser restrictions in the second half of the year.