Unconstrained Investing -

Unconstrained Defined
In today's environment of slow economic growth and low inflation, investors are struggling to make ends meet—to generate returns meeting liabilities and other objectives. Slow growth leads to low expected equity returns and low inflation expectations translate into low bond yields. Pension plans plagued by perennial underfunded status are continuing to lower their expected rates of return in response. This is putting particular pressure on the fixed-income allocation to generate higher returns beyond its traditional roles of income, diversification and risk reduction.
The problem with traditional strategies closely aligned with broad market indices is that they inherit a set of characteristics that are not always aligned with client needs. They have a heavy skew toward duration. They only include a small portion of investable securities. They give up potential for diversification as well as return potential.
We believe unconstrained fixed-income strategies—strategies not tied to a benchmark—are valuable complements to traditional strategies for investors to reach their objectives. In its most basic form, unconstrained investing allows an investor to allocate capital based on an independent assessment of value and risk rather than the issuance patterns of the major constituents of the indices. Unconstrained strategies allow us to provide exposures more aligned with clients' needs, to uncover more value and to provide more diversification.
In this spotlight we outline how Western Asset thinks about unconstrained fixed income and the range of unconstrained solutions we provide to meet client objectives and needs.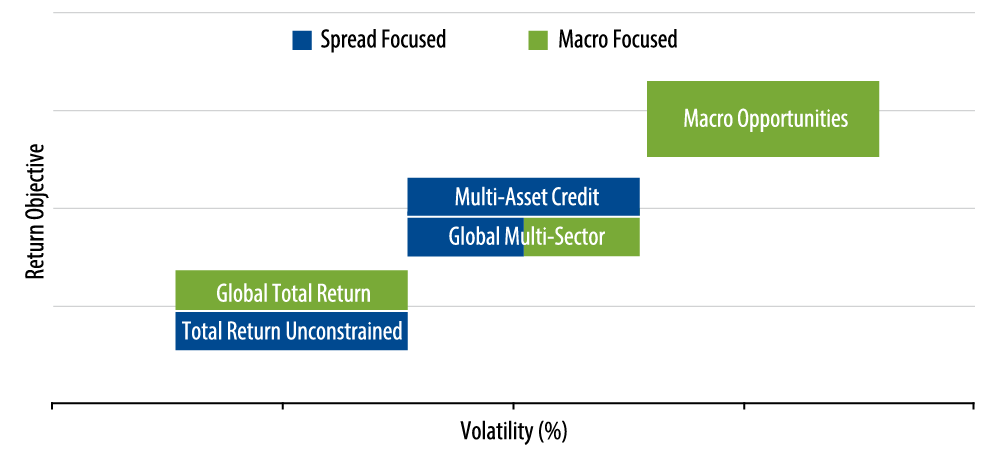 Western Asset breaks down its unconstrained strategies into three groups and highlights strategies within each one.
Unconstrained with Bond-Like Risk and Return

Total Return Unconstrained (TRU)

Western Asset's Total Return Unconstrained (TRU) strategy seeks to outperform the long-term expectations for the Bloomberg Barclays Aggregate Index over a market cycle. The investment approach is active with very broad latitude on duration (-3 to +8 years) and on asset allocation across all of the eligible sectors in a core plus mandate without having to adhere to the benchmark construction. The portfolio must have at least 50% of its holdings in investment-grade securities. This strategy can be appropriate in all market environments, but may be particularly attractive in the current environment. With rates at or near all-time lows, the duration flexibility of the strategy can provide a significant advantage.

Global Total Return

Global Total Return is a fixed-income approach, not tied to any traditional bond index benchmark, that seeks to maximize total return through active macro strategies and tactical asset allocation across the global fixed-income investment-grade opportunity set. Strategies employed include duration and yield curve positioning, currency allocation/hedging, relative-value trading as well as sector rotation and issuer selection. Global Total Return can act as a complement to traditional bond allocations, as the strategy seeks to maintain many of the benefits offered by a traditional Global Core Bond strategy—including liquidity and risk diversification—without the strategic country and duration exposure of global fixed-income indices.

Multi-Asset Credit

Multi-Asset Credit

Western Asset's Multi-Asset Credit (MAC) Strategy is a diversified portfolio of global high income securities that includes, but is not limited to: investment-grade and high-yield corporate bonds, emerging market debt, government debt, bank loans and structured securities. It is a long-only global fixed-income strategy that aims to generate high income while offering protection in a credit sell-off environment.

As credit sectors don't necessarily move in tandem, the idea that you can tactically rotate from one to the other to find value and drive alpha is important to the potential success of this strategy.

Global Multi-Sector

Western Asset's Global Multi-Sector Strategy is a long-only global fixed-income strategy featuring strategic allocations to global government bonds, investment-grade corporate bonds, mortgage-backed and asset-backed securities as well as high-yield and emerging market (EM) debt. It aims to maximize total return from income and capital appreciation within a volatility target of 5%-7%. The investment approach is active with a broad latitude on duration (0 to +8 years). Western Asset believes that a diversified GMS strategy is well suited to perform across shifts in economic conditions, interest rate cycles and bond market environments. This is primarily achieved through value-driven rotation across fixed-income sectors with differing risk profiles.

Opportunistic (Higher Risk/Higher Return)

Macro Opportunities

This unconstrained approach seeks to generate higher risk (8% to 10%) and higher return. This approach is purely opportunistic and is more alpha-oriented than the strategies described above. The approach allows for active trading of key fixed-income factor exposures. These include rates, curve, volatility and currency exposures. These positions are taken primarily through derivative exposures and can vary significantly in both size and direction over short periods of time. The positions can also persist for longer periods of time if deemed appropriate by the managers. Positions can be long, short or market neutral depending on the manager's view.
Strategy Comparison
Strategy Name
Longevity
Standard
Deviation (SI)*
Annualized
Return (SI)*
Sharpe Ratio
Global Multi-Sector
(Incepted on 01 Nov 96)
25+ Years
6.77%
6.76%
0.71
Total Return Unconstrained
(Incepted on 01 Jul 04)
17+ Years
5.32%
4.40%
0.61
Global Total Return
(Incepted on 01 Jan 06)
16+ Years
4.37%
4.35%
0.75
Multi-Asset Credit
(Incepted on 01 Oct 10)
11+ Years
5.93%
5.04%
0.77
Macro Opportunities
(Incepted on 01 Apr 12)
9+ Years
8.89%
6.03%
0.64
*Since inception ending 31 Mar 2022. Performance is preliminary and subject to change. Gross of fees.
Performance Disclosure
Total Return Unconstrained (TRU) Related Materials
Global Total Return Related Materials
Multi-Asset Credit Related Materials
Global Multi-Sector Related Materials
Macro Opportunities Related Materials
4Q Market Commentary
by Ken Leech, CIO