Private-sector payrolls rose a very strong 780,000 in March, on top of a +121,000 revision to the February estimate. In addition, government jobs, which had mostly languished in recent months, rose by 136,000 jobs, with 133,000 of those gains coming in state and local public education. Private-sector education accounted for 64,000 of the private-sector payroll gain. Given the magnitude of the headline job gains, there had to be job increases other than in education, and, indeed, virtually every industry was adding jobs in March.
There were especially good gains in manufacturing and construction. These two sectors had seen robust output gains over the previous seven months, so much so that we thought the recovery in these sectors was complete. Now, while output had recovered completely for these sectors, payrolls were still depressed. So, maybe the strong March job gains here is merely labor input catching up with output, or maybe today's job gains indicate that the manufacturing and construction output rebounds will stretch further. We'll get some indication of this with the factory and housing data to be released later this month.
In sectors still hard-hit by Covid shutdowns, the news was also good. While there was no real movement in health-care sector jobs, gains were notably good for restaurants, hotels, recreation and even passenger travel. All of these sectors (other than health care) still show sharp net losses from pre-Covid payroll levels. However, most of them now show at least some recovery trend in payrolls, whereas a month ago, they looked generally flat. Other service sectors also show more spring in their step now than was the case a month ago.
The chart doesn't show all the varied experience across the payroll universe, but it does give you an idea of what is going on. You can see how for manufacturing and construction (yellow line) and for hard-hit services (green line), the February and March gains fully offset softness in the two months prior. And for other industries, the March gains restore a decent uptrend.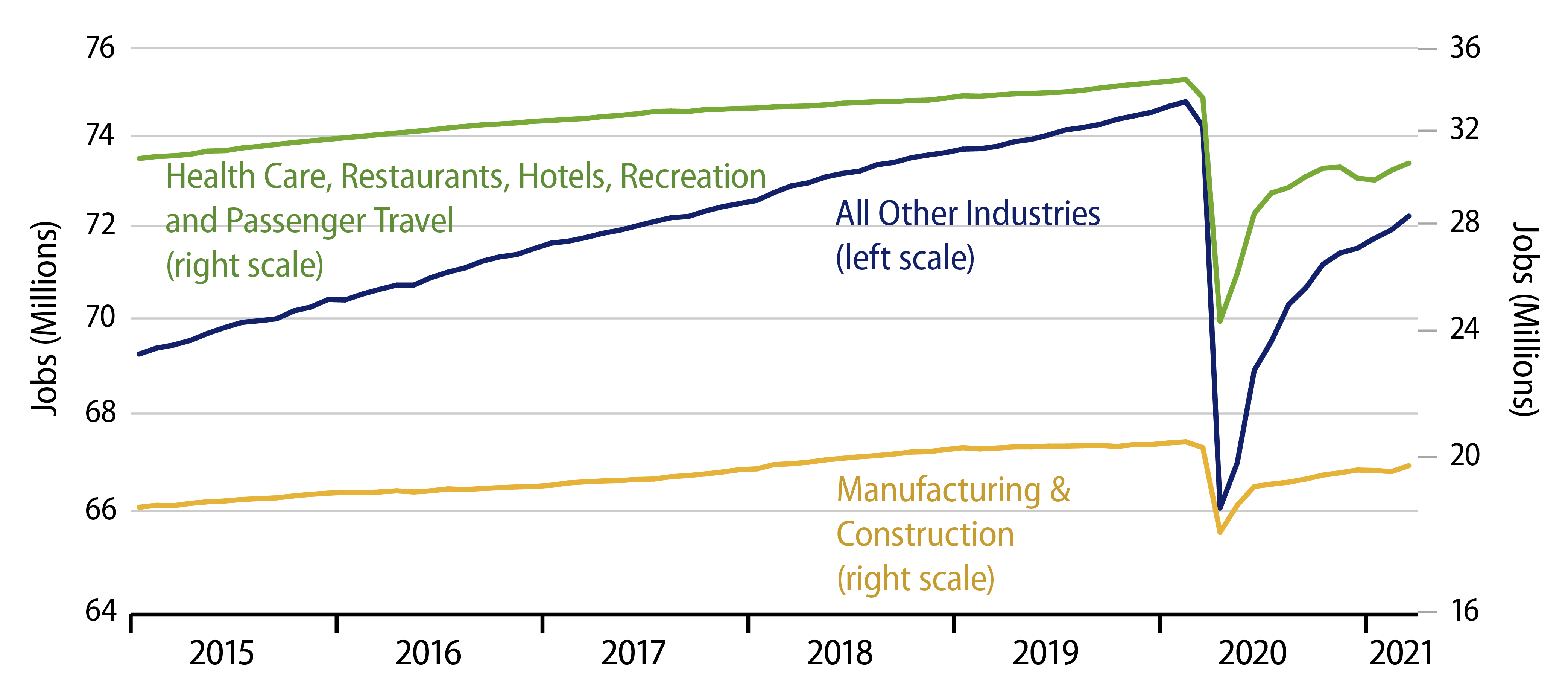 A month ago, on the heels of a mixed February report, we asserted that it would take a broad reopening of various industries to restore vigor to the job trends. That statement was at best half right with respect to today's news. Reopening of schools and restaurants clearly lent some strength to the aggregate data, and some limited reopening might be behind the better gains in other service industries. However, even there, the gains were larger than we would have thought would be the case, and the gains in manufacturing and construction do not correspond to any reopenings in these sectors.