I am having trouble logging in, or I can't view the site properly.
In order to log in and/or view our site properly, we recommend browsers similar those listed below. If you have one of the recommended browsers but still have trouble logging in, make sure you type your User ID and Password correctly. Your User ID isn't case sensitive, but your Password is case sensitive. If you are still having trouble logging in after typing your User ID and Password correctly, please contact your Client Service Executive.
I am having trouble downloading/viewing a PDF file or other document.
Links with

next to them require
Adobe Reader
. Make sure you have this free software installed in order to view our PDF files. Our site also contains Excel, PowerPoint and Word documents. In order to view/download these files you need Microsoft Office®.
When clicking on a link to download/view a file in IE9 (or greater), and then selecting one of the options (shown below) do you see only a blank page?

If so, then you will need to change your browser settings to ensure you can view our secure files. Here's how:
Go to Tools > Internet Options
Click on the Advanced tab (rightmost tab as shown in the image below)
Scroll down to Security
Uncheck the box next to "Do not save encrypted pages to disk."
Click Apply, then click OK
You should now be able to view and download secure files from our website.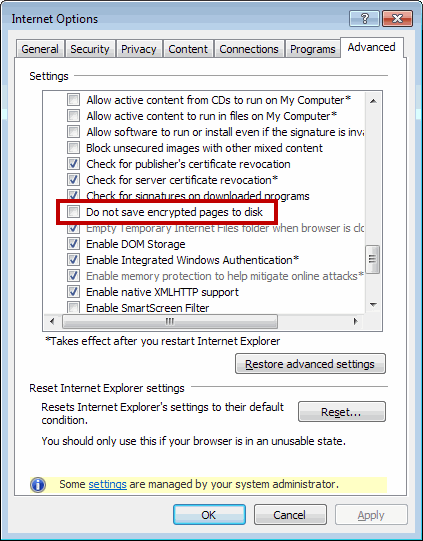 The fonts on the website don't look clear on my Windows computer.
To improve readability, we suggest you enable ClearType in your system settings. To enable ClearType in Windows XP:
Go to START > Settings > Control Panel > Display
Click the Appearance tab
Click the Effects button
Check the box next to Use the following method to smooth edges of screen fonts
Click OK
Click OK once again
Close all web browser windows
Restart your browser
This will enable your system to display web fonts optimally:
I logged in a little while ago, and even though I didn't click the "LOG OUT" button, I've been logged out. What happened?
For your protection, when you haven't performed an action on our site for a certain amount of time, we automatically log you off to help prevent unauthorized usage of your account.
A cookie is a small amount of data, which often includes an anonymous unique identifier that is sent to your browser from a website's computer, and then stored on your computer's hard drive.
Western Asset creates cookies to allow users seamless navigation through secure areas of our website. In order to log in, and navigate through secure areas of our website, you must first allow us to use cookies (we only use first-party cookies).
For more information regarding cookies, browser settings and privacy, please view the following
page
.
Do I need a high-security web browser to view your website?
Yes, our website requires a high level of security and therefore must be viewed using a high-security browser. If you encounter an error which reads "The page must be viewed with a high-security Web browser" then you will need to update your browser. To verify your browser's encryption level,
go to Help > About
(in the image below, the browser has 256-bit encryption)
To get a browser with high security, we recommend browsers/versions such as these: