Insurance Asset Management -

Customized Solutions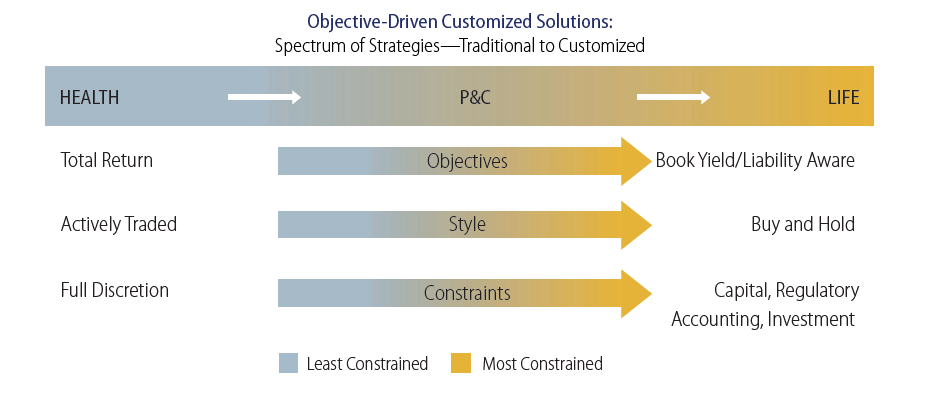 Investment strategies are customized based on clients' unique objectives and constraints.
Robust optimization tools target client-specific metrics (e.g., volatility, capital efficiency, yield, liability hedging and gain/loss budgets).
Sector teams actively contribute to clients' individual investment outlooks and provide sub-sector/issue selection expertise to the Insurance Team.
Western Asset has regulatory expertise in several regulatory regimes, including:
Solvency II
Life and General Insurance Capital (LAGIC)
US National Association of Insurance Commissioners (NAIC) Risk-Based Capital
Basel III
S&P Risk-Based Insurance Capital Model
Singapore Risk-Based Capital II
China C-ROSS and Hong Kong Risk-Based Capital
Swiss Solvency Test (SST)
Canada: Life Insurance Capital Adequacy Test (LICAT for life insurers) and Minimum Capital Test (MCT for P&C insurers)
Portfolio Optimization
Achieve an optimal balance between the multiple objectives that insurance companies consider in the management of their business, including risk-adjusted after-tax returns, capital efficiency, income preferences, liquidity requirements, realized gain/loss constraints, underwriting and regulatory constraints, etc.
Customized Benchmarks
Creation of benchmarks that are tailored to reflect a company's liability profile and risk preferences, as well as regulatory, rating agency and other management considerations.
Asset Allocation
Analysis to establish long-run sector allocations that produce an appropriate risk/return profile for capital supporting a product or company.
Tail-Risk Management
Portfolios constructed to protect against downside risk in stressed economic environments.
Scenario-Based Risk Budgeting
Determine permissible active management exposures to spreads and rates versus customized benchmarks. Employs stress tests to sectors and rates to determine potential losses in well-defined stress scenarios.
Insurance Accounting
GAAP, statutory and IFRS accounting and reporting capabilities in partnership with Clearwater Analytics.
Insurance Case Studies
Case Study 1: Solvency II Expertise Benefits Multinational Insurer
Case Study 2: A Capital Efficient Solution for BOLI Assets
Our Insurance Team

Powell Thurston
Head of Insurance Services

Carl Cohen
Client Service Executive

David Love
Client Service Executive

Alex To
Client Service Executive
Contact Us