Retail sales declined sharply and essentially across the board in December. The headline sales aggregate declined 1.9%, with a slight 0.1% downward revision to November sales estimates. The closely watched "control" sales measure (described in the accompanying chart) fell an even sharper 3.1%, with a -0.3% revision to November. It would be piling on to point out that these declines were before adjustment for higher prices. (Based on the December CPI report, prices for the control measure likely rose in excess of 1% in December.)
The Wall Street consensus will likely blame these declines on a number of "special factors," such as the omicron surge, supply problems and seasonal volatility around the Christmas holiday. And it is plausible that the omicron surge, at least, did indeed restrain holiday shopping to some extent.
However, as you can see clearly in the chart, the lack of strength in the December retail sales report is merely of a piece with the sales data for the previous eight months. After an early-2021 bounce, retail sales have been flatlining since March.
March is also about the time that service establishments around the country began to open up following the 2020 Covid shutdown. Indeed, while retail sales and consumer spending on goods have been flatlining, consumer spending on services has been rising steadily.
Adding merchandise and services spending together, total real consumer spending re-attained pre-Covid trend levels in March 2021 and has grown fairly steadily at pre-Covid trend rates ever since. The softness in goods spending appears merely to reflect substitution by consumers back from merchandise to services (that were previously unavailable due to the shutdown).
Granted, services spending is still depressed relative to pre-Covid trends, and goods spending is still above pre-Covid trends, but, again, the overall impetus recently is generally trend growth in overall spending with some substitution of services for goods. In services such as restaurants, where the early-2021 rebound was most complete, sales have generally flatlined in recent months in line with what we have seen for merchandise vendors. And, yes, restaurant sales were reported down 0.8% in December.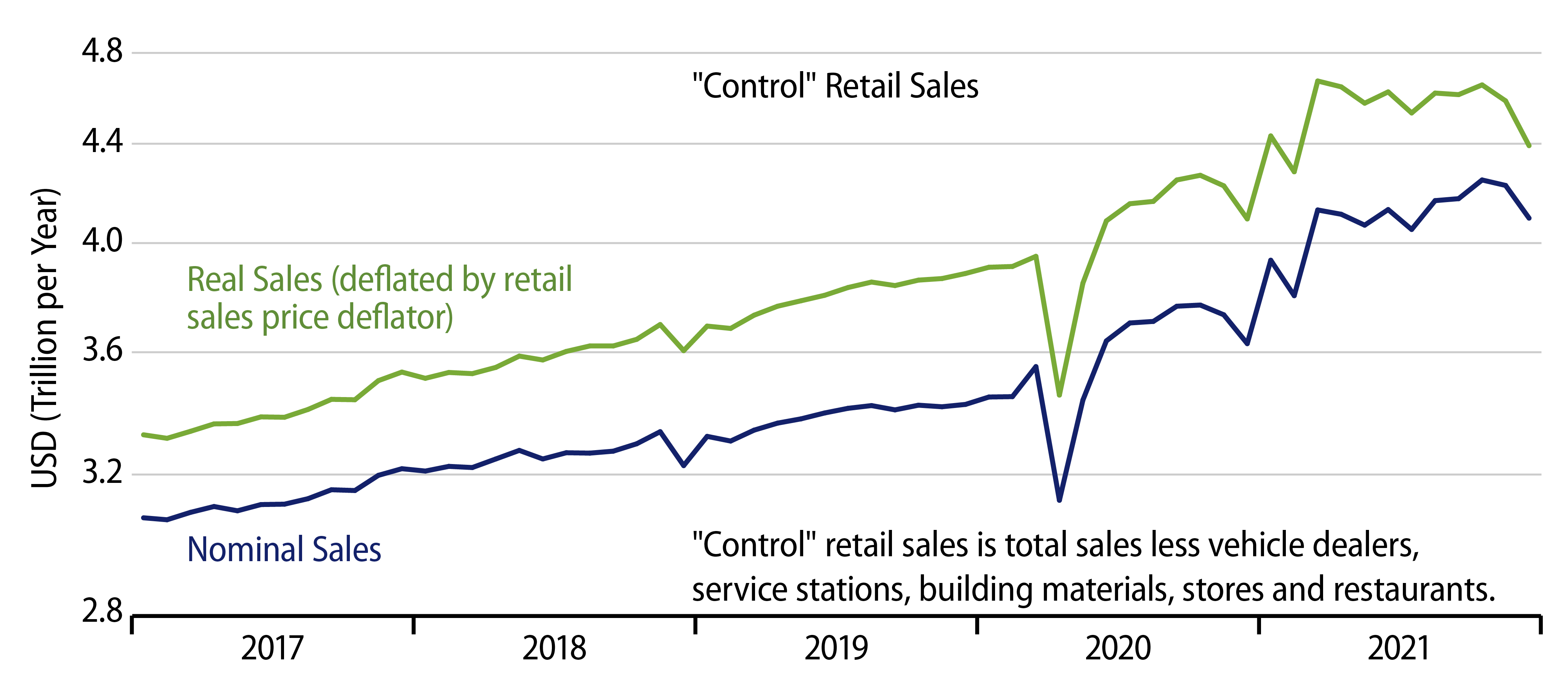 So, yes, omicron and, perhaps, pipeline problems likely restrained retail activity in December, but the data since March 2021 indicate that retail sales activity would have shown essentially zero growth even without these problems. Don't look for much of a bounce in retail activity when and as omicron and supply problems ease.
As much as Wall Street might deny it, consumers are holding on to their remaining stimulus money. Growth prospects for 2022 are promising only in those service sectors still toiling far below pre-Covid activity levels and even there only when Covid restrictions and fears are eased.