Investment Objective
Exceed the benchmark return by 50 to 75 basis points annually over the course of a market cycle while approximating benchmark risk.
Investment Style
Construct a diversified portfolio consisting of bank loans. Value can be added through subsector rotation and issue/issuer selection. Risk is controlled through industry and issuer diversification.
Investment Vehicles
Separate Account:
Contact your CSE or call 1-626-844-9400
Commingled Vehicle Available
Performance as of
September 30, 2017
Returns for periods greater than one year are annualized. Please see the Performance Disclosure for more information.
Snapshot
Strategy AUM:
Total US Bank Loan Assets:
US$5.4 billion (as of May 30, 2017)
Benchmark:
S&P/LSTA Performing Loan Index
Inception Date:
01 Oct 03
Sector Allocation as of
June 30, 2017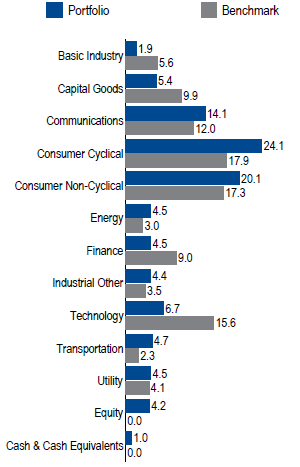 Note: Sector allocation includes look-through to any underlying commingled vehicles if held. All weightings are a percentage of total market value. A negative cash position may be reported, which is primarily due to the portfolio's unsettled trade activity. Data may not sum to 100% due to rounding.
Portfolio Characteristics as of
June 30, 2017

Past performance is not indicative of future investment results, the value of any investment can fall as well as rise.