Investment Style
Construct a portfolio using all major fixed-income sectors with a bias towards non-Treasuries, especially corporate, mortgage-backed and asset-backed securities. Value can be added through sector rotation, issue selection, duration and term structure weighting.
Investment Vehicles
Separate Account:
Contact your Client Service Executive or call 1-626-844-9400
Commingled Vehicle Available
Performance as of
June 30, 2018
Returns for periods greater than one year are annualized. Please see the Performance and Risk Disclosures for more detail.
Portfolio Characteristics as of
June 30, 2018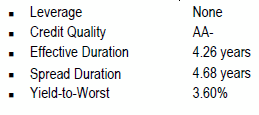 Snapshot
Strategy AUM:
Total US Intermediate Assets:
US$8.3 billion (as of June 30, 2018)
Benchmark:
Bloomberg Barclays U.S. Intermediate G/C Bond Index
Inception Date:
01 Oct 92
Sector Allocation as of
June 30, 2018
Note: Sector allocation includes look-through to any underlying commingled vehicles if held. All weightings are a percentage of total market value. A negative cash position may be reported, which is primarily due to the portfolio's unsettled trade activity. Data may not sum to 100% due to rounding.
IMPORTANT INFORMATION: All investments involve risk including loss of principal. Past performance is not indicative of future investment results. This information is only for use by professional clients, eligible counterparties or qualified investors. It is not aimed at, or for use by, retail clients.
The benchmark does not provide an allocation to the "Emerging Markets" sector. The emerging market sector allocation shown for the benchmark is based on Western Asset's emerging market countries definition for comparison purposes.

¹ Notional market value represents derivatives notional market value excluding interbank derivatives.
** Represented by the US BC Government/Credit Intermediate Composite.