Investment Style
Construct a portfolio using money market securities and short duration assets, including primarily corporate notes, corporate paper, asset-backed securities, US Agency paper and bank obligations. Value can be added through yield curve management, sector allocation and security selection.
Investment Vehicles
Separate Account:
Contact your Client Service Executive or call 1-626-844-9400
Commingled Vehicle Available
Performance as of
June 30, 2018
Returns for periods greater than one year are annualized. Please see the Performance and Risk Disclosures for more detail.
Portfolio Characteristics as of
June 30, 2018
Snapshot
Strategy AUM:
Total US Enhanced Liquidity Assets:
US$8.5 billion (as of June 30, 2018)
Benchmark:
Custom Index*
Inception Date:
01 Jan 94
Sector Allocation as of
June 30, 2018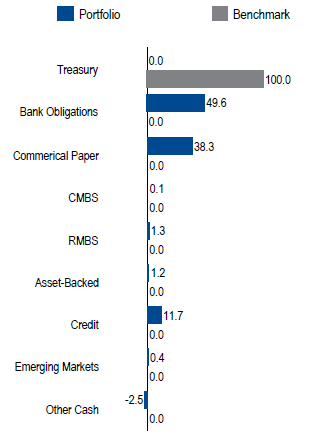 Note: Sector allocation includes look-through to any underlying commingled vehicles if held. All weightings are a percentage of total market value. A negative cash position may be reported, which is primarily due to the portfolio's unsettled trade activity. Data may not sum to 100% due to rounding.
IMPORTANT INFORMATION: All investments involve risk including loss of principal. Past performance is not indicative of future investment results. This information is only for use by professional clients, eligible counterparties or qualified investors. It is not aimed at, or for use by, retail clients.
* The Custom Index is comprised of 67% FTSE 3-Month Treasury Bill Index and 33% Bloomberg Barclays U.S. Government Bond Index, 1-3 Year.