As of September 30, 2015

US$446.1 Billion

Learn More

AS OF NOVEMBER 17, 2015

October Industrial Production Shows Some Improvement Within a Deteriorating Trend

Read The Analysis

REGION / COUNTRY SPECIFIC

OBJECTIVE-DRIVEN INVESTING

PROTECT FROM RISING RATES

DIVERSIFIED
SECTOR STRATEGIES
GLOBAL

STATE-SPECIFIC MUNICIPAL
NATIONAL MUNICIPAL
Insurance Asset Management -

Global Insurance AUM
Employing a client-centric approach to serving the needs of insurance companies.
Life
•
Health
•
Property & Casualty
•
Reinsurance
•
Multi-Line
•
Other
Global Insurance AUM: USDE* 70.9 Billion as of September 30, 2015

*US Dollar Equivalent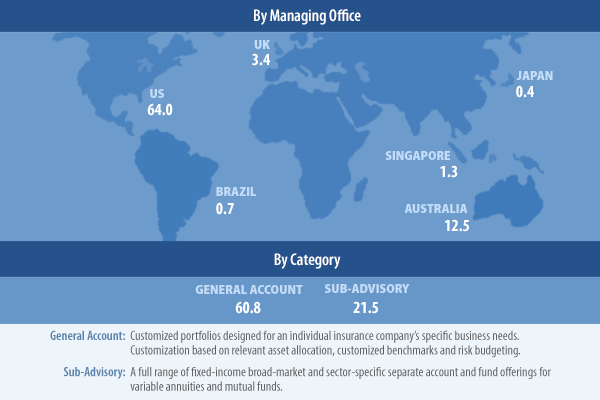 Morningstar Awards 2014 © Morningstar, Inc. All Rights Reserved. Awarded to Ken Leech, Carl Eichstaedt, and Mark Lindbloom for Western Asset Core Bond Fund (WACSX) and Western Asset Core Plus Bond Fund (WAPSX) named Morningstar 2014 U.S. Fixed Income Manager of the Year, United States of America. Morningstar Awards 2015 © Morningstar, Inc.
Morningstar Fund Manager of the Year award recognizes portfolio managers who demonstrate excellent investment skill and the courage to differ from the consensus to benefit investors. To qualify for the award, managers' funds must have not only posted impressive returns for the year, but the managers also must have a record of delivering outstanding long-term risk-adjusted performance and of aligning their interests with shareholders'. The Fund Manager of the Year award winners are chosen based on Morningstar's proprietary research and in-depth evaluation by its fund analysts.