Insurance Asset Management -

Our Team Approach
What Sets Our Insurance Asset Management Apart?
In a highly commoditized product environment, the most durable competitive advantage is a client-centric approach to solution creation, leveraging experience and expertise. Western Asset assists clients in developing capital efficient portfolios that take into account capital requirements, as well as objectives related to risk, growth and return on equity (ROE).
From client service to portfolio management, Western Asset is dedicated to developing a consultative thought partnership and dialogue with current and prospective clients. Building on Western Asset's proven investment philosophy, research and process, the Insurance Team adds a layer of portfolio and risk management that incorporates the unique needs of insurance companies. Western Asset understands the complex requirements of insurance companies, including the shifting priorities driven by statutory, regulatory and actuarial analysis.
Our Insurance Team Approach: Optimizing Implementation
Firm's investment strategy customized based on client's constraints and objectives.
Optimization tools to target: volatility, capital efficiency, gain/loss, and other client-specific metrics.
Sector teams inform Investment Outlook and provide sub-sector/issue selection expertise to Insurance Team.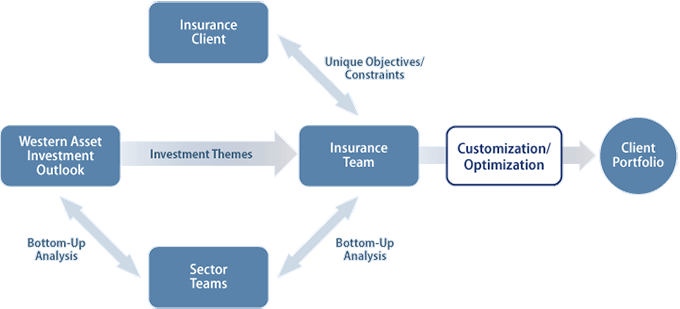 Full team list provided upon request.
Powell Thurston
Head of Insurance Services
Carl Cohen
Client Service Executive
David Love
Client Service Executive