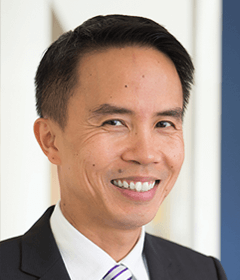 View on Asia: Why Asian Debt Will Bounce Back From its Annus Horribilis
Head of Investment Management, Asia (ex-Japan)
Executive Summary
Current valuations of Asian bonds present an attractive entry level for strategic investors with a positive long-term outlook for Asia's growth leadership.
The recent market selloff reflects a confluence of liquidity-driven technical dislocation, concerns over a cyclical downdraft and heightened geopolitical worries.
Cliff-hanging structural risks in advanced nations argue for global diversification in the face of secular shifts, notably the yuan internationalization.
Western Asset maintains the view that Asian debt is firmly on track in its multi-year evolution into a mainstream asset class.
The year 2013 is poised to be the toughest for Asian bonds in some time. Total return, as measured by the HSBC Asian Local Bond Index (ALBI), was down 5.5% in the year to September, representing the steepest drawdown since the Index's inception in 2000. This is in marked contrast to the consistent gains achieved over the past decade, averaging +7.4% per annum.
To be sure, since the start of the year, investor enthusiasm has been intermittently dampened by various evolving developments in the region. These include fears of a "beggar thy neighbor" response by Asian central banks to the Japanese yen depreciation, heightened geopolitical tensions over security alerts from the Korean peninsula, island disputes in the South China Sea, as well as renewed market worries over an economic hard landing in China. Proverbially speaking, though, the straw that broke the camel's back was the Federal Reserve's (Fed) hint at pulling back quantitative easing in late May, with the impact of the resulting US Treasury selloff rippling hard across emerging market (EM) debt markets, including Asia.
To better understand why the weakness in the region's local currency bond markets has been more severe this time around, the tri-factor framework that we adopt for strategic positioning of investment portfolios—rates, currency and spread—is instructive. Previous episodes of market selloff were associated with the so-called risk-off environment. All else being equal, this tends to weigh on currency and spread, though the ensuing flight-to-quality lends support to rates, thereby capping the overall negative price impact. This played out to script in the months following the Lehman bankruptcy in late 2008, as well as during the third quarter of 2011, in reaction to the US sovereign downgrade by S&P. This time, however, was different. In the prevailing context of US policy intentions to pare back stimulus, higher rates have instead accentuated the fallout on both currency and spread.
It now appears tempting to turn skeptical about the case for a strategic allocation to Asian fixed-income. No doubt, the region's improving fundamentals have been well advertised—sovereign balance sheet strength, current account surpluses and the emergence of a burgeoning urban middle class. Still, these favorable macroeconomic traits seem to offer limited immunity against exogenous market events.
At the extreme, some analysts have suggested a possible return of the Asian financial turmoil in 1997-98. We believe that such concerns are overblown on account of a radically different set of initial conditions that exists today. One argument against a repeat of the crisis scenario of 1997-98 is the extent to which domestic debt markets have developed across the region since the late 1990s, thus reducing the rollover risk of short-term bank financing. Additionally, Asian currencies have adjusted incrementally to market realities, whereas the de facto pegged regimes of the past had necessitated steep and sudden realignments in valuation. Importantly, the region now holds US$5.5 trillion in foreign exchange reserves (or 50% of the world's total), providing substantial cover for imports and short-term external debt.
Western Asset maintains the view that Asian debt remains firmly on track in its multi-year evolution into a mainstream asset class. While acknowledging that such a journey tends to be non-linear, it would be a mistake to allow the bumpy patch to obscure the final destination. With the benefit of hindsight, an ostensibly insatiable appetite for yield with each passing year of Fed-driven liquidity helped sow the seeds of a technical dislocation. Still, a market correction should normalize valuation toward levels that are more consistent with its relative appeal. More importantly, the secular case for staying on course with the asset class remains intact for at least three reasons: market diversity, yuan internationalization and portfolio under-representation.
Despite the historical association, Asian debt by definition is not exclusively EM. The investment universe is, in fact, a balanced blend of both EM and developed market (DM) economies, each at a different developmental phase. South Korea, a member of the Organisation for Economic Co-operation and Development, is rated Aa3/AA-, respectively, by Moody's and Fitch and has a GDP per capita of $32,000, roughly on par with the EU. City-state Singapore stands out as being one of only seven remaining sovereigns rated AAA, with a stable outlook from all three major agencies. The Philippines, on the other hand, has attained its well-deserved investment-grade rating, a milestone for a country once perceived as the region's laggard. In frontier countries such as Myanmar, Sri Lanka and Vietnam, liquid domestic debt markets will emerge in the coming years. The heterogeneity of economic structures presents a dynamic set of opportunities for active managers to rotate among the attractive segments over different market and development cycles.
Asian debt also provides an attractive platform to participate in the gradual internationalization of the Chinese yuan. Never in recent history has the currency of the world's second largest economy failed to eventually play a prominent role in global trade and investment flows. Already, a growing share of Chinese trade, at around 16% during the first half of 2013 based on data released by the People's Bank of China, is settled in yuan. Underscoring the ongoing structural shift, the yuan now ranks as the world's ninth most actively traded currency, largely due to a rapid expansion in offshore yuan turnover. Over time, the notion of the yuan as a reserve currency is not far-fetched, once capital account convertibility is put in place. To this end, the policy strategy has come in the form of carefully targeted pilot programs, including the extension of bilateral currency swap lines with the European Central Bank and at least 22 countries, the creation of offshore yuan trading hubs across multiple time zones, and most recently the inauguration of a free trade zone in Shanghai.
Over the past decade, the world's economic center of gravity has shifted toward Asia, with the region becoming less of a producer and more of a customer. Yet international portfolios typically do not reflect the region's rising secular influence on global growth, as Asian bonds tend to be disproportionately under-represented versus the size of their economies. Among other factors, this is due to the dominance of DM debt in terms of market capitalization, as well as certain controls on market access in Asia. Securities issued by the Korean government, which form the single largest ALBI weighting at close to 20%, have either zero or minimal weighting in the widely used global benchmarks. The same can be said of China. This is despite the rapid growth of the offshore "dim sum" market, which will likely gain greater attention as a diversification play, especially as the world's focus tilts from greenback to redback.
With regards to the "great rotation" debate, we would argue that the choice between Asian bonds and equities is not a zero-sum proposition. Indeed, judging from monthly returns since 2001, the empirical support for a negative debt-equity relationship is not strong in Asia, with only 43 of the 153 months surveyed demonstrating this pattern (Exhibit 1). Worth pointing out is the fact that Asian equities have displayed a significantly higher degree of volatility compared with Asian bonds, depicted by the former's greater dispersion over a period marked by episodes of near-paralysis in financial markets, including the terrorist attacks in September 2001, the region's SARS crisis in 2003, and the global financial meltdown in 2008. The point is, both asset classes seek to achieve different investment objectives, and have different risk-reward tradeoffs. Indeed, Asian debt can be viewed as filling in a product vacuum in the intermediate segment of the risk spectrum, especially given East Asia's aging demographics and the fact that a barbell financial portfolio comprising cash and equities only is not uncommon among individual investors in Asia.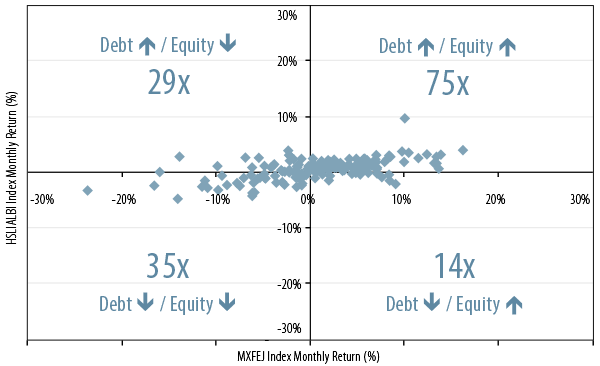 In assessing the outlook for Asian bonds, we view it as prudent to avoid either extremes of an eternal optimist or a perpetual pessimist. The familiar narrative on the region's improving fundamentals must be matched against the influence of short-term technical considerations. The experience over the past months has also delivered a strong message that a veritable "soup of geopolitical risks" should not be underestimated, given their propensity to "boil over" at any time. Nevertheless, cliff-hanging structural risks abound in DM countries and may exert prolonged arthritic pains. In turn, this argues in favor of global diversification. As the well-worn rhetoric of "doom and gloom" whittles down, we view current market valuations as presenting an attractive entry level for strategic investors with a positive outlook for Asia's growth leadership over the secular horizon.
© Western Asset Management Company, LLC 2021. This publication is the property of Western Asset and is intended for the sole use of its clients, consultants, and other intended recipients. It should not be forwarded to any other person. Contents herein should be treated as confidential and proprietary information. This material may not be reproduced or used in any form or medium without express written permission.
Past results are not indicative of future investment results. This publication is for informational purposes only and reflects the current opinions of Western Asset. Information contained herein is believed to be accurate, but cannot be guaranteed. Opinions represented are not intended as an offer or solicitation with respect to the purchase or sale of any security and are subject to change without notice. Statements in this material should not be considered investment advice. Employees and/or clients of Western Asset may have a position in the securities mentioned. This publication has been prepared without taking into account your objectives, financial situation or needs. Before acting on this information, you should consider its appropriateness having regard to your objectives, financial situation or needs. It is your responsibility to be aware of and observe the applicable laws and regulations of your country of residence.
Western Asset Management Company Distribuidora de Títulos e Valores Mobiliários Limitada is authorised and regulated by Comissão de Valores Mobiliários and Banco Central do Brasil. Western Asset Management Company Pty Ltd ABN 41 117 767 923 is the holder of the Australian Financial Services Licence 303160. Western Asset Management Company Pte. Ltd. Co. Reg. No. 200007692R is a holder of a Capital Markets Services Licence for fund management and regulated by the Monetary Authority of Singapore. Western Asset Management Company Ltd is a registered Financial Instruments Business Operator and regulated by the Financial Services Agency of Japan. Western Asset Management Company Limited is authorised and regulated by the Financial Conduct Authority ("FCA") (FRN 145930). This communication is intended for distribution to Professional Clients only if deemed to be a financial promotion in the UK as defined by the FCA. This communication may also be intended for certain EEA countries where Western Asset has been granted permission to do so. For the current list of the approved EEA countries please contact Western Asset at +44 (0)20 7422 3000.