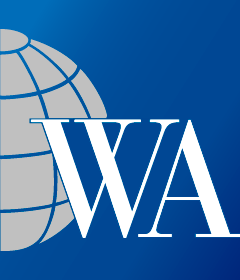 Update: Italian Referendum on Constitutional Reform
Executive Summary
Ahead of the Italian Referendum on December 4, Italian spreads and volatility have risen as a "No" vote is now likely to prevail.
New elections are not mandatory. Instead a senior politician could be asked to form a temporary government capable of putting together a new electoral law before elections are held in early 2018.
Our constructive view on Italian bonds is predicated on the ECB Quantitative Easing "backstop" remaining in place. We think it will.
We have been adding incrementally to Italian exposure on the recent spread widening. Post-referendum volatility could provide an opportunity for investors.
We are mindful Italian spreads may be correlated to other portfolio risk positions in periods of market volatility. We may look to rotate other exposures into Italy on further spread widening before or after the Referendum.
Summary
On Sunday Italy goes to the polls to decide whether or not to back Prime Minister Matteo Renzi's constitutional reforms. Many are calling this a watershed moment for Italy, postulating a "No" vote on December 4 will trigger a sequence of events that could lead to an Italian exit from the euro. We think these fears are overstated and the most likely outcome following a "No" vote is a brief period of political instability before a temporary government is formed charged with making necessary changes to Italy's electoral law. For investors in Italian bonds, post-referendum volatility could provide an opportunity to build a position into the end of the year. We continue to find value in Italian government bonds on a spread basis to Germany. Should the market take a view different from ours following a "No" vote, we will look to add to Italian government bonds on spread widening.
What Has Changed Since Our Last Update?
In our September 2016 Investment Implications of the Upcoming Italian Referendum on Constitutional Reform white paper we highlighted the market complacency heading into the vote.
We have updated Exhibit 1 from that paper, which now shows that spreads are 55 basis points (bps) wider since September, and that euro currency volatility (3m) is 1% higher. Euro volatility is even more elevated in front contracts (closer to the Referendum), and in the foreign exchange options market there is a premium for euro puts versus calls, which gives a clear indication of current market sentiment.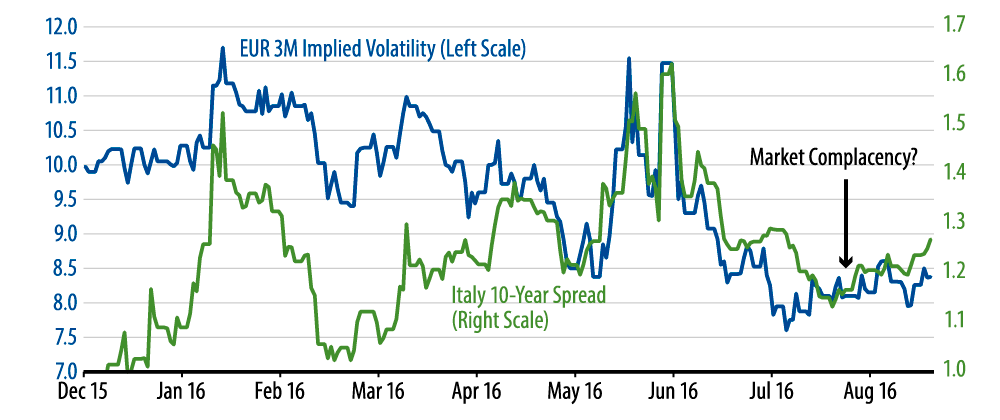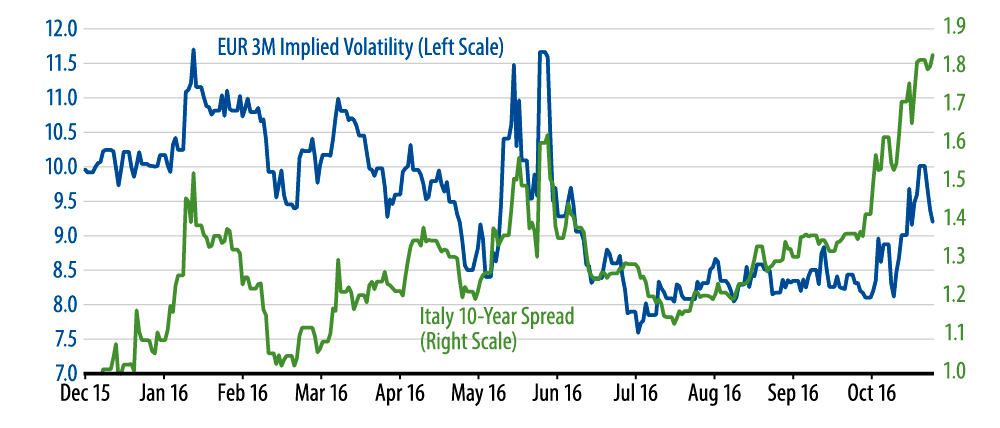 Only a few months ago, expectations were that Renzi would be able to sway the large undecided vote to his cause, arguing that to vote "Yes" was a vote for change. Now it appears he has been unsuccessful and his decision earlier this year to tie his own political fate with the constitutional outcome has backfired spectacularly, as the opposition have capitalized on the anti-establishment momentum post Brexit and most recently given Donald Trump's victory in the US presidential elections. Since our update, polls have shifted from a close call to one showing a "No" vote with a comfortable 5-7 point lead. It appears the large undecided cohort is more inclined to use the vote in "protest towards the establishment" rather than to back the constitutional reform. We believe that we need to incorporate into our analysis this shift in the polls given the recent failure of pollsters to predict correctly either the UK referendum or US elections outcomes. We wouldn't completely rule out a surprise "Yes" victory, but our base case now is for Renzi to lose the Referendum and for "No" to prevail. In our September paper, we expected Italian spreads to widen and the euro to weaken under this outcome. We think the market has already priced in this outcome, with Italian spreads now 55 bps wider and the euro 6% weaker since that update.
What Happens if a "No" Vote Prevails?
We think the most market-unfriendly outcome for Italian bonds over the medium term is a Five Star Movement (M5S) majority Italian government, given a Eurosceptic stance and desire for Italy to hold its own referendum on euro membership. First, referendums on existing treaties in Italy are banned by the constitution. For M5S to hold a referendum, it would first have to be the majority government (low probability), then change the constitution. This would most likely require another referendum, as an M5S government would likely fail to garner a qualified majority in a vote on the change. Second, in the event of a referendum, the majority of Italians still see themselves as Europeans and would probably back continued membership of the euro.
It is in the vested interest of all the established parties to rally around a common cause to squeeze M5S out of the political picture. Under a now unlikely "Yes" outcome, it is almost a certainty that the electoral law will be amended to remove the majority bonus for the winning party, possibly changing to a system that awards the bonus to a coalition over a single party. This in itself favours the established parties over M5S who refuse to govern in coalitions. Under a "No" vote, the established parties should favour agreeing to a temporary government over handing more power to the M5S if snap elections were called.
Renzi's resignation is not guaranteed and snap elections in this event appear a low probability event. Renzi said earlier this year he would resign as Prime Minister in event of a "No" vote. He has tried to walk back these comments in recent months and his resignation is not certain. For example, if the "No" vote wins by a small margin (49/51), Renzi may try to stay; if the margin of the "No" victory is much larger and consistent with the current polls, Renzi will probably step down. This does not mean Italy will hold snap elections. The power under this event resides with the President, Sergio Mattarella, whom Renzi backed for the post in 2015. The President would not call for new elections until putting in place a new electoral law, because the Senate under a "No" vote will still have equal powers to the lower house. Under these circumstances, Italy would be ungovernable as the new electoral law (which gives a "winners bonus" to the party either receiving 40% of the vote or winning a run-off between the two most popular parties) currently applies to the lower house but not to the Senate. It is therefore almost a certainty that new elections would result in a hung parliament. This is why we think that under a "No" vote new elections are pointless until a new electoral law is devised that is relevant to both houses.
On a "No" vote, we think the most likely outcome is for the President to ask a senior politician to form a new temporary government capable of putting together a new electoral law before new elections are held in the spring of 2018. This candidate could still be Renzi (which is more likely if the margin of defeat is narrow), or another senior member of Renzi's party, for example the existing Minister of Finance Pier Carlo Padoan or another candidate of similar stature. Under this outcome, we believe it is in the best interest of the current ruling coalition to come to an agreement and pass a vote of confidence in the new temporary government as they hold majorities in both the lower house and Senate.
What Will the Market Reaction Be Under Such an Outcome?
As discussed, we think a "No" vote is now expected by the market and is therefore reflected in the 10-year Italian spread over Germany, at 185 bps. Markets may continue to price in a greater risk premium (wider Italian spreads), however, to guard against the possibility that the established parties are unable to form a temporary government, throwing Italy into another period of political instability. The question is: what would be the appropriate risk premium? Provided the ECB sovereign asset purchase "backstop" remains in place, we think it is unlikely that spreads will widen back to the levels we saw in 2012. A good reference point for domestic Italian political instability would be the hung parliament in early 2013, wherein no party was able to win a majority in the Senate. Spreads then widened to 350 bps, but this was before the ECB quantitative easing (QE) programme was established. We therefore think a reasonable estimate for how wide spreads could go under this "worse case" outcome would be somewhere between the spread levels in 2013 and today's 185 bps (or about 250 bps). Ultimately, our constructive view on the Italian convergence trade is predicated on the ECB backstop remaining in place. We expect the ECB to announce an extension of its QE programme at the December meeting, maintaining the current pace of asset purchases at €80 billion a month beyond March 2017. We believe a taper of the asset purchase programme at this juncture would be a policy error. The ECB meeting is four days after the Italian Referendum and we would expect a bad outcome (a large majority defeat for Renzi) to be met with dovish ECB rhetoric.
Position and Strategy
We came into September with a significantly reduced duration position in Italian government bonds in global portfolios relative to where we have been in recent history. This was detailed in our aforementioned white paper. We have been adding incrementally to the position on the recent spread widening. We view the Italian exposure to be at about half the total risk budget for the position when we consider the maximum exposure we would typically take in a BBB developed sovereign. We therefore have room to add on any further underperformance. When increasing risk, however, we are always thoughtful about maintaining diversification and view portfolio risk holistically. We are mindful of other portfolio exposures that may be correlated with Italian spreads in another period of market volatility; therefore, rather than add risk in the aggregate, we may look to rotate risk into Italy on further spread widening before or after the Referendum.
© Western Asset Management Company, LLC 2022. This publication is the property of Western Asset and is intended for the sole use of its clients, consultants, and other intended recipients. It should not be forwarded to any other person. Contents herein should be treated as confidential and proprietary information. This material may not be reproduced or used in any form or medium without express written permission.
Past results are not indicative of future investment results. This publication is for informational purposes only and reflects the current opinions of Western Asset. Information contained herein is believed to be accurate, but cannot be guaranteed. Opinions represented are not intended as an offer or solicitation with respect to the purchase or sale of any security and are subject to change without notice. Statements in this material should not be considered investment advice. Employees and/or clients of Western Asset may have a position in the securities mentioned. This publication has been prepared without taking into account your objectives, financial situation or needs. Before acting on this information, you should consider its appropriateness having regard to your objectives, financial situation or needs. It is your responsibility to be aware of and observe the applicable laws and regulations of your country of residence.
Western Asset Management Company Distribuidora de Títulos e Valores Mobiliários Limitada is authorized and regulated by Comissão de Valores Mobiliários and Brazilian Central Bank. Western Asset Management Company Pty Ltd ABN 41 117 767 923 is the holder of the Australian Financial Services Licence 303160. Western Asset Management Company Pte. Ltd. Co. Reg. No. 200007692R is a holder of a Capital Markets Services Licence for fund management and regulated by the Monetary Authority of Singapore. Western Asset Management Company Ltd is a registered Financial Instruments Business Operator and regulated by the Financial Services Agency of Japan. Western Asset Management Company Limited is authorised and regulated by the Financial Conduct Authority ("FCA") (FRN 145930). This communication is intended for distribution to Professional Clients only if deemed to be a financial promotion in the UK as defined by the FCA. This communication may also be intended for certain EEA countries where Western Asset has been granted permission to do so. For the current list of the approved EEA countries please contact Western Asset at +44 (0)20 7422 3000.