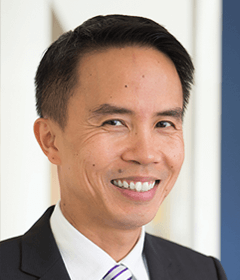 The Emerging Market Investor - Tourist or Pilgrim?
Head of Emerging Markets Debt
Executive Summary
Despite the rising gravitational force of EM economies, EM bonds still lack the classic appeal of traditional asset classes.
Three characteristics of the asset class—credit diversity, exogenous vulnerability and information opacity—highlight the perils of an investment thesis that is based on the aggregate.
Nevertheless, we believe there are compelling reasons to be strategically constructive on EM, and current entry levels present interesting opportunities.
Given a slew of dynamic EM opportunities, the steadfast investor with exposure to choice credits will likely be rewarded.
Of late, my vacation itinerary has steered clear of must-see tourist spots. The shift, while perhaps denying me some bragging rights, was prompted by the underwhelming feeling that inevitably sets in after actually visiting one of these iconic places. These sights seem to pale when compared to the version on airbrushed brochures, and often the commercial frills around the sites clash with authenticity. Philosophically speaking, the travel experience of the tourist stands in stark contrast to that of a pilgrim. Subject to the travails of a long journey, and without glitzy highlights along the way, the pilgrim nonetheless stays focused on the path, with a clear mandate in mind.
Conceptually, the experience of emerging market (EM) investing is akin to making a pilgrimage. Despite the rising gravitational force of EM economies, EM bonds still lack the classic appeal of traditional asset classes. EMs' under-representation in international bond indices and portfolios can be explained by deficiencies related to market access, secondary liquidity and credit culture. That said, efforts to deepen markets have yielded constructive results. JPMorgan recently announced the eligibility of sukuks (an Islamic financial certificate, similar to a conventional bond) in its suite of EM indices. Effective October 1, 2016, the IMF will formally include the Chinese yuan in the Special Drawing Rights (SDR) basket, a move that should have a salutary effect regarding EMs' role in global finance. In short, a slew of dynamic EM opportunities awaits the patient investor.
Yet a tantalizing list of over 70 countries in the asset class serves to whet—and perhaps even spoil—the appetite of mere tourists. This tendency can accentuate EM boom-bust cycles, as short-term players expecting instant gratification become disenchanted with market realities. As a matter of fact, this was precisely what happened during the period from 2013 to 2015, as EM assets underwent a severe price correction after a period of uninterrupted strength in the post-millennium decade (Exhibit 1).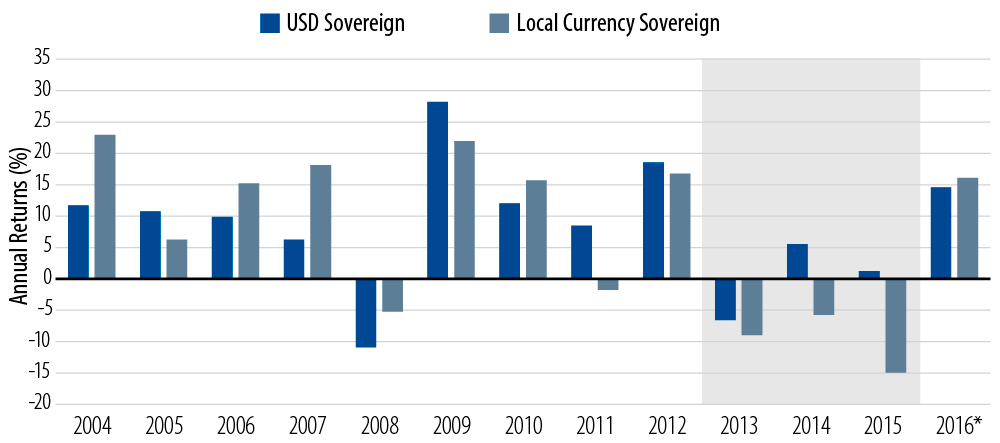 The challenges in EM investing owe much to the problem of assessing the investment rationale in the aggregate. One such narrative popularizes the notion that fundamental improvements will turn EM debt into a mainstream asset class. As of now, this transformation is not yet in sight, even as navigating market vagaries remains notoriously tough. Three inter-related characteristics of EM economies help shed light on the conundrum:
Credit Diversity.

Economists typically rely on a broad-brush formula in EM analysis and there may be valid reasons to do so. Applying the same approach to EM investing, however, runs the risk of inferring that what is true of one EM country must hold true for all EM countries. This is simply not the case; consider the fact that the asset class began as a catchall collection of non-developed nations, and how much their sovereign ratings vary, from a high of AA to a low of CC.

Exogenous Vulnerability.

EM countries by definition are works in progress and therefore rely on external stimuli to underpin development. Indeed, in response to Federal Reserve normalization, China slowdown and the commodity slump, EM economies have been forced to adjust to new realities. Depending on the degree of external dependency, the medium-term paths of economic healing can differ meaningfully by country.

Information Opacity.

There is generally a dearth of quality communication in EM countries. This creates a challenge for analysts in dealing with real-time surveillance for sovereigns and corporates alike. An undesirable consequence of poor information is the propensity for event shocks to occur. Among others, unanticipated policy shifts, sudden political changes and/or previously undisclosed statistics can cripple markets.
Notwithstanding the stormy ride in EM through the end of 2015, the clouds have begun to dissipate. Year-to-date, local currency bonds have returned a breathtaking 16%, while USD-denominated debt has advanced 15%.1 The rebound is occurring in tandem with renewed investor flows into the asset class, following a prolonged period of withdrawals. Contributions into EM debt reached a record high of $4.7 billion in the third week of July, based on data compiled by JPMorgan.
At first blush, the timing of the market bounce may appear puzzling. Many EM economies remain mired in cyclical doldrums. Indeed, secular headwinds prompted a string of sovereign downgrades during the first half, including Brazil, Poland and a number of Gulf countries. And the challenges are not purely economic. A failed coup attempt in Turkey in July and a police probe on a key minister in South Africa in August are sober reminders of the latent fluidity in domestic politics. While the Russia-Ukraine conflict has been well telegraphed, geopolitical flashpoints exist across multiple EM zones, from the Korean peninsula to the Islamic State in the Middle East.
Nevertheless, we believe there are compelling reasons to be strategically constructive on EM, and current entry levels present interesting opportunities. First, the technical backdrop for a sustained rally is in place, as outsized reductions in prior years have led to an under-allocation to EM. Second, one unintended consequence of the UK referendum in June is to reinforce the lower-for-longer environment in global rates; the reinvigorated hunt for yield should benefit EM bonds given their appealing value. Third, nascent signs of fundamental relief have emerged, most notably the lagged benefits of currency depreciation on the external balance of payments.
Paradoxically, the current pace of market rebound, while welcome, ought to be cause for circumspection given the past trappings of EM investing. Surging inflows can lead to an environment in which a rising tide lifts all boats, particularly given the emergence of index funds that are passively managed. Indeed, this is not unlike the EM experience during the 2000s when macro technicals (fund flows) dominated micro fundamentals (credit differences). In structurally weak economies, market gains can lead to an illusion of macro prowess and diminish the incentive for reforms.
It goes to say that given the tacit sponsorship for bad credits, we are not fans of an index-based, wholesale approach to EM investing. Neither are we in favor of concentrated bets, due to idiosyncratic risks and liquidity challenges. In the context of an inherently highly volatile asset class, the return of capital must precede the return on capital in the thought process of a long-term fixed-income investor. Rather, it is precisely the unique feature of heterogeneity in EM that reinforces the case for active management. It presents an evolving set of opportunities to differentiate, customize and rotate across segments at specific points of the market cycle.
Employing the Western Asset philosophy of value investing in diversified strategies, our core convictions are centered on countries that adhere to strict market discipline. We believe this approach—implemented consistently and over full market cycles—will enable us to identify and prioritize those countries that are ready to embark on the arduous journey toward credit improvement.
The fervor of the tourist can quickly evaporate as a result of shortsightedness and unrealistic expectations. The pilgrim, on the other hand, is resolute and remains forward-looking in defiance of present uncertainties. At Western Asset, our convictions are that the progressive maturation of the asset class remains intact, and that the steadfast EM investor with exposure to choice credits will recognize the benefit of diversification and be rewarded over the medium term. It is also true that, regardless of any misgivings regarding EM, the asset class itself not only remains alive and well, but appears on track to regain eminence.
Endnotes
The JPMorgan Global Bond Index Emerging Markets Global Diversified (GBI-EM GD) and the Emerging Markets Bond Index Global (EMBIG) are used as reference indices for local currency bonds and USD-denominated sovereign bonds, respectively.
© Western Asset Management Company, LLC 2021. This publication is the property of Western Asset and is intended for the sole use of its clients, consultants, and other intended recipients. It should not be forwarded to any other person. Contents herein should be treated as confidential and proprietary information. This material may not be reproduced or used in any form or medium without express written permission.
Past results are not indicative of future investment results. This publication is for informational purposes only and reflects the current opinions of Western Asset. Information contained herein is believed to be accurate, but cannot be guaranteed. Opinions represented are not intended as an offer or solicitation with respect to the purchase or sale of any security and are subject to change without notice. Statements in this material should not be considered investment advice. Employees and/or clients of Western Asset may have a position in the securities mentioned. This publication has been prepared without taking into account your objectives, financial situation or needs. Before acting on this information, you should consider its appropriateness having regard to your objectives, financial situation or needs. It is your responsibility to be aware of and observe the applicable laws and regulations of your country of residence.
Western Asset Management Company Distribuidora de Títulos e Valores Mobiliários Limitada is authorised and regulated by Comissão de Valores Mobiliários and Banco Central do Brasil. Western Asset Management Company Pty Ltd ABN 41 117 767 923 is the holder of the Australian Financial Services Licence 303160. Western Asset Management Company Pte. Ltd. Co. Reg. No. 200007692R is a holder of a Capital Markets Services Licence for fund management and regulated by the Monetary Authority of Singapore. Western Asset Management Company Ltd is a registered Financial Instruments Business Operator and regulated by the Financial Services Agency of Japan. Western Asset Management Company Limited is authorised and regulated by the Financial Conduct Authority ("FCA") (FRN 145930). This communication is intended for distribution to Professional Clients only if deemed to be a financial promotion in the UK as defined by the FCA. This communication may also be intended for certain EEA countries where Western Asset has been granted permission to do so. For the current list of the approved EEA countries please contact Western Asset at +44 (0)20 7422 3000.