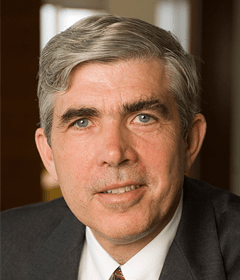 Q&A with Western Asset CIO Ken Leech
Chief Investment Officer
Executive Summary
In this personal Q&A, CIO Ken Leech says that the global recovery remains intact, albeit fragile, despite a tumultuous first quarter.
He expects steady but unspectacular US and global growth, US and global inflation to remain subdued, aggressive and increasing central bank accommodation, and spread sectors, having rebounded from depressed levels, to offer attractive returns.
Western Asset's view is that banks are one of the best places to be now for bondholders, as they have recapitalized, improved their balance sheets and are more and better regulated.
Achieving Returns in Times of Trouble
Overlooking the San Gabriel Mountains from his office in Pasadena, California, Western Asset's Chief Investment Officer (CIO) suggests that the next few months and years are likely to prove a bumpy ride for investors. He shares the bond market's cautious view of the future, a contrast with the equity market's more bullish outlook. This disconnect, however, and the expected volatility ahead may provide opportunities for active investors, says Leech. He took some time out of his schedule to share some further thoughts on what could be ahead.
Many investors seem anxious to proclaim the return of strong global growth—are you expecting this soon?
This is likely going to be a tough journey marked by a pattern of taking two steps forward, one step back. We are now in a period of low growth, with risk markets that are very quick to trigger unpleasant reactions when we get low growth figures.
Why did the markets have such an aggressive reaction in early 2016?
Markets have generally been besieged by three fears. The first is regarding China. Until recently, markets felt Chinese growth was going to fall out of bed. The second fear has been about oil; some investors have thought oil prices could collapse. Last, some have thought European banks could pose systemic risks, as in 2008.
These fears seem to have abated—but not totally. Why?
Our view is that China will avoid a hard landing. We still see stresses, however, derived from China's shift from an investment- and export-based economy to a consumer- and service-based economy. This is a very ambitious project that entails a tough transition. In addition, the country has confidence problems over its data. We think, however, that there is already a tremendous number of policies to stimulate growth and that the authorities have many tools that they can use. We have also seen an increase in money supply and are keeping in mind the fact that financial conditions are beginning to ease.
On oil, we have believed the supply would stabilize, though we thought it would stabilize sooner than it has. Geopolitical concerns exacerbated the issue, and as we know, in the commodities markets, things go up like escalators and come down like elevators. We thought that a $40–$60 a barrel range would hold as, in the event of a global recession, supply cuts would be activated, holding the price. At under $30 a barrel, we thought oil was mispriced because we never saw a recession; we are happy to see it back at the $40 level.
Banks are safeguarded by central banks, which were created precisely to protect the system from booms and busts. Our view is that banks are one of the best places to be now for bondholders, as they have recapitalized, improved their balance sheets, and are more and better regulated. They have become the utility-type of business they were before the revocation of the Glass-Steagall Act in 1999 (which led them into riskier businesses such as investment banking). In this new environment, banks are one of our highest conviction positions.

This year's market mode changed abruptly on February 11—why so sudden?
A large European bank that markets feared could have problems paying some of its debts finally made its payment. More importantly, the US Federal Reserve (Fed) put rates on hold. I think last year's China shock devaluation and the oil price collapse took the Fed by surprise, so it is now acting more warily of international developments. Some critics have asked who made Fed Chair Janet Yellen the world's central banker, which echoes what I think is the internal debate at the Fed now: whether to have a US-centric or a more global approach.
Do you think the Fed will raise rates soon?
I think Yellen is one of the more dovish chairs the Fed has had, and has shifted the Fed's focus to risk management. I don't think the Fed will hike rates again unless and until:
Financial conditions improve significantly, globally. In a recent keynote speech, Yellen said the word "global" about 20 times—a sign of the Fed's more international stance. We believe "global" is to some extent the code word for China, which is where people's worries are after last year's devaluation. I think the Fed has taken its foot off the pedal to give China a bit of breath.
Economic growth is in line with the Fed's forecast. It is still below.
Inflation expectations rise. Yellen has said the recent increase in US core inflation is temporary, so she sees no need to be impatient with rate hikes.
It's also easier to fight inflation than deflation…
When Paul Volcker was Fed Chair, inflation came down spectacularly. Volcker was also helped by technology developments and globalization. Alan Greenspan didn't tighten policy in the early 2000s because he was worried about deflation. Ben Bernanke was also adamant about avoiding deflation.

How do you think Yellen has performed so far?
She is more like Bernanke, who believed in transparency and group decisions. It is true that can be confusing as we have key Fed members giving different opinions, but ultimately this is good because it pushes the Fed to form a consensus. But like her predecessors, Yellen's Fed has also missed many of its forecasts, not because its models are wrong, but because of the broad-based global economic weakness.
When do you think short-term rates will go back to 2%?
I think it could still take 3 to 5 years. That's a long time, but remember people also said 3 to 5 years in 2009. Given global fragility, I think that a rate hike now would be a misjudgement of the situation; it's not just that global inflation hasn't stabilized yet, it's that it is still coming down. Japan and Europe are still fighting deflation. This is going to be a very long process.

What do you think of negative rates?
I am not worried about the technicalities, as some are, but I do think there are limits to their effectiveness; people could always hide money under the mattress before being charged for holding it at a bank. We don't think negative rates will persist for a long period of time. And as an investor, of course, I don't like the fact that almost 30% of the global universe is negative-yielding.
In your opinion, which are the most attractive investment opportunities now?
We believe US investment-grade has very compelling valuations, as current spreads are very high when compared with recent recession levels. There are also opportunities in high-yield, where the implied cumulative default rate is a staggering 37%, well above the current 3%-4%. The most controversial area may be emerging markets (EMs), which have a terrible storyline: slow growth, low commodity prices and political challenges. All this has created a stampede out of the asset class that has brought EM spreads back to 2008-09 levels. While we may agree, we ask ourselves: what's the price?
We believe attractive bond and currency valuations may compensate for the risks. In Brazil, for instance, the story is pretty bleak: economic recession, a social safety net that is too big for the size of the economy, low commodity prices and, until now, months of political paralysis. But the 10-year sovereign bonds yield 12%, compared with the 1.8% of US Treasuries, and the currency is 40% below its crisis peak. If you bought the bond, you would need the real to fall 10% versus the US dollar each year for 10 years before you would begin to lose money.
We also think the Fed's dovish stance will help EMs, as well as other spread sectors.
What do you think of the European markets?
The European Central Bank's stimulus is supportive, but we see more compelling valuations in the US.
What keeps you awake at night?
In this environment, a global recession would be the biggest risk, and it could come from China, despite our belief that the country is going through a soft and not a hard landing. We have seen the country working on its loans problem for a few years now, and it has also been working with the banks on the exchange rate. Another concern is missing the economic forecast, on the upside, as growth could be faster than we think. This would lead the Fed to tighten policy which would be a challenge since we have strategies based on central bank accommodation.
Do you expect volatility ahead?
Yes. Global business cycles are synchronized, but not completely correlated. This can be a positive for active management as it allows us to have broader diversification.
What have been the keys to turning Western Asset into a global leader?
Our long-term fundamental and value investment style has been a major reason for our success, especially in our core strengths of spread sectors and macro strategies. We compare and contrast our value to the market pricing, at the security and strategic level. Unless our view is different to the market, we won't have a position; consistently investing in undervalued securities ultimately has paid off.
We have also been willing to identify what we've done well, and what we've done wrong—one has to view the past as one would review the game tapes of a football game after the fact in order to gain perspective, learn lessons. We have also been ready to change when needed because markets, and the world, do change.
What has been your best call?
In terms of macro, being cognisant of the disinflationary trends, and the subsequent decline of rates. Also, understanding that you can use duration and credit to build risk-adjusted portfolios that can still deliver positive returns in downturns.
What has been your worst call?
Misunderstanding the challenges leading to the 2007–08 crisis—we thought the housing market was vulnerable, but not at that scale. We learned from it and strengthened our risk management. We now have one of the leading risk asset management teams in the world.
You have built a team of 128 investment professionals in Pasadena, London, São Paulo, Singapore, among others—what do you look for?
First, a philosophic match; and then, skills. But they need to fit into our collegiate, collaborative culture. Our hiring period is about six months, as we seek the input of many people. Here, we work together.
Some observers say the success of unconstrained strategies means benchmarks may be challenged in the future.
Benchmarks are here to stay because people want to compare managers' performance to something, and also you need an explicit understanding of what you are investing in.
Having said that, some benchmarks are very flawed. In fixed-income, broad indices are skewed to the biggest debtors, so we get many clients altering the benchmark.
Do you think unconstrained fixed-income will evolve more?
It is the biggest development in the industry over the last 10 years, but it is also the most misnamed asset class of all time: it means so many different things to so many different people. I believe that the most important thing is to determine which assets one wants to invest in; then, with what level of volatility, and third, select the sources of risk. We have strategies where the risk comes from spread products, but in others, it comes from the macro strategies. Some strategies have volatility of 4%, in line with the US market, while it's 8% for others. The key is that in each case, the strategy has defined its asset base, its volatility range and its risk sources. So it's not all that unconstrained. We believe more in defining the characteristics well, so our expectations are completely aligned with the client's.
Immersed in the midst of global, complex and volatile markets, how do you relax?
I read fiction and non-fiction, alternating them. I like mysteries, like Michael Connelly's, as they are very light, they take your mind off the worries of the day. I also like reading about recent US and European history. I play bridge and like travelling—I had a fear of flying but overcame it. I especially remember a family trip to the Baltics and seeing St. Petersburg, all with excellent weather—it was not a bumpy ride.
© Western Asset Management Company, LLC 2022. This publication is the property of Western Asset and is intended for the sole use of its clients, consultants, and other intended recipients. It should not be forwarded to any other person. Contents herein should be treated as confidential and proprietary information. This material may not be reproduced or used in any form or medium without express written permission.
Past results are not indicative of future investment results. This publication is for informational purposes only and reflects the current opinions of Western Asset. Information contained herein is believed to be accurate, but cannot be guaranteed. Opinions represented are not intended as an offer or solicitation with respect to the purchase or sale of any security and are subject to change without notice. Statements in this material should not be considered investment advice. Employees and/or clients of Western Asset may have a position in the securities mentioned. This publication has been prepared without taking into account your objectives, financial situation or needs. Before acting on this information, you should consider its appropriateness having regard to your objectives, financial situation or needs. It is your responsibility to be aware of and observe the applicable laws and regulations of your country of residence.
Western Asset Management Company Distribuidora de Títulos e Valores Mobiliários Limitada is authorized and regulated by Comissão de Valores Mobiliários and Brazilian Central Bank. Western Asset Management Company Pty Ltd ABN 41 117 767 923 is the holder of the Australian Financial Services Licence 303160. Western Asset Management Company Pte. Ltd. Co. Reg. No. 200007692R is a holder of a Capital Markets Services Licence for fund management and regulated by the Monetary Authority of Singapore. Western Asset Management Company Ltd is a registered Financial Instruments Business Operator and regulated by the Financial Services Agency of Japan. Western Asset Management Company Limited is authorised and regulated by the Financial Conduct Authority ("FCA") (FRN 145930). This communication is intended for distribution to Professional Clients only if deemed to be a financial promotion in the UK as defined by the FCA. This communication may also be intended for certain EEA countries where Western Asset has been granted permission to do so. For the current list of the approved EEA countries please contact Western Asset at +44 (0)20 7422 3000.