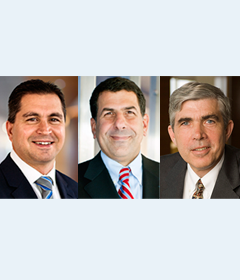 Global Multi-Sector: Looking Back, Looking Ahead
Portfolio Manager
Head of London Operations and Client Service & Marketing
Chief Investment Officer
Executive Summary
Twenty years ago, the GMS strategy was designed to participate in the growth opportunities of higher-risk sectors such as emerging markets (EMs), but with a volatility close to that of investment-grade strategies. We aimed to achieve this profile through a combination of asset class and subsector diversification, sector rotation and security selection.
The strategy has stood the test of time so well because each sector has distinct risk drivers that are not always highly correlated.
GMS is one of the most diversified products that we manage at Western Asset. We draw upon all of the Firm's resources and best ideas from around the world as well as utilize both our top-down and bottom-up skill sets.
Western Asset's Global Multi-Sector strategy (GMS) is currently celebrating its 20-Year Anniversary. We sat down with the strategy's founders, Portfolio Manager Ian Edmonds, Head of London Operations Mike Zelouf and CIO Ken Leech to discuss the evolution of the strategy and how a GMS portfolio is currently positioned to take advantage of today's market environment.
Q: Ian, you have been involved in managing GMS since its inception in 1996. What type of clients are invested in GMS and what role does the strategy play in their portfolios today?
IE: GMS provides a diversified mix of income and capital appreciation seeking to generate attractive total returns within a stable volatility range. GMS has a globally diversified investor base from the US, UK, Europe, Asia and more recently Canada. Over the last several years, the client base has evolved to include pension funds, insurance companies and other institutional investors.
Our investors use GMS for a variety of purposes. For example, pension funds that have hedged out their long-term liabilities via an interest rate swap often invest in GMS to help meet the cost of the swap. Other clients who use GMS are those who wish to invest in emerging markets and high-yield but do not have the resources to manage sector allocation. Also, some clients who have exposure to more traditional core fixed-income mandates invest a portion of their portfolio in GMS to realize more of a "core plus" style of investment.
We believe GMS will continue to have broad appeal going forward.
Q: What advantages do you think Western Asset has in managing a product like GMS. What lies behind its long-term success?
IE: Western Asset is very well placed to manage GMS. Running a global strategy that has broad investment latitude means we utilize the breadth and depth of the investment resources that we have at Western Asset. In addition to the rates, credit and mortgage teams in the US, our global footprint enables us to draw on the knowledge and expertise in our local offices in Europe, Asia and Latin America as well as in the US to help inform our investment decisions. This ensures we are well positioned to search for global opportunities in all the various asset classes.
In addition, our investment philosophy of being a long-term, fundamental value manager with multiple diversified strategies helps us to navigate periods of volatility and take advantage of market pricing anomalies.
Q: Mike, you and Ian worked together on creating the GMS strategy 20 years ago. It was a pioneering strategy back then. How did it come about?
MZ: Prior to 1996, we were successfully running an income-focussed strategy for several years that allocated to US high-yield corporate bonds, US agency mortgages and global government bonds. Because each of these sectors was lowly correlated and performed well at different stages of the business cycle, investors were able to benefit from high levels of income but with relatively low principal volatility. When we established Western Asset's first overseas office in London in 1996, we wanted to offer investors a high-income opportunity that would truly capitalise on the Firm's expanded global capabilities. With our Pasadena team's strong credentials in investment-grade credit and emerging markets (EMs), and with growing opportunities in European credit and local markets, it made sense to expand the sectors across which we would allocate. We also recognised that it also made sense to broaden the sources of return and to design a solution that could generate returns from both capital gains as well as income.
The ultimate goal was for the strategy to participate in the growth opportunities of higher-risk sectors such as EMs, but with a volatility close to that of investment-grade strategies. We also wanted to differentiate GMS from traditional bond strategies by reducing its total-return beta to government bond price volatility. We aimed to achieve this profile through a combination of asset class and subsector diversification, sector rotation and security selection.
We back-tested the risk and return of various sector combinations and concluded that a combination of growth-sensitive sectors such as high-yield corporate bonds and EM debt, coupled with more interest-rate sensitive and higher quality sectors in developed markets (such as US investment-grade corporate bonds and agency mortgage-backed securities) could generate a favourable risk/reward profile. In fact, that has proven to be the case consistently over market cycles during the past 20 years.
The reason this design has stood the test of time so well is because each sector has distinct risk drivers that are not always highly correlated. For instance, GMS includes corporate bonds (corporate default risk), mortgage-backed securities (prepayment and convexity risk), emerging market securities (developing country sovereign credit risk), and global government bonds (industrialized country interest rate and currency risk).1

Q: Specifically, what were the other asset classes that you decided to utilize and why?
MZ: The mid-1990s were an exciting, albeit volatile, time for global bond investors. In addition to traditional "hard currency" government and credit markets we actively participated in the nascent peripheral markets of Italy and Spain as well as in Danish and Swedish mortgage-backed bonds. We participated in the growing "convergence trade" in Poland, Hungary and Greece ahead of the launch of the euro currency in 1999. We were also early investors in Mexican, Brazilian, Turkish, South African, Indonesian and Indian domestic bonds and currencies. The onset of the single European market also spurred the development of euro investment-grade and high-yield corporate bonds in which the strategy participated selectively.
We felt that as a global fixed-income specialist manager, we were well positioned to take advantage of new opportunities as these markets evolved. For example, the European credit markets were just developing as the launch of the euro facilitated a more liquid platform for European corporate borrowers to issue debt as they diversified their funding sources away from domestic banks. The EM universe was also expanding. The increased issuance of local currency EM government debt led to a decrease in sovereign USD-denominated EM debt issuance. This also facilitated growth in EM corporate bond issues.
Q: So these were the opportunities you'd identified; how did you subsequently design the GMS strategy?
MZ: We needed a framework to define the risk parameters that we would work within, but that would also enable us to realize our return objectives through various market cycles. Specifically, we sought to make the sector diversification "structural" by not concentrating allocations excessively in either higher yielding or in highly liquid and more interest-rate-sensitive sectors.
For the GMS strategy, we had in mind investors with a volatility tolerance broadly consistent with investment-grade corporate bonds, so we set the investment parameters to ensure the strategy maintains an average credit rating profile that is at all times Baa3/BBB- or better. We aim to achieve a return over a market cycle of LIBOR + 2% to 3% with a volatility target in the range of 5% to 7%. BBB corporate bonds on average typically yield around 1% to 1.5% over swaps, but we targeted a higher return for GMS given active management and issue selection with up to 70% invested in a combination of high-yield and EM debt. That means the GMS strategy always has at least 30% in liquid, higher-quality assets that can help dampen volatility during periods of market stress.
Q: Ian, how do you decide on the asset allocation and which securities to put in the strategy?
IE: The opportunity set is much larger now than when we initially managed the strategy in the late 1990s. As Mike said earlier, the European credit markets and EM corporate universe have seen rapid growth and represent additional opportunities for us.
GMS is one of the most diversified products that we manage at Western Asset. We draw upon all of the Firm's resources and best ideas from around the world as well as utilise both our top-down and bottom-up skill sets. We need a process to determine the asset allocation and to know which securities to purchase.
The key investment themes and strategies are driven by our Global Investment Strategy Committee and influenced by our Global Credit Committee. Specifically for GMS, we have a GMS Strategy Committee that I chair. This Committee meets formally every two weeks and consists of our most senior investment professionals including our CIO Ken Leech and Deputy CIO and Head of Global Credit Mike Buchannan. We review the GMS portfolio positioning including sector and subsector allocation, duration and currency positioning as well as other risk factors. Given the ongoing communication that we have with the various regional and sector teams, we take into account valuations and any change in our outlook for fundamentals. Once we have the asset allocation determined, I work with the local regional and sector specialists who select and buy the individual securities. As the portfolio manager, I am responsible for the strategy's overall performance as well as overseeing the portfolio on a daily basis in terms of asset allocation and work with the risk management department in considering factor and issuer concentration risk. As with all strategies at Western Asset, the GMS strategy is very much a team effort.
Q: What about when spread sectors are challenged? How do you manage GMS during those periods?
IE: GMS is a highly diversified strategy that seeks to deliver positive, risk-adjusted returns over time. However, there are periods such as in 2008, or 2015 when risk assets sold off sharply and became more correlated. The diversification strategies sometimes fail to offset weakness in such extreme conditions. That is when we have to remind ourselves of our long-term value approach. We revisit the fundamentals and tie that in with market pricing. We maintain portfolio hedges, such as additional core duration, and look to capitalise on any opportunities. For example, adding to long-dated investment-grade credit in late 2015 and early 2016 was in our opinion a good risk/reward opportunity; given our constructive view on fundamentals and the pessimistic default rates that were being priced in to corporate bonds at the time, we felt the downside risks were more limited. Over time, as market conditions normalise, we would expect to capture that value, as we have seen this year.
Q: Given the low level of government bond yields, how do you view and manage interest-rate risk?
IE: Developed market government bonds held in GMS are mainly used for risk management purposes, primarily as a hedge against the credit risk in the portfolio. Periodically interest-rate risk itself can be undervalued, as in the latter half of 2013. We have a flexible approach to duration management and have a wide range built into the strategy to permit that, but overall, duration management is not a key long-term driver of returns. Specifically, in times when interest rates normalise we have the flexibility to reduce interest-rate risk and seek to protect the portfolio from a rising-rate environment. In addition, we would focus on less-interest-rate-sensitive sectors such as high-yield, bank loans and seek local EMs with different interest-rate cycles.
Q: How do you use currencies in the portfolio and manage overall currency risk?
IE: We manage currency risk through a variety of measures. We use active currency overlay strategies to hedge various risks in the portfolio such as those arising from credit, commodity prices, differences in regional growth rates, etc. Therefore we have the flexibility to diversify away from the US dollar, but can also, from time to time, fund higher-yielding markets from other currencies. Currency flexibility can help dampen the volatility of the portfolio. Exchange-rate volatility can be significantly higher than that of bond markets, however, so we are prudent in the sizing of any currency exposures to ensure they do not dominate investment results.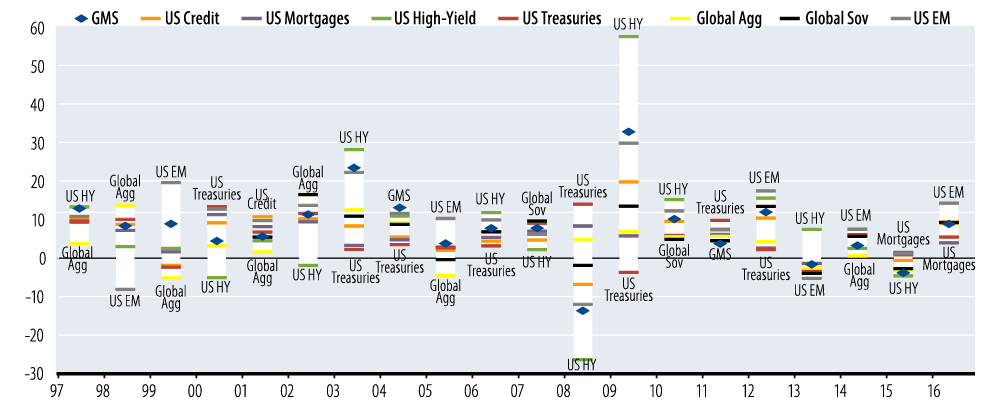 Q: How is the strategy generally positioned at the moment? Are there any particular opportunities that you are looking at?
IE: Currently the portfolio has a bias to high-yield and global EM debt, which make up approximately 50% of the portfolio. Although we remain positive on high-yield, we have been reducing some exposure recently given the sector's strong performance this year. We are rotating some of that investment into bank loans given that loans have a lower volatility than high-yield but still offer attractive income, especially should the recent increases in US dollar LIBOR continue.
We are also favourable on select local EMs including Indonesia, India, Brazil, Russia and Mexico. A variety of factors are driving this, including the higher yields, more favourable investor sentiment to the asset class and improved domestic fundamentals and decreased near-term concerns over China. In addition, EM currencies have stabilized recently and many now look attractive given weakness over recent years and domestic macro policies that are either stable or on an improving trajectory.
Q: Ken, as CIO and a key member of the GMS Strategy Team, what does unconstrained fixed-income mean for Western Asset and how does GMS fit into the Firm's unconstrained line-up?
KL: I think the proliferation of "unconstrained" offerings across the financial industry is the most misnamed category ever. The first question of any strategy by any client is, "What are the constraints?" As a starting point, at Western Asset, we feel each product should have clear volatility parameters, a specifically articulated description of what assets will tend to populate the portfolio, and a prescription for how the risk budget will be allocated.
Of course GMS was our first entry into this space. Its success and longevity have helped us as we have introduced many other "unconstrained" programs in response to our clients' concerns. We have also utilized the team approach that has been so successful in our GMS program as a template for our other programs.
Q: How do you feel Western Asset has evolved with the markets over time?
KL: GMS is an example of Western Asset introducing new programs to suit the needs of our clients in the context of constantly changing markets. It may seem commonplace today, but the introduction of a program that would have half of its assets in high-yield and EM debt was considered extraordinary at the time. High-yield markets were still developing while EM debt management was in its infancy. Western Asset's focus on surrounding the better expected return asset classes with high-quality bonds and duration to seek the benefit of lower correlations and help protect drawdown during periods of credit market volatility was considered very novel. But that philosophy of combining higher return assets with risk-reducing strategies has stood the test of time.
Endnotes
The asset classes mentioned have additional risk drivers other than the ones mentioned in the parentheses. This may include interest rate risk, liquidity risk, spread risk and others.
© Western Asset Management Company, LLC 2022. This publication is the property of Western Asset and is intended for the sole use of its clients, consultants, and other intended recipients. It should not be forwarded to any other person. Contents herein should be treated as confidential and proprietary information. This material may not be reproduced or used in any form or medium without express written permission.
Past results are not indicative of future investment results. This publication is for informational purposes only and reflects the current opinions of Western Asset. Information contained herein is believed to be accurate, but cannot be guaranteed. Opinions represented are not intended as an offer or solicitation with respect to the purchase or sale of any security and are subject to change without notice. Statements in this material should not be considered investment advice. Employees and/or clients of Western Asset may have a position in the securities mentioned. This publication has been prepared without taking into account your objectives, financial situation or needs. Before acting on this information, you should consider its appropriateness having regard to your objectives, financial situation or needs. It is your responsibility to be aware of and observe the applicable laws and regulations of your country of residence.
Western Asset Management Company Distribuidora de Títulos e Valores Mobiliários Limitada is authorized and regulated by Comissão de Valores Mobiliários and Brazilian Central Bank. Western Asset Management Company Pty Ltd ABN 41 117 767 923 is the holder of the Australian Financial Services Licence 303160. Western Asset Management Company Pte. Ltd. Co. Reg. No. 200007692R is a holder of a Capital Markets Services Licence for fund management and regulated by the Monetary Authority of Singapore. Western Asset Management Company Ltd is a registered Financial Instruments Business Operator and regulated by the Financial Services Agency of Japan. Western Asset Management Company Limited is authorised and regulated by the Financial Conduct Authority ("FCA") (FRN 145930). This communication is intended for distribution to Professional Clients only if deemed to be a financial promotion in the UK as defined by the FCA. This communication may also be intended for certain EEA countries where Western Asset has been granted permission to do so. For the current list of the approved EEA countries please contact Western Asset at +44 (0)20 7422 3000.