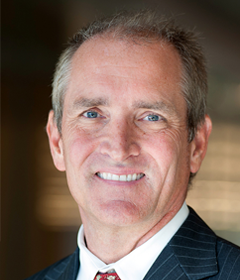 In this Q&A, Portfolio Manager Carl Eichstaedt explains our Core Full Discretion strategy, one of the longest running strategies at the Firm. Carl also details the key aspects of our philosophy and process and the role they play in portfolio construction.
Q: How would you describe the strategy to an investor?
A: The Core Full Discretion strategy, also known in the market as Core Plus, includes many of the high-quality sectors featured in the benchmark Barclays Aggregate Index, but also contains opportunistic use of additional sectors, enabling it to offer the potential for higher returns than is typically offered by a traditional fixed-income index. It is also a reflection of what is at the heart of Western Asset's investment philosophy: long-term, fundamental value and diversification. What we mean by value is that we try to combine the fundamental view of a security and marry that with the pricing in the marketplace. In the fixed-income market, it's very easy to come up with a great idea just by analyzing a company. However, the market may already be pricing in that view. So, by focusing on value we are able to do two things. First, focusing on value can be a justification to stay invested. If current market pricing drops and our fundamental value view has not changed, we would look to potentially add to the position or strategy. An example of this would be the emerging markets in 1998. The news wasn't good—there was some fundamental deterioration, particularly in Brazil and Russia—but with the entire complex trading 50 cents on the dollar, we were actually able to add to that sector and did well with it.
The second thing that focusing on value enables is exiting a strategy or a security that we fundamentally like but for which we think the pricing has gone too far positive. Investment-grade credit pre-crisis in 2007 comes to mind as a case in which we were positive on corporate America, earnings and creditworthiness, but spreads were at all-time lows, which gave us a reason to lighten up on sectors and securities that we fundamentally liked. Roughly half of the time that we minimize our exposure, the decision comes from an analyst or even a portfolio manager changing his or her fundamental view on a security or strategy, but the other half of the time, it comes from an observation in the market that that security is trading, or trading through, either an upgrade or downgrade view.
Regarding diversification, through every crisis I've witnessed during the time I've worked at Western Asset, the main lesson that always rises to the surface is the value of diversification. We try very hard to employ several different strategies at the same time, some of which are complementary. Duration-yield curve would be a good example of this. It's almost like life insurance—you don't want to use it, but if you need it, it's there. Diversification dampens volatility. We're measured on a risk-adjusted basis, not just on an absolute basis, so it's particularly important to us.
Q: As a portfolio manager, how are the investment ideas incorporated into the portfolio?
A: Our analysts are responsible for incorporating their investment ideas into the portfolio. They benefit greatly from the flexibility of our investment process, which is one of our greatest strengths. At Western Asset, employees aren't pigeon-holed into one job. As a result, we have a below-industry level turnover rate among our investment professionals. One of our high-yield analysts recently transitioned to emerging markets, and an associate who had been working in client services is now a portfolio analyst. Over time, Western Asset employees have an opportunity to pursue what interests them, so what we as a Firm end up with is a group of analysts, each of whom has autonomy and takes ownership of his or her ideas. That ownership is essential to our process and critical when marrying bottom-up research with top-down analysis. From day one, analysts are responsible for the specific securities or strategies that form the basis of their ideas. They follow these securities and strategies throughout their duration in the portfolio and are responsible for maintaining both fundamental and pricing changes.
Q: What factors would cause a change in position within the strategy?
A: I think a sell discipline that has a line in the sand or a plus-or-minus 20% rule is flawed. It's very important to be flexible. Every cycle is different and every situation is different. If you're continually marrying the fundamental story with the pricing, and noticing if one is leading or lagging the other, then that makes a sell or buy decision easier. We don't have a magical line where, once crossed, it's time to sell. By nature, we tend to be counter-traders. We're apt to buy securities that are down in price for the wrong reasons and like to sell securities that are up in price for the wrong reasons. We are not momentum investors, which tend to do the opposite.
When considering a change in a security, the traders, analysts and portfolio managers involved with the trade will meet to discuss what has changed, closely examining their fundamental views of the strategy and how it is being priced in the market. If these indicators suggest that it makes sense to minimize or completely exit the exposure, the group will sell and find an appropriate replacement to maintain a similar allocation within the strategy.
Q: What are the current challenges facing the Core Full Discretion strategy?
A: A main concern is Europe. It's been stuck in a deflationary spiral for the better part of five years. Although Europe made it through the Greek crisis of 2011 and there have been some amazing moves by the European Central Bank, at the end of the day, the eurozone still remains a risk. There are 19 countries with different cultures sharing a single currency—you could argue there's an inherent flaw in the system—but nonetheless, European leaders have done a pretty good job of making it work. However, the number one risk in the world would be if the eurozone begins to unravel in some way.
I think the second challenge would probably be China. It's kind of an enigma in that the data can't be trusted. For example, if you add up the GDP of the individual Chinese provinces, it's much greater than the country as a whole, which casts doubt on the validity of the numbers. Our Firm has a relatively positive view of China in terms of it being able to engineer a soft landing. In essence, one reason why we think that it's unlike the rest of the developed world is that China still has policy flexibility because it doesn't have a zero-rates structure. Additionally, it has the enviable position of having a positive fiscal balance, so it can prime the pump when it wants to.
Q: How, as a Firm, are we prepared for these challenges?
A: Our emphasis has been on our global capabilities. We have investment professionals on the ground, in seven offices around the globe, and we are able to run our non-dollar strategies from most of our international offices. For example, London executes a lot of our foreign exchange trading. I really think that with this kind of global presence, you gain valuable insights by having people in the right time zones, meeting the local companies and so forth. I think we're also really starting to see the benefits of CIO Ken Leech's efforts to further integrate our international offices. He has spent a lot of time with our non-US investment teams to coordinate our emerging markets and overall global effort. Eastern Europe is managed out of London, Southeast Asia is out of Singapore and we split Latin America between Sao Paulo and Pasadena. Because of the diversified viewpoints afforded by our global presence, many of our strategies—including Core Full Discretion—benefit from a variety of sources of input when it comes to making country and security selections. For example, this past year, the US group maintained a long-duration posture despite being positive on spread product. This was driven by input from our London group, which emphasized the significance of the second- and third-biggest bond markets in the world—German bunds and Japanese JGBs—which were trading at a fraction of US Treasury yields. As a result, the US Treasury curve seems to be experiencing a gravitational pull towards these other two developed markets.
I also think that you can't underestimate the hard work that the risk group has done, as well as the advantages that it's brought to our portfolio construction and monitoring process. We've added people and resources to this area, and it has really been making an impact. What I see as the biggest advantage for our clients is the ability to granulate and divide tracking error up by any number of ways. This can be done by security, subsector, country or currency. In this way, the portfolio group has the information of where the tracking error is coming from and can gauge whether it matches our investment ideas. The group has helped identify cases on both ends of the spectrum. For example, sometimes there will be a large source of tracking error that is not one of our ideas—in that case, it's time to either trim or remove that strategy. Other times, there will be securities or strategies that we think, as a portfolio management team, are one of our top ideas. However, this idea doesn't move the needle in terms of tracking error. In that case, it means we haven't sized the trade properly. I saw that with the short euro trade a year-and-a-half or so ago, and that probably would not have been so obvious had it not been for the risk group's integration.
Q: Western Asset seeks to combine a top-down and bottom-up investment process. How does this actually work?
A: This gets back to our team effort—and this has been one of our main drivers for the twenty-plus years that I've been here. You can see the integration of the top-down and bottom-up process when you look at the trading floor structure. The analysts don't sit in offices, isolated by themselves, working in a vacuum. Analysts, traders and portfolio managers all sit together in an open atmosphere to exchange ideas. One of the great things about working here is no one is afraid of asking a question. We are all encouraged to ask any question at any time with the understanding that you won't be looked down upon for not knowing the answer.
Our large group of experienced analysts are integral to the strength of our bottom-up process. At Western Asset, the analyst role is not considered a junior position, or a necessary stepping-stone to becoming a portfolio manager, as it often is at other firms. Here, it's generally a career position so we end up with a pool of analysts who are very qualified, to the point of being experts in their fields, and we thoroughly utilize their expertise. What you wouldn't want to see, in my opinion, would be your CIO meddling in whether you're in the right railroad company—if you don't trust your railroad analyst to make that call, it's probably time to get a new railroad analyst. We give our analysts a great deal of autonomy, and in return, they take ownership of that idea or that trade and follow it through to fruition.
Although our research-intensive bottom-up analysis process gets a lot of attention, the macro strategies are extremely important, particularly in terms of being a complement, or an offset to some of the other strategies in the portfolio. Macro strategies for Core Full Discretion mandates are set domestically by the US Broad Strategy Committee, which is comprised of the senior investment professionals who have global viewpoints that would be beneficial in broadening the Committee's perspective. This group meets weekly, not to re-jigger the portfolio, but to make sure that our basic template is consistent with current market conditions. The US Broad Strategy Committee sets broad macro policy: interest rates, both duration and curve, broad sector allocation, and potentially even some subsector allocations, but at that point, we really turn it over to the individual sector teams to do their own bottom-up analysis. Having the sector heads on the Committee is a real benefit here as they play a major role in providing the connection to our research analysts and hence the bottom-up part of the process. We want to ensure a fluid connection between the two, and I think it's something that we execute pretty well.
The US Broad Strategy Committee also includes the head of portfolio and quantitative analytics, whose team works directly with the portfolio managers on a real time basis. They do not manage money, but ask questions such as, "Did you think about this?" or "What about the unintended consequences of this?" It's a great benefit to have a representative on the Committee because their work is greatly influenced by a macro view. Three or four years ago, the emerging markets credit team was very positive on a number of Russian credits. In isolation, each company had its own positive merits and its own value versus where it was priced, but the risk group saw that if you added all of those companies up, it meant a lot of exposure to the Russian market, and therefore represented large political risk. The group agreed with their assessment and trimmed back, not because they didn't continue to see great value in any one of the companies, but because they recognized that they probably had too much money in one country ticker.
Q: As an investor, where would you use the strategy?
A: I think, even in this day of low yields, that any pension plan has room for a Core Full Discretion strategy. It's an anchor to windward and has negative correlation to equities over long periods of time. I know there's been a big move over the last several years given low yields to move into specialized products, higher-yielding products, emerging markets, bank loans, agency mortgages, etc., but I do think there's always going to be a place in any kind of investment strategy for an aggregate-type mandate, or at least a mandate that has some duration.
Q: What do you feel is our competitive advantage with the Core Full Discretion strategy?
A: I think our global footprint is an amazing competitive advantage—not only the number of offices, but the way we use them: having boots on the ground and having our international offices manage money, is a great way to identify future opportunities.
We have 47 research analysts and consequently have expertise across all areas of the fixed-income market. This is a very large team for a fixed-income-only manager.
This large pool of seasoned analysts is a great resource for us. Recently, we've been in more of a sector market where a rising tide lifts or lowers all boats, but I think that now that we're advancing into the later stages of a credit cycle, there's less focus on being over- or underweight certain sectors, and more attention paid to being in the right companies of the right subsectors. Going forward, I think more than ever, the advantage of having a very large, experienced analyst pool will prove extremely beneficial.
© Western Asset Management Company, LLC 2022. This publication is the property of Western Asset and is intended for the sole use of its clients, consultants, and other intended recipients. It should not be forwarded to any other person. Contents herein should be treated as confidential and proprietary information. This material may not be reproduced or used in any form or medium without express written permission.
Past results are not indicative of future investment results. This publication is for informational purposes only and reflects the current opinions of Western Asset. Information contained herein is believed to be accurate, but cannot be guaranteed. Opinions represented are not intended as an offer or solicitation with respect to the purchase or sale of any security and are subject to change without notice. Statements in this material should not be considered investment advice. Employees and/or clients of Western Asset may have a position in the securities mentioned. This publication has been prepared without taking into account your objectives, financial situation or needs. Before acting on this information, you should consider its appropriateness having regard to your objectives, financial situation or needs. It is your responsibility to be aware of and observe the applicable laws and regulations of your country of residence.
Western Asset Management Company Distribuidora de Títulos e Valores Mobiliários Limitada is authorized and regulated by Comissão de Valores Mobiliários and Brazilian Central Bank. Western Asset Management Company Pty Ltd ABN 41 117 767 923 is the holder of the Australian Financial Services Licence 303160. Western Asset Management Company Pte. Ltd. Co. Reg. No. 200007692R is a holder of a Capital Markets Services Licence for fund management and regulated by the Monetary Authority of Singapore. Western Asset Management Company Ltd is a registered Financial Instruments Business Operator and regulated by the Financial Services Agency of Japan. Western Asset Management Company Limited is authorised and regulated by the Financial Conduct Authority ("FCA") (FRN 145930). This communication is intended for distribution to Professional Clients only if deemed to be a financial promotion in the UK as defined by the FCA. This communication may also be intended for certain EEA countries where Western Asset has been granted permission to do so. For the current list of the approved EEA countries please contact Western Asset at +44 (0)20 7422 3000.