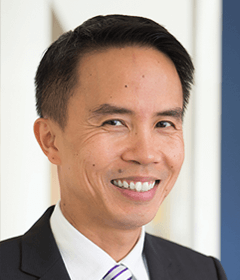 Asia Debt
Head of Investment Management, Asia (ex-Japan)
In this Q&A, Head of Investment Management, Asia (ex-Japan) Chia-Liang Lian discusses changes in the Asian debt market over the past year, growth drivers for 2013, and the Singapore Team's investment outlook and strategy, research process, and risk control. He also offers an in-depth look at Western Asset's hallmark, team-based investment philosophy, as it applies globally and in the Asia region.
Q: What is the major difference between last year and this year's Q: Asian debt market in terms of credit spreads and sentiment? Has new issuance slowed down this year and why?
CL: Looking back on 2012, local rates and credit spread were the primary drivers of performance. Asian bonds held up well in spite of fears of a Chinese economic "hard-landing". As it turned out, GDP growth moderated to a still-enviable 7.8% for the whole of last year. Going forward into 2013, a China-led cyclical recovery provides a strong case for a strategic allocation to Asian bonds. Credit will likely remain a contributor, given still compelling yields versus similarly-rated credits in the developed world. Local rates will likely take a pause given that the easing cycle is behind us for most countries, although we do not expect significant tightening this year given a broadly benign inflation environment. Market sentiment remains constructive on the asset class, which has been delivering stable risk-adjusted returns and therefore presents a compelling choice for global asset diversification purposes. At the start of 2013, the primary market in Asian bonds has been very active, with a total of almost $23 billion issued in the USD-denominated market, a record monthly-high. The overall market performance has been mixed, an outcome we view as a healthy sign of issue and credit differentiation. It also suggests little sign of market froth.
Q: What are some of the strongest performance segments and what's happening to Asian debts when elsewhere we've seen a continuous wave of debt downgrading?
CL: Our conviction of Asia's sustained GDP growth outperformance versus other regions underpins the emphasis on corporate credit exposure. Sovereign strength, we believe, should ultimately ripple out to quasi-sovereigns, banks and corporates residing around the neighborhood of macro resilience. Valuation is compelling, with investment-grade Asian credits offering a premium of 80-100 basis points over comparable credits in developed markets. Importantly, Asian credits are technically supported by non-traditional investors from outside the Asia-Pacific region, making a strategic allocation to this asset class. This is further evidenced by a record supply of new hard-currency issuance, totaling more than $115 billion in 2012, and $23 billion in the first month of this year. In our flagship Legg Mason Western Asset Asian Opportunities Fund (AOF), we view opportunities in high-grade Asian credits as attractive in bolstering carry. Bonds issued by quasi-sovereigns in strategic industries that are under-invested—utilities, telecommunications and energy, for example—offer value given our positive secular outlook on countries such as Korea, Indonesia and the Philippines. In specific, local debt markets such Singapore, Hong Kong and the offshore Chinese yuan, we have selectively participated in high-quality credits that offer a diversification benefit.
Q: Do you still see valuation for Asian currencies remaining attractive, and what are the drivers (technical and non-technical) for growth in the Asian debt market for 2013?
CL: We have an overweight currency allocation to the Chinese yuan. We view the fact that currency markets are pricing in an annual depreciation of over 1% as providing an attractive level for Chinese yuan exposure. Easing the exchange rate is unlikely to have meaningful impact in bolstering growth, since the current problem is one of external demand weakness rather than export price competitiveness. For 2013, we expect GDP growth in China to moderate to a still-respectable 7% to 8%. The slowdown is partly cyclical, partly structural. There is ample room for policy stimulus if needed, although policymakers have so far acted prudently to avoid the unintended consequences of the last fiscal package during late-2008. Longer term, sustaining Chinese growth would require a reorientation toward domestic sources of demand, particularly as consumers play a greater role in growth contribution. In the Philippines, we have overweight positions in both rates and currency. A due-diligence trip to Manila reinforces our fundamental conviction that the country is on track to be rated investment-grade over the next two years. The achievements in restoring macroeconomic stability, particularly fiscal consolidation, are positioning the country toward a higher long-term potential GDP growth of around 6%. A steady accumulation of foreign exchange reserves, currently at $84 billion or five times the decade-ago level, provides a source of self-insurance against exogenous shocks.
Q: As compared to your peers, you are significantly overweight on Singapore and Philippines. Why is this, and which countries in Asia still offer the most attractive and best fundamentals at the sovereign and corporate level in 2013?
CL: In 2012, we adopted a barbelled approach by credit rating, overweighting both Singapore and the Philippines. A shrinking universe of AAA rated credits globally underpins our overweight exposure to Singapore, both in rates and currency. Today, just seven countries are rated AAA with stable outlooks by Moody's, S&P and Fitch. As a member of this new "G7", Singapore should benefit from a broadening investor base, spurred by new official institutional demand that emphasizes a "return of capital", as opposed to a "return on capital". Our overweight allocation to the Philippines reflected our view that the country was on track to achieve a sovereign re-rating over the next one to two years. Going into 2013, we continue to emphasize the Philippines based on our structural call. After a volatile year, we view opportunities in India as attractive, particularly if policymakers deliver on the recently announced reform initiatives to address the country's longstanding challenge of external and fiscal account deficits. In corporate bonds, we like shorter-dated securities in the "dim sum" bond space, and look to enhance yield through strong BB credits in the two- to three-year tenors. We reiterate the importance of proprietary assessment of standalone credit worthiness, bond structure and relative valuation.
Q: What is your investment process when selecting securities, domestic and external debts from all sectors, and how are your positions being defined? We understand that your research analysts sit with the portfolio managers on the trading desks. What are some of the metrics you use in your decision-making process?
CL: We adopt a fundamental value discipline with a long-term perspective, seeking to generate superior risk-adjusted returns through diversified strategies. These multiple strategies are employed so that no single strategy has an overwhelming effect on portfolio performance. The local investment process employs a tri-factor framework: rates, currency and sector. In the short run, the investment team's emphasis on each factor may rotate from period to period, depending on our assessment of market valuation and the opportunities that arise. Broadly speaking, however, all three factors are expected to contribute evenly to the investment performance over a typical business cycle of three to five years.
Our investment decision-making similarly adopts a three-pronged approach, based on considerations of fundamentals, valuation and technicals. The long-term orientation necessitates a rigorous assessment of fundamental factors affecting countries and companies to which we have exposure. Fundamental analysis is the first step to every investment decision; no trade is implemented in the absence of it. As fixed-income investors, we take the discipline of proprietary research very seriously, as capital preservation is of paramount importance. Valuation is then considered in terms of timing of trade execution, based on our independent assessment of a credit and what markets are pricing in. Occasionally, market mispricing presents relative value opportunities among similarly-rated credits, or between cash bonds and credit default swaps. Critically, an appreciation of technical factors—the bond supply pipeline, the evolving investor base or curve segmentation, to cite a few examples—is becoming an essential part of conducting market analysis.
The Asian investment team is made up of portfolio managers, credit research analysts and portfolio analysts. As the ultimate decision-maker, the portfolio manager is responsible for prescribing the top-down strategy, making sector allocations and managing overall portfolio-level risk. With in-depth proprietary research as the primary responsibility, the credit analysts propose and implement trade ideas as these opportunities present themselves. The portfolio analysts contribute to the daily trading process, conducts risk and attribution analysis for portfolios, as well as provide support to internal macro research and portfolio commentaries. Together, we pursue an interactive team-based approach, while fully cognizant of individual responsibility for our primary roles.
Q: How does currency play in this process and what is the basis of the team's mentality in terms of finding values in various fundamental trends?
CL: As mentioned above, currency is expected to generate one-third of a pan Asian portfolio's excess return over time. Beyond the reduction of the impact on portfolio tracking error through active hedging and the management of currency volatility, the Firm's experience in managing multi-currency fixed-income investments enables it to effectively capitalize on long-term currency trends.
Western Asset believes that currencies tend to follow distinct trends over long periods of time. These are determined by a combination of fundamental macroeconomic factors and by direct investment and portfolio-related capital flows. The Firm derives its long-term currency views primarily from fundamental shifts in economic growth, real interest rates, current account and trade imbalances and governmental macroeconomic policies. Western Asset also analyzes non-fundamental indicators based on time-charts of exchange rates. The Firm complements this analysis with a tactical analysis utilizing its own comprehensive database of monthly currency and derivative markets data to analyze relative value across currencies and volatility trends in exchange rates.
Q: What are your investment strategies and disciplines when analyzing sovereign, quasi-government versus corporate hard and local currency debt securities? How do you identify mispricing opportunities?
CL: As part of Western Asset's standard credit research process, the Firm's analysts conduct exhaustive fundamental, technical, and relative value issuer analysis. The relative value analysis reviews, at a minimum, the valuation of a credit versus that of its competitors, issuers with similar risk profiles, issuers with similar ratings, issuers in similar industries, and spread versus risk-free government securities. Analysts use the result of this analysis to set return targets. When an issue reaches its return target, a credit review is automatically triggered to determine the appropriateness of continuing to hold that issue or issuer.
Western Asset assesses the credibility of management and whether they possess the willingness and ability to maintain or improve upon their competitive posture and financial profile. Western Asset meets in person with the management of all of its major corporate holdings to determine firsthand their ability to achieve this task.
The next step in the process is to analyze specific issues, paying special attention to covenants which, when present, provide important protections for bondholders. Option-adjusted spreads are examined at various levels of implied volatility and an analysis is performed of any embedded options in the issue, such as puts, calls or convertibility into an issuer's common stock. The focus is whether the pricing of embedded options offers value.
Of equal importance in the analysis of specific issues is liquidity. Western Asset has a bias toward large, broadly sponsored issues. It is important to be able to sell an issue should it reach Western Asset's objectives, or should the Firm have concerns about unfavorable credit developments.
Western Asset seeks to add incremental value by exploiting opportunities peculiar to the corporate bond market. Some examples for enhanced returns are described below:
Undervalued Securities—Securities trading at a discount to the market or peers due to oversight or misinterpretation of the issuing company's current or future business prospects.
Out-of-Favor Securities—Securities trading at a discount to the market due to industry-related stresses irrespective of their specific business and financial situation. These can also be securities trading at a discount to the market or peers due to a specific negative occurrence which is being mitigated or is a one-time anomaly.
Trading Inefficiencies—Securities trading at a discount to the market or peers due to differences in bid and offer spreads between various dealers. Technical market factors such as cash flows in and out of the market which disturb the supply/demand balance, causing securities to trade at a discount to their face value irrespective of their specific business or financial situation.
Potential Upgrade Candidates—Securities in companies with credit statistics and operating results that would indicate the potential for rating upgrades.
Q: Please show us a few steps on risk control and explain what the basis is for allocation changes?
CL: Western Asset has an independent Risk Management Department and uses a variety of vendor and custom systems to assess risk. Security level risk characteristics such as durations, spread durations, convexities, weighted average lives, and other single security metrics are generated by an extensive daily process using systems such as Barclays POINT and Citigroup Yield Book. Proprietary tools, called "Risk Dashboards" and performance scorecards, are also used to standardize the approach to assessing risk, ensure risks are properly aligned with client expectations, and communicate risk across the various stakeholders at the Firm.
Western Asset continually evaluates both new vendor systems and new customized approaches to risk systems and models, so the systems used can change in response to changes in the capital markets.
Q: How does your local Asian currency and bond team benefit from the global fixed-income research and volume, and in terms of new issuance and specific credit developments?
CL: The investment philosophy in Asia is no different from that of any other Western Asset strategy, plus our hallmark team-based approach allows for all of the Firm's investment professionals to contribute to the management of every client portfolio, leveraging the collective experience and judgment of the entire investment management organization to the benefit of each client. Western Asset manages portfolios that involve each sector of the global bond market. Teams are made up of investment professionals with both sector and product responsibilities, who work together as a single unit from the Firm's offices in Asia and globally. The Firm strives to maintain a culture of investment excellence and collaboration facilitated by an environment that encourages an open exchange of ideas and frequent communication among all the members of the investment team. The investment process is interactive and deliberate, reinforced by our team-based approach. We believe our investment philosophy that emphasizes diversified strategies is consistent with our objective of delivering consistent risk-adjusted returns.
A distinguishing characteristic of Western Asset's structure in Asia is that the entire investment team is based in a single location in the region. Apart from the benefit of real-time local market information during Asia trading hours, being located in one office goes a long way in promoting exchange and coordination among team members. Equally important is the ability of the Asian team to tap into the global resources of Western Asset. The Asian based portfolio managers and credit analysts are fully integrated into the global organization, are part of the Global, Emerging, and Global Credit teams, and participate in and contribute to global strategy committees and analyst meetings. As Head of the Asian investment team, I am also a full member of the Global Investment Strategy Committee, the most senior investment committee which sets the overall strategy for the Firm. In the context of an increasingly globalized market environment, incorporating views from developed markets is important in assessing opportunities in Asia. Indeed, we note an emerging trend of US, European and Japanese companies tapping the local Asian bond space for funding. In the context of what we term as "cross-pollination" in Asian debt, the global breadth of credit resources at Western Asset positions the firm well to take advantage of such opportunities.
Access to issuers and liquidity are two significant benefits that Western Asset's Asian investment team enjoys as part of a large global Firm's significant footprint across the investment management industry. As one of the biggest fixed-income managers in the world, Western Asset analysts have unparalleled access to senior management at most issuers. This broad access is reserved for a select few managers and is a critical competitive advantage when conducting issuer reviews. Sales coverage from the broker/dealer community is another area where Western Asset enjoys a competitive advantage. When credit markets are under pressure and liquidity is difficult to extract in the market, Western Asset is typically able to execute sales when others are not. Our size also helps in the new-issue market where Western Asset is often the lead order and will take an active role when appropriate in structuring a transaction to fit its needs. The Asian team has coordinated and led the Firm's participation in a number of Asian issuer's global bonds in 2012.
Q: What has been the average tenure and turnover of your Asia fixed-income analyst team and the portfolio team as compared to your global team (with managers' tenure comparatively shorter in Asia)?
CL: Western Asset's Singapore based Asian Fixed-Income team is comprised of two portfolio managers, two credit analysts and three portfolio analysts. The team has an average industry experience of 13 years. As part of an effort to improve our regional investment capabilities and strengthen integration with our global and emerging markets investment organizations, a decision was made in 2011 to expand and upgrade the team, and five new investment professionals were added over the course of last year. Globally, Western Asset's investment professionals average eight years with the Firm, and 20 years of experience.
© Western Asset Management Company, LLC 2021. This publication is the property of Western Asset and is intended for the sole use of its clients, consultants, and other intended recipients. It should not be forwarded to any other person. Contents herein should be treated as confidential and proprietary information. This material may not be reproduced or used in any form or medium without express written permission.
Past results are not indicative of future investment results. This publication is for informational purposes only and reflects the current opinions of Western Asset. Information contained herein is believed to be accurate, but cannot be guaranteed. Opinions represented are not intended as an offer or solicitation with respect to the purchase or sale of any security and are subject to change without notice. Statements in this material should not be considered investment advice. Employees and/or clients of Western Asset may have a position in the securities mentioned. This publication has been prepared without taking into account your objectives, financial situation or needs. Before acting on this information, you should consider its appropriateness having regard to your objectives, financial situation or needs. It is your responsibility to be aware of and observe the applicable laws and regulations of your country of residence.
Western Asset Management Company Distribuidora de Títulos e Valores Mobiliários Limitada is authorised and regulated by Comissão de Valores Mobiliários and Banco Central do Brasil. Western Asset Management Company Pty Ltd ABN 41 117 767 923 is the holder of the Australian Financial Services Licence 303160. Western Asset Management Company Pte. Ltd. Co. Reg. No. 200007692R is a holder of a Capital Markets Services Licence for fund management and regulated by the Monetary Authority of Singapore. Western Asset Management Company Ltd is a registered Financial Instruments Business Operator and regulated by the Financial Services Agency of Japan. Western Asset Management Company Limited is authorised and regulated by the Financial Conduct Authority ("FCA") (FRN 145930). This communication is intended for distribution to Professional Clients only if deemed to be a financial promotion in the UK as defined by the FCA. This communication may also be intended for certain EEA countries where Western Asset has been granted permission to do so. For the current list of the approved EEA countries please contact Western Asset at +44 (0)20 7422 3000.