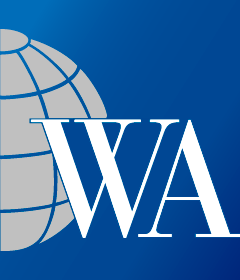 Putting Public Health Events, Such as Ebola, Into Perspective
Executive Summary
The markets should not be pricing in any material risk of Ebola. Any market overreaction may create short-term opportunities for investors.
In the short-run, the transmission rate in West Africa may modestly increase before it begins to fall, and isolated outbreaks of the disease may appear throughout the world.
Western Asset has been actively following the Ebola epidemic as well as the prevalence of other diseases that may cause future market disruptions.
From a historical perspective, pandemics are rare, but epidemics are not.
Advancements in medical response times, treatment options, and containment strategies are likely to reduce future Ebola market concerns.
In both the US and the rest of the world, public health events such as Ebola, SARS, H1N1 and HIV/AIDS have garnered considerable attention from the media and financial markets. Such public health events can strain healthcare system resources and at times impact investor psychology. While this investor anxiety is sometimes warranted, usually it is not. The risk that a specific disease poses to the markets needs to be assessed with an understanding that it is very rare for diseases to be eradicated. Rather, diseases go into dormancy until their next outbreak. When outbreaks occur, it is important to evaluate transmission and mortality rates, geographic spread, treatment and medical delivery options, containment options, and resources committed to combatting the disease as a means of assessing market risk.
Take, for example, Ebola. This virus was first identified in Sudan and Zaire in 1976 and has seen numerous isolated outbreaks in the last 38 years. However, as of November 11, the current outbreak reportedly has infected 14,473 and killed 5,177 people in eight countries. Market reaction to the Ebola epidemic has ranged between calling the virus "noise or hype" to generating legitimate market fear. In Western Asset's view, the risk that Ebola poses to financial markets is somewhere in between, but much closer to the "noise and hype" side of the risk spectrum. From this perspective, the markets should not be pricing in any material risk of Ebola, and any market over-reaction may create short-term opportunities for investors who are able to put the current epidemic into historical perspective. Exhibit 1 demonstrates this short-term over-reaction with the VIX Index being highly correlated to Bloomberg Ebola story searches. Of course, correlation is not causation and Ebola was only one contributory factor to the market environment.
Western Asset has been actively following the Ebola epidemic, monitoring the transmission and mortality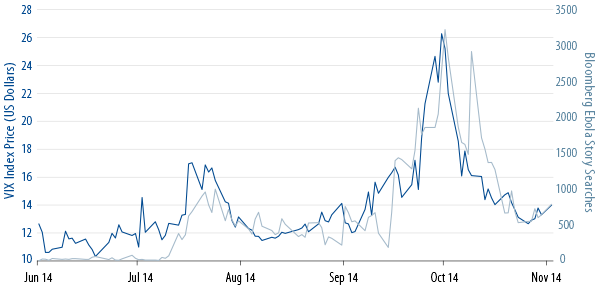 rates, geographic spread of the virus, and the global mobilization of medical resources to contain the spread. At this time, it appears that the containment strategy in West Africa is progressing but far from over. In the past 30 days, the disease has not seen any meaningful outbreaks outside of the existing eight countries, with the US currently reporting no active cases and Nigeria reporting that it is currently disease-free. These recent trends should alleviate market concerns, but not minimize the risks that remain. The ease of global transport facilitates disease mobility, and we expect many future one-off outbreaks and cases to arise in other parts of the world. For example, as of November 9, there have been 66 cases of Ebola reported in the Democratic Republic of the Congo, with 49 deaths. According to the outbreak data from the Centers for Disease Control and Prevention, this country's outbreak is unrelated to the West African outbreak.

Epidemics and pandemics are nothing new to the markets. Over the last two decades, millions have been killed by influenza outbreaks, the spread of HIV/AIDS and Hepatitis B/C in addition to the recent outbreaks of cholera, measles, tuberculosis, dengue fever and polio in pockets throughout the world (e.g., Vietnam, Congo, Haiti, India, Bolivia and the Philippines). Epidemics become pandemics when a disease spreads globally and impacts societies with little to no immunity developed, often due to a lack of previous exposure to existing versions of the disease. In such scenarios, health care systems become overwhelmed, there are no vaccines available and herd immunity is not established. Epidemics and pandemics impact the market when symptoms of diseases become severe, create general public fear and cause widespread impact on consumerism and travel. From a historical perspective, pandemics are rare, but epidemics are not. For example, there were only four pandemic flu outbreaks that impacted the US in the last century:
1918-1919: the Spanish flu killed 50 million globally with 675,000 in the US
1957-1958: a Far East flu virus killed 69,800 people in the US
1968-1969: a Hong Kong virus killed 33,800 in the US
2009-2010: H1N1 (swine flu) infected between 43 million to 89 million people in 74 countries with between 8,870 to 18,300 deaths
Aside from these pandemics, the flu in the US is seasonal and peaks annually in January/February. There is an established epidemic threshold and the healthcare insurance and services markets are impacted annually by the flu trend relative to baseline and historical activity. The flu is exemplary of the US's advanced disease monitoring systems.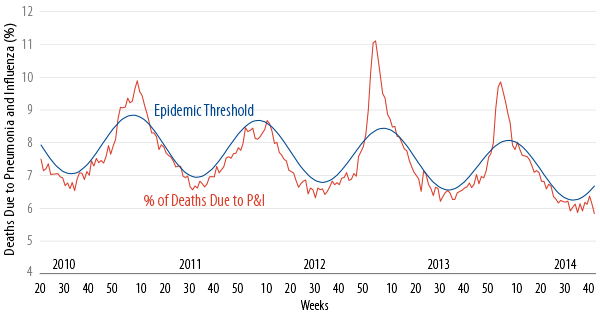 With respect to Ebola, the virus outbreak is still not quite a pandemic due to its regional presence and the fact that its outbreak is primarily due to ill-equipped and overwhelmed healthcare systems in West Africa, poor public health education in these countries, and the initial slow response to containing the virus in this region. Such a strong global response from the World Health Organization, Centers for Disease Control and Prevention, other global public health entities, and nongovernment organizations to contain the disease in West Africa in advance of the disease geographically spreading is a testament to what was learned from the H1N1 outbreak in 2009 and is a reason to be cautiously optimistic about containment of the disease and, by extension, the market not being impacted by Ebola in developed nations.
In the US, while our public health and disease prevention programs are not perfect, the healthcare system is advanced in its ability to quickly respond to outbreaks and mobilize resources. While not flawlessly executed, we have seen a swift reaction to the Ebola cases in Texas and New York with three of the four infected patients successfully treated, and increased awareness of the disease resulting in improved disease surveillance and updated medical protocols. The media also seems to have held politicians and government agencies accountable to appropriating the necessary resources to combat this disease.
It is Western Asset's view that with potential future cases of Ebola in the US and other developed nations, advancements in medical response times and contact tracing are likely to reduce the spread of the disease and, hence, market concerns as well. It is also highly likely that the markets will increasingly become numb to new one-off cases, provided that these outbreaks remain isolated and do not accelerate in rate and size. In addition, given that the regions currently affected by Ebola are those that lack the personnel, training and most basic medical equipment to aggressively treat cases of the disease, it is possible that researchers in developed countries may identify better treatment options and provide data in the future that could lower the real mortality rates of Ebola. This may further support our view that the markets should not price in Ebola risk at this time; should transmission and mortality rates accelerate, that view could change.
As the market becomes more educated about Ebola, public health awareness among investors may improve in advance of other future disease outbreaks. For example, due to lower vaccine rates and antibiotic resistance, at some point in the future, domestic outbreaks of tuberculosis, measles, pertussis (whooping cough), polio, mumps, rubella, hepatitis B, chicken pox, diphtheria and other yet-to-be identified diseases may surprise the markets. These diseases will likely attract media and market attention, similar to Ebola, but investors should be better educated about assessing the government's response. We highlight these particular diseases because every several years the media refocuses its attention on their prevalence. Western Asset is actively following the prevalence of these diseases as well as antibiotic drug research, approvals and vaccination rates. Of note, recent antibiotic FDA clinical/drug filings have increased after a decade of no filings, which suggests that the pharmaceutical industry recognizes this market opportunity. In addition, the pediatric research community has done an excellent job of publishing clinical research that refutes the anti-vaccination community to reverse vaccination rate declines.
In conclusion, we believe the broader market impact from the Ebola epidemic and other pandemics/epidemics may occasionally create increased volatility and short-term opportunities (particularly in retail and transportation) to the market's irrational reaction to fear of the unknown in public health issues. With Ebola, history is repeating itself through this virus strain, and developed nations with developed markets have the resources to contain and treat this outbreak. In the short-run, the transmission rate in West Africa may modestly increase before it begins to fall, and isolated outbreaks of the disease may appear throughout the world, but the risk that Ebola currently poses to the markets of developed nations is minimal.
© Western Asset Management Company, LLC 2022. This publication is the property of Western Asset and is intended for the sole use of its clients, consultants, and other intended recipients. It should not be forwarded to any other person. Contents herein should be treated as confidential and proprietary information. This material may not be reproduced or used in any form or medium without express written permission.
Past results are not indicative of future investment results. This publication is for informational purposes only and reflects the current opinions of Western Asset. Information contained herein is believed to be accurate, but cannot be guaranteed. Opinions represented are not intended as an offer or solicitation with respect to the purchase or sale of any security and are subject to change without notice. Statements in this material should not be considered investment advice. Employees and/or clients of Western Asset may have a position in the securities mentioned. This publication has been prepared without taking into account your objectives, financial situation or needs. Before acting on this information, you should consider its appropriateness having regard to your objectives, financial situation or needs. It is your responsibility to be aware of and observe the applicable laws and regulations of your country of residence.
Western Asset Management Company Distribuidora de Títulos e Valores Mobiliários Limitada is authorized and regulated by Comissão de Valores Mobiliários and Brazilian Central Bank. Western Asset Management Company Pty Ltd ABN 41 117 767 923 is the holder of the Australian Financial Services Licence 303160. Western Asset Management Company Pte. Ltd. Co. Reg. No. 200007692R is a holder of a Capital Markets Services Licence for fund management and regulated by the Monetary Authority of Singapore. Western Asset Management Company Ltd is a registered Financial Instruments Business Operator and regulated by the Financial Services Agency of Japan. Western Asset Management Company Limited is authorised and regulated by the Financial Conduct Authority ("FCA") (FRN 145930). This communication is intended for distribution to Professional Clients only if deemed to be a financial promotion in the UK as defined by the FCA. This communication may also be intended for certain EEA countries where Western Asset has been granted permission to do so. For the current list of the approved EEA countries please contact Western Asset at +44 (0)20 7422 3000.