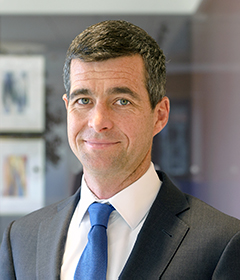 Policy Matters
Three Observations About the Federal Reserve in 2017
Portfolio Manager / Research Analyst
Executive Summary
The outlook for the Fed is highly dependent on the prospect of a new policy environment, which has led to a rethinking of economic forecasts and significant repricing across asset classes.
We believe the Fed intends to offset fiscal stimulus with tighter monetary policy, and as a consequence Fed communications will likely have a hawkish tilt this year.
Absent concrete evidence of higher inflation, the Fed is not under immediate pressure to hike rates.
The relationship between the White House and the Fed is a wildcard, but doesn't necessarily have to be contentious.
Introduction
The surprise election of Donald Trump continues to be the focus for investors. The prospect of a new policy environment, and the various attendant risks, have led to a rethinking of economic forecasts and significant repricing across asset classes. The outlook for the Federal Reserve (Fed) is, of course, highly dependent on how this new policy environment develops, and how the various risks will be navigated. Rather than attempting to map out how monetary policy will evolve under the myriad number of possible outcomes, this note sets out a more modest goal of making three general observations about the Fed that we think will be relevant this year:
The Fed intends to offset fiscal stimulus with tighter monetary policy, and as a consequence Fed communications will likely have a hawkish tilt this year.
Absent concrete evidence of higher inflation, the Fed is not under immediate pressure to hike rates.
The relationship between the White House and the Fed is a wildcard, but doesn't necessarily have to be contentious.
1. The Fed intends to offset fiscal stimulus with tighter monetary policy, and as a consequence Fed communications will likely have a hawkish tilt this year.
Since the election there has been a marked increase in investor optimism, as is apparent in sentiment surveys and in a range of financial market prices. The prospect of a pro-business White House relaxing the regulatory environment has been a key driver of the shift in sentiment. In addition, many expect that lower taxes and higher government spending will boost near-term growth, although the magnitude is a subject of debate and is dependent on the details. Optimists also argue that easier fiscal policy could shift the burden from monetary policy to fiscal policy, thereby leaving the US with a more sustainable balance between the two. A final reason for optimism is the prospect for improved productivity and consequently a higher level of longer-run growth for the US economy.
As members of the Fed form their own expectations and plans for the coming year, we suspect there will be a consensus on the appropriate response to a realization of easier fiscal policy: tighter monetary policy. To some extent the bias toward tightening monetary policy in order to offset optimism around fiscal policy was already apparent in the December Federal Open Market Committee meeting, when the Fed increased its median expectation for rate rises more than expected.
In order to understand the Fed's determination in this regard, it's helpful to revisit the reasons for optimism listed above, and on each point note how the Fed is likely to view the implications of changes in policy. First, on lower taxes and higher spending boosting growth, the Fed would likely question whether any such boost is needed right now. The Fed's view is that the US economy is performing close to full capacity, after having made substantial progress on both the unemployment rate and the inflation outlook (Exhibit 1). Fed Chair Janet Yellen clearly had this in mind when she made the following, fairly blunt assessment: "So I would say at this point that fiscal policy is not obviously needed to provide stimulus to help us get back to full employment."1 The implication of Yellen's statement is that the Fed may be inclined to offset an "unneeded" fiscal stimulus.
Second, should fiscal policy take over some of the burden previously shouldered by monetary policy, Fed officials could view that as an opportunity to increase rates. Fed officials' desire to increase interest rates has been well aired over the past few years, with its cited reasons ranging from concerns about low rates not being "normal" to concerns about whether the Fed would have enough ammunition to cut rates in response to an unforeseen shock. The Fed has been held back by disappointing economic data and by a concern that constraints on fiscal policy would make future shocks more damaging. Not only would the Fed welcome better economic data resulting from easier fiscal policy, but even before any changes in the data the Fed could view the risks as slightly less asymmetric because an unforeseen shock would be more likely to trigger a fiscal policy response.
Finally, on the prospect for productivity improvements, the Fed is likely to be skeptical, at least at the outset. Economists often note that explaining long run changes in productivity is very difficult. By implication it's similarly difficult to have much confidence in which policy changes will meaningfully affect these trends. Certainly some of the proposed changes in fiscal policy could help, including improvements in infrastructure and lower corporate tax rates, but the size of the impact is highly uncertain. At the same time, it seems likely that at least some of the contributors to the recently low productivity will persist, limiting the extent to which productivity can rebound. Chairman Alan Greenspan famously resisted hiking interest rates in the mid-1990s, even though growth was accelerating at the time, due to his optimism on productivity growth in the US. His call was vindicated over the following few years, adding to his formidable reputation as a central banker. The current Fed is unlikely to follow Greenspan's model, and absent much more concrete evidence that productivity has indeed rebounded, the Fed would likely respond to faster growth with higher interest rates.
Given the preponderance of arguments for offsetting easier fiscal policy with tighter monetary policy, and the consensus these arguments will engender within the Fed, it is likely that this theme will feature prominently in Fed communications this year. As such, Fed communications are likely to have a somewhat hawkish tilt. This would be a departure from the dovish tilt that communications have had over the past few years. Of course the Fed is also aware that a hawkish tilt in its communications influences market prices—in particular the front end of the yield curve—and by doing so tightens the policy stance preemptively. Whether that preemptive tightening is an opportunity or just a preview of things to come is the subject we turn to next.
2. Absent concrete evidence of higher inflation, the Fed is not under immediate pressure to hike rates.
The previous section focused on how the Fed would respond to easier fiscal policy and faster growth. Importantly, this is a conditional observation. IF fiscal policy is loosened and growth picks up, THEN the Fed will likely respond by tightening monetary policy. That said, absent more concrete developments, the Fed is not under any current pressure to hike. The inflation outlook is far from threatening, there is considerable uncertainty around the size and shape of the coming fiscal changes and the new administration's policies carry a number of risks that could significantly curtail the positive aspects of looser fiscal policy.
The sharp fall in inflation expectations at the beginning of last year forced the Fed to make a dovish course correction, and as a result the Fed delivered only one hike instead of the planned four. Inflation expectations have increased since the election and are currently well above their lows. That does not mean, however, that the Fed now feels pressure from the other direction. Far from it. After the recent bounce, inflation expectations now sit comfortably in the middle of their range over the past few years (Exhibit 2). So while inflation expectations are no longer constraining the Fed from hiking, neither are they motivating the Fed into accelerating the pace of hikes. Indeed, the middling level of inflation expectations suggests that a "gradual" pace of rate hikes is about right.
Looking forward in the inflation outlook, one oft cited argument for an acceleration is that an ever tighter labor market will lead to faster wage gains. Perhaps that will happen, but such arguments assume a few facts not currently in evidence. The tightening of the labor market has moderated substantially. In 2016, the unemployment rate fell by only 0.3 percentage points, even though employers added over 150,000 jobs per month. One primary reason for the flattening out of the unemployment rate was an increase in participation among prime age workers. As our Economist Mike Bazdarich has written, the still low ratio of employment-to-population across a wide range of cohorts suggests that this trend could continue for some time to come. Another relevant point is that the relationship between the unemployment rate and wages has been tenuous, at best, over the past few years. The downward pressure on US wages from global competition, low productivity and changes to the structure of the US labor market have outweighed the slight tightening from a falling unemployment rate. Given ongoing slack and limited responsiveness of wages to a lower unemployment rate, we are inclined to agree with Chair Yellen that overheating coming from the labor market is "unlikely."2
Nor is there enough certainty on the outlook for fiscal policy to compel the Fed to move right now. The big threshold questions are all still unanswered. What will be the mix of individual and corporate tax cuts? Will Congress approve an infrastructure plan? What will be the overall deficit impact? In addition to the big questions, the details are also crucially important. Recently two Fed officials have focused on the risks associated with changes to fiscal policy. New York Fed President Bill Dudley raised the concern that a dramatic rewriting of the corporate tax code could have "unintended consequences" and that the transition to a new system may not happen very smoothly.3 Similarly, Fed governor Lael Brainard noted many risks associated with changes in fiscal policy, including the potential impact on the US dollar and concerns about debt sustainability.4 Until there is more clarity on specifics regarding the changes to fiscal policy, such concerns are additional arguments for the Fed to wait and see.
The Fed's hawkish rhetoric has clearly made an impression on investors, as now the number of hikes priced in short term interest rates is at its steepest pace since mid-2015. And yet the immediate environment does not argue for any material change in Fed policy. Not only does the inflation outlook remain unthreatening, there are multiple risks surrounding the realization and implementation of fiscal policy that may leave investors more disappointed than satisfied. Until the facts materially change on either dimension, the steepness in the front part of the yield curve provides an opportunity for investors to earn carry and roll down at arguably fair levels.
3. The relationship between the White House and the Fed is a wildcard, but doesn't necessarily have to be contentious.
For perhaps obvious reasons, the topic of the relationship between the Fed and the White House has once again become top of mind, and indeed has become one of the most frequently asked questions in our recent client interactions. The reality is that the relationship is complicated. It is exceptionally hard to have much conviction on how this relationship will evolve. However, and in contrast to the many articles warning of a "collision course," we'd note that the initial developments are far from dire. Regardless, this will be a topic of ongoing interest and here we provide some initial thoughts on two important aspects of the relationship.
The most important point of interaction will be when President Trump chooses the next Fed Chair. Janet Yellen's term as Chair ends in February 2018, and a new Chair would likely be announced sometime in the second half of this year. President Trump's preferences for the next Fed Chair are unclear. As a candidate he criticized Chair Yellen for keeping rates low, leading some to conclude that he would favor a more hawkish chair. However, on another occasion Trump said that he liked Chair Yellen because she is a "low interest rate person" and admitted that he, Donald Trump, is also a "low interest rate person."5 This suggested straightforwardly that Trump would favor a more dovish chair. If pushed, we're inclined to think the White House's desire to generate faster job growth will favor dovish candidates. A final point is that Trump's selection of cabinet members suggests a willingness to look outside the normal list of candidates. In the case of his selection for Fed Chair, Trump seems unlikely to choose somebody with a PhD in Economics who teaches at a top university, and instead he may gravitate towards somebody with market or business experience. As a consequence, the next Fed Chair could very well be somebody who most investors are not currently familiar with.
In addition to the chair, President Trump is able to make two immediate appointments to the Board of Governors, and potentially more in later years depending on turnover. The early indications are that Trump is considering highly qualified candidates for the two vacant Board seats. The potential candidates include CEOs of community banks and a mid-size regional bank. Trump is also considering an executive at General Electric who previously worked in the government (SEC and US Treasury) and has exceptionally deep expertise on regulatory issues.6 Any of these candidates would likely be welcomed by the Fed and by investors as credible and capable of making a substantive contribution to the monetary policy process.
Another question is whether the White House will try to exert influence over Fed decisions in other ways. Over the last few decades, investors have become accustomed to Fed officials asserting their independence from politics and perhaps more importantly, to White House officials largely refraining from commenting on monetary policy. Of course the sensitivities on this issue reflect a more checkered past in which White House was much more active in influencing monetary policy. In the past, the White House has tried to steer the Fed through friendly requests based on close relationships (for example, Arthur Burns' relationship with President Nixon and G. W. Miller's relationship with President Carter), or in some cases by acting more forcibly to shift the Fed's stance (for example, Paul Volcker's retirement was accelerated after Reagan's Treasury Secretary James Baker appointed two governors opposed to Volcker's policy stance). It remains to be seen whether the current détente continues or whether Trump more closely resembles Nixon, Carter and Reagan in this regard. On one hand, Trump commented on Fed policy on a number of occasions during the campaign. On the other hand, the initial signals from the new administration suggest it is proceeding cautiously on this front. For example, in his Secretary of the Treasury nomination hearing, Steve Mnuchin said he would refrain from commenting on the short-term moves in the US dollar, focusing instead on the long-term trend. This was a subtle, but important distinction that should be at least somewhat comforting for the Fed to hear.
There are of course many other dimensions to the relationship between the Fed and the White House. Issues to watch include: How will the White House interact with the Fed on regulatory issues, including with regards to banks where the Fed is primary regulator? How will Treasury respond if and when the Fed ends their policy of reinvesting maturing securities on their balance sheet? While there may be competing interests in any of these issues, there is also room for optimism that conflict can be avoided. The credible list of potential Fed governors and Mnuchin's careful rhetoric regarding the US dollar perhaps represent steps in the right direction.
Endnotes
Press Conference, December 14, 2016 https://www.federalreserve.gov/mediacenter/files/FOMCpresconf20161214.pdf
Janet Yellen, "The Economic Outlook and the Conduct of Monetary Policy," January 19, 2017
Bill Dudley, "Evolving Consumer Behavior," January 17, 2017
Lael Brainard, "Monetary Policy in a Time of Uncertainty," January 17, 2017
May 5, 2016, Donald Trump on CNBC's Squawk Box
"Trump Moving to Fill Blanks in Financial and Economic Rosters," Wall Street Journal, January 20, 2017
© Western Asset Management Company, LLC 2021. This publication is the property of Western Asset and is intended for the sole use of its clients, consultants, and other intended recipients. It should not be forwarded to any other person. Contents herein should be treated as confidential and proprietary information. This material may not be reproduced or used in any form or medium without express written permission.
Past results are not indicative of future investment results. This publication is for informational purposes only and reflects the current opinions of Western Asset. Information contained herein is believed to be accurate, but cannot be guaranteed. Opinions represented are not intended as an offer or solicitation with respect to the purchase or sale of any security and are subject to change without notice. Statements in this material should not be considered investment advice. Employees and/or clients of Western Asset may have a position in the securities mentioned. This publication has been prepared without taking into account your objectives, financial situation or needs. Before acting on this information, you should consider its appropriateness having regard to your objectives, financial situation or needs. It is your responsibility to be aware of and observe the applicable laws and regulations of your country of residence.
Western Asset Management Company Distribuidora de Títulos e Valores Mobiliários Limitada is authorised and regulated by Comissão de Valores Mobiliários and Banco Central do Brasil. Western Asset Management Company Pty Ltd ABN 41 117 767 923 is the holder of the Australian Financial Services Licence 303160. Western Asset Management Company Pte. Ltd. Co. Reg. No. 200007692R is a holder of a Capital Markets Services Licence for fund management and regulated by the Monetary Authority of Singapore. Western Asset Management Company Ltd is a registered Financial Instruments Business Operator and regulated by the Financial Services Agency of Japan. Western Asset Management Company Limited is authorised and regulated by the Financial Conduct Authority ("FCA") (FRN 145930). This communication is intended for distribution to Professional Clients only if deemed to be a financial promotion in the UK as defined by the FCA. This communication may also be intended for certain EEA countries where Western Asset has been granted permission to do so. For the current list of the approved EEA countries please contact Western Asset at +44 (0)20 7422 3000.