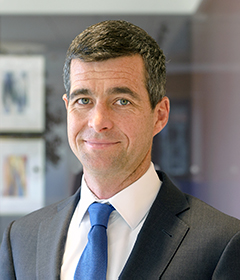 Policy Matters
Federal Reserve Update: Unless and Until
Portfolio Manager/Research Analyst
Executive Summary
Simply staying out of recession is unlikely to be sufficient to get the Fed to hike again in 2016. Instead, we expect the Fed to remain on hold unless and until there is a material improvement in credit markets and, equally important, a return to more normal levels of inflation expectations.
It will be crucial to watch how inflation expectations evolve, as this could be the piece of the puzzle that holds the Fed back from hiking again.
The first 2 months of the year have not gone the way the Federal Reserve (Fed) hoped they would. Financial conditions have tightened: US equities have fallen by 6% and corporate bonds have significantly underperformed Treasuries of similar duration (investment-grade bonds by 2.75% and high-yield bonds by 5.5%). On top of tighter financial conditions, US economic data appear to have slowed somewhat: real GDP expanded by less than 1% in 4Q15, monthly auto sales have slipped after posting an all-time high last November and the US manufacturing sector continues to be under pressure.
In response to this litany of negative developments, investors have sharply revised their expectations for the Fed's path of rate hikes. At the beginning of the year, markets were priced for at least two more hikes in 2016 and investors thought there was a 90% chance that the Fed would hike at least once. A lot has changed since then. At one point this month, the options market implied a less than 10% probability that there would be any additional hikes this year and some investors have even started positioning for negative rates. Although pricing has since recovered—on February 22 the options market implied a close to even chance of at least one more hike—skepticism about future Fed hikes remains the dominant theme.
Fed Chair Janet Yellen is fond of saying "monetary policy is not on a preset course." We agree, and clearly so does the market, as evidenced by the responsiveness of the front end of the US yield curve to recent developments. In the context of such volatile conditions, providing estimates of the number of hikes this year (zero, one, etc.) is not particularly useful in terms of managing portfolios. Instead, we think it is more instructive to focus on the conditions under which the Fed will hike again. The remainder of this note discusses how we think about those conditions.
Unless and Until…
We expect the Fed to remain on hold unless and until there is a material improvement in credit markets and, equally important, a return to more normal levels of inflation expectations. It should go without saying that the Fed also needs to remain confident that the US economy will stay out of recession. The positive data available for January, notably including continued job growth and an improvement in retail sales, should help overcome any doubts raised by disappointing 4Q15 data.
Credit markets need to clear. The Fed will not tighten if credit conditions are deteriorating. To do so would risk harming both investor and consumer sentiment, and would send an unmistakably hawkish signal. The Fed has no need or desire to be so hawkish. The Fed's decision to stay on hold last September is a good example of its attentiveness to credit conditions. In explaining the decision to keep the funds rate at zero in September, the Federal Open Market Committee (FOMC) statement specifically mentioned concerns about financial market volatility and international developments.
Inflation expectations need to rise. The recent market volatility has led to a further decline in inflation expectations. This is a first order concern for the Fed. As Yellen said recently, "the Committee's confidence in the inflation outlook depends importantly on the degree to which longer-run inflation expectations remain well anchored." While it's difficult to say exactly what it would take to force the Fed to admit inflation expectations are not "well anchored," the extraordinarily low level of inflation implied in the Treasury Inflation Protected Securities (TIPS) market, combined with all-time low prints in surveys about expectations, is likely making the Fed quite uncomfortable. This is yet another reason not to hike in the current environment.
US economic data need to be stable. There is certainly no reason for the Fed to hike if it appears that the US is headed for a recession. The very few times in the past when the Fed has tightened into a recessionary environment have been when it was forced to do so by the inflation side of its mandate (e.g. as Chairman Paul Volcker did in the early 1980s). There has also been some recent discussion of the merits of tightening to prevent a build-up of financial stability risks, but there does not appear to be a consensus within the FOMC on this question. Regardless, with inflation well below mandate-consistent levels and with asset prices falling (not rising), neither consideration would suggest a reason to hike if the US were headed into recession.
At this point, it seems very unlikely for all three conditions to be met by the March 2016 meeting. Looking past March, however, it is not hard to see two out of three conditions being met in rather short order. US economic data have proven more stable than not, and a few more-of-the-same data prints could provide the needed confidence to policymakers that the US economy will weather the volatile start to the year. The second condition that could be satisfied very quickly is an improvement in credit markets: just as prices have been volatile on the way down, so too can prices be volatile on the way back up. Remember how fast credit markets stabilized after a volatile August and September 2015?
The third remaining condition—an increase in inflation expectations—seems potentially more problematic. Absent a compelling inflationary impulse, it's not clear that stability in the economic outlook will be sufficient to restore inflation expectations. It is entirely possible that inflation expectations will languish at these worrisome levels, even as other parts of the outlook brighten.
Are Inflation Expectations "Well Anchored"?
Inflation expectations matter because they are an important driver of actual inflation. That is because inflation is, to some extent, a self-fulfilling prophecy: if price-setters expect prices to rise in the future, then they will raise prices in anticipation, thereby bringing about actual inflation. Of course if price-setters don't expect future inflation, then they will have no reason to raise prices, and prices will remain low or even decline. New York Fed President William Dudley recently underscored the centrality of inflation expectations: "With respect to the risks to the inflation outlook, the most concerning is the possibility that inflation expectations become unanchored to the downside."
The recent developments in inflation expectations have been negative. The Fed monitors two different sets of inflation expectations: market-based measures and survey measures. The most common market-based measure is the difference in yield between nominal Treasuries and TIPS.1 This is commonly referred to as the "TIPS breakeven" rate of inflation, as it corresponds to the rate of inflation needed to make the return on TIPS equal to the return on nominal Treasuries. The Fed monitors TIPS breakevens in the 5-year to 10-year part of the yield curve—known as the "5-year 5-year"—in order to minimize the impact of transitory factors. TIPS breakevens have been falling since mid-2014 and the decline accelerated sharply in the beginning of this year. The current level of TIPS breakevens is near its all-time low and is 75 basis points (bps) below what the Fed would likely consider mandate-consistent levels.2 Even though the TIPS market can be affected by risk and liquidity premiums, just like any other financial market, the pessimistic signal from breakevens is increasingly hard to ignore.
For the past year or so, the Fed has looked past the market-based measures because survey measures have been more reassuring. This may be changing. The Fed relies on two different surveys to assess inflation expectations. The better known of the two is the University of Michigan survey, which dates back to the mid-1970s and asks consumers about expected changes in prices over the next 5 years. The second survey is conducted by the New York Fed, and while it was only started a few years ago, it has the benefit of a larger sample size and a better survey design. The New York Fed survey asks respondents about expected inflation over the next 3 years. The differences in the two surveys appear to be unimportant in the current environment, as both surveys are sending the same signal: inflation expectations are declining. The New York Fed survey for 3-year ahead inflation expectations has fallen to 2.4%, after being at 3% as recently as mid-2015. The preliminary print of University of Michigan Survey for February was 2.4%, which was the lowest print from that survey on record. It is certainly possible for these survey measures to increase in the future, but the signal right now is unambiguous and could hardly be characterized as reassuring.
Most concerning, it's not entirely clear what would cause inflation expectations to rise. While it's true that market-based measures have tended to fall on days when oil is weaker or when the dollar is stronger, the implication of that correlation is unclear. Does that mean oil needs to rise or the dollar needs to fall in order for inflation expectations to increase? With regard to survey measures, it's striking how few examples of increasing inflation expectations are present in the available data. The University of Michigan series saw increases only in 2008 and 2011, during periods when gasoline prices were rising sharply, and both times the increases were reversed 1 or 2 months later. The New York Fed series is too short to have any periods of meaningful increases in inflation expectations, and anyway the trend throughout the survey period has been decidedly down. Finally, while monetary policy has a clear theoretic role in determining expectations, in practice the impact has been rather limited. Recently the European Central Bank and Bank of Japan (BoJ) have aggressively eased monetary policy with the stated intent of getting inflation expectations higher. They have had at best partial success, as inflation expectations in Europe remain quite low and inflation expectations actually moved lower after BoJ's recent announcement.
Where Does the Fed Go from Here?
After a very tumultuous start to the year, it's appropriate to step back and assess the extent of the damage. The Fed's outlook for four hikes this year is one clear casualty. As we expect will become apparent at the March meeting, the Fed's outlook has been disrupted and it is now unlikely it will proceed with the four hikes it had initially envisioned. On the other hand, we are optimistic that the US economy and credit markets will survive the volatility, supported by stable fundamentals and now attractive pricing. One open question in all this is the stability of inflation expectations. Inflation expectations have fallen by a meaningful amount recently and the prospects for a rebound are anything but certain. To the extent that inflation expectations remain at these worrisome levels, we expect the Fed will remain on hold, even if the US economy remains on track and credit markets recoup some of their recent loses.
Of course, the Fed won't sit idly and let inflation expectations continue to decline. A first step to nudge inflation expectations would be for Fed speakers to reiterate their commitment to getting inflation higher. This is standard in most Fed speeches, but there is lots of room for a change in emphasis. Another relatively straightforward step would be for the FOMC statement to shift its focus from "actual and expected" inflation to focusing solely on "actual" inflation. While this may seem like a marginal change, it would be a valuable signal to the market and could provide some support to inflation expectations. Such a change has had advocates within the FOMC for some time and recently a few more FOMC members have indicated their potential support. In any case, it will be crucial to watch how inflation expectations evolve, as this could be the piece of the puzzle that holds the Fed back from hiking again.
Endnotes
The principal of a TIPS increases with inflation and decreases with deflation, as measured by the Consumer Price Index (CPI). When a TIPS matures, the owner is paid the adjusted principal or the original principal, whichever is greater.
The Fed targets 2% inflation, as measured by the Personal Consumption Expenditure (PCE) deflator. PCE inflation tends to run about 25 bps below CPI inflation. Should the historical relationship between PCE and CPI inflation hold, a mandate-consistent level of CPI inflation would be 2.25%, or 75 bps above the current level of TIPS 5-year 5-year breakevens (1.5%).
© Western Asset Management Company, LLC 2021. This publication is the property of Western Asset and is intended for the sole use of its clients, consultants, and other intended recipients. It should not be forwarded to any other person. Contents herein should be treated as confidential and proprietary information. This material may not be reproduced or used in any form or medium without express written permission.
Past results are not indicative of future investment results. This publication is for informational purposes only and reflects the current opinions of Western Asset. Information contained herein is believed to be accurate, but cannot be guaranteed. Opinions represented are not intended as an offer or solicitation with respect to the purchase or sale of any security and are subject to change without notice. Statements in this material should not be considered investment advice. Employees and/or clients of Western Asset may have a position in the securities mentioned. This publication has been prepared without taking into account your objectives, financial situation or needs. Before acting on this information, you should consider its appropriateness having regard to your objectives, financial situation or needs. It is your responsibility to be aware of and observe the applicable laws and regulations of your country of residence.
Western Asset Management Company Distribuidora de Títulos e Valores Mobiliários Limitada is authorised and regulated by Comissão de Valores Mobiliários and Banco Central do Brasil. Western Asset Management Company Pty Ltd ABN 41 117 767 923 is the holder of the Australian Financial Services Licence 303160. Western Asset Management Company Pte. Ltd. Co. Reg. No. 200007692R is a holder of a Capital Markets Services Licence for fund management and regulated by the Monetary Authority of Singapore. Western Asset Management Company Ltd is a registered Financial Instruments Business Operator and regulated by the Financial Services Agency of Japan. Western Asset Management Company Limited is authorised and regulated by the Financial Conduct Authority ("FCA") (FRN 145930). This communication is intended for distribution to Professional Clients only if deemed to be a financial promotion in the UK as defined by the FCA. This communication may also be intended for certain EEA countries where Western Asset has been granted permission to do so. For the current list of the approved EEA countries please contact Western Asset at +44 (0)20 7422 3000.