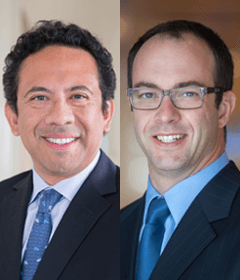 Offering Income in a Yield-Starved World: Multi-Asset Credit (MAC) at Western Asset
Product Specialist
Product Analyst
Executive Summary
Western Asset's MAC strategy can be an attractive solution for clients seeking high income potential in a low-growth, yield-starved world.
This strategy emphasizes income, liquidity, flexibility and downside protection against market shocks.
Since its inception in 2010, Western Asset MAC's diversified nature and hedging program have produced a compelling risk-return profile relative to single asset class strategies.
Introduction
In today's low-interest-rate world, finding an attractive source of income remains a challenge for individual investors, pension funds and institutions globally. The challenge stems from both the myriad investment opportunities now available, as well as the inherent complexities surrounding asset allocation, market timing and risk management. In this paper, we provide an overview of Western Asset's Multi-Asset Credit (MAC) strategy—one that offers an attractive solution for clients seeking high income potential in a low-growth, yield-starved world.
A Brief Primer on MAC Strategies
MAC is a strategy that seeks to capture the return potential offered by credit markets worldwide. These markets include corporate credit within the traditional high-yield and investment-grade space and a host of other sectors that offer compelling income and risk-adjusted returns, such as agency and non-agency debt, residential and commercial mortgage-backed securities (MBS), emerging market debt, bank loans, and USD and non-USD global sovereign credit.
Global credit markets have broadened and deepened over the past 20 years. The combination of an accelerated pace of globalization along with a growing demand for safe assets and income in the developed world paved the way for a boom in issuance by sovereigns and corporations worldwide. As a result, investors now have a more robust menu of investment opportunities across a range of regions, sectors and currencies.
Despite all of the noise around historically low interest rates and negative yields in some countries, investors can still find attractive yield and total return opportunities across publicly traded credit markets. If investors are willing and able to assume greater risk, even higher yields may be found in alternative markets such as private debt, real estate, hedge funds, etc.
The principal concerns that most investors share, however, are loss of capital (drawdown risk), see-sawing returns (volatility) and the ability to quickly redeem (liquidity risk). These concerns are warranted. Over the past two years, global financial markets have been roiled by market-moving events, such as Brexit, fears of a China slowdown, oil market volatility and US Federal Reserve (Fed) rate hikes.
MAC strategies can generally be classified into three distinct categories by the level of return and risk they target.

As noted in Exhibit 1, in the search for higher yield and total returns, the trade-offs center around taking on increased drawdown risk, volatility and illiquidity risk. Therefore, investors need to be very mindful of the type of MAC strategy they choose in seeking to meet their objectives.
Overall, a MAC strategy may be attractive to investors who:
seek income from global markets,
wish to pursue a degree of diversification within income-generating sectors, and
value the expertise of an experienced manager to make allocation decisions across global credit.
Given the complexity of global credit and the numerous pitfalls associated with investing and managing risk in this market, we believe investors should consider an asset manager with global scale and resources as well as a proven track record in successfully managing MAC mandates for its clients.
MAC at Western Asset
Western Asset's investment philosophy focuses on long-term fundamental value investing via diversified strategies. With this in mind, we encourage investors to explore our MAC strategy, as it offers: (1) attractive income, (2) daily liquidity, (3) flexibility, (4) the potential for downside protection, and (5) attractive performance since inception. We discuss these in further detail below:
1. An emphasis on high income
Unlike other strategies that look to generate high total return by going into more esoteric asset classes and/or employing leverage—in effect, exposing investors to more drawdown, volatility and liquidity risk—we are primarily focused on identifying securities that offer high current income. Global credit markets are broad and deep enough today for our individual sector teams worldwide to source value. We believe adherence to this income-focused approach can be attractive for investors such as pension funds and retail investors seeking an attractive source of income for their portfolios.
2. An emphasis on daily liquidity
Global credit markets offer a wide range of investment opportunities; however, investors need to be mindful of the liquidity risk associated with higher-risk assets. Our Investment Team, in conjunction with our Risk Management Team, continually looks for the best risk-reward opportunities, all the while looking to use our liquidity budget wisely.
Depending on prevailing market conditions and valuations, we will invest opportunistically in sectors such as middle market debt, collateralized loan obligations (CLOs) and whole loans (i.e., when we believe we are receiving sufficient incremental yield for the illiquidity risk), but we work to avoid having outsized exposures to illiquid securities or asset classes. This emphasis on daily liquidity may be compelling for investors who have concerns about our strategy's ability to meet redemptions during challenging market conditions.
3. An emphasis on flexibility
First generation multi-sector strategies were typically tethered to a hybrid benchmark (e.g., 33% high-yield, 33% emerging markets, 33% bank loans), but these eventually failed to keep pace with the evolution of global credit markets. Our MAC strategy is "unconstrained" (i.e., non-benchmarked) which offers our investment team the maximum amount of flexibility from both an investment and a risk-management perspective. The absence of a benchmark means our portfolio is neither tethered to a low-yielding index nor is it obligated to own specific sectors of an index. This is important, as credit markets have performed impressively over the last seven years, but not without episodes of elevated volatility along the way.
In an effort to mitigate portfolio volatility, our MAC strategy is managed to a target volatility of 5% to 7% (this is in line with the historical volatility observed in various unhedged global bond indices as measured by indices such as the Bloomberg Barclays Multiverse Index). This volatility range (or risk budget) allows us sufficient latitude to seek value across global credit markets, while simultaneously acting as a key risk-control factor. As highlighted in Exhibit 2, our MAC strategy has been able to successfully weather a number of challenging market episodes since its inception in 2010.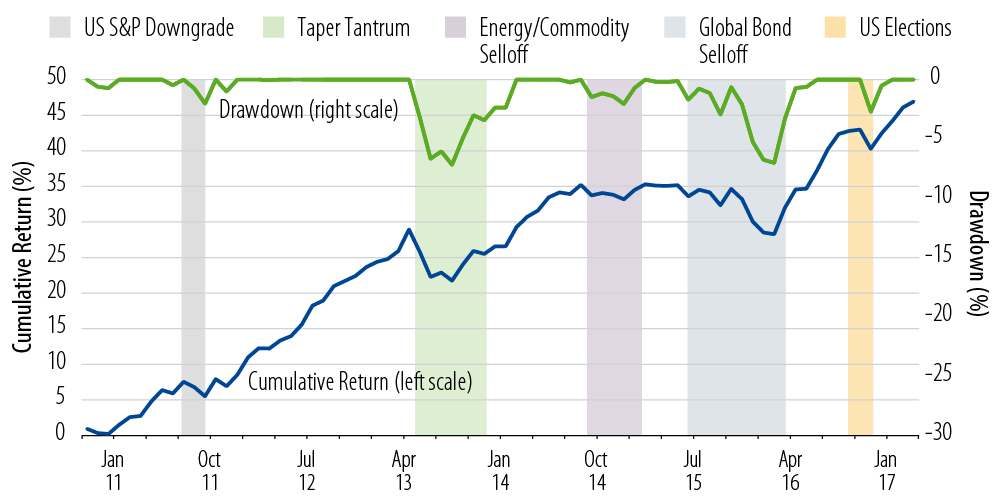 With most sectors still trading at or near their post-crisis tights, our MAC strategy can shift to those sectors and subsectors that currently offer the most compelling risk-adjusted returns. We aim to recalibrate portfolio exposures through the primary and secondary cash markets. Regulatory changes in recent years, however, have made it significantly more costly for dealers to hold inventory. This has constrained market liquidity and made it difficult for market participants to sell or source bonds in adverse markets without incurring high transaction costs, which ultimately eat into portfolio returns. To address this, our MAC strategy uses derivatives on credit indices (CDX)—this market has evolved over the years to become a useful and cost-effective liquidity and credit exposure management tool—to help calibrate credit exposures in our MAC portfolio during risk-on and risk-off markets.
Exhibit 3 depicts MAC's historical allocation since inception while Exhibit 4 shows the historical ranges by sector since inception.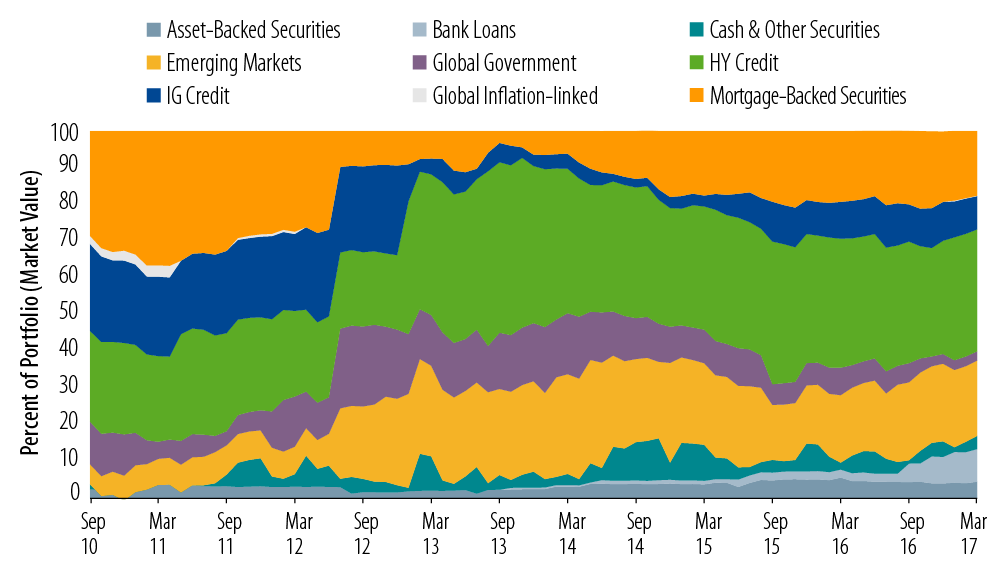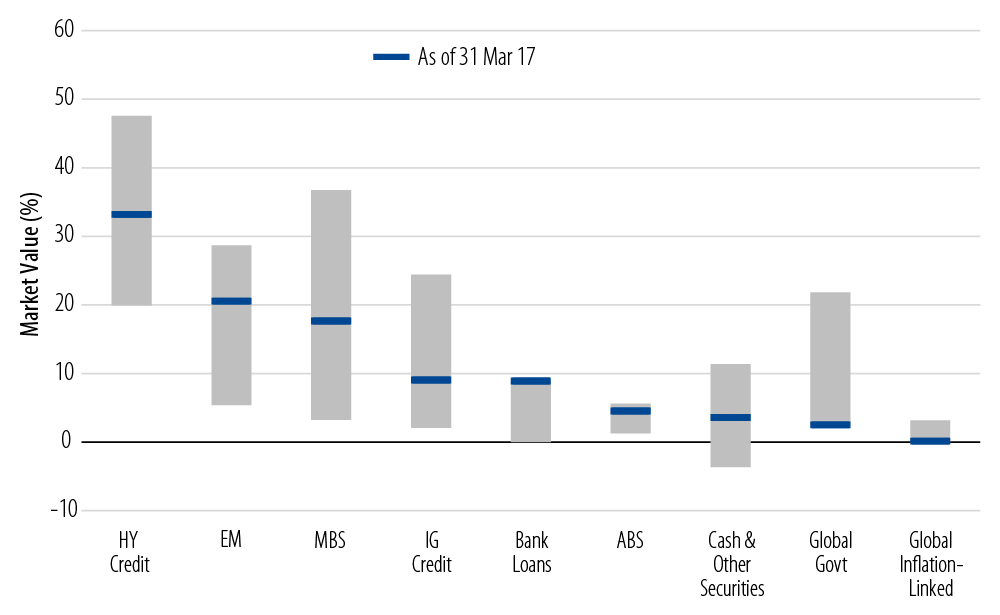 Over most of 2015 and 2016, the sectors offering the most compelling income opportunities have been high-yield, emerging markets and structured credit. Given current market valuations, however, we believe subsector and issuer selection across a variety of credit markets will be the key drivers of MAC performance in the near term. Exhibit 5 charts a summary of our views on the key credit markets comprising the bulk of MAC exposure, our main thoughts on each sector, and where we currently see compelling relative value opportunities within each market.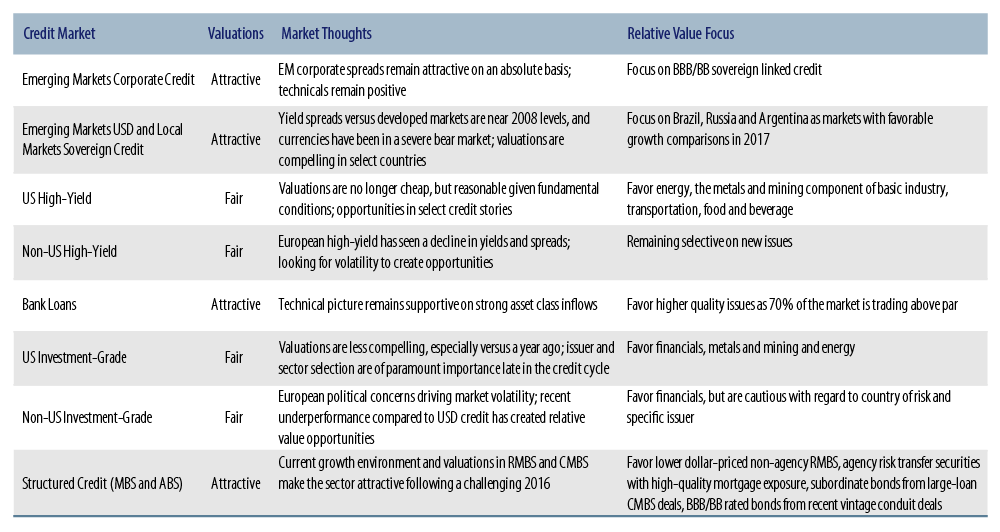 4. An emphasis on downside protection
The prospect of rising yields is a key risk on investors' minds. To address this concern, our MAC strategy has the flexibility to adjust portfolio duration from 0 to +10 years. We would note, however, that as a global MAC strategy which sources securities from various countries (and of varying credit quality), MAC will not behave like a single-country bond portfolio that is highly influenced by movements in domestic interest rates and domestic central bank pronouncements.
To help mitigate the downside associated with unforeseen negative events, our MAC strategy also allocates an annual risk budget of 40-50 basis points (bps) for tail-risk hedges. Our choice of tail-risk hedge is a function of:
Cost (hedges tend to be least expensive when volatility is low)
Liquidity (highly dependent on market conditions and sentiment)
Efficacy (i.e., how negatively correlated the hedge is to the underlying portfolio in times of stress and how much can it earn should a tail-risk event occur)
The tail-risk hedges in our MAC strategy have generally taken the form of derivatives on credit indices (e.g., CDX IG or HY), equity indices (e.g., S&P 500) or a combination of both. More recently, we have had a stronger preference for using put and put spread option strategies on the S&P 500 Index given their meaningful correlation to the US high-yield market during market turbulence and because high-yield constitutes a large part of our portfolio's credit exposure.1
As highlighted in Exhibit 6, the diversified nature of our MAC portfolio, in conjunction with our tail-risk hedges, has buoyed annual performance since inception. Tail-risk hedges specifically helped cushion downside losses in 2015 when they contributed 87 bps. We note that the strategy spent its tail-risk hedge risk budget only once, in 2012, when MAC returned 14%.

5. MAC has delivered attractive performance since inception
Because there is no benchmark, our preferred method to judge an unconstrained strategy's performance is to look for superior returns relative to actual volatility. Exhibit 7 shows MAC's strong annualized performance and attractive risk measures (standard deviation and Sharpe ratio) over different points in time. Exhibit 8 shows that our MAC strategy has had a compelling risk and return profile, relative to single-name asset classes.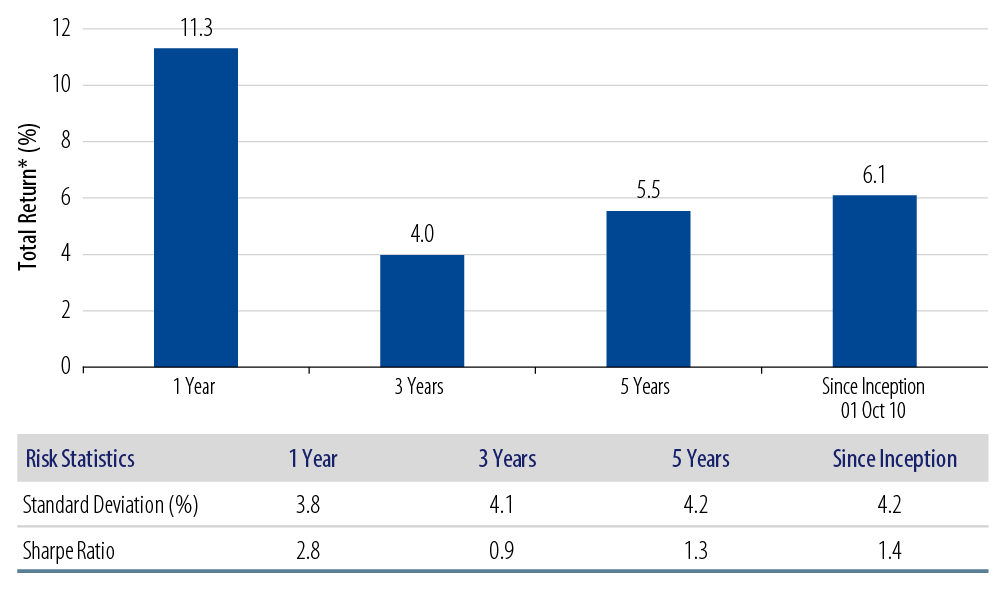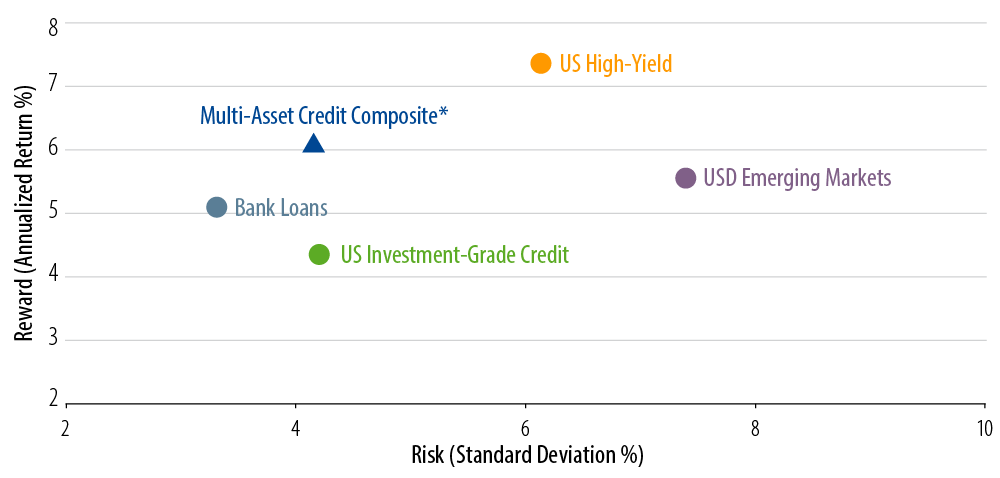 While finding an attractive source of income can be challenging to investors in today's yield-starved world, we believe that Western Asset's Multi-Asset Credit (MAC) strategy may be a viable solution for all the reasons discussed above. As a firm offering both global breadth and local depth, Western Asset believes it is well situated to exploit the growing opportunities in credit markets for the benefit of our clients.
Endnotes
A put spread is an option spread strategy that is created when equal number of put options are bought and sold simultaneously. Unlike the put buying strategy in which the profit potential is unlimited, the maximum profit generated by put spreads are limited but they are also relatively cheaper to employ.
© Western Asset Management Company, LLC 2022. This publication is the property of Western Asset and is intended for the sole use of its clients, consultants, and other intended recipients. It should not be forwarded to any other person. Contents herein should be treated as confidential and proprietary information. This material may not be reproduced or used in any form or medium without express written permission.
Past results are not indicative of future investment results. This publication is for informational purposes only and reflects the current opinions of Western Asset. Information contained herein is believed to be accurate, but cannot be guaranteed. Opinions represented are not intended as an offer or solicitation with respect to the purchase or sale of any security and are subject to change without notice. Statements in this material should not be considered investment advice. Employees and/or clients of Western Asset may have a position in the securities mentioned. This publication has been prepared without taking into account your objectives, financial situation or needs. Before acting on this information, you should consider its appropriateness having regard to your objectives, financial situation or needs. It is your responsibility to be aware of and observe the applicable laws and regulations of your country of residence.
Western Asset Management Company Distribuidora de Títulos e Valores Mobiliários Limitada is authorized and regulated by Comissão de Valores Mobiliários and Brazilian Central Bank. Western Asset Management Company Pty Ltd ABN 41 117 767 923 is the holder of the Australian Financial Services Licence 303160. Western Asset Management Company Pte. Ltd. Co. Reg. No. 200007692R is a holder of a Capital Markets Services Licence for fund management and regulated by the Monetary Authority of Singapore. Western Asset Management Company Ltd is a registered Financial Instruments Business Operator and regulated by the Financial Services Agency of Japan. Western Asset Management Company Limited is authorised and regulated by the Financial Conduct Authority ("FCA") (FRN 145930). This communication is intended for distribution to Professional Clients only if deemed to be a financial promotion in the UK as defined by the FCA. This communication may also be intended for certain EEA countries where Western Asset has been granted permission to do so. For the current list of the approved EEA countries please contact Western Asset at +44 (0)20 7422 3000.