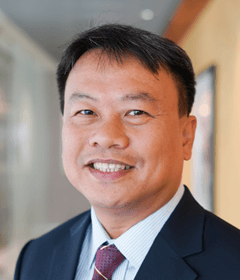 Modi: Challenges, Opportunities and Strategy
Co-Head of Investment Management, Asia (ex-Japan) / Portfolio Manager
Executive Summary
Quick wins for Modi include reviving stalled investment projects, subsidy rationalization and weak monsoon contingency plans.
USD/INR to range trade over the next six months, yields on three- to five-year Indian government bonds and one- to two-year high-quality corporate bonds are attractive.
India USD corporate credit spreads have compressed significantly but will hold at current levels on diversification needs from China and stable credit ratings.
On industrials, we think that subsidy rationalization will benefit upstream oil companies like Reliance and ONGC while on financials, we prefer the private sector banks over their PSU peers on valuation/risk considerations.
At the stroke of the midnight hour, when the world sleeps, India will awake to life and freedom. A moment comes, which comes but rarely in history, when we step out from the old to the new, when an age ends, and when the soul of a nation, long suppressed, finds utterance. Jawaharlal Nehru, August 14, 1947
Those eloquent words, spoken by India's first prime minister on the night of the nation's pained journey to independence, may well describe the hopes and dreams of millions of Indians today who voted Narendra Modi into power on May 16, 2014. The National Democratic Alliance (NDA), led by Modi's Bharatiya Janata Party (BJP) achieved an overwhelming victory in the general election by winning 336 seats out of 543, of which BJP took 282 seats. The United Progressive Alliance (UPA), led by India's National Congress (Congress) took 58 seats and 44 seats, respectively. This is the first time since Rajiv Gandhi's landslide victory in 1984 that a single party has won a sufficient enough mandate to govern without the need for a coalition with others. As the new leader of the world's second-most populous nation (population 1.2 billion, median age 25 years) and his cabinet were sworn, we look at the key challenges and opportunities that the new Modi administration will encounter over the next three to six months and the implications for our investment strategy for India in foreign exchange (FX), duration and credit.
Political Challenges
Despite its landslide election victory, the NDA only controls the Lok Sabha (Lower House) and not the Rajya Sabha (Upper House). To overcome non-constitutional bills blocked by the upper House, the Modi administration will need to hold joint sessions in Congress involving both the lower and upper houses in order to pass major bills. Constitutional bills still require separate passages by both houses.
Of the 20 Indian states, only six are currently governed by the NDA. There are expectations that seven more states could fall under NDA control in the next 12 months, on the coattails of the Modi victory. However, Prime Minister Modi will clearly need to build alliances with chief ministers of opposition states to pass bills that require state concurrence (such as the land acquisition, labor, power pricing and goods and services tax bills). In that respect, Modi's success as a three-term Chief Minister of Gujarat could enable him to better understand the complex compromises that are involved in center and state relationships.
Near-term Policy Issues and Quick Wins
A challenging economic to-do list awaits Prime Minister Modi, which will test his highly vaunted administration skills, developed during his tenure as Chief Minister of Gujarat. We believe that Modi will prioritize his battles and look to address stalled investment projects, subsidy rationalization, and monsoon contingency plans in the first 90 days of the administration.
The Fiscal Budget
The fiscal budget in July will be the topic of Finance Minister Arun Jaitley's first major announcement; we believe he will set the right tone and present a realistic budget. The budget has to strike a balance between three conflicting objectives: higher growth, fiscal consolidation, and lower inflation.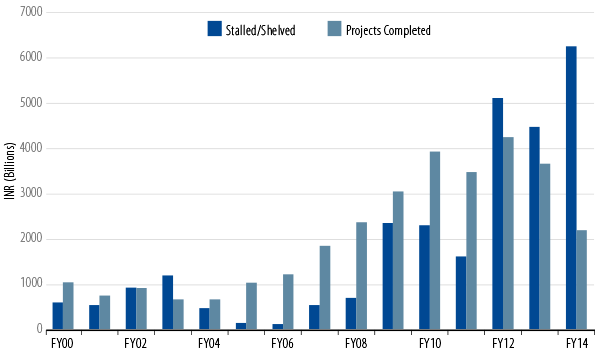 Stalled Investment Projects
The highest priority for the Modi administration will be reviving investment projects (Exhibit 1) that stalled under the previous government due to fragmented decision-making, bureaucracy and corruption scandals. We think this will be a quick win for Modi as many of the stalled projects were approved in the last 12 months of United Progressive Alliance (UPA) rule by the inter-ministerial panel chaired by previous Finance Minister Palaniappan Chidambaram. However, the project sponsors waited for election clarity before embarking on their projects. Indeed, Modi's key achievement as Chief Minister of the State of Gujarat was expediting the approval for investment projects such as the Tata Nano plant in Sanand, Gujarat. A speedy and strong pipeline of investment projects coming on line will raise economic growth, attract foreign direct investments (FDIs) and improve asset quality of Indian banks.
Subsidy Rationalization
India has one of emerging market's (EM) weakest fiscal positions and Asia's lowest revenue-collection-to-GDP ratio (Exhibit 2). Under the watchful eyes of the credit rating agencies, Finance Minister Jaitley may need to revise higher the somewhat unrealistic -4.1% fiscal deficit target set by his predecessor in the interim budget in February. Given that 25% of government spending is on interest payments, 10% on defense, and capital expenditures have already been curtailed, there is a strong likelihood that Jaitley may scrap the diesel price subsidy. Reducing other subsidized fuels such as kerosene and liquid petroleum gas, (daily necessities for lower-income Indians) and fertilizer subsidies will probably not be on the agenda for this budget.
Weak Monsoon Risk
The first monsoon rains have arrived on the Indian continent, as of early June (in Kerala), and there are concerns of lower than average rain fall due to occurrence of an El Niño, which would have a negative impact on agriculture production, a key driver of the economic growth (13.7% of 2012/13 GDP). This could be a key test for the Modi government as it would need to lay out a clear strategy to mitigate the impact of higher food prices due to a weak monsoon. Such impacts could include releasing national reserves of grains and using the government machinery to distribute grains in areas where there is a shortage, permitting imports of essential commodities and setting up a price stabilization fund to curb speculation.
Medium-Term Issues
More difficult issues that require state government concurrence such as goods and service taxes, land acquisition, power pricing and multi-brand retail FDI may not be addressed in the July budget announcement, but will remain on PM Modi's medium-term agenda. The government is likely to move quickly in opening up the defense sector to FDI to modernize the Indian Armed Forces and hike the FDI cap in the insurance sector to 49% from 26%.
Credit Ratings Impact
We believe that international credit rating agencies will patiently evaluate the new administration's economic and fiscal policies before taking any rating action. The medium- to long-term economic growth trajectory, fiscal consolidation, closing the current account deficit and boosting banking sector's financial strength will be on the credit rating agencies' watch list.
Investment Strategy
Foreign Exchange USD/INR
We are keenly aware that Modi's overwhelming mandate will not translate into an immediate improvement in India's economic fundamentals (Exhibit 3) commonly described as "the story of 5s" (growth at 5%, current account deficit at -5% and fiscal deficit at -5%).
On the current account front, there has been a marked improvement in reducing the deficit to -2.8% GDP (US$-50 billion) by the previous administration via tariffs on gold imports. We have an optimistic view that Modi will be able to lift headline economic growth by reviving stalled investment spending and attracting FDI while Jaitley will deliver a fiscally responsible budget.
Over the next six months, we expect the Indian rupee (INR) to trade in the 58–61 range versus the US dollar. Underpinning the demand for the rupee will be the FDI pipeline and the substantial headroom for foreign portfolio investors to buy into Indian bonds. Foreigners presently own 2% of Indian government bonds
(versus 35% in Indonesia) and 20% of Indian equities. The previous administration under Chidambaram had taken a number of steps to attract foreign portfolio flows. These included a simplified registration process for the foreign portfolio investor (FPI) scheme, using "Know Your Customer" (KYC) at custodian level rather than Security and Exchange Board of India (SEBI), relaxing the bond quota for government and corporate bonds1 and reducing the withholding tax on interest income to 5% from 20%.2 However, foreign investors held back due to the constant changes in rules and lack of election clarity. While this year's foreign investor flows into India have largely been due to existing foreign institutional investors increasing their allocations, we now see a number of potential new entrants: large money managers looking to register as FPI.
The USD/INR downside is supported by the Reserve Bank of India's (RBI) desire to replenish its FX reserves (currently at US$313 billion) to raise import cover to 10 months from the current eight months. Further, in the third quarter of 2013, when the Indian rupee was on a free fall, the RBI under the stewardship of Raghuram Rajan, ex-chief economist at the IMF, initiated a highly successful special concessional Foreign Currency Non-Resident (FCNR) deposit scheme which attracted US$34 billion from non-resident Indians. These FCNR deposits mature in 2½ years' time and the RBI has reportedly covered US$8 billion as the rupee strengthened versus the US dollar this year.
Interest Rates & Bond Yields
The Patel report on the "new framework for monetary policy" issued in January of 2014 calls for monetary policy to target the CPI at an eventual 4% with a band of +/–2%. With the latest CPI print at 8.59%, there is little scope for Governor Rajan to reduce the repo rate currently at 8% in the near term. A key contributor to the upward bias in India's inflation numbers have been supply bottlenecks that pushed up the distribution cost of food and daily necessities. If the Modi administration is able to reduce these bottlenecks and institute changes that promote greater competition and efficiency in the agriculture sector, monetary policy can be more supportive of economic growth.
The Indian Government bond (IGB) yield curve is very flat (with 5 years at 8.40% and 10 years at 8.55%). The limited room for a reduction in the RBI official rates suggests that we'd rather own 3–5 years IGB and 1–2 years high-quality corporate bonds (at yields of 9%), where the carry is attractive vis-à-vis other BBB rated EM local government bonds and with uncertainty lower. The corporate bond pipeline is likely to re-start in the June or July period, after clearing changes in the Company Act that required shareholders' consent and the establishment of a sinking fund for bond redemptions.
Indian Industrial Credits
Cuts in fuel/gas subsidies and changes in the subsidy sharing framework will reduce the burden on upstream companies, i.e., higher net oil price realization. This is positive for Reliance Industries, ONGC and, to a lesser extent, Oil India.
Recent changes to the CERC 2014-19 regulations were negative to power producers such as NTPC. One of the key impacts was the shift from plant availability factor (PAF) to a plant load factor (PLF) incentive scheme, which significantly reduces the power generator's earnings visibility since the PLF scheme is demand driven. This is a negative for NTPC and Neutral for Power Grid.
In terms of technicals, Indian industrial credit spreads have tightened 130 to 260 basis points (bps) since the trough in August 2013, and appear to have fully priced in the Modi landslide victory. However, we expect the positive momentum to hold the credit spreads relatively stable in the near-term. In addition, the need to diversify away from the deluge of China credits with sufficient yields will be supportive for Indian credits at current valuations. The positive sentiment should motivate more Indian industrials to tap the USD bond market for funding.
Indian Banks
On the Indian banks' front, the clear election mandate has rekindled hopes that policy paralysis will be a thing of the past. Inaction by the previous UPA administration, coupled with a slowing economy, significantly contributed to rising NPLs, anemic earnings and thin capital levels, in particular at the Public Sector Undertaking (PSU) banks in which the Indian government has more than 50% equity stakes. Overwhelmingly, private sector banks have performed much better than their PSU peers, as demonstrated by their conservative balance sheets and, more importantly, superior risk management abilities on the bad debts front in the face of a sluggish economy.
There is little doubt that the Modi administration does have low-hanging fruit to pick, as now previously stalled projects in the infrastructure, power, iron/steel and road sectors could finally be pushed through under the BJP's pro-business mantra. As the Modi administration lifts India's economic growth, Indian banks will benefit by extension from lowering of bad debt formation, improving earnings with diminishing provisions and, more importantly, organic capital replenishment.
However, we do not consider this an all-clear signal to buy all Indian bank credits. Given the significant spread tightening over the past couple of months in anticipation of a BJP victory, on average Indian bank 5-year senior bonds have tightened 125 to 150 bps since the beginning of the year. Hence, we are seeing minimal differentiation in terms of valuations between PSU banks (return on average equity at 8%; non-performing loan ratio at 4%, and Tier-1 capital at 8%) and stronger private sector banks (return on average equity at 17%; non-performing loan ratio at 2%, and Tier-1 capital at 11%).
It appears to us that most of the good news has all been factored in, which does not leave much room for any disappointment. In addition, there are two other issues worth mentioning that are more mid- to long-term and which lend support to our preference for private sector banks. The first is the potential for the Indian regulator to impose a resolution regime on the banking sector (India is a member of the Financial Stability Board) by the end of 2015 which, all else equal, would favor private sector banks given their stronger credit profiles. Second, the RBI is in the midst of reviewing recommendations from a committee that has suggested transforming the PSUs into more commercial entities (similar to private sector banks) in areas such as board formation and operations, including the potential for the Indian government to lower its equity state to below 50%. This last part would likely encounter political opposition given the government's longstanding equity position in PSU banks over the past decades and would trigger change-of-control clauses in most PSU bond covenants. If indeed government support is diminished (or even perceived to be diminished), there could well be rating implications given the multiple notch uplifts the credit agencies have afforded the PSUs on the back of the government's ownership. Private sector banks currently have minimal government support uplifts factored into their ratings with their standalone ratings already in investment-grade territory.
Endnotes
On tap until 90% utilisation, the balance will be auctioned.
To be reviewed in May 2015.
© Western Asset Management Company, LLC 2022. This publication is the property of Western Asset and is intended for the sole use of its clients, consultants, and other intended recipients. It should not be forwarded to any other person. Contents herein should be treated as confidential and proprietary information. This material may not be reproduced or used in any form or medium without express written permission.
Past results are not indicative of future investment results. This publication is for informational purposes only and reflects the current opinions of Western Asset. Information contained herein is believed to be accurate, but cannot be guaranteed. Opinions represented are not intended as an offer or solicitation with respect to the purchase or sale of any security and are subject to change without notice. Statements in this material should not be considered investment advice. Employees and/or clients of Western Asset may have a position in the securities mentioned. This publication has been prepared without taking into account your objectives, financial situation or needs. Before acting on this information, you should consider its appropriateness having regard to your objectives, financial situation or needs. It is your responsibility to be aware of and observe the applicable laws and regulations of your country of residence.
Western Asset Management Company Distribuidora de Títulos e Valores Mobiliários Limitada is authorized and regulated by Comissão de Valores Mobiliários and Brazilian Central Bank. Western Asset Management Company Pty Ltd ABN 41 117 767 923 is the holder of the Australian Financial Services Licence 303160. Western Asset Management Company Pte. Ltd. Co. Reg. No. 200007692R is a holder of a Capital Markets Services Licence for fund management and regulated by the Monetary Authority of Singapore. Western Asset Management Company Ltd is a registered Financial Instruments Business Operator and regulated by the Financial Services Agency of Japan. Western Asset Management Company Limited is authorised and regulated by the Financial Conduct Authority ("FCA") (FRN 145930). This communication is intended for distribution to Professional Clients only if deemed to be a financial promotion in the UK as defined by the FCA. This communication may also be intended for certain EEA countries where Western Asset has been granted permission to do so. For the current list of the approved EEA countries please contact Western Asset at +44 (0)20 7422 3000.