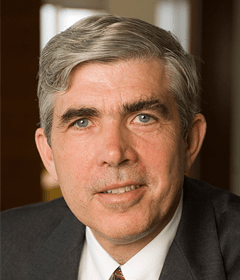 Market Commentary
Chief Investment Officer
The obstacle is the path. ~Zen proverb
Our contention remains that disappointing economic global growth will persist for the foreseeable future. As a result, we believe policymakers will commit even further to efforts designed to attenuate downside or systemic risk outcomes.
The persistent undertow of tepid global growth juxtaposed against the backdrop of ultra-aggressive monetary accommodation makes investing extraordinarily difficult. Policy support has been key to underpinning risk asset prices, but downside risks need to be carefully assessed, and where possible, macro strategies can make crucial contributions both by adding value and by reducing the downside volatility of portfolios.
In navigating the challenges of the last four years, it has been beneficial to understand that the global recovery would be ongoing but very slow by historical standards. In this two-steps-forward, one-step-back process, girding against downturns in growth or the reemergence of systemic risk has been important. Equally important has been the need to stay long risk assets, whose prices were completely mauled by the financial crisis. As we described in our last commentary, the returns from risk assets since the crisis have been nothing short of spectacular.
The challenge we face this year is unfortunately much the same, but without the valuation cushion available in years past. Despite the rampant optimism after witnessing both better first quarter US growth and the significant outperformance of US risk assets, we continue to expect moderate growth in the US, a deepening recession in Europe, and more moderate growth (by recent standards) out of Asia.
Even in this difficult environment, however, our expectation is that risk assets will outperform. The key reasons for this involve the continuation and even the acceleration of policy support, as well as global investors' ongoing search for yield.
Against this backdrop, we resist the clarion call of the "Great Rotation": the idea that stocks will benefit from the prospect that growth has finally achieved escape velocity and that fixed-income will suffer substantially from rapidly rising inflation fears. Our view is that we are still in for a very long slog. Growth and systemic concerns are real and present dangers, and while policy is proactive and supportive of risk assets generally, thoughtful positioning is key. While we maintain the view that a successful policy transition will ultimately lead to higher interest rates, we don't believe this to be of immediate concern.
As we outlined in our last commentary, while we still believe risk assets will outperform, we have steadily reduced our substantial overweight positions into market strength. Importantly, we believe our clients' portfolios should always maintain diversified strategies to provide ballast to portfolio positions and to help protect against more adverse outcomes.
One strategy that we have employed to good effect both in the US and globally has been maintaining exposure to the long end of the US yield curve. The narrative behind the predominant market insistence on avoiding this sector seems persuasive at first blush. The general thinking is that slow growth continues the policies of financial repression; carry and roll down benefit shorter maturities, while the determination to restart inflation, combined with broad debt concerns, will eventually work disproportionately on the long end of the curve. But in a portfolio context, there is more to the question. These same conditions have also led to a broad based rally in spread products, and when growth has periodically disappointed—or systemic risk has briefly recurred—the challenge to spread products is acute, whereas the primary beneficiary has been long US bonds.
Might there be a place for the long end as a hedge at minimum and potentially as a source of return in an environment of anemic growth? Exhibit 1 demonstrates the underlying dynamic which has made the combination of risk assets and long US Treasuries such an effective portfolio combination since the end of the crisis. We use the simple example of stocks and bonds as an illustration. Note the extraordinarily powerful negative correlation of the two asset classes. We interpret this as a manifestation of the risk-on/risk-off investment world we have experienced in recent years. When stocks rose, bonds fell and vice versa, almost like clockwork. For an investor, such negative correlation can be very beneficial.

Over the 2010-13 period to date, the correlation between bond and stock returns varied from -0.592 on a daily basis to a -0.856 on a quarterly basis. Risk-on, risk-off indeed! But the chart also shows a "bigger picture" underlying the near-term inverse correlation. Over short periods, the returns were reliably inversely correlated, but over time, both markets appreciated. In this low growth, low inflation, central bank supported market environment, both markets performed exceptionally well.
Exhibit 2 underscores the benefit of combining risk assets with exposure to the long end of the Treasury yield curve over the same time frame. A buy-and-hold 50/50 portfolio of bonds and stocks would have achieved about the same total return as either asset separately, but with dramatically lower volatility. The S&P 500 gained 13.5% with 16.5% volatility while the long bond returned 12.4% with 18.8% volatility. A 50/50 combination returned roughly 13% with volatility of only 4.7%. Similarly, while each asset has provided favorable return/risk characteristics in its own right, the risk/return ratio for the bond and stock combination is stunningly higher, 2.8 compared with 0.7 and 0.8.

Where do we go from here? Can this combination of assets continue to produce effective diversification? Given the run-up in price that both assets have enjoyed, we believe position reductions are in order. In our view, the magnitude of the benefit has to be less in the future. However, given our concerns over growth and the long leash provided by the subdued inflation outlook, we believe this portfolio construction still has merit. The environments that most challenge risk assets most often benefit long bonds. Rates are low, hence position sizes in this trade have to be reduced. However, it should still be noted that the yield curve is very steep, particularly between 10-year and 30-year bonds.
In sum, we continue to believe that long bonds are a valuable portfolio asset. While we have reduced exposure to this "hedge" of our risk asset positions, we expect it to provide further benefit in an environment of ongoing disappointments over the pace of global economic growth.
© Western Asset Management Company, LLC 2020. This publication is the property of Western Asset and is intended for the sole use of its clients, consultants, and other intended recipients. It should not be forwarded to any other person. Contents herein should be treated as confidential and proprietary information. This material may not be reproduced or used in any form or medium without express written permission.
Past results are not indicative of future investment results. This publication is for informational purposes only and reflects the current opinions of Western Asset. Information contained herein is believed to be accurate, but cannot be guaranteed. Opinions represented are not intended as an offer or solicitation with respect to the purchase or sale of any security and are subject to change without notice. Statements in this material should not be considered investment advice. Employees and/or clients of Western Asset may have a position in the securities mentioned. This publication has been prepared without taking into account your objectives, financial situation or needs. Before acting on this information, you should consider its appropriateness having regard to your objectives, financial situation or needs. It is your responsibility to be aware of and observe the applicable laws and regulations of your country of residence.
Western Asset Management Company Distribuidora de Títulos e Valores Mobiliários Limitada is authorised and regulated by Comissão de Valores Mobiliários and Banco Central do Brasil. Western Asset Management Company Pty Ltd ABN 41 117 767 923 is the holder of the Australian Financial Services Licence 303160. Western Asset Management Company Pte. Ltd. Co. Reg. No. 200007692R is a holder of a Capital Markets Services Licence for fund management and regulated by the Monetary Authority of Singapore. Western Asset Management Company Ltd is a registered Financial Instruments Business Operator and regulated by the Financial Services Agency of Japan. Western Asset Management Company Limited is authorised and regulated by the Financial Conduct Authority ("FCA"). This communication is intended for distribution to Professional Clients only if deemed to be a financial promotion in the UK and EEA countries as defined by the FCA or MiFID II rules.