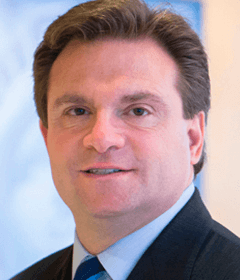 Macro Opportunities: A Flexible Approach to Macro Investing
Product Specialist
Executive Summary
The Macro Opportunities strategy has performed well on an absolute and risk-adjusted basis. In the 62 months since its inception, the strategy has an average annualized return of 10.9% with an ex-post volatility of 6.1%.
The MO strategy has been severely tested over the last few years, and has proven to be remarkably resilient.
We believe the interconnectedness of global markets and the increased importance of central bank policy will continue to fuel dislocations that create opportunities for MO investors—regardless of the direction of rates.
Macro Opportunities can serve as a diversifier to a broad fixed-income portfolio, or as a pure return source in an alternative portfolio.
Introduction
In 2012, Western Asset set out to develop an aggressive, unconstrained fixed-income strategy—Macro Opportunities (MO)—to offer our clients the opportunity to generate returns in a slow-growth, low-rate environment. It needed to be both opportunistic and defensive, yet offer a compelling risk/reward profile.
At that time, excessive monetary accommodation gave rise to the conundrum of zero interest-rate policies. If rates stayed "low for long," it would remain difficult to generate positive fixed returns; if rates were to rise, however, it would be difficult to preserve capital. What was an investor to do?
With these investors in mind, we designed the MO strategy to provide concentrated and opportunistic exposure to Western Asset's key themes, with an emphasis on active management of macro risk factors. The thought process centered on our belief that if we could provide meaningful macro offsets during periods when our spread product themes were out of favor, our value style of investing could provide compelling returns over the long run. Additionally, if actively managed macro themes could also provide an independent source of return, the combination could be powerful. We designed MO to be aggressive with a volatility limit not to exceed 10% over a market cycle.
Furthermore, our robust global platform would allow us to execute the strategy and showcase our strongest ideas. Over the past 40 years, our business has grown to include trading operations in seven countries—using our team-based approach we always know our best ideas across the globe.
Now, over five years later, MO has been successfully tested in challenging markets—both up and down. This paper lays out how the strategy responded to those challenges, using a flexible approach to seek diversified sources of return for our clients.
Dislocations Should Create Opportunities for Investors, Regardless of the Direction of Rates
We believe the interconnectedness of global markets and the increased importance of central bank policy will continue to fuel dislocations that create opportunities for investors—regardless of the direction of rates.
These dislocations are particularly suitable for a value investor like Western Asset. We believe markets misprice securities for three main reasons: 1) greed and fear, 2) supply and demand, including non-economic players like central banks and 3) lack of a long-term investment horizon. Due to any combination of these factors, prices can deviate from fundamental fair value, but over time, prices typically adjust to reflect inflation, credit fundamentals and liquidity conditions. We believe consistently investing in undervalued securities will deliver attractive investment returns over the long term.
But there are also economic opportunities that arise as the outlook for growth, inflation and liquidity conditions change. These macro factors have exerted tremendous influence in the markets since the crisis of 2008. Last year alone, 30-year Japanese government bond yields had declined nearly 60 basis points (bps) from historically low levels, with similar declines in many other G-10 countries. The ability to express meaningful views through positions in duration, yield curve placement and changes in volatility in global interest-rate markets affords directional as well as relative value opportunities. The strategy's risk budget comes predominantly from these macro factors. As an example of how we express these views, Exhibit 1 shows MO's duration flexibility since its inception. While we actively manage duration exposure, the analytic duration shown in the chart, is not considered in isolation. Because we hold corporate and emerging market bonds, we consider some portion of our portfolio duration to be "soft" duration. Soft duration is our reference to the reality that these instruments can have vastly different volatilities and opportunity sets, based on their sensitivity to risky cash flows or default expectations rather than solely to changes in interest rates.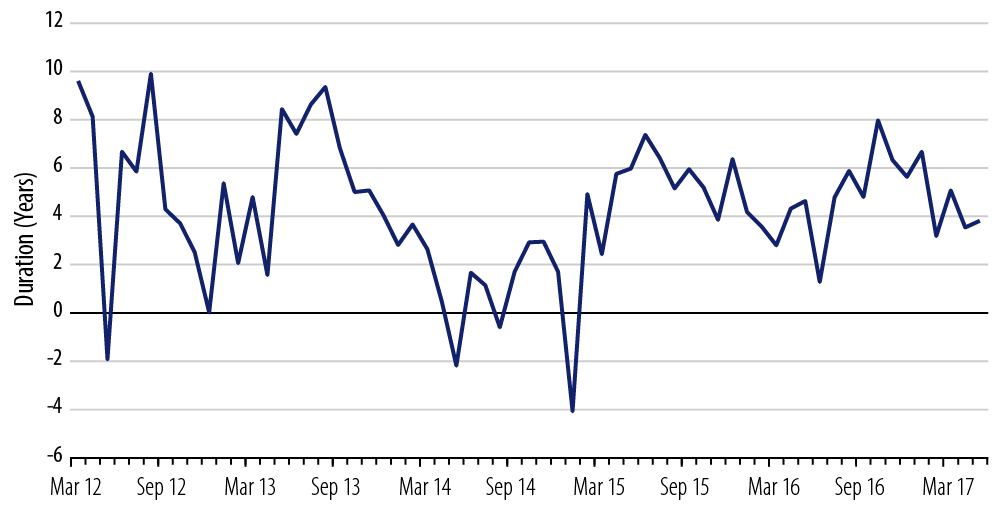 A key aspect of the strategy centers on risk measurement and risk management—elements integral to our investment process. We seek to control risk through active risk management, evaluating and sizing the portfolio for what we believe the environment will be. Natural hedges combined with our value philosophy form the backbone of a tightly controlled risk process.
We Now Have a Five-Plus-Year Track Record for Clients to Assess the Success of the Strategy
Macro Opportunities has performed well on an absolute and risk-adjusted basis considering its realized volatility. In the 62 months since its inception, the strategy has returned a gross total of over 71% with an ex-post volatility of 6.1%. With the average annualized return of 10.9% it has a Sharpe Ratio of 1.6 and a Sterling Ratio (ratio of average annualized return to maximum drawdown) of 1.2.
Further, we believe the frequency, depth and length of drawdown are particularly attractive. Over the life of the strategy, MO has drawn down more than 5% four times, and each time has returned to make a new high water mark within 12 months or less. Exhibit 2 shows the periods of drawdown highlighting the event that initially moved the market.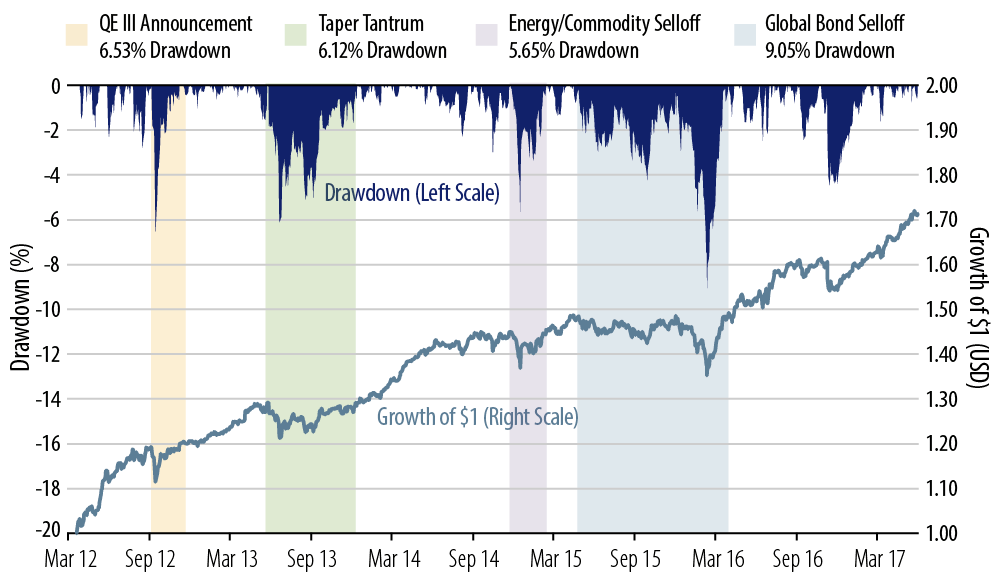 Macro Opportunities Has Been Stress-Tested Through Some Very Turbulent Times
As an example, some of the more challenging times since 2012 have included accelerating bankruptcies in Spanish provinces, the beginning of the "taper tantrum" in summer 2013, the surprise China devaluation in 2015, and many others. All the while, due to active management, MO returns provided strong diversification to other broad segments of global markets. Exhibit 3 shows MO regressed against a broadly diversified global portfolio. Note the significance of the alpha component, which is the component of total return that cannot be ascribed to any of the index factors. We believe our style of investing and active management of macro factors help create these low correlations.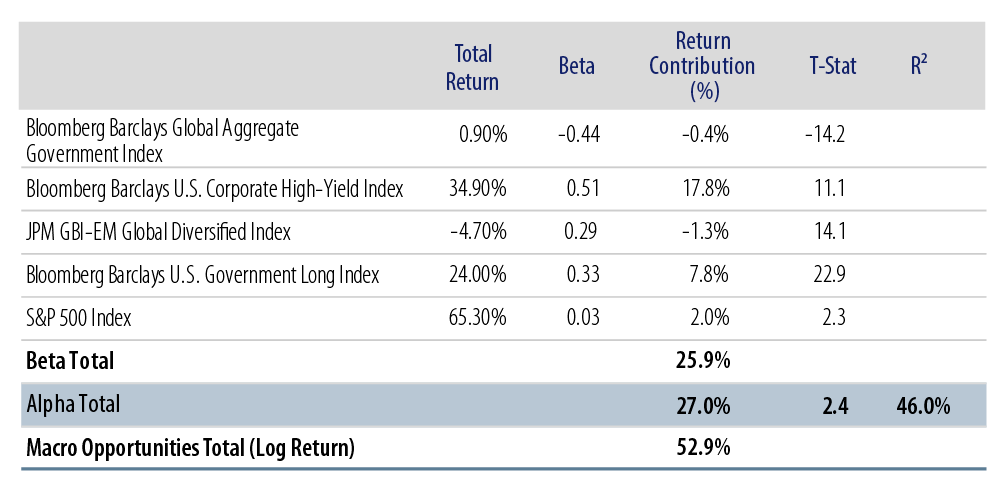 A Flexible Strategy for Changing Market Conditions
An interesting example of the versatility of MO is the December 2013-January 2014 period. It was a period when interest rates moved meaningfully in opposite directions in back-to-back months with positive performance for MO in both instances.
In December 2013, the US Federal Reserve (Fed) decided to reduce the pace of its monthly purchases of US Treasury (UST) and mortgage securities in small but equal amounts, signaling its intention to wind down the quantitative easing (QE) program initiated in September 2012.
The response from the market was dramatic; global equity and credit markets rallied and the UST yield curve sold off, led by 5-and 10-year UST rates—10-year rates increased 28 bps—with an impressive flattening in the long end. Although the reduction of purchases was small, it signaled the Fed's intention to be out of the QE business as soon as possible and to manage future expectations solely through forward guidance. This was exactly what the market wanted to hear and it set the stage for a positive risk environment going forward.
Macro Opportunities was positioned with four years of duration with risk positions in investment-grade credit, emerging markets and peripheral European debt. Despite the 28 bps rise in 10-year rates, the strategy delivered 85 bps of performance.
January 2014 was a complete reversal of December 2013. Renewed concerns over a Chinese slowdown pressured emerging markets; foreign exchange selloffs in Turkey and India triggered reluctant rate hikes in those countries, creating a negative loop of growth fears, currency pressures and more rate hikes. Equity markets declined and 10-year UST rates declined 38 bps with the 10-to-30-year curve unchanged.
Macro Opportunities was positioned with three years of duration and similar risk positions, and with the 38 bps decline in US 10-year rates, the strategy delivered 82 bps of performance. While this is an example of a successful scenario, there are no guarantees that we will be "right" every time. Flexible investment guidelines with active duration management provided the ability to take advantage of these disparate opportunities.
The Strategy Serves Multiple Roles in Client Portfolios
With its flexibility and return potential, Macro Opportunities can serve different roles in client portfolios. We have clients who use it as a diversifier to a broad fixed-income portfolio and others who use it as a pure return source in their non-traditional or alternative portfolios. The flexibility, active management and focus on macro risk factors help reduce the correlations to broad financial markets. This is a key value proposition to investors, as the strong diversification impact can help lower the risk in client portfolios. Lower correlations and lower risk give clients flexibility to realize returns in changing market conditions.
Given Our Global Economic Outlook, We Believe Macro Opportunities Is More Relevant to Clients Now Than Ever Before
The current pattern of low growth and low inflation for the global economy poses a great challenge to fixed-income investors. The opportunity to generate large capital gains by passively riding falling market yields is much lower now than the risk of capital losses that cannot be offset with coupon income over time. As can be seen in Exhibit 4, the broad global fixed-income market, here represented by the Bloomberg Barclays Global Aggregate, has a lower yield and a greater sensitivity to interest rate changes than ever before. Even in the case of slowly increasing global rates—Western Asset's house view—this seems to provide investors with little return for the risk that they take. This allocation challenge requires strategies that are defensive, yet opportunistic, and that offer diversified, risk-adjusted returns in line with the opportunity set, which is always changing. We believe Macro Opportunities is one such strategy.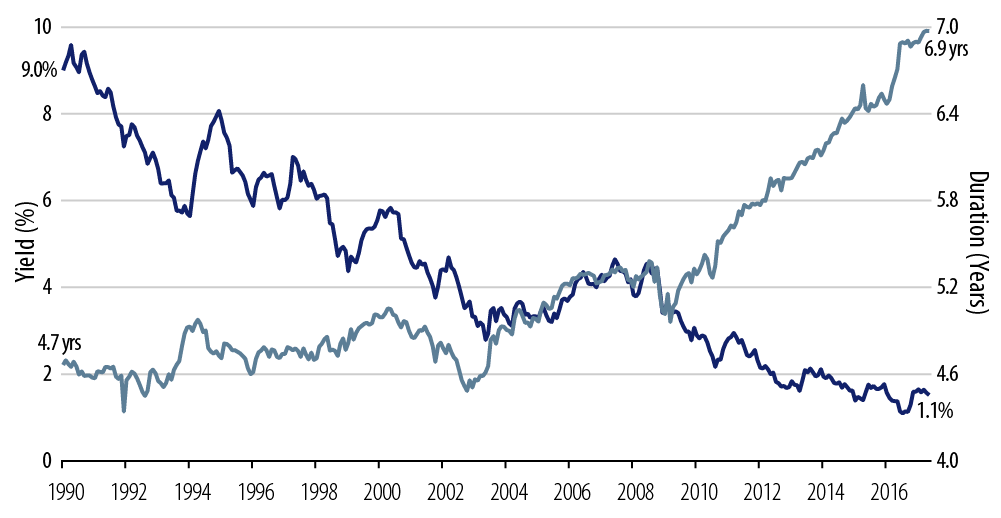 © Western Asset Management Company, LLC 2022. This publication is the property of Western Asset and is intended for the sole use of its clients, consultants, and other intended recipients. It should not be forwarded to any other person. Contents herein should be treated as confidential and proprietary information. This material may not be reproduced or used in any form or medium without express written permission.
Past results are not indicative of future investment results. This publication is for informational purposes only and reflects the current opinions of Western Asset. Information contained herein is believed to be accurate, but cannot be guaranteed. Opinions represented are not intended as an offer or solicitation with respect to the purchase or sale of any security and are subject to change without notice. Statements in this material should not be considered investment advice. Employees and/or clients of Western Asset may have a position in the securities mentioned. This publication has been prepared without taking into account your objectives, financial situation or needs. Before acting on this information, you should consider its appropriateness having regard to your objectives, financial situation or needs. It is your responsibility to be aware of and observe the applicable laws and regulations of your country of residence.
Western Asset Management Company Distribuidora de Títulos e Valores Mobiliários Limitada is authorized and regulated by Comissão de Valores Mobiliários and Brazilian Central Bank. Western Asset Management Company Pty Ltd ABN 41 117 767 923 is the holder of the Australian Financial Services Licence 303160. Western Asset Management Company Pte. Ltd. Co. Reg. No. 200007692R is a holder of a Capital Markets Services Licence for fund management and regulated by the Monetary Authority of Singapore. Western Asset Management Company Ltd is a registered Financial Instruments Business Operator and regulated by the Financial Services Agency of Japan. Western Asset Management Company Limited is authorised and regulated by the Financial Conduct Authority ("FCA") (FRN 145930). This communication is intended for distribution to Professional Clients only if deemed to be a financial promotion in the UK as defined by the FCA. This communication may also be intended for certain EEA countries where Western Asset has been granted permission to do so. For the current list of the approved EEA countries please contact Western Asset at +44 (0)20 7422 3000.