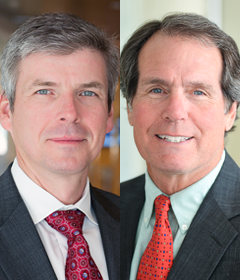 Is This as Good as It Gets for Corporate DB Plans?
Head of Corporate Relationships/LDI Services
Product Specialist/Economist
Executive Summary
Most corporate DB plans continue to follow a risk-on strategy, which has not worked well for the last 20 years. We question the prudence of continuing to rely on this strategy and mentality.
If plans instead contribute cash to bring DB funded status to 90%, further improvement in funded status can be achieved with little exposure to down-side risks.
While the thought of voluntary cash contributions may be painful, in our opinion, no good alternatives are available, and cash contributions do offer a number of benefits, such as potentially lower taxes and lower PBGC premia.
Introduction
Most corporate defined benefit (DB) plans continue to follow a risk-on strategy, positioned to benefit from rising stock prices and higher interest rates—a strategy that has not worked well for the last 20 years. In this paper, we suggest that hoping for funded status to improve via further stock price gains and higher yields is a precarious strategy, better suited to an early-expansion economy rather than the aged expansion and bull markets currently in evidence. We suggest that plans instead contribute sufficient cash to bring DB funded status to 90%, at which point further improvement in funded status can be achieved with little exposure to downside risks. While the thought of voluntary cash contributions may be painful to CFOs and corporate boards, we believe no good alternatives are available, and such contributions do offer various tax and financial benefits that can lessen their pain.
What Has the Past Taught Us?
In the late-1990s, DB plans were waiting for yet-higher stock prices and/or for a return to 8% Treasury Bond (T-Bond) yields, so the chance to de-risk was passed up when funded status hit 120% or higher. After the carnage surrounding the 2000-01 recession and bear market, funded status levels improved back to 100% by the mid-2000s, but again plan sponsors eschewed de-risking, waiting for further stock price increases and/or for T-Bonds to return to 6% levels. Carnage ensued again when recession and bear markets set in with the financial crisis of 2008.
Once again, economic recovery and a bull stock market brought some improvement in funded status over 2009-13, but not enough to offset the declines experienced during the downturn. Presently, in the eighth year of a bull market, most plans are still waiting to de-risk, counting again on yet-higher stock prices and some relief from yields. Exhibit 1 is a graphic reminder of the roller coaster that plans have been riding for the last 20 years. Note that not only has the ride been bumpy, but also that the trend is clearly downward. Yet, plans continue to cling to the same strategies that generated this downtrend.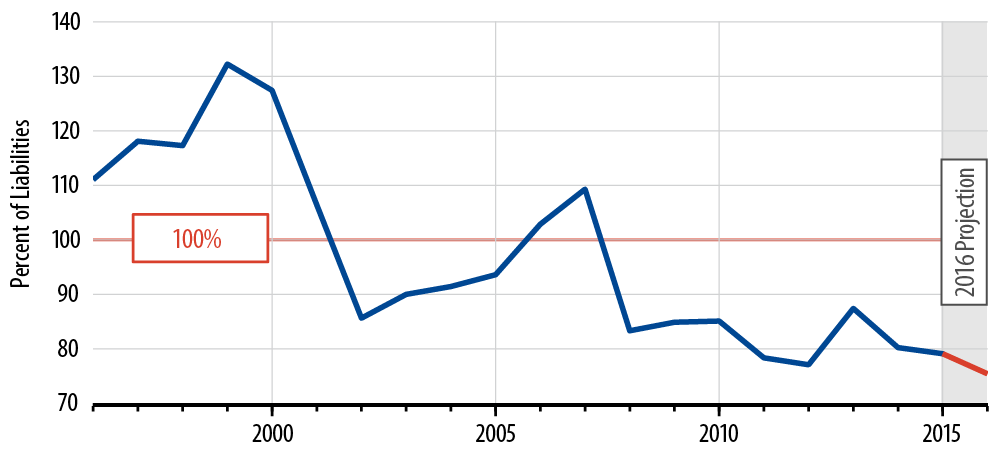 Hey, Forget the Past, It's the Economy Stupid and the Markets Will Bail Out Corporate DBs.
With the Federal Reserve (Fed) just beginning a rate-hiking regimen, it is understandable that investors might consider us to be early in the bond yield "cycle." Such a mindset, however, is at odds with other, more salient facts. First, economic growth is slowing, not picking up. As seen in Exhibit 2, the current pace of nominal growth is the lowest for any postwar expansion, and the trend is still downward, not upward.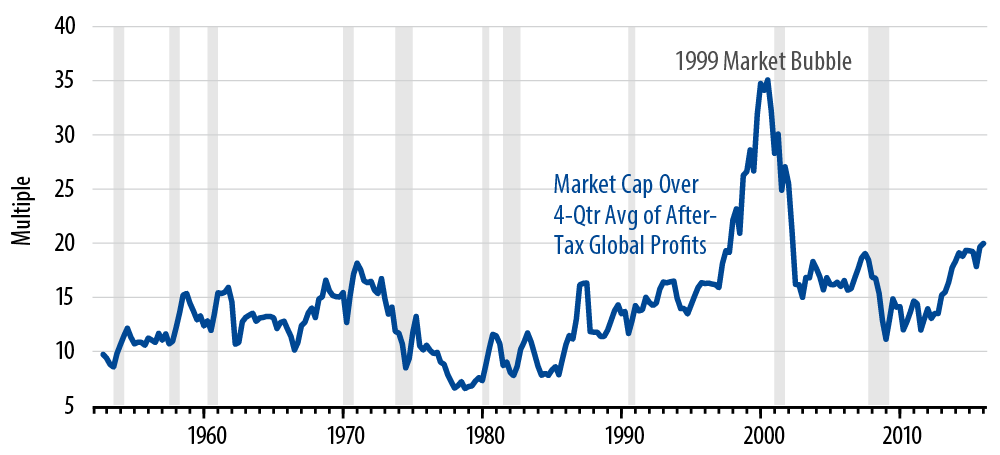 Note also that with it being nine years since the last cycle peak, this expansion is quite aged. True, expansions don't die from old age alone. It would be unprecedented, however, to see a major acceleration in economic growth this late in an expansion. Furthermore, in past cycles, by this stage of the expansion, bond yields typically had begun to decline, not increase.
Without an acceleration in growth, it is hard to see how corporate profitability can rebound. Profits have been declining for the last two years. While still high as a share of corporate GDP, current profits levels are already baked into equity prices, so further growth in profits will be needed to propel equities higher.
Meanwhile, stock market valuations are already very high. Only during the late-1990s' dot-com bubble did we achieve higher levels of P/Es for equities, and these were not sustained. Historically, decades during which equity returns exceeded 7% occurred with P/Es starting below 15, compared to current levels above 20.
What Is the Present Telling Us About the Average Corporate DB?
Our run through the historical data suggests that even a risk-on allocation is unlikely to achieve much improvement in funded status in the next few years, even while it would leave DB plans with very large downside risks should a bear stock market ensue. As of early-2016, the average funded status level for Dow 30 DB plans was 79%. Their average allocation was 26.5% corporate bonds, 20% Treasuries, 30% US large-cap stocks, 4% US small-cap, 8.5% foreign stocks, 5.8% alternatives, 3% real estate and 2.2% cash.
Under that allocation and status, a rise in T-Bond yields to 4% by 2019 and equity returns of 5% per year through 2019 would be sufficient only to raise funded status to 82%. Even 4% T-Bonds and 10% stock returns through 2019 would raise funded status only to 85%. Both of these outcomes would be unsatisfactory, yet both require the economic expansion and bull stock market to last 11 years—unprecedented in US experience.
Furthermore, if the expansion and/or stock prices should falter, this allocation would expose a DB plan to 1200 basis points (bps) per year tracking error against its liabilities. During the 2008 crisis, that allocation would have produced a 30 percentage-point decline in funded status. Even in a mild recession/bear market, this allocation would likely pull funded status down to the 60% level, a catastrophic outcome for the mature DB plans of the Dow 30, especially given that plans were well north of 120% funded status only 16 years ago. Can a plan sponsor really afford to underwrite such risk?
What Are We Suggesting for the Future?
Once again, risk-on strategies have led to a downward spiral for DB plans for 20 years. Now, in the eighth year of a bull market, it is wishful thinking to believe that such strategies will suddenly do well in the next few years. A sober assessment of history and prospects suggests a change in strategy.
Granted, at current funded status levels of 80% or lower, no low-risk asset allocation has a chance of returning the plan to full fundedness within an acceptable timeframe. If plan sponsors can contribute enough to bring funded status to 90% immediately, however, a number of strategies become available that offer a significant chance of achieving full funding within five to 10 years, while meaningfully reducing the downside risks that plans currently face in the event of a stock market or economic tumble.
The one aspect of a DB plan that is deductible on the plan sponsor's corporate tax return is cash contributions. Such contributions are tax-deductible up to the point of 130% funded status—on a funding or Pension Benefit Guaranty Corporation (PBGC) accounting basis—which, for most plans in question, means all contributions to get the plan from 80% to 90%—on a generally accepted accounting principles (GAAP) basis—would be tax deductible.1
Furthermore, there has been continuous chatter about multinational corporations piling up earnings offshore to avoid US corporate income taxes. Bringing home such cash to invest in the pension plan solves the taxation problem, since the deductions afforded by the contribution offset any increase in gross income occurring due to the repatriation.
Even if the corporate sponsor has to issue debt to finance a DB plan contribution, there are benefits there as well. First, the corporate tax deduction described above for the contribution would still be in play. Second, the future interest paid on the debt issue would be tax deductible even while the income earned by the DB plan from the contributions would be tax-free, resulting in an increase in higher future after-tax earnings for the plan. Meanwhile, though the debt issue would increase liabilities on the plan sponsor balance sheet, the cash contribution would increase assets by the same amount, resulting in no change in reported shareholder equity. Shareholder equity would increase over time as a result of the contribution, due to the tax savings enumerated here.
As a result of such cash contributions to the plan, operating income on a GAAP basis would likely increase. The larger the pool of assets in the plan could be expected to generate a larger dollar return on assets, thus serving to increase operating income under current GAAP rules. Once again, those higher investment returns within the DB plan would not be subject to corporate taxation, resulting in a dollar-for-dollar increase in after-tax operating earnings.
There is also a possibility that cash contributions would reduce PBGC insurance premia. For 2017, variable premia for PBGC pension insurance run at 3.4% per dollar of under-fundedness. Those premia are set to rise to 4.2% by 2019. This would effectively boost the realized return on cash contributions by 3.4% to 4.2% per year.2
Finally, when it comes to contributing existing corporate cash to the pension plan, it is clear that the prospective tax-free returns available to DB plan assets, even under a de-risking regime, will greatly exceed the taxable returns corporate sponsors are now earning, corporate cash being invested primarily in very short-duration instruments. This boost to income is essentially a restatement of the boost to income mentioned two paragraphs above, but it is worth stating separately here to highlight the prospective difference in after-tax returns between DB assets and corporate cash.
Summary
Voluntary contributions to the DB plan run counter to the DNA of many CFOs and corporate boards. Much of this aversion reflects the mentality that risky asset allocations will eventually pay off. We question the prudence of continuing to rely on this strategy and mentality.
Risk-on allocations have resulted in a downtrend for funded status for nearly 20 years. The hope remains that better performance lies just ahead, but this late in the business/market cycle, such hope is not prudent.
If DB strategy is to change, the mindset change must as well. Cash contributions accompanied by immediate de-risking may be distasteful, but it is a prudent response to current conditions. Fortunately, a program of cash contributions offers not only the prospects of better funded status and lower risk, but also a range of financial benefits that can help ease any pain.
Endnotes
Funded status for PBGC reporting (funding) purposes is different from the (accounting) funded status corporations list in their Annual Reports and 10-Ks. While funded status for funding purposes is higher than that for accounting purposes, the difference is generally small enough that 80% to 90% accounting funded status range considered here implies much less than 130% funded status for funding purposes.
The contingency is that these variable premia cap presently cap out at $517 per plan participant, so that once under-fundedness exceeds $15,206 per participant (3.4% of $15,206 equals $517), PBGC variable premia cease to increase with under-fundedness. So, these PBGC insurance premium benefits to cash contributions do not kick in until under-fundedness is reduced below the $15,206 per participant threshold.
Western Asset is not in the business of providing tax or legal advice. Any tax-related statements contained herein are believed to be accurate but should not be relied upon for the purpose of an investment decision. Potential investors should seek advice based on the particular circumstances of their plan from an independent tax advisor.
© Western Asset Management Company, LLC 2022. This publication is the property of Western Asset and is intended for the sole use of its clients, consultants, and other intended recipients. It should not be forwarded to any other person. Contents herein should be treated as confidential and proprietary information. This material may not be reproduced or used in any form or medium without express written permission.
Past results are not indicative of future investment results. This publication is for informational purposes only and reflects the current opinions of Western Asset. Information contained herein is believed to be accurate, but cannot be guaranteed. Opinions represented are not intended as an offer or solicitation with respect to the purchase or sale of any security and are subject to change without notice. Statements in this material should not be considered investment advice. Employees and/or clients of Western Asset may have a position in the securities mentioned. This publication has been prepared without taking into account your objectives, financial situation or needs. Before acting on this information, you should consider its appropriateness having regard to your objectives, financial situation or needs. It is your responsibility to be aware of and observe the applicable laws and regulations of your country of residence.
Western Asset Management Company Distribuidora de Títulos e Valores Mobiliários Limitada is authorized and regulated by Comissão de Valores Mobiliários and Brazilian Central Bank. Western Asset Management Company Pty Ltd ABN 41 117 767 923 is the holder of the Australian Financial Services Licence 303160. Western Asset Management Company Pte. Ltd. Co. Reg. No. 200007692R is a holder of a Capital Markets Services Licence for fund management and regulated by the Monetary Authority of Singapore. Western Asset Management Company Ltd is a registered Financial Instruments Business Operator and regulated by the Financial Services Agency of Japan. Western Asset Management Company Limited is authorised and regulated by the Financial Conduct Authority ("FCA") (FRN 145930). This communication is intended for distribution to Professional Clients only if deemed to be a financial promotion in the UK as defined by the FCA. This communication may also be intended for certain EEA countries where Western Asset has been granted permission to do so. For the current list of the approved EEA countries please contact Western Asset at +44 (0)20 7422 3000.