KEY TAKEAWAYS
GMS portfolios were well positioned to capture value opportunities in 2020, and since then have been delivering strong performance results over the last 12 months.

Despite the headwinds, we believe global bond markets continue to offer value, and we have accordingly positioned GMS portfolios strategically across investment-grade, high-yield, bank loans, EM and structured credit.

GMS portfolios are currently maintaining duration positioning around five years, which we believe provides sufficient ballast against spread risk.

We believe GMS portfolios are well positioned to benefit from opportunities available in the various liquid global bond market sectors by drawing upon Western Asset's best ideas in a risk-controlled framework.
Portfolio Overview
In the last 12 months, markets have absorbed a once-in-a-century pandemic that severely threatened the global economic outlook, several bouts of political and social risk (most notably in the US during 4Q20), and a sharp, coordinated rise in global government bond yields during 1Q21. As we've commented upon in various reports, last year's comeback and the market's resilience to date have been spectacular and in line with our views around the fundamental drivers needed to support a sharp and sustained rebound in sentiment: a bold policy response to the crisis by central banks and governments globally as well as timely successes on the medical front to develop and distribute vaccines worldwide. GMS portfolios were well positioned to capture the value opportunities that presented themselves during 2020 and since then have been actively navigating across fixed-income sectors to deliver strong performance results over the last 12 months.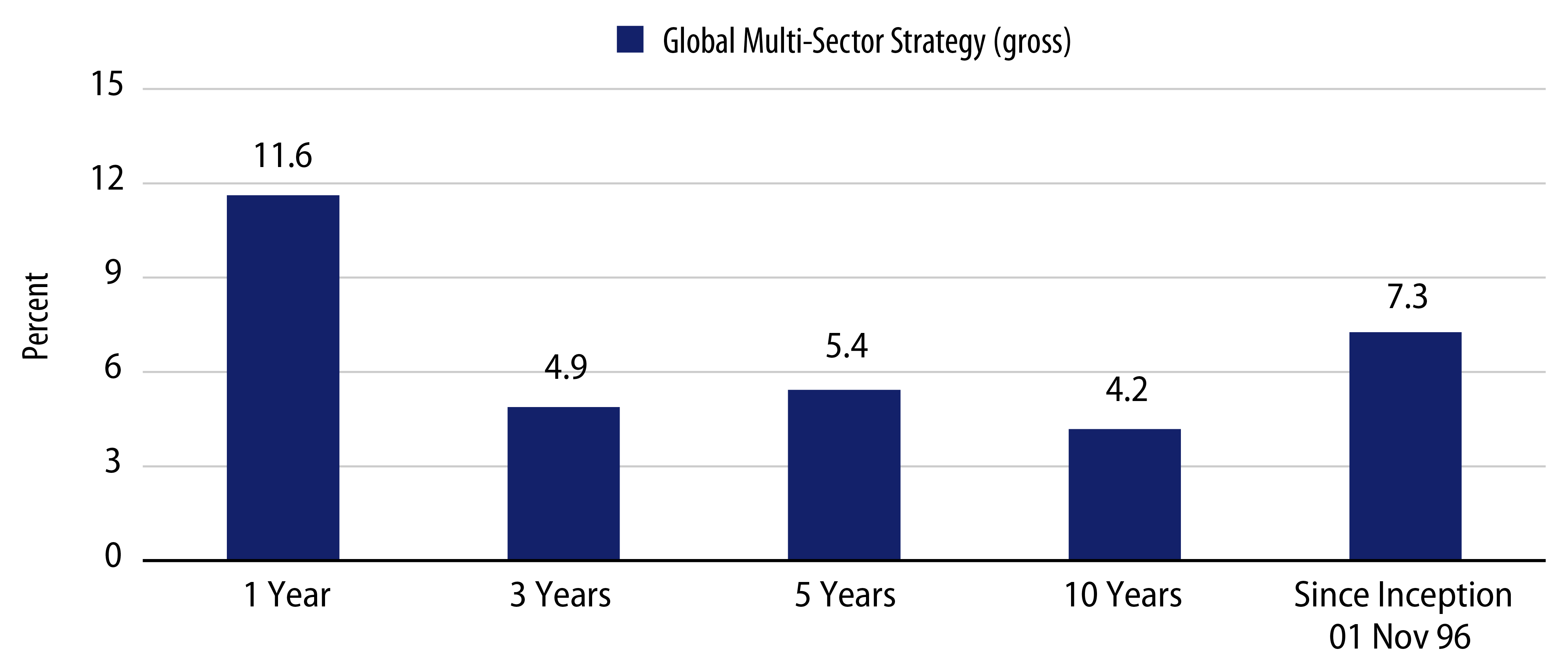 Looking ahead, we see a number of risks hanging over the market. First, is the ongoing COVID-19 pandemic, which is still a major concern in many places around the world with the proliferation of new mutations and variants. While there's been plenty of progress on vaccine development, the rollout process across countries has been erratic. Emerging markets (EM), particularly in places such as India and Brazil, are experiencing tremendous challenges in accessing vaccines and dealing with surges of infections.
Second, global growth prospects are indeed improving as economies such as the US and Europe continue to reopen, but the overall path to recovery remains fragile. Governments and central banks have been forceful in responding to pandemic-related shocks and lockdowns, but we believe they'll need to remain highly accommodative for the next several years to address the secular forces that were already weighing on global economic activity before Covid appeared—specifically, the deflationary effect of high government debt burdens, the tendency for higher savings due to aging demographics and the displacement of labor by technological advances.
Third, markets have stormed back from the global depression mentality that prevailed during the lows of last year. This has been a welcome development, but valuations in some sectors are now trading at or through pre-Covid levels, raising concerns that markets may be too forward-looking or too optimistic given the macro risks we're facing, and vulnerable to any abrupt shifts in the interest-rate environment.
Despite all of these headwinds, we believe global bond markets continue to offer value given different growth trajectories across regions and countries, as well as the uneven pace of the global vaccine rollout, which will likely persist through the remainder of the year. As of the end of April, GMS portfolios were maintaining a strategic allocation toward investment-grade and high-yield corporate credit. In the US, the combination of increased fiscal spending and increased saving has had a positive impact on the health of the US consumer. The corporate sector has also been supported by monetary policy and prudent balance sheet management. As a result, both consumers and corporates are arguably better positioned today than they were pre-Covid. We recognize that US investment-grade credit spreads have completed their round trip from the depths of last year's crisis, but our focus is on those sectors where we continue to see value such as banking, select reopening industries and rising-star candidates. In European investment-grade credit, we continue to find opportunities in subordinated financials.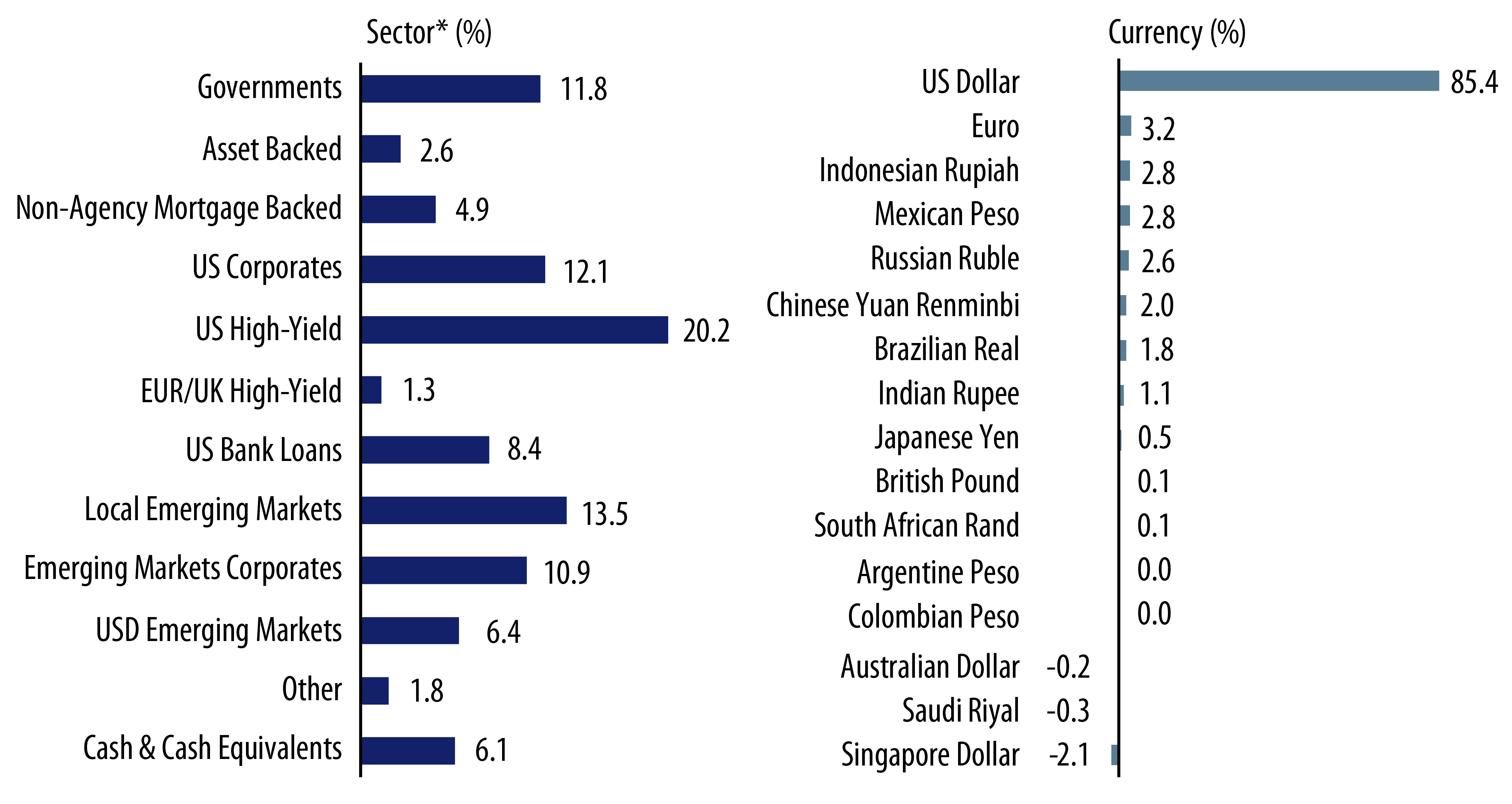 In high-yield, we see the market remaining on strong footing as healthy refinancing activity and liquidity bolstering have provided runway for leveraged balance sheets to operate while the market navigates the vaccine rollout and revenue generation for pandemic-related credits heads down a path to normalcy. Strong technicals continue to persist within high-yield, most notably from institutional demand seeking income and prospects of additional total return, often most easily identified via the primary market. Overall high-yield spreads, which had widened to more than 1,100 basis points (bps) over US Treasuries during the depths of the crisis, are back to where they began 2020. The market may appear to be fully valued, but we believe select opportunities remain and anticipate default rates to decline as fundamentals improve.
We also have a constructive view on bank loans, especially in light of the market concern over rising rates. We expect net collateralized loan obligation (CLO) issuance to rise once the wave of refinancings clear; when coupled with continued retail flows into loans, these should keep loan demand steady and put a floor on any softness in the secondary markets. We believe outperformance will come primarily from significant interest carry, avoiding problem credits, and owning select names with more meaningful impact from Covid where fundamentals and liquidity remain intact and there is still real price convexity in the credit. This asset class, combined with high-yield, should provide less interest-rate-sensitive income for the strategy.
Turning to EM, we maintain a well-diversified allocation across local markets and US dollar corporate and sovereign debt. Notwithstanding the recent episode of US rate volatility and US dollar strength in 1Q21, our central thesis regarding EM is that a post-Covid recovery in the asset class is not yet complete. We think there are four key factors that augur well for EM: 1) the pace of vaccinations is bound to pick up in the second half of this year, 2) the recovery in oil and commodity prices is expected to continue on increased global economic activity, 3) international trade and tourism are on the mend, and 4) inflows into the asset class continue despite all of the headline noise. In the hard currency space, we're looking to take advantage of primary issuance from short- and intermediate-dated investment-grade and high-yield EM corporates. In local rates, we're being a bit more selective due to the potential for additional currency market volatility on any Covid-induced growth setbacks and the fact that certain EM central banks' easing cycles are coming to a close. In the EM currency basket, we are long select countries such as Russia, Indonesia and Mexico which should be poised to benefit as the Covid-related and global growth picture collectively improves.
GMS portfolios also have an allocation to structured credit. Credit spreads for certain subsectors in non-agency mortgages and asset-backed securities remain at wider levels relative to the pre-Covid period, despite strong consumer and US housing fundamentals. Home price appreciation posted a year-over-year (YoY) gain of 11.9% as of February 2021. Fueling the current housing boom are historically low mortgage rates, a dismal lack of supply on the market, tight lending conditions and a rebirth of household formations. Consumer fundamentals have also improved in the Covid era on the back of increased savings rates, lower revolving consumer credit outstanding YoY and lower interest rates, which have decreased debt burden levels to the lowest in 20 years. In the residential mortgage-backed space, we're focusing on more seasoned borrowers with low loan-to-value ratios, which provides more downside protection in a scenario of declining housing prices.
GMS portfolios are currently maintaining duration positioning around five years, which we believe provides sufficient ballast against spread risk in portfolios. Long US duration positioning (with an emphasis on the long end of the yield curve) reflects Western Asset's view that the Federal Reserve will maintain a dovish monetary policy for the foreseeable future. We also have exposure to the long end of the yield curve in the UK and Australia, both of which should benefit from accommodative actions taken by the countries' respective central banks in the event of further economic weakness.
Conclusion
We believe that our GMS portfolios have successfully navigated the extreme market volatility experienced over the last 12 months and, in our opinion, are well positioned to benefit from opportunities available in the various liquid global bond market sectors by drawing upon Western Asset's best ideas in a risk-controlled framework. With a track record dating back to 1996 for our GMS portfolios, our philosophy of combining higher-return assets with risk-reducing strategies and actively rotating across sectors through different market cycles should continue to stand the test of time.
For more details about our latest economic and investment views, please see both our Global Outlook and Global Credit Monitor, which are updated quarterly with our global team's views by region, sector and industry.
View the Performance and Risk Disclosures for Global Multi-Sector.