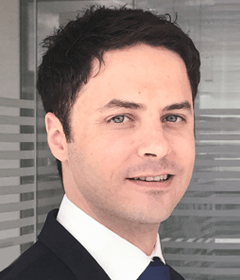 Europe Still Deciding: French Presidential Elections, April/May
Portfolio Analyst
Executive Summary
The French presidential election is shaping up to be a four-candidate race between Emmanuel Macron (centre), François Fillon (right), Marine Le Pen (far-right), and Jean-Luc Mélenchon (far-left)—all currently within 4 to 5 points of each other.
Round one will be held on Sunday, April 23, and (if no candidate gains half the vote) the final two-candidate run-off election will be on May 7.
This paper details the broad characteristics of these four prospective leaders, including their views on Europe and main economic policies.
The consensus expectations are for Macron and Le Pen to pass through to the second round, where a Macron victory would be expected.
Fillon's recent recovery in the polls gives him momentum and his potential presence in the second round, while surprising, should not be disregarded.
In the unlikely event of a Le Pen or Mélenchon win we expect this would have significant market implications in the short term with a sharp rise in eurozone risk premia but consequently provide attractive opportunities for astute investors.
Introduction
With just under a week to go, the first round of the French presidential elections is upon us, and some worry it will follow in the footsteps of the political tsunamis of 2016. Until recently seemingly a two-horse race, the polls now suggest convergence on an almost-equal probability for each of the four main candidates from across the political spectrum: far and centre, left and right (Exhibit 1).
In this short note, we freshen our views expressed in Europe Decides: Elections, 2017, and reaffirm our belief that while turbulent, the next few weeks will offer opportunities for a value manager such as Western Asset. Given the magnitude of shock that a Marine Le Pen victory would entail, however, we explore the constraints she would face in attempting to challenge the whole Euro project.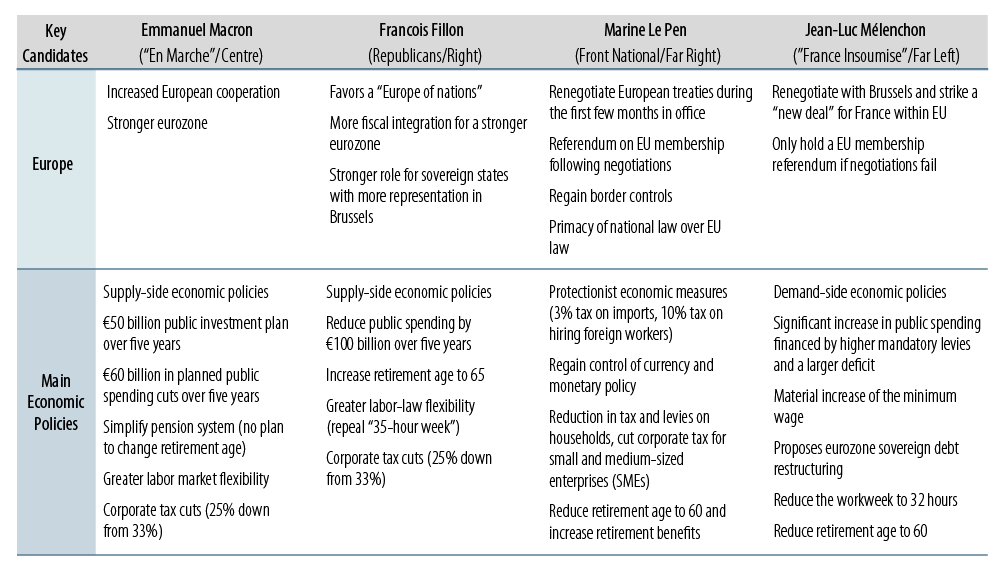 What's coming? A quick reminder.
On Sunday April 23, the French people go to the polls for the first round of a two-round election to choose their President of the Republic. The first round will whittle the 11 registered candidates down to a final two, who will fight it out two weeks later on May 7. While it is a very powerful position, not unlike that of the US presidency, the winner will be reliant on the support of the French Parliament for many key issues, most notably any significant change in France's relationship with the European Union (EU). Under the Constitution, only the Prime Minister (PM), or a majority of either chamber of the Parliament, can call a Referendum on EU membership, as we will discuss later. None of the most extreme candidates (far-right Le Pen or far-left Jean-Luc Mélenchon) look likely to have enough support in the Lower House of Representatives, to appoint a PM from their party. This adds to the uncertainty, however, as a Parliamentary general election follows on quite quickly, again in a two-round format, on June 11 and June 18.
What's happened in the past month?
Over the past few weeks, opinion polls have been incredibly dynamic highlighting the fact that this election outcome is undoubtedly one of the most unpredictable in recent French history. Having seemed to be a straight two-horse race between Le Pen and Emmanuel Macron, the Centre candidate, Francois Fillon, the Republicans' candidate, mounted a brave comeback in April. Then, Mélenchon surged forward to formally enter the "final four," almost catching Fillon, and fueling significant uncertainty ahead of the first round. At the time of writing, we have the top four candidates (Le Pen, Macron, Fillon, Mélenchon) all within 4 to 5 points of each other, each with roughly 18% to 23% of the vote, albeit constantly evolving (Exhibit 2). Furthermore, turnout is expected to be relatively low at around 70%. A low turnout tends to benefit non-mainstream candidates. Historically, turnout for French elections has been around 80%-85% except in 2002 (72%) when Jean-Marie Le Pen (Marine's father) made it to the second round.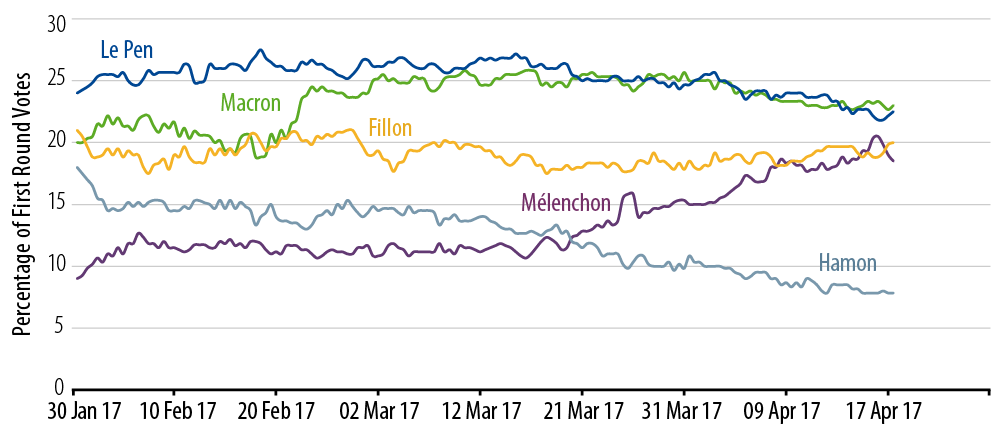 What does this mean for markets?
As we explained in Europe Decides: Elections, 2017, each of the main four prospects would likely impact French asset prices. In some cases, there would be a broader implication for EU-wide assets, including Italian and peripheral bonds, as well as the euro currency. Clearly the change in the balance, from two clear final-round candidates, to the prospect of any two from four, has increased the likelihood of more market-unfriendly outcomes, including a Mélenchon–Le Pen second round. In Exhibit 1, we detail the broad characteristics of these four prospects. They occupy the full spectrum of economic, social and political policies as one would expect. But in the case of the relationship with Europe, while Mélenchon emphasizes the need to strike a new deal for France in the EU, only Le Pen really threatens a significant change, and as we elaborate on Exhibit 5, would be restrained by the likely outcome of June's Parliamentary election. It is also important to note that with the UK continuing its plan to leave the EU by triggering Article 50, all four candidates will be engaged in "renegotiating" France's role in the new post-Brexit Europe.
How have markets behaved?
While it's impossible to extract the other influences on markets, including events on the geopolitical stage, it's likely that the uncertainty of the French elections has at least enhanced the trends we saw in place in March. French bond spreads relative to Germany have widened to their post-2012 wides (Exhibit 3), but there are very few signs of true stress in cash bond markets.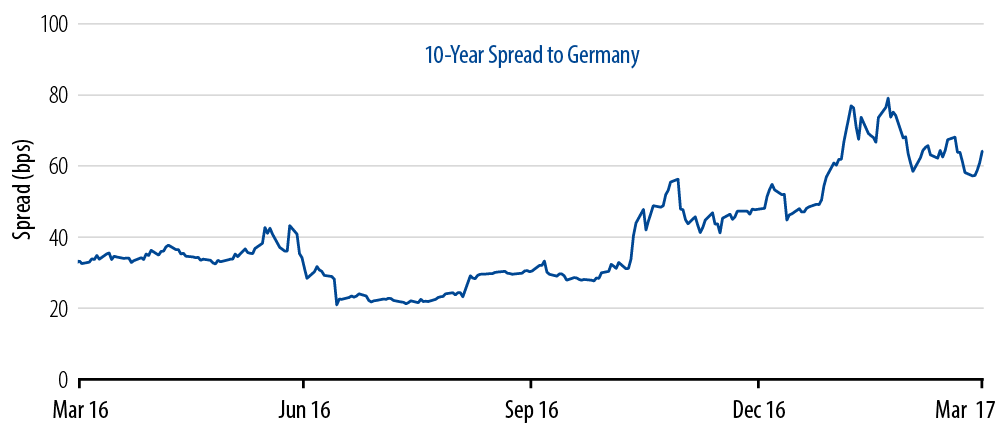 Perhaps the clearest evidence of market stress comes from the currency markets. Recent data released by the Bank of Japan show Japanese investors' net sale of ¥1.5 trillion (€13 billion) of French Bonds during February, the largest monthly sale in five years. It is thought, however, that they continue to hold significant exposures to France and other European bonds, although sales may have continued into March. This may explain the fact that the currency options markets1 are signaling that the cost of insuring euro exposures has been increasing sharply, as witnessed by the growing preference for euro puts relative to equivalent-delta euro calls. As Exhibit 4 shows, this preference, in terms of the implied volatilities charged for options on euro/yen, is back at levels seen during the height of the Euro Crisis in 2012, when European Central Bank (ECB) President Draghi promised "whatever it takes."2
However, when looking at the broader influences on peripheral bonds, the response has been somewhat muted as we expected.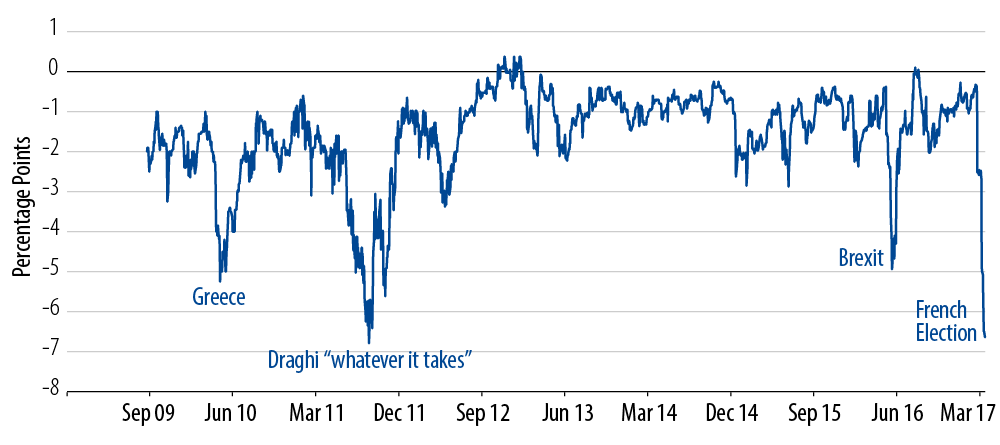 What does all this mean for client portfolios, and have we changed anything?
We have had a negative view of French assets for a number of years from a fundamental economic point of view. The structural challenges to the French economy and the lack of desire to confront them, particularly under the presidency of Francois Hollande, have led us to maintain a large underweight to French bonds in dedicated European portfolios. Post the election of Donald Trump in the US, we thought French risk premiums had to rise further, believing the election uncertainty in an increasingly populist world was not priced in. We will continue to maintain this position until we believe spreads more adequately compensate for the risks entailed. Depending on the evolution of opinion polls and the first round of the presidential election, that would be somewhere north of 100 basis points against Germany on a spread basis.
We continue to expect the ECB to support EU assets, alongside the robust growth trends we see in Europe. Provided they maintain their reform agenda, we feel Italian bonds already compensate investors for the heightened political uncertainty in France. Our key ballast against an increase in volatility remains a long US duration stance, with a bias towards 30-year US maturities. In the absence of a Le Pen or Mélenchon win on May 7, we expect German government bonds to underperform as eurozone political uncertainty wanes. In dedicated European portfolios, therefore, we have moved to a short duration position in core European bonds. Finally, with the euro currently trading at the lower end of the range versus the US dollar (that it has held for two years), we feel political risk ahead of the upcoming elections is now likely factored into the euro's valuation, and we have moved to a more neutral/modest long position in European currencies versus the US dollar.

Conclusion
The risks have clearly broadened, with four prospective candidates increasing the number of market-unfriendly scenarios. The consensus expectations are that the first round will see Macron and Le Pen pass through to the second round, and that a Macron victory should be expected. Fillon's presence in the second round would be a surprise but cannot be fully disregarded. In the unlikely case where either Le Pen or Mélenchon becomes president, significant uncertainty will linger. As we've discussed, however, it will be very difficult for either to follow through with promised renegotiations or an EU referendum. The prospect of a sweeping success for Le Pen's party at the general elections, while of low probability, would be of tectonic magnitude, entertaining perhaps the full breakup of the Euro project, though it would take markets quite some time to fully price in such an outcome. As a result, we anticipate the elections will provide attractive opportunities for astute investors, but remain vigilant that these days extreme events can be more likely than expected.
Endnotes
Currency Options to buy/sell a currency versus another, are described as a call (to buy) the yen versus simultaneously selling (put) the euro, as a predetermined level (the strike price) say 115 yen to the euro. Therefore a euro call/yen put allows the owner of the option to buy euros and sell yen. The price of this option is determined by a number of factors including the proximity of the current exchange rate to the strike price, relative interest rates, the maturity of the option, and finally, the implied volatility. The higher the vol, the more the option will cost. The exposure obtained through the option will be determined by the delta, the relative movement in the option price for a given move in the underlying (euro/yen exchange rate).
By taking two options of equivalent delta, one a euro call/yen put and the exact opposite, a euro put/ yen call, both with a 0.25 delta, we can take the implied volatility priced for each as a reflection of the strength of preference the market has for Euro puts versus calls. That is, a reflection of which direction (up or down) the market fears most for the euro/yen exchange rate. Normally the implied vols will be similar for a given delta. But from time to time, as we show in the chart, the implied vols (and therefore the cost of the options) will be significantly greater for euro puts versus euro calls. Currently implied vols on euro puts (24%) are greater than calls (17.5%) by over 6% implied volatilities for a 1-month maturity taking us past the French election.
© Western Asset Management Company, LLC 2022. This publication is the property of Western Asset and is intended for the sole use of its clients, consultants, and other intended recipients. It should not be forwarded to any other person. Contents herein should be treated as confidential and proprietary information. This material may not be reproduced or used in any form or medium without express written permission.
Past results are not indicative of future investment results. This publication is for informational purposes only and reflects the current opinions of Western Asset. Information contained herein is believed to be accurate, but cannot be guaranteed. Opinions represented are not intended as an offer or solicitation with respect to the purchase or sale of any security and are subject to change without notice. Statements in this material should not be considered investment advice. Employees and/or clients of Western Asset may have a position in the securities mentioned. This publication has been prepared without taking into account your objectives, financial situation or needs. Before acting on this information, you should consider its appropriateness having regard to your objectives, financial situation or needs. It is your responsibility to be aware of and observe the applicable laws and regulations of your country of residence.
Western Asset Management Company Distribuidora de Títulos e Valores Mobiliários Limitada is authorized and regulated by Comissão de Valores Mobiliários and Brazilian Central Bank. Western Asset Management Company Pty Ltd ABN 41 117 767 923 is the holder of the Australian Financial Services Licence 303160. Western Asset Management Company Pte. Ltd. Co. Reg. No. 200007692R is a holder of a Capital Markets Services Licence for fund management and regulated by the Monetary Authority of Singapore. Western Asset Management Company Ltd is a registered Financial Instruments Business Operator and regulated by the Financial Services Agency of Japan. Western Asset Management Company Limited is authorised and regulated by the Financial Conduct Authority ("FCA") (FRN 145930). This communication is intended for distribution to Professional Clients only if deemed to be a financial promotion in the UK as defined by the FCA. This communication may also be intended for certain EEA countries where Western Asset has been granted permission to do so. For the current list of the approved EEA countries please contact Western Asset at +44 (0)20 7422 3000.