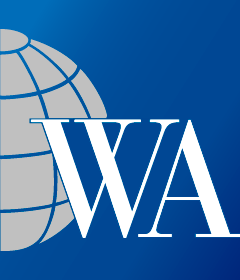 Europe Decides: Elections, 2017
Executive Summary
Eurozone focused on parliamentary and presidential elections in 2017
Netherlands and France go to polls in first half of the year
Populist parties to the fore in both countries
Financial markets anxious after Brexit and Trump surprises
Risk of 'populist' victories low
But, so too are risk premiums
Value opportunities will emerge as volatility rises
Introduction
After the political tsunamis of 2016—with the unexpected decisions by the British to leave the EU, and the Americans to elect Donald Trump president—the political nexus in 2017 shifts to the eurozone. The coming months herald parliamentary and presidential elections in the Netherlands, France and Germany—all founding members of what became the EU—and all vulnerable to the rising populist tide. The immediate focus is on the Netherlands and France (on which this paper will primarily concentrate), whose electorates make their choices over the next two months, and are seemingly most vulnerable to political rebellion. What is the likelihood of success for the anti-establishment parties? What are the implications of such success politically? And what will it mean for financial markets?
Netherlands
The Dutch go to the polls to elect the 150 members of its second chamber, the Tweede Kamer, on 15 March, 2017, from which a new government will be formed. In common with 16 other eurozone members, the Netherlands operates a proportional representation (PR) electoral system. However, unlike its near neighbours Germany and Belgium, it does not have an onerous minimum threshold by which a political party gains members of parliament. As long as a party gets 0.67% of the votes cast, it will gain a seat, consequentially, around 10 parties have representation in the Tweede Kamer post an election. As a result, the Dutch system has led to formation of coalition governments for all of its post-WWII history. With the rise of populist and single-issue parties in recent years, the fragmentation of political support will leave, in our opinion, the electoral situation no different—if not worse this year—with a coalition of up to five parties likely, as opposed to the usual two or three.
The current government is headed by Prime Minister Mark Rutte's centre right, People's Party for Freedom and Democracy (VVD), in coalition with the centre left Labour Party (PvdA). The latter has seen a sharp haemorrhaging of support over the last five years, such that it is predicted to lose nearly two-thirds of its Members of Parliament (MPs) on 15 March. The VVD is thus closely tied at the top of the polls with the far-right Geert Wilders-led Party for Freedom (PVV) at a projected 25 seats each—both well short of the 76 seats necessary to have a parliamentary majority. With the PVV marginally ahead in the polls, are they likely to form a government? In short: No. The other major parties have explicitly ruled out going into coalition with them, such that it is now virtually impossible for the PVV to garner enough support to form a government.
The election is being fought around the issues of healthcare and pension reform, which favours the centre left, and single-issue parties, housing and immigration, which is favourable territory for the PVV. The degree of compromise necessary to reach agreement on these issues by potential coalition partners will determine the final make-up of the government.
As can be seen from the current opinion polls, the VVD will likely be in a position to form a coalition with the CDA, D66, PvdA and a minor party or two. Indeed, it is difficult to see the PVV being involved in any way unless they get 45 or more seats, making them far and away the largest party and difficult to ignore in any government formation. However, the current state of the polls, which has seen the PVV losing a quarter of its support in recent weeks, suggests there is virtually no prospect of this occurring.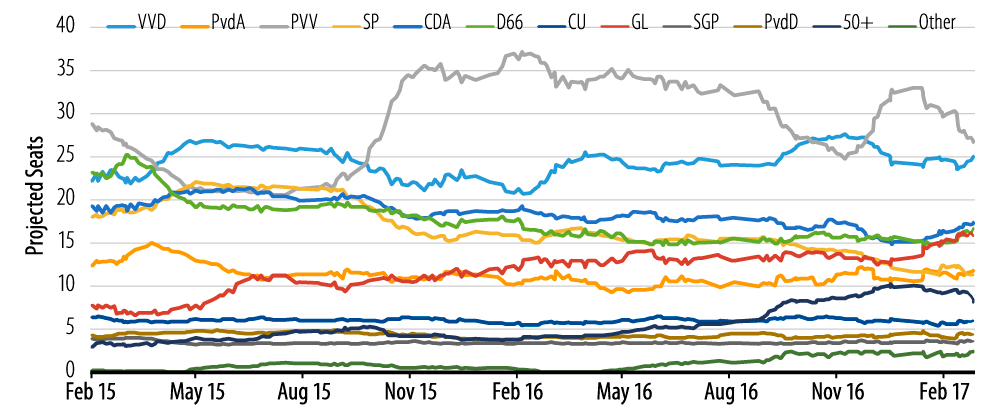 A VVD-led government is thus the most plausible outcome—a continuation of the current situation—and thus unlikely to result in any disruption in European asset markets. Dutch government bond spreads are still at the tighter end of recent trading ranges, and in our opinion, offer little value at current levels. While obviously vulnerable to any PVV-inspired political surprise, given the likely result, a modest widening is likely to occur if we see some rolling back of recent pension reforms as a price of coalition agreement with the attendant negative fiscal consequences. We would look to invest at spreads of 30 basis points (bps) or more relative to German bonds.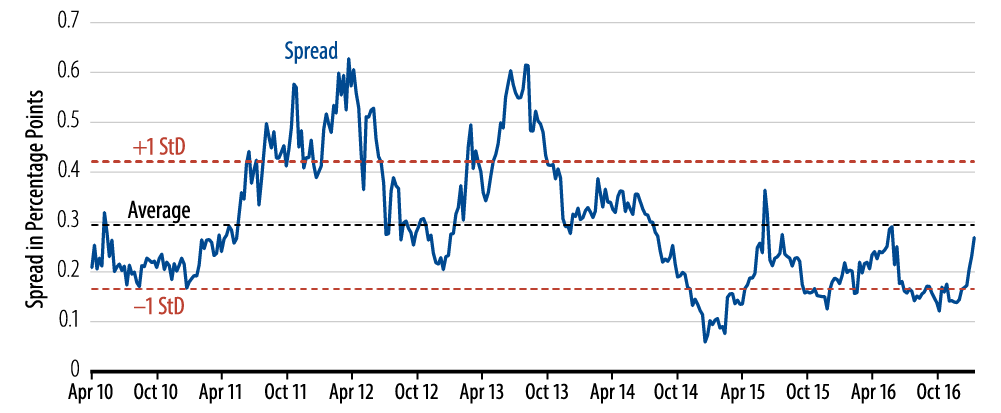 France
The presidential election is a two-round process, designed as such to prevent 'extreme' candidates from capturing the presidency. The two candidates with the largest number of votes from the first round on 23 April will face off in the second-round vote on 7 May. Currently, there are 10 declared candidates, five of them realistic candidates. The left wing is represented by Jean-Luc Melenchon (La France Insoumise) and Benoit Hamon (Socialist Party), with centre right and far right by Francois Fillon (Republicans) and Marine Le Pen (Front National), respectively. Former socialist and new party founder Emmanuel Macron (En Marche) bestrides the centre.
The candidates currently commanding around 20% or more in the opinion polls are Macron, Fillon and Le Pen—with Melenchon and Hamon commanding between 10% and 15% each. The winner of the contest is likely to emerge from the former three. However, if Melanchon and Hamon come to an electoral arrangement, with the latter the likely front man, such that the far left are unified—the probability is that the far left moves up to 25% in the polls, blowing the race wide open.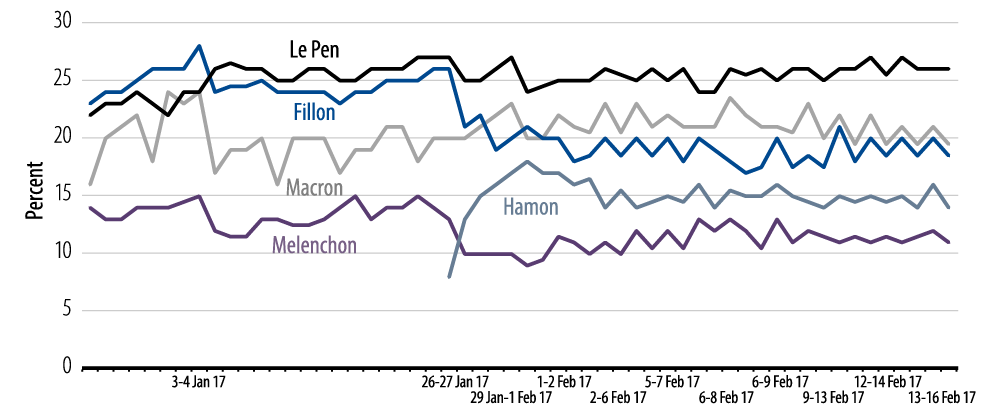 Le Pen has been static in the polls over the last few months at 25%. This has historically been enough to ensure passage to the second round. Both the markets and commentators believe that she will definitely be in the second round. Who she will face, however, is up for grabs. After the emphatic victory by Fillon in the Republicans primary in November, it looked as though he was assured of contention in the second round. Since the emergence of 'corruption' allegations, particularly in the payment of public funds for allegedly questionable employment of his wife and children, his support has eroded substantially. With Macron then declaring and entering the race, the centrist vote has had an alternative which has boosted his ratings. At present, the likely run-off contender against Le Pen will emerge from these two. However, Fillon being forced to withdraw from the race cannot be ruled out. After Alain Juppe ruled himself out of replacing Fillon for the Republicans, a new candidate may emerge to upset the electoral arithmetic. However, the deadline for this to happen is 17 March, thus the room for manoeuvre is limited.
Assuming Fillon remains in the race, as is his declared intention, based on current polls either Macron or Fillon should comfortably defeat Le Pen in a second round run-off—although the recent scandals to engulf Fillon has seen his potential margin of victory narrow to 14%. Even with the electoral surprises of last June and November, it is difficult to imagine the leads shown here will be eliminated by 'shy' Le Pen voters. However, it is not inconceivable that things could change if an exogenous event, such as another terrorist attack, occurs near polling day.
A more plausible route to a Le Pen victory would be if, as mentioned previously, the far left unite under a single candidate (Hamon), taking his vote towards the 25% level, squeezing out the two centrists. In such an environment it is hard to call which way the centre vote would fall. A victory for Hamon/Melanchon or Le Pen in a second-round runoff would, in our opinion, eventually be detrimental to French assets.
If it is Macron or Fillon in the second round against Le Pen, we expect whichever of the former two qualifiers will win. This, on the other hand in our view, would be a positive for French assets given the underperformance they have suffered over the last three months and we would envisage French bonds to tighten relative to their German counterparts. A Fillon victory would be a more long-term positive given his pro-business agenda which, if implemented, should begin to address the long-term structural and competitiveness problems that France has. Macron would be less economically positive given his more centrist agenda.

If the Far Left unites behind a single, unity candidate and squeezes out both Macron and Fillon in the first round, the outcome is clearly very negative for French assets as the likelihood of a Le Pen victory rises substantially. If Hamon/Melanchon win, some relief rally may occur given their pro-European stance, however, their economic program would only worsen the problems France faces—meaning that any retracement in French bond spreads to early 2016 levels is unlikely.
A Le Pen victory would be unequivocally negative as it would combine an anti-EU program with an anti-reform domestic economic program. French bond spreads should widen sharply. However, it must be borne in mind that it is highly questionable how much of the Front National program would be enacted. While the President has wide-ranging powers, they are limited by the Prime Minister and Parliament, particularly in the House of Representatives. Le Pen's party has only a small representation in the latter and even with elections to the chamber following closely on the Presidential election, the electoral system is such that it will be very difficult for the Front National to meaningfully increase their numbers, let alone be in a position to appoint one of its members Prime Minister. This is crucial, as under the French Constitution only the Prime Minister or either of the chambers of Parliament can initiate a referendum (on the EU). With political deadlock, French asset (and indeed all peripheral European) spreads are likely to widen due to the uncertainty, but it will take markets quite some time to fully price in a break-up of the euro.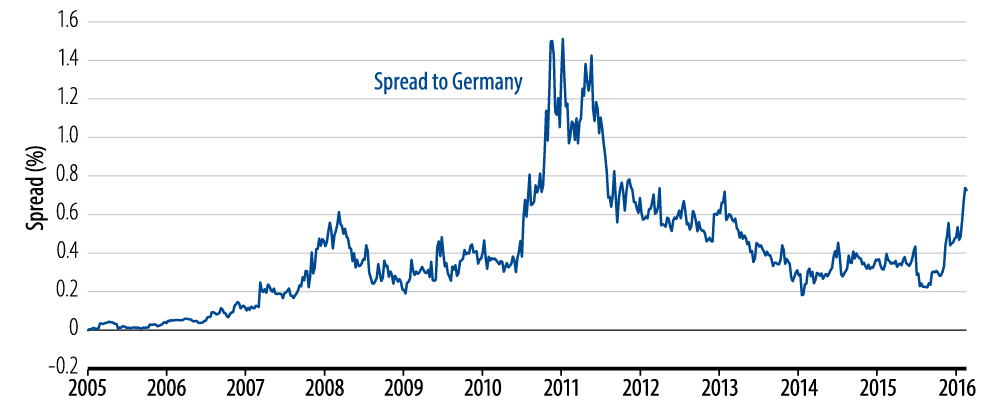 We have had a negative view of French assets for a number of years from a fundamental economic point of view. The structural challenges to the French economy and the lack of desire to confront them, particularly under the Presidency of Hollande, have led us to maintain a large underweight to French bonds. We have preferred a combination of German and Belgian bonds instead. Post the election of Donald Trump in the US, we thought French risk premiums had to rise further, believing the election uncertainty in an increasingly populist world was not priced in. We will continue to maintain this position until we believe spreads more adequately compensate us for the risks entailed. Depending on the evolution of opinion polls and the first round of the presidential election, that would be somewhere north of 100 basis points against Germany on a spread basis.
© Western Asset Management Company, LLC 2022. This publication is the property of Western Asset and is intended for the sole use of its clients, consultants, and other intended recipients. It should not be forwarded to any other person. Contents herein should be treated as confidential and proprietary information. This material may not be reproduced or used in any form or medium without express written permission.
Past results are not indicative of future investment results. This publication is for informational purposes only and reflects the current opinions of Western Asset. Information contained herein is believed to be accurate, but cannot be guaranteed. Opinions represented are not intended as an offer or solicitation with respect to the purchase or sale of any security and are subject to change without notice. Statements in this material should not be considered investment advice. Employees and/or clients of Western Asset may have a position in the securities mentioned. This publication has been prepared without taking into account your objectives, financial situation or needs. Before acting on this information, you should consider its appropriateness having regard to your objectives, financial situation or needs. It is your responsibility to be aware of and observe the applicable laws and regulations of your country of residence.
Western Asset Management Company Distribuidora de Títulos e Valores Mobiliários Limitada is authorized and regulated by Comissão de Valores Mobiliários and Brazilian Central Bank. Western Asset Management Company Pty Ltd ABN 41 117 767 923 is the holder of the Australian Financial Services Licence 303160. Western Asset Management Company Pte. Ltd. Co. Reg. No. 200007692R is a holder of a Capital Markets Services Licence for fund management and regulated by the Monetary Authority of Singapore. Western Asset Management Company Ltd is a registered Financial Instruments Business Operator and regulated by the Financial Services Agency of Japan. Western Asset Management Company Limited is authorised and regulated by the Financial Conduct Authority ("FCA") (FRN 145930). This communication is intended for distribution to Professional Clients only if deemed to be a financial promotion in the UK as defined by the FCA. This communication may also be intended for certain EEA countries where Western Asset has been granted permission to do so. For the current list of the approved EEA countries please contact Western Asset at +44 (0)20 7422 3000.