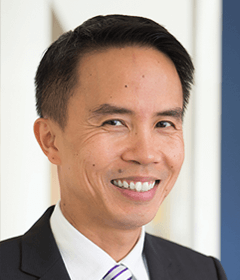 A Brief Note: Chinese Stock Market Volatility
Head of Emerging Markets Debt
Executive Summary
Recent Chinese equity market losses come on the heels of stock prices doubling in less than a year.
In our view, the nexus between equity prices and growth for China is not strong.
Chinese authorities have implemented stabilization measures in response to the volatility.
In external credits, we continue to view Chinese investment-grade credits as a defensive anchor within the broader EMBIG universe.
We favor government-owned enterprises in strategically important sectors, including state-owned banks, utilities, and oil and gas.
Chinese Stock Volatility in Context
Recent volatility in the Chinese bourses has led to systemic fears in China and global growth worries. From a 7.5-year peak in mid-June, the Shanghai Composite Index (SHCOMP) has fallen 28% in a matter of weeks. On July 8, 2015 the SHCOMP lost 5.9% in what was dubbed "Black Wednesday," suggesting that recently announced market-supporting measures have had limited impact. However, that view changed slightly as overnight, the Index rebounded 5.8%, marking the largest daily gain since March 4, 2009.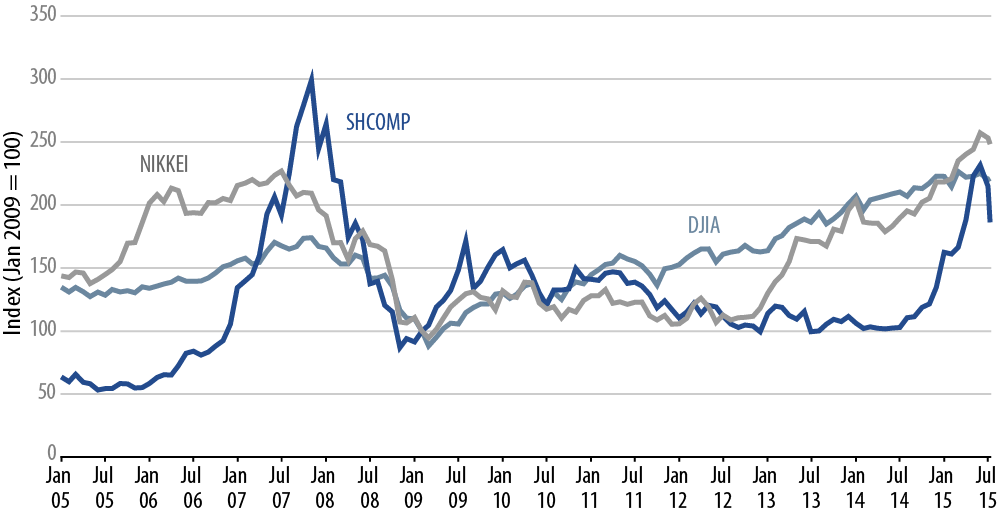 To put into context, the steep losses of the past few weeks are coming on the heels of a prior rally, as stock prices doubled in less than a year. Historically, Chinese equities have witnessed significant gyrations. Following a relentless upward trend during 2006-2007, the SHCOMP subsequently lost two-thirds of its value from peak to trough in 2008. In the following 5 years, Chinese stocks experienced a distinct period of prolonged stagnation. From an optimist's point of view, the past year's gain can be seen as playing catch-up toward levels in the US and Japan (Exhibit 1).
Unlike the case in advanced economies, the SHCOMP, in our view, is not a reliable macro barometer. The wealth effect emanating from the stock market is statistically not significant. Stocks represent around 10% of household financial wealth, compared with more than half in developed countries. Paradoxically, domestic retail players account for a whopping 80% of the investor base, resulting in casino-like characteristics and explaining the vulnerability of Chinese bourses to panic-selling. Foreign institutional participation, on the other hand, is constrained by onshore quota limits and global index exclusions. In spite of the recent IPO push, equity financing plays a minor role at under 5% of total financing, contrasting with bank lending that still accounts for a hefty 70%.
Nevertheless, the SHCOMP—like home prices—does serve as a gauge of socioeconomic sentiment. Against a rapidly evolving demographic landscape in what is now the world's second-largest economy, the paternalist-capitalist conundrum faced by Chinese policymakers is not easily understood.
Market Stabilization Measures
Since late June, Chinese authorities have responded to the volatility with a market stabilization program that includes the following measures:
Cutting lending and deposit rates by 25 basis points (bps), reducing the reserve requirement ratio (RRR) by 50 bps and pledging liquidity support by the central bank
Reducing transaction costs by 30% in the Shanghai and Shenzhen bourses
Suspending new IPOs
Purchasing ETFs by state-owned investment company Central Huijin totaling CNY12 billion ($1.9 billion)
Committing to a market stabilization fund by 21 brokers, to an equivalent of 15% of net assets
Drafting a proposal to allow the national pension fund to invest a maximum of CNY1 trillion ($160 billion)
Ordering directors, senior management personnel, and shareholders with more than 5% to stop selling shares
Authorities are likely to announce further support measures and importantly, will need to decisively implement them in the coming days. There has been criticism at the slow policy response in managing the stock market volatility. This is partly explained by Premier Li Keqiang's absence during a week-long tour to Europe. As with previous episodes of damage control, measures should look to prevent the current stock price plunge from precipitating a full-blown crisis of confidence.
Attention is likely to be centered on preserving the stability of the financial system in the context of increased margin financing. Margin financing for stock purchases reached a high of CNY2.3 trillion ($370 billion) as of the end of June, but has since dropped by 20%. There is likely an additional CNY500 billion ($80 billion) extended by the country's shadow banking system. Chinese banks' exposure to brokerages, which account for 3% of total bank deposits, appears manageable. The number of new brokerage accounts has risen exponentially with speculative activity largely confined to higher-income city dwellers. A potential black-hole risk is the extent to which equity financing is tied up in the housing market.
Growth and Policy Implications
From a growth standpoint, the stock market rout, if prolonged, could pose downside risk to China's 2015 GDP. Indeed, near-term headlines could rattle the highly uncertain market sentiment, fueling market speculation of an imminent end-game for the Chinese economy. It would be imprudent to categorically dismiss the tail risk of an extreme downside scenario. That said, analysts often fall prey to the fallacy of composition, applying something that is true for one economic segment to the whole.
As highlighted earlier, the nexus between equity prices and growth for China, in our view, is not strong. For example, there is little evidence to suggest that the sharp gain in stock prices over the past 12 months helped stimulate private consumption. Our base case anticipates some success in averting a stock market collapse, given the official "will and wallet" of the Chinese government to uphold financial stability, preserve the social compact and achieve an economic soft-landing with GDP growth at close to 6.5% this year. Critically, the base case scenario, if realized, is unlikely to provide a boost to global growth as it did in the decade following China's World Trade Organization accession in 2001.
Indeed, the re-emergence of stock price volatility does expose the country to medium-term risks. In addition to reflecting the underdevelopment and fragility of the financial infrastructure, it also speaks to a dearth of investment alternatives for the individual investor outside of equities and properties. The interventionist approach to markets sits at odds with proponents of market economics, and the longer-term merits of a hybrid state-capitalist model will be actively discussed. Perhaps most damningly, the government's skill in crisis management is in the spotlight and faith in the government's ability to handle the ordeal is being put severely to the test.
Investment Strategy
In external credits, we continue to view Chinese investment-grade credits as a defensive anchor within the broader Emerging Markets Bond Index Global (EMBIG) universe. We favor government-owned enterprises in strategically important sectors, including state-owned banks, utilities, and oil and gas. Given the vulnerability of idiosyncratic risks and the historical correlation with the stock market, we are wary of Chinese high-yield corporate bonds in general. Our focus pinpoints a handful of higher-quality credits with long track records as debt issuers.
In local currency, the bid for inclusion in the International Monetary Fund (IMF) Special Drawing Rights basket will dominate the official agenda in the second half of 2015. While a favorable outcome for China is not a foregone conclusion, we expect the authorities to maintain currency stability in the interim. Further out, the progressive internationalization of the Chinese yuan, alongside capital account liberalization and growing onshore opportunities, will spur portfolio inflows, particularly to sovereign wealth funds. Against a backdrop of dollar strength and broad emerging market (EM) skepticism, we view the low-beta Chinese yuan effectively as an EM version of the "greenback" with carry appeal.
In local rates, the importance of maintaining financial stability will reinforce the bias to monetary easing. The current flight-to-quality, plans to lower borrowing costs for local governments, and a largely closed capital account should shield onshore government yields from potential US Treasury weakness. On March 8, 2015, the Ministry of Finance announced a CNY1 trillion ($160 billion) quota to convert debt issued by local government financing vehicles—more than half are maturing in 2015—into lower-yielding municipal notes. This, together with CNY600 billion ($96 billion) in new municipal bond issuance, should be priced at no more than 1.3x (30% higher) than benchmark government bonds.
© Western Asset Management Company, LLC 2021. This publication is the property of Western Asset and is intended for the sole use of its clients, consultants, and other intended recipients. It should not be forwarded to any other person. Contents herein should be treated as confidential and proprietary information. This material may not be reproduced or used in any form or medium without express written permission.
Past results are not indicative of future investment results. This publication is for informational purposes only and reflects the current opinions of Western Asset. Information contained herein is believed to be accurate, but cannot be guaranteed. Opinions represented are not intended as an offer or solicitation with respect to the purchase or sale of any security and are subject to change without notice. Statements in this material should not be considered investment advice. Employees and/or clients of Western Asset may have a position in the securities mentioned. This publication has been prepared without taking into account your objectives, financial situation or needs. Before acting on this information, you should consider its appropriateness having regard to your objectives, financial situation or needs. It is your responsibility to be aware of and observe the applicable laws and regulations of your country of residence.
Western Asset Management Company Distribuidora de Títulos e Valores Mobiliários Limitada is authorised and regulated by Comissão de Valores Mobiliários and Banco Central do Brasil. Western Asset Management Company Pty Ltd ABN 41 117 767 923 is the holder of the Australian Financial Services Licence 303160. Western Asset Management Company Pte. Ltd. Co. Reg. No. 200007692R is a holder of a Capital Markets Services Licence for fund management and regulated by the Monetary Authority of Singapore. Western Asset Management Company Ltd is a registered Financial Instruments Business Operator and regulated by the Financial Services Agency of Japan. Western Asset Management Company Limited is authorised and regulated by the Financial Conduct Authority ("FCA") (FRN 145930). This communication is intended for distribution to Professional Clients only if deemed to be a financial promotion in the UK as defined by the FCA. This communication may also be intended for certain EEA countries where Western Asset has been granted permission to do so. For the current list of the approved EEA countries please contact Western Asset at +44 (0)20 7422 3000.