As a follow-up to our recent blog on hidden gems in the credit market, and to highlight the power of income present in this space, we thought it would be helpful to revisit the drivers of historical returns. Here we review various fixed-income sectors over more than a 30-year period, as well as the years including the global financial crisis, starting in 2007.
Based on our updated analysis, coupon income remains the most significant contributor to returns over both time periods (Exhibit 1). If these results are surprising to the reader, then this analysis should serve as a timely reminder that: (1) coupons are a function of yield upon issue, therefore we can conclude that the yield offered by an investment will have a significant impact on the total return to be generated by the investment over its life, and (2) coupon reinvestment plays a critical role in overall total return performance.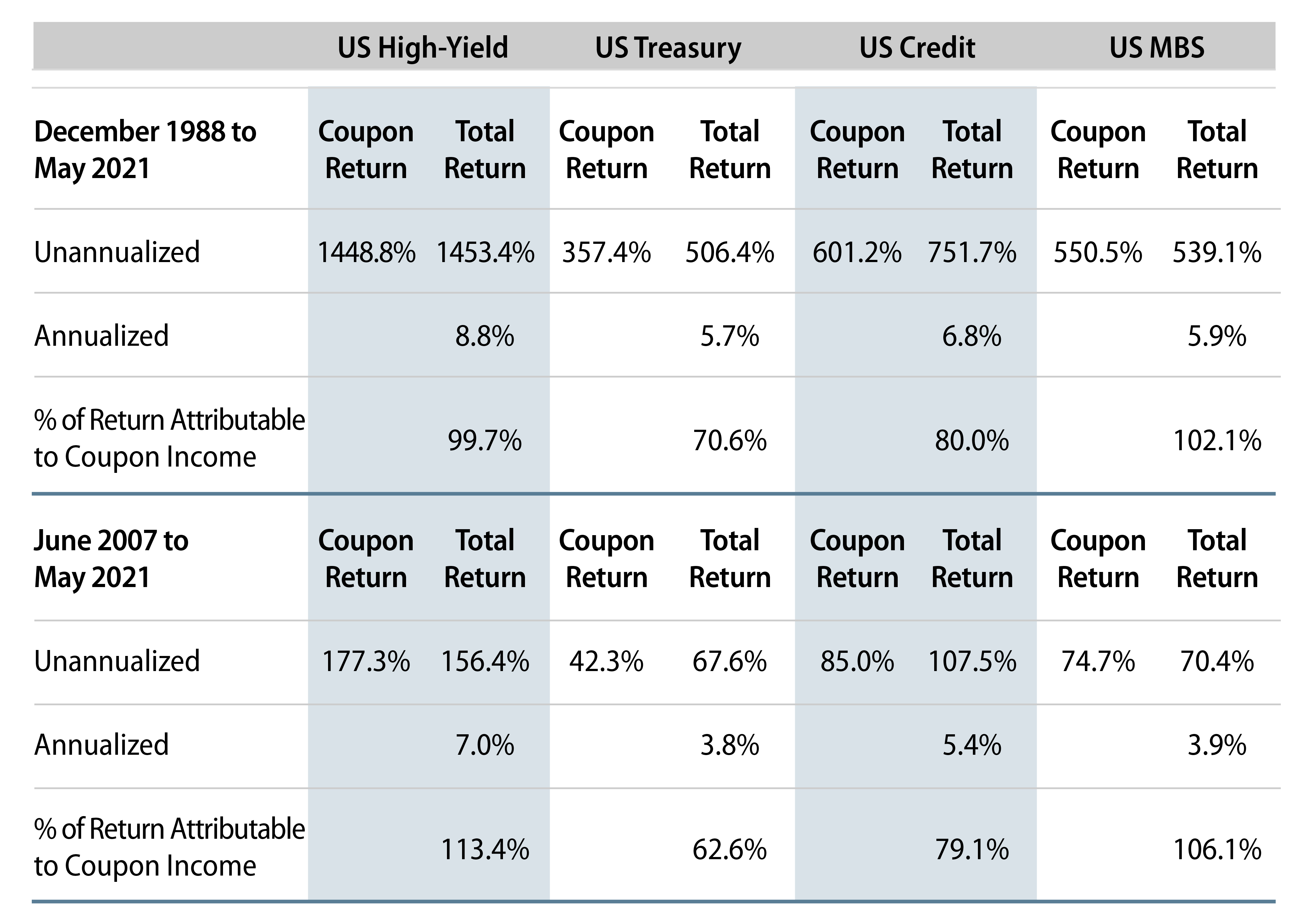 Indeed, the role of coupon reinvestment should not go underappreciated. Using high-yield as a proxy for all of the higher-yielding fixed-income opportunities, we can see how the decision to reinvest the higher level of income offered by this asset class—despite its price volatility—dramatically impacted cumulative and annualized returns over a specific time horizon (Exhibit 2). The same dynamic can also be observed, albeit to a lesser degree, within US investment-grade credit.
Needless to say, this type of analysis is highly dependent on the starting point. For example, we selected June 2007 (the first month of the ensuing 2008 global financial crisis) as the start date of a hypothetical investment into the US high-yield and investment-grade markets. As Exhibit 3 illustrates, income generation in both asset classes was more than sufficient to overcome the negative drag from price return over the period and produced (especially in the case of US high-yield) a competitive annualized return versus the S&P 500 (including dividend reinvestment). This showcases the power of compounding interest, which should be attractive to any investor seeking steadier, long-term total returns.

One important caveat is that investors would need to embrace the volatility associated with their fixed-income holdings (as would also be the case with equities and any dividend payments) to reap the benefits of reinvestment income. In this regard, investors would have to pursue an investment strategy similar to the concept of dollar-cost averaging. For instance, if bond prices decline (yields rise), the income distributions received will buy more bonds. Alternatively, if bond prices rise (yields fall), the income received will buy fewer bonds. Over time, this approach should tend to reduce the cost basis of the investments held, minimize the impact of timing and enhance total return for the long-term investor.