Insurance Asset Management -

Our Team Approach
What Sets Our Insurance Asset Management Apart?
Western Asset assists our insurance clients by developing portfolios that take into consideration regulatory and accounting requirements as well as objectives related to hedging liabilities, risk, growth and return on capital. Building on Western Asset's long-term fundamental value investing philosophy, process and research, our Insurance Team adds a layer of portfolio and risk management expertise that incorporates the unique needs of insurers. Western Asset Insurance Team members have a keen understanding of the complex needs of insurance companies, including the shifting priorities driven by regulatory, accounting and actuarial requirements.
Our Insurance Team Approach: Optimizing Implementation
Expertise, Experience, Engagement
Western Asset's global Insurance Team can benefit our insurance clients as we have extensive experience working with a wide variety of insurance clients that serve many different business lines. We also provide our insurance clients with open and direct access to investment, risk and operations professionals throughout our Firm.
Investment Philosophy
Western Asset's long-term fundamental value investing approach translates into portfolios that seek to generate attractive statutory income. This philosophy, along with multiple diversified strategies, helps mitigate risk and can produce attractive capital and risk-adjusted returns.
Insurance Client History
Western Asset has been managing dedicated insurance portfolios since 1986. Our clients represent a wide range of insurer types, including life, health, property & casualty insurers and reinsurers. Portfolios span the spectrum from broad market allocations to sector-specific strategies.
Depth of Regulatory Experience
Our Insurance Team has comprehensive real-world experience across a wide range of insurer types and regulatory regimes. This includes but is not limited to NAIC (US), Solvency II (Europe) and LAGIC (Australia). Clients benefit from the team's broad base of subject matter expertise on topics including investment management, risk management, quantitative analysis, derivatives and academic research.
Proprietary Systems
Western Asset has a number of proprietary systems that are critical to effectively manage insurance portfolios. This includes our compliance system, our regulatory capital calculators and our risk system, WISER.
Strong Team Culture
The team is highly collaborative both within the Firm and when working with our clients on a day-to-day basis.
Open and Direct Access
We provide our insurance clients with direct and open access to investment, risk and operational professionals at Western Asset.
Customization and Solutions
We understand that each insurer has unique needs. Our platform is specifically designed to accommodate customized and specialized mandates. We do not deliver "off-the-shelf" solutions; rather, we approach each insurer by first understanding their individual requirements and then developing an investment and servicing strategy that addresses their distinct needs.
Global Presence
Our Insurance Team has deep insurance expertise to support clients across the globe, with investment professionals located in Pasadena, New York, London, São Paulo, Melbourne, Tokyo and Singapore. Western Asset has built supplemental analytics and systems to support the management of portfolios with customized objectives and constraints, serving the needs of health care, life, property & casualty insurers and reinsurers.
Our Insurance Team Approach: Optimizing Implementation
Western Asset works hard to ensure an optimal experience for our insurance clients. As shown here, several teams work together—in collaboration with the client—to provide thorough analysis, client-specific investment decision making and robust portfolio optimization.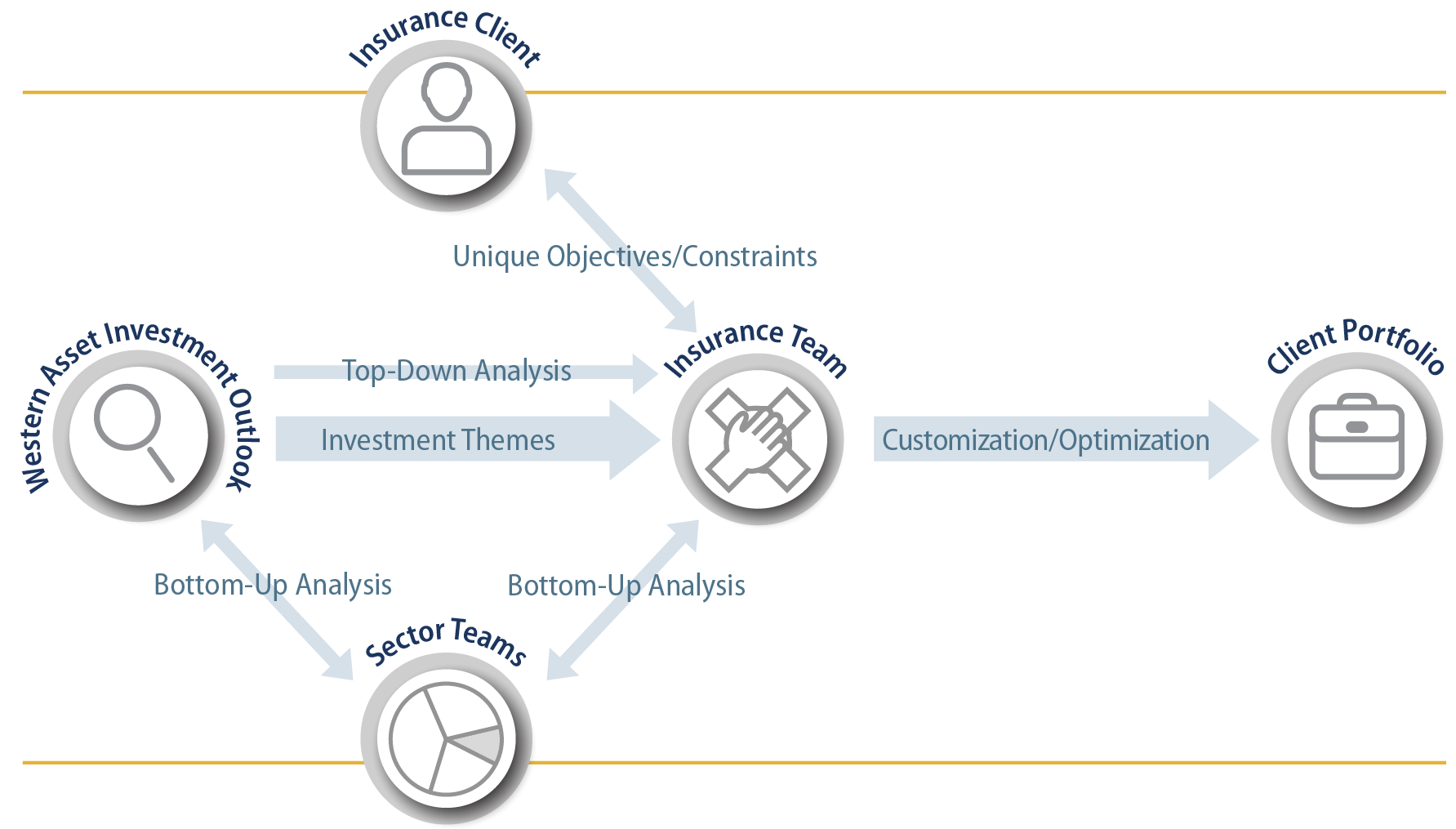 Our Insurance Team

Powell Thurston
Head of Insurance Services

Carl Cohen
Client Service Executive

David Love
Client Service Executive

Alex To
Client Service Executive
Contact Us