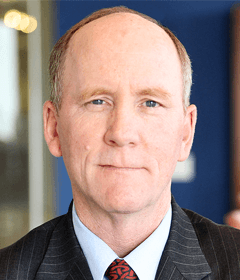 Value and Diversification: Western Asset's Philosophy in Action
Reputation is who people think you are, character is who you really are.
~John Wooden1
Executive Summary
Western Asset's core investment philosophy remains intact since our founding in 1971.
Two tenets help inform every investing decision we make: long-term fundamental value and multiple diversified strategies.
Our consistent approach applies to both risk-on and risk-off periods.
See a brief analysis of our "philosophy in action" for the years 2012 through 2016.
We believe our clients are best served when they understand our philosophy and see real examples in practice.
Since our founding in 1971, Western Asset has grown to become one of the world's leading fixed-income managers—yet our core philosophy remains unchanged. We believe in "value" and we believe in "diversification," two tenets that are critical for success in meeting our clients' investment objectives.
While we understand and live this philosophy among ourselves, we recognize that in our information-overloaded world, not everyone might understand who we are, and how our philosophy guides us.
Fully understanding our core investment philosophy and practice is critical for both our clients and constituents. That's why we're taking the time to explore our core philosophy and explain more fully what it means—Our Philosophy in Action.
The First Tenet of Our Philosophy: Long-Term Fundamental Value
We define "value" in the traditional sense of Graham & Dodd, authors of Security Analysis, first published in 1934.2 Our search for value begins with our macro and credit investment outlook. We study macro elements such as real and nominal interest rates, curves, currencies and volatility. We study economic variables, political pronouncements and central bank policies. We conduct such analyses across global markets, with skilled practitioners throughout our worldwide offices. We source opinions and counter-opinions globally, in both formal discussions and informal exchanges. The fundamental principle to executing our investment philosophy is determining how much market pricing deviates from our view. This defines our "Margin of Safety" and guides how we emphasize any idea as a component in our portfolios.
We follow a daily, iterative process, continually asking ourselves: What is our view of the world? Does market pricing reflect that view? Are we with or against consensus? What if we are wrong? How wrong can we be? Is there a way we can hedge inexpensively?
We know market behavior is inherently uncertain. Not only are real macroeconomic policy, consumer actions and individual company reactions impossible to predict with precision, but we realize and appreciate that human anxiety and fears will always exacerbate market pricing. Supply and demand impact pricing in an inefficient fixed-income market. Short-term investors cause noise in the market. We acknowledge these market inefficiencies. Indeed, we strive to systematically exploit situations in which prevailing prices diverge from an expected equilibrium. These represent our "long-term value" opportunities. But, as expected outcomes seldom follow a schedule, we hold to the second tenet of our investment philosophy.
The Second Tenet of Our Philosophy: Multiple Diversified Strategies
Our objective is to meet or exceed our clients' performance objectives within their tolerances for risk, in whatever way they define risk. We explicitly measure correlations and contributions to risk, both in absolute terms, but also through the lens of expected risk reduction based on correlation metrics. As such, we deploy multiple, diverse strategies so that no single theme dominates performance, helping to dampen total portfolio level volatility.
We cultivate our global investment team to source such ideas with vigilant attention to interest-rate duration, yield-curve positioning, sector allocation, security selection, country and currency considerations, and specific issue opportunities. We seek to include ideas with the best risk/return profiles—generating a continually fresh pool of positions and strategies to consider. Some will fit many portfolios, others only a few. But all ideas compete internally for acceptance. Humbly, we know that not all ideas will pan out, and recognize that the path for even the most successful ideas can be circuitous and frustratingly long.
Our Philosophy in Action
Social science research seldom provides us with natural experiments. We can run simulations or make predictions, but it's always best if we can demonstrate our philosophy in action using actual results during real market cycles.
The past several years can be broadly characterized as either risk-on or risk-off. During risk-on periods, portfolios dominated by spread sectors should enjoy success. In risk-off periods, holding extra government bond duration would be key to favorable outcomes. So it should be easy to position accordingly—except in the real world where the future is never revealed early! As such, portfolios built with multiple diversified strategies, chosen with a gimlet eye for value, should produce the best risk-adjusted outcomes.
Considering the past five years as a reasonable sample set of risk-on/risk-off markets, we examine empirically how the Western Asset philosophy in action has performed. The results and commentary below relate to our US Core Full Discretion portfolios, but our philosophy and process apply consistently throughout our global franchise.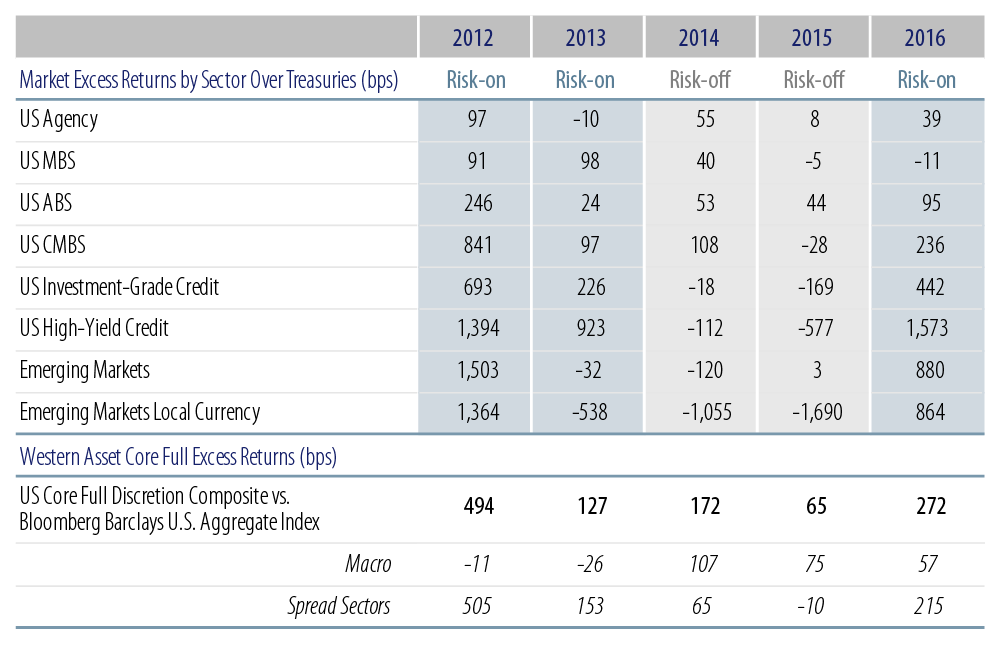 2012 was a spectacular year for credit. The US Federal Reserve (Fed) signaled further accommodation through the continuation of Operation Twist and the third round of quantitative easing (QE). As a proxy for the credit markets, the Barclays Investment-Grade Credit Index fell from an option-adjusted spread (OAS) of 217 basis points (bps) to 131 bps producing 693 bps in excess return. We captured this premium via an overweight to credit as well as superior issue selection. We were also overweight US duration as ballast, weighted to the long end. Here, while rates did fall and our overweight to duration helped, our underweight to the front end of the curve subtracted from performance. In sum, spread sector allocation was rewarded and our macro ballast was but a small net drag.
2013 was also a strong risk-on market, albeit not across all sectors. This scenario provided a bumpy ride during the year. Recall that in May 2013, the market suffered through the Fed's Taper Tantrum resulting in sharply higher US Treasury (UST) yields. Indeed, the UST 10-year rose from a low of 1.31% to 3.03% by year-end. Still, spread sector overweights were rewarded, especially our allocation to financials and non-agency residential mortgage-backed securities (RMBS). Our curve and rate positioning cushioned the monthly volatility.
2014 proved to be a sharp risk-off market. Despite remaining highly accommodative, the Fed indeed tapered its QE bond purchases. Previous fears of much higher rates diminished with rates ending the year down sharply. UST 10-years fell from 3.03% to 2.17%. Oil prices fell 40%, dragging emerging markets and other credit markets down. While investment-grade credit widened 14 bps in OAS, US high-yield rose 100 bps in OAS. Nimble spread sector positioning and exceptional issue selection added to performance, despite the general spread sector tumult. Further, our macro positioning added significantly from both outright duration and curve positioning as we judged that extraordinary monetary policy accommodation would remain in place.
2015, especially 1Q15, was a risk-off market. Credit sectors underperformed on concerns of a global economic slowdown driven by China and the coincident oil price weakness. Treasury yields were volatile, which provided several opportunities to add value, with yields ending the year modestly higher. The Fed nudged the fed funds rate up 25 bps. Spread sectors ultimately were a small detractor, down 10 bps, with our macro strategies doing the heavy lifting, up 75 bps.
2016 proved to be a risk-on market, despite a major stumble early in the year.While the market priced for steady tightening from the Federal Open Market Committee (FOMC), we took a more cautious tone and held our overweight to duration. This proved valuable both in the immediate aftermath of the FOMC's first interest rate hike, but also through the volatility that followed the Brexit vote. From a value perspective, we believed that targeted spread sector opportunities would be supported by cautious and still quite accommodative central bank policy. In totality, our value approach and diversified set of strategies created 272 bps of excess return, split between macro positions (57 bps) and spread sectors (215 bps).
---
We are proud that our record demonstrates the extent to which we enact our core philosophy, and want our clients to know we will continue to hold ourselves to these high standards. We undertake our fiduciary responsibilities with the utmost respect, and demand the best of ourselves in execution on behalf of our clients. In turn, we believe our clients are best served when they understand our philosophy and see real examples in practice.
"I am just a common man who is true to his beliefs." ~ John Wooden
Endnotes
No other American college basketball coach has ever dominated the sport like the legendary John Wooden of the University of California, Los Angeles. His teams reached unprecedented heights in the 1960s and '70s, accomplishing a run of 10 championships in 12 seasons and an 88-game winning streak—records that stand to this day.
This book, which coined the term "margin of safety" is widely recognized as laying the intellectual foundation for what would later be called "value investing."
© Western Asset Management Company, LLC 2022. This publication is the property of Western Asset and is intended for the sole use of its clients, consultants, and other intended recipients. It should not be forwarded to any other person. Contents herein should be treated as confidential and proprietary information. This material may not be reproduced or used in any form or medium without express written permission.
Past results are not indicative of future investment results. This publication is for informational purposes only and reflects the current opinions of Western Asset. Information contained herein is believed to be accurate, but cannot be guaranteed. Opinions represented are not intended as an offer or solicitation with respect to the purchase or sale of any security and are subject to change without notice. Statements in this material should not be considered investment advice. Employees and/or clients of Western Asset may have a position in the securities mentioned. This publication has been prepared without taking into account your objectives, financial situation or needs. Before acting on this information, you should consider its appropriateness having regard to your objectives, financial situation or needs. It is your responsibility to be aware of and observe the applicable laws and regulations of your country of residence.
Western Asset Management Company Distribuidora de Títulos e Valores Mobiliários Limitada is authorized and regulated by Comissão de Valores Mobiliários and Brazilian Central Bank. Western Asset Management Company Pty Ltd ABN 41 117 767 923 is the holder of the Australian Financial Services Licence 303160. Western Asset Management Company Pte. Ltd. Co. Reg. No. 200007692R is a holder of a Capital Markets Services Licence for fund management and regulated by the Monetary Authority of Singapore. Western Asset Management Company Ltd is a registered Financial Instruments Business Operator and regulated by the Financial Services Agency of Japan. Western Asset Management Company Limited is authorised and regulated by the Financial Conduct Authority ("FCA") (FRN 145930). This communication is intended for distribution to Professional Clients only if deemed to be a financial promotion in the UK as defined by the FCA. This communication may also be intended for certain EEA countries where Western Asset has been granted permission to do so. For the current list of the approved EEA countries please contact Western Asset at +44 (0)20 7422 3000.