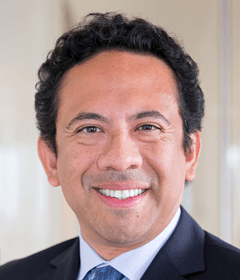 Unconstrained Investing: Stay "Active" in These Uncertain Times
Executive Summary
With markets now hostage to shifting global macro conditions and different sources of market risk, we are taking this opportunity to re-emphasize the value of active fixed-income management.
After a multi-year period of low yields and little market volatility, we are finally seeing select value and diversification opportunities arise heading into the new year.
In our view, income generation via global credit will become an increasingly integral part of investors' portfolios and active sector rotation will be essential.
We see EM as the most undervalued asset class and one that would be the biggest beneficiary of any attenuation of global risks.
An unconstrained investing approach affords investment managers the necessary flexibility to exploit the most desirable characteristics of fixed-income: income and return, diversification and risk mitigation.
This year, investors have been blindsided by bouts of sudden and sharp volatility across equity, fixed-income, commodity and currency markets. Market angst has been amplified by fears of slowing global growth, the inability of central banks to inspire confidence around policy normalization, tighter financial conditions, and a dizzying array of idiosyncratic risks coming out of both developed markets (DM) and emerging markets (EM). Spread sectors held up well over the first half of 2018. Since then, the combined weight of these factors has weakened market sentiment and depressed valuations across the bulk of the credit spectrum (Exhibit 1). US Treasury (UST) bonds also succumbed to the market's gravitational pull as US growth optimism and glib comments by Federal Reserve (Fed) Chair Jerome Powell propelled US rates to a multi-decade wide versus most other G-10 countries.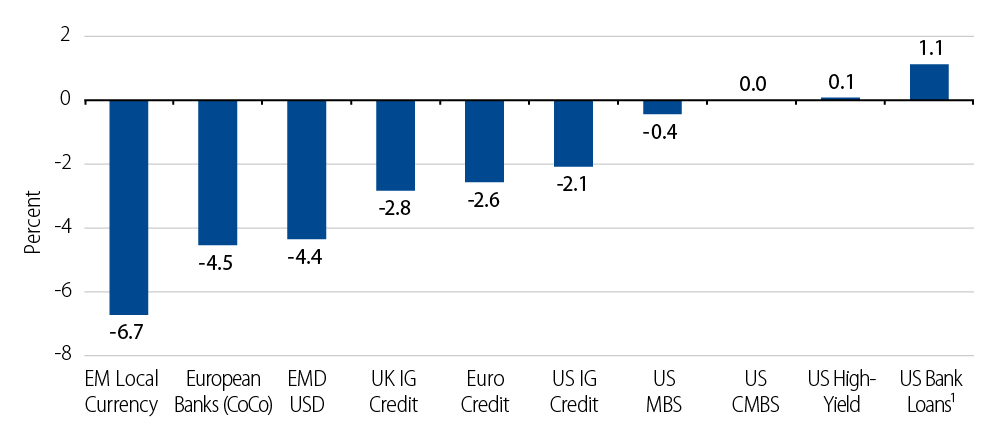 Recent US mutual fund and exchange-trade fund (ETF) flow activity reflects this heightened state of market anxiety. Exhibit 2 shows that after a sizable AUM build-up in the passive taxable bond segment, following the oil price collapse of 2015, demand has fallen off considerably thus far in 2018 with the bulk of the decline observed over the past few weeks. Most notable is the sharp reversal in corporate, high-yield and bank loan flows and the surge into the combined short-term and ultrashort bond segment. This dynamic should not be surprising.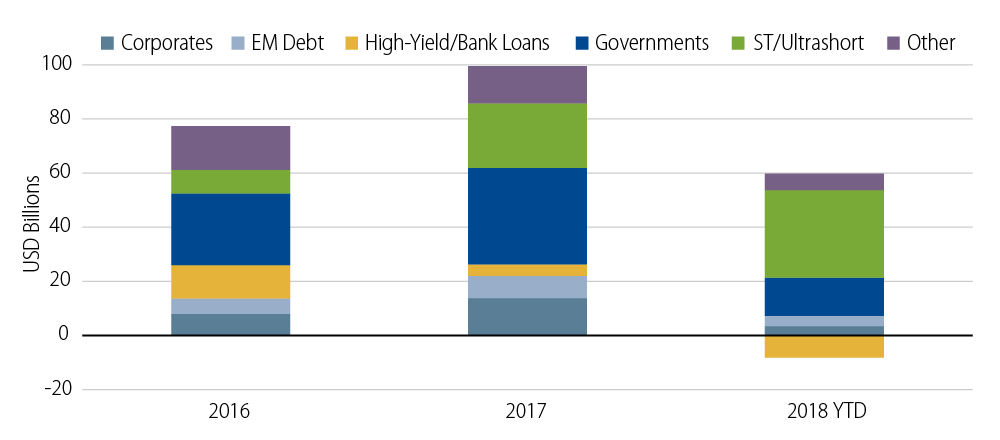 In a paper we published last year, Global Investing: The Price You Might Pay for Going Passive, we cautioned investors over the misplaced euphoria and growing herd mentality around passive fixed-income products that was fueling a supply boom during an extended period of low volatility. We underscored the product shortcomings: an overweight bias toward the largest debtors, the inability to exploit off-benchmark opportunities, an asymmetric duration risk (i.e., less yield compensation), and the propensity to take on greater tracking error (and to potentially lock in underperformance) due to index replication constraints. We also argued that while a passive approach might make sense for highly liquid and well-researched markets such as US large cap equities or US government bonds, extending this approach to less transparent and less liquid markets such as high-yield or EM meant foregoing opportunities to enhance returns and effectively manage portfolio risk.
With markets now hostage to shifting global macro conditions and increasingly varied sources of market risk (e.g., US-China trade tensions, Brexit, Italy, etc.), we are taking this opportunity to once again remind investors of the drawbacks of passively managed fixed-income products and the value of active fixed-income management.
Highlighting Risks and Opportunities
After a multi-year period of low yields and little market volatility, we are finally seeing select value and diversification opportunities arise heading into the new year. Investors are asking which sectors look attractive, what investment solutions might best be suited to exploit those sectors and what market-jolting event may lie around the corner. Below, we provide our latest thoughts on a number of areas relevant for fixed-income investors.
Top-Down View
Looking back on 2018, market expectations for a continuation of synchronized global growth were upended by an acceleration of US growth beyond consensus estimates, slower global growth and various idiosyncratic risks stemming from EM countries. Exhibit 3 shows the divergence in the revisions to US and non-US growth as the year has progressed, which has resulted in broad-based US dollar strength, higher US interest rates and higher risk premia across spread sectors globally.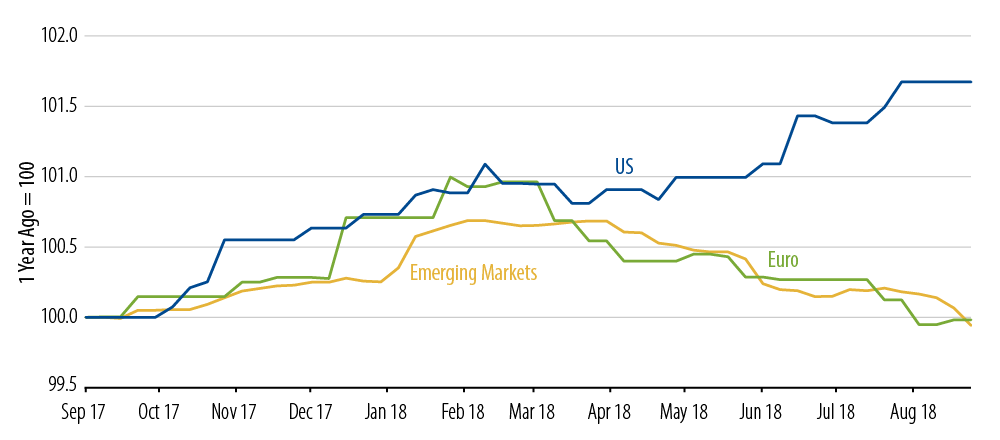 Looking ahead to 2019, we expect US growth to slow slightly as the impact of fiscal stimulus wanes and the pernicious effects of tariffs weigh on key pillars of the economy (e.g., housing and autos). Absent an acceleration in nominal GDP and without any real signs of sustained wage pressure, we also view any upticks in inflation in the near-term as merely transitory. We expect the Fed to continue to move cautiously and adjust policy as needed, based on market realities and not on static models. Our hope is for clear communication and minimal uncertainty as unexpected monetary policy moves will undoubtedly lead to even greater volatility.
Without doubt, the greatest threat to the global recovery is the prospect of a global trade war. As discussed at length in our recent paper, Trade Wars in the 21st Century: Perspectives From the Frontline, market prices may already reflect some of the downside risks and we may have now seen the worst of the tough trade talk between the US and China. However, one cannot ignore the possibility that trade tensions may worsen before or after the 90-day "pause" agreed to by the US and China at the G-20 summit.
With this downside risk on full display, one might question how it is possible to be even modestly constructive in our market outlook. We would argue that there are glimmers of light amidst the gloom. First, the Fed has already begun to walk back its hawkish rhetoric. Second, despite massive market pessimism about the challenges of Brexit and Italy (which we believe are misplaced), European growth has been sturdy; we expect this to continue as the Bank of England and the European Central Bank (ECB) continue to be highly focused on underwriting their respective expansions. Third, while the US-China trade dispute has introduced tremendous uncertainty in the global economy, it has engendered a course correction in Chinese economic policy. Gone is the deleveraging campaign of earlier this year. Interest rate cuts, reserve requirement reductions, targeted fiscal spending increases and a renewed lending to the private sector suggest slowing Chinese economic growth will reverse over the next several quarters.
Last, extreme market pessimism pulled the entire EM asset class downward this year despite important positives in the sector such as remarkably subdued inflation and resilient sovereign and corporate balance sheets. Consider these statistics: 1) Yield spreads between EM and DM debt are near 2008 and 2016 wides; 2) Currency levels are the lowest in nearly 20 years and are 35% lower than just five years ago; 3) the real yield of EM debt is at a 15-year wide versus the real yield of DM debt. Our view is this asset class would be the biggest beneficiary of any attenuation of the global risks highlighted above.
Bottom-Up View
Corporate fundamentals continue to be strong across the majority of sectors and earnings are supportive of credit investing. That stated, we are mindful of growing market concerns in certain segments of the market, particularly BBB rated credit (which we addressed in more detail in An Update on BBBs) and the downside risks from an escalation in global trade tensions. Exhibit 4 charts a summary of our bottom-up valuation views on the key credit markets, thoughts on each sector and where we currently see compelling relative value opportunities within each market.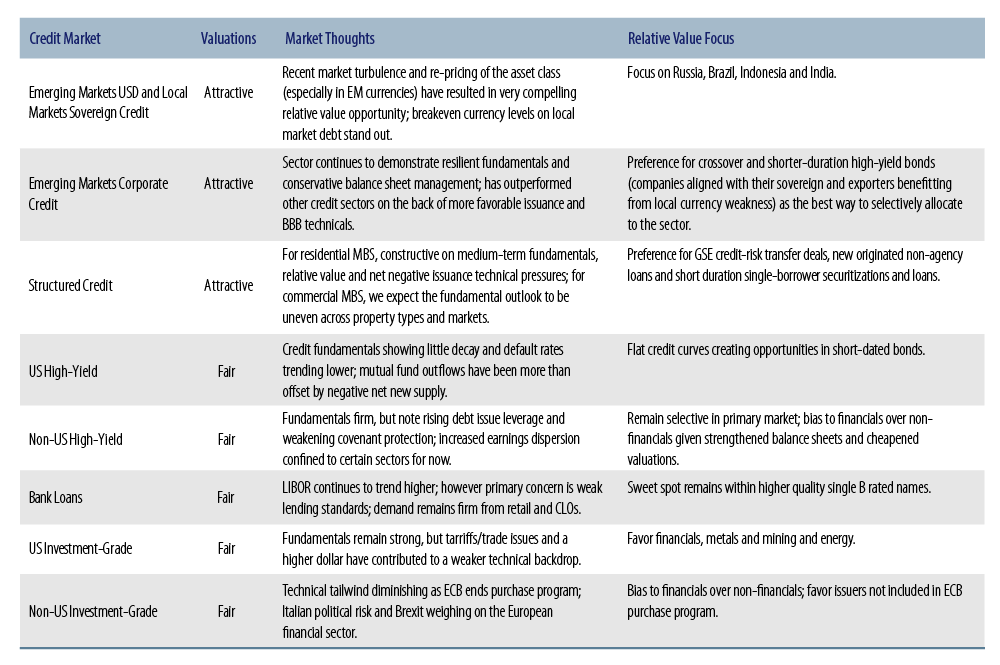 Advocating Unconstrained Investing
Given the still low levels of interest rates globally, we believe income generation via global credit in all of its forms—corporate debt, structured credit and sovereign debt to name a few—will become an increasingly integral part of investors' portfolios and active sector rotation will be essential. Bear in mind that credit sectors do not necessarily move in tandem; they have different cycles and they do well in different environments. Therefore, the ability to tactically emphasize one sector and de-emphasize another to find value and drive alpha in a diversified portfolio will be vital for performance.
Not being benchmarked or tethered to the low levels of benchmark rates will be just as important. We emphasize this because strategies that look to beat a benchmark inherently have to be conscious of tracking error and, as a result, managers may own sectors that they have to live with rather than those for which they have a strong conviction. For example, the surge in US government borrowing over the past decade means USTs now total approximately 35%-40% of the Bloomberg Barclays US Aggregate Index—in line with the percentage of USTs issuance versus total debt (see Exhibit 5). Passive strategies linked to this benchmark are prone to lower yields and potentially lower returns as more UST issuance squeezes out higher-yielding securities.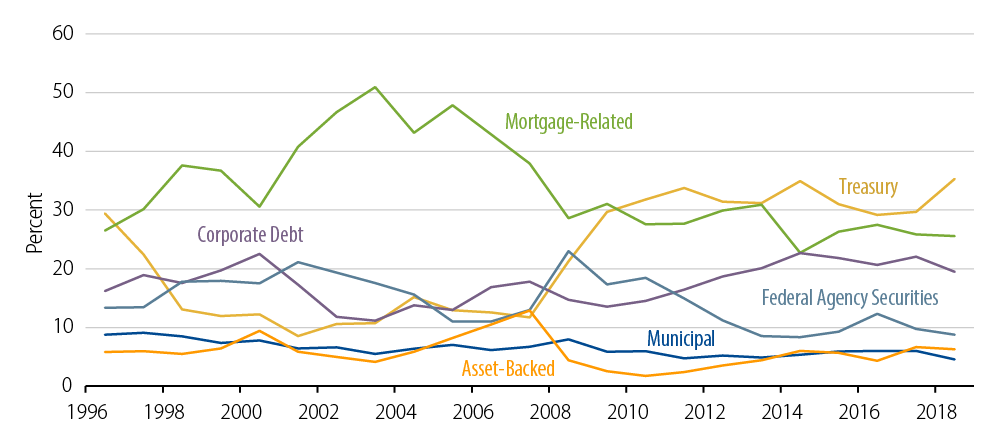 In the papers we've published, our case for advocating an unconstrained investing approach rested on the inherent shortcomings of benchmarks and the greater flexibilities unconstrained strategies enjoy to manage duration risk and harvest value opportunities. These arguments have not become obsolete. If anything, the resurgence of market volatility and expectations that this will continue only strengthen the case for unconstrained strategies given their ability to exploit the most desirable characteristics of fixed-income: income and return, diversification and risk mitigation.
See Exhibit 6, which plots the yield-to-worst of select fixed-income markets against their respective correlation to equities over the past decade. Given the variety of securities across today's global credit markets, an unconstrained investing approach affords the investment manager the necessary flexibility to build a more diversified portfolio that incorporates both income- (and return-) generating assets as well as defensive (or risk-mitigating) assets. This is much harder to accomplish using a passive or traditional benchmarked approach.
We would also highlight the negative correlation that global government bonds have with equities (using the S&P 500 as a market proxy). We have long argued the value of holding government bonds, with a particular emphasis on USTs, mainly for their ability to act as ballast against spread risk in a broad investment portfolio, especially during turbulent market periods. Recent divergent price action of US equities and USTs continues to support this view.
The keys to selecting the "right" unconstrained solution(s) are clarity and transparency around what clients should expect in terms of portfolio risk, the investment opportunity set and volatility in returns. Many of the products in our industry are somewhat ad hoc and investors are not always clear as to the nature of the risks inherent in each or among the different offerings. As such, we always counsel investors to consider three key parameters when selecting an unconstrained solution:
Volatility tolerance—low, moderate or high?
Opportunity set—what type of assets will the portfolio hold?
Sources of alpha—will it be credit spread focused, macro focused or a combination of the two?
Since there is no "one-size-fits-all" approach to unconstrained investing, we believe it is essential to have a range of strategies from which investors can choose to meet their risk and return objectives. For example, over the past few years, a growing number of investors have chosen to invest in multi-asset credit (MAC) strategies rather than trying to figure out which credit sectors to invest in at any given time. These MAC strategies generally have a volatility range that reflects their underlying credit opportunity set, which can include but is not limited to corporate bonds, EM debt and structured securities. Given their credit-heavy orientation, the major sources of alpha in a MAC strategy over time will come from spread sectors.
Other investors have demonstrated a preference for more global or macro-oriented unconstrained strategies. These typically exhibit the same level of volatility as traditional global indices such as the FTSE World Government Bond Index or the Bloomberg Barclays Global Aggregate, yet avoid exposure to low and negative yielding markets such as Europe and Japan to improve their risk and return profile. The opportunity set for these strategies is more biased toward investment-grade and the sources of alpha come from rates and currencies. Higher volatility macro strategies, which incorporate a wider opportunity set and have looser sector and credit-quality constraints, have also increased in popularity as they are less correlated with traditional beta and sit outside the traditional growth and defensive allocation framework.
Revisiting Western Asset's Unconstrained Line-Up
Exhibit 7 provides a snapshot of Western Asset's five flagship unconstrained programs (additional details, objectives and annual return information are provided in the Appendix and Performance Disclosures). The programs have been simplified in these quick descriptors for convenience in reading the table. All the programs are designed to seek the maximum benefits from incorporating the strategies from our global platform; note that each uses asset allocation, sector rotation and macro strategies to varying degrees. This gives each program more alpha sources and better diversification. The predominant alpha sources are displayed for ease of understanding both the individual programs and the differentiation among programs.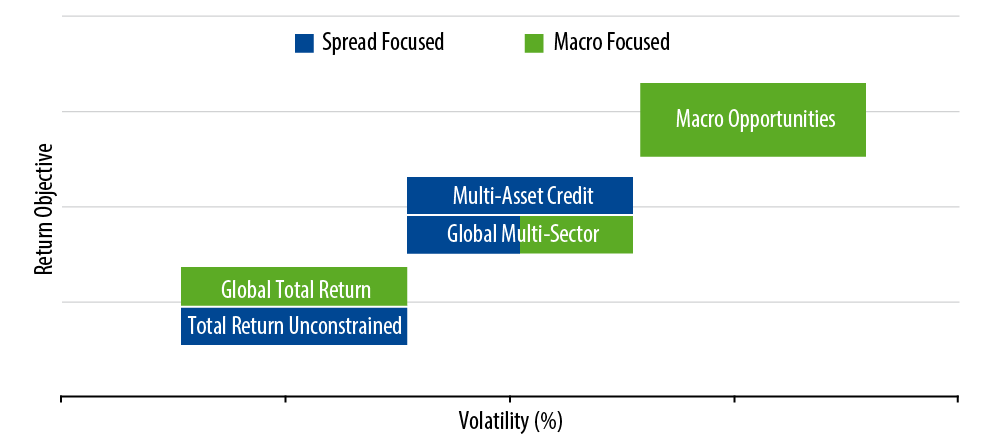 Exhibit 8 displays Western Asset's long-term results across the breadth of our unconstrained program. All the programs have generated solid total returns over significant periods of time and across many different market environments. In each program, returns are also substantial relative to their target volatilities. More meaningfully, performance has been good across what are very disparate strategic approaches. Global Total Return and Macro Opportunities are driven by global macro strategies, the former with an investment-grade, low-volatility emphasis and the latter with a high-volatility approach incorporating below-investment-grade sectors. The Global Multi-Sector strategy blends higher-yielding credit and macro with a global focus. The Firm's version of MAC, which is focused on global sector rotation and incorporates a tail-risk protection feature to mitigate portfolio downside risk, has done remarkably well in the slow global growth environment of the last several years. Finally, Total Return Unconstrained, our flagship US program, has been a strong complement to our benchmark-focused core programs over the last 14 years. This is especially remarkable considering the global financial crisis, which severely battered spread product, and the declining yield environment, both of which provided a strong headwind for core returns.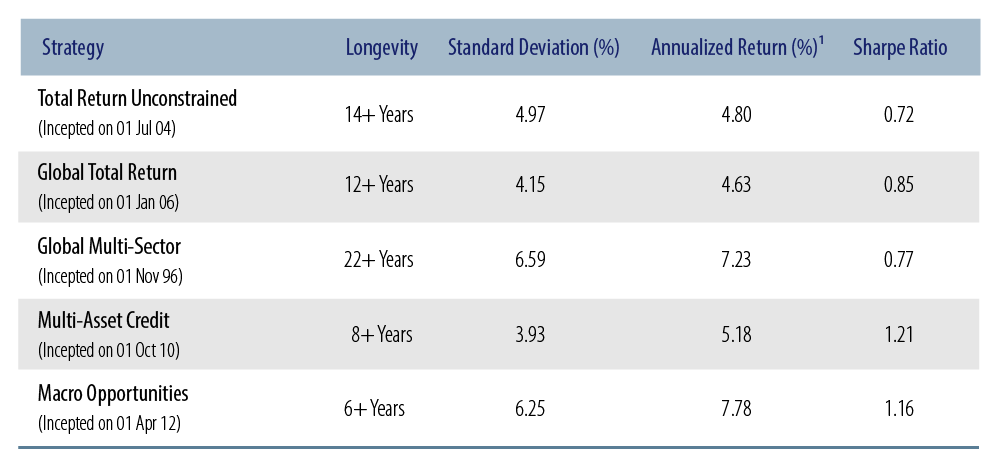 Western Asset's unconstrained menu is designed to give clients a meaningful breadth of choice, and to provide significant differentiation in their respective approaches. We believe that investors looking for an unconstrained fixed-income solution can count on the Firm's investment philosophy and approach—which has carried the Firm for over 45 years—to be effectively translated into their portfolios. We believe that by providing clarity about the volatility, opportunity set and sources of alpha, investors can pick the approach that best fits their needs. Importantly, we believe each of these approaches can continue to provide results in line with clients' understanding and goals.
In Summary
The resurgence of broad market volatility and pullback in passively managed fixed-income flows this year underscore our view that active management in fixed-income is here to stay. These developments also serve as a timely reminder that unconstrained investing is a viable and attractive complement to traditional benchmarked strategies or as an alternative investing option in all market environments. As we laid out in our top-down and bottom-up views, the coming year will likely see more bouts of volatility stemming from a number of flashpoints in both EM and DM. With this in mind, we encourage investors to embrace active management and consider the merits of unconstrained investing as it affords greater flexibility to manage risk and harvest value opportunities as they arise.
Appendix and Performance Disclosures
Total Return Unconstrained (inception date 01 Jul 04)
Predominantly US fixed-income with some allocations to "plus" sectors—US Core Plus without a benchmark
Flexibility in duration, sector, curve and quality
Duration Range: -3 to +8 years
Minimum 50% investment-grade securities
Maximum 25% non-dollar exposure unhedged
Targeted volatility: 3% to 6% per annum over a cycle
Global Total Return (inception date 01 Jan 06)
Global investment-grade fixed-income
Greater flexibility in duration, sector, curve and FX
Duration range -3 to 8 years
100% investment-grade securities
25% currency flexibility
Targeted volatility: 4% to 6% per annum over a cycle
Global Multi-Sector (inception date 01 Nov 96)
Global fixed-income investing across high-yield, emerging markets, non-US and FX
Active sector rotation, duration management and management of volatility risk
Maintains an overall investment-grade rating
Duration Range: 0 to +8 years
Targeted volatility: 5% to 7% per annum over a cycle
Multi-Asset Credit (inception date 01 Oct 10)
Diversified exposure to global higher-yielding assets
Tail-risk hedging strategy provides downside protection
Greater flexibility in duration, sector, curve and credit quality
Duration Range: 0 to +10 years
Targeted volatility: 5% to 7% per annum over a cycle
Macro Opportunities (inception date 01 Apr 12)
Concentrated and opportunistic exposure to Western Asset's key global themes
Active positioning of rates, curve, FX and volatility
Duration Range: -5 to +10 years
Minimum 50% investment-grade securities
Maximum 50% non-dollar exposure unhedged
Targeted volatility: 8% to 10% per annum over a cycle
View the Performance and Risk Disclosures for these strategies.
© Western Asset Management Company, LLC 2022. This publication is the property of Western Asset and is intended for the sole use of its clients, consultants, and other intended recipients. It should not be forwarded to any other person. Contents herein should be treated as confidential and proprietary information. This material may not be reproduced or used in any form or medium without express written permission.
Past results are not indicative of future investment results. This publication is for informational purposes only and reflects the current opinions of Western Asset. Information contained herein is believed to be accurate, but cannot be guaranteed. Opinions represented are not intended as an offer or solicitation with respect to the purchase or sale of any security and are subject to change without notice. Statements in this material should not be considered investment advice. Employees and/or clients of Western Asset may have a position in the securities mentioned. This publication has been prepared without taking into account your objectives, financial situation or needs. Before acting on this information, you should consider its appropriateness having regard to your objectives, financial situation or needs. It is your responsibility to be aware of and observe the applicable laws and regulations of your country of residence.
Western Asset Management Company Distribuidora de Títulos e Valores Mobiliários Limitada is authorized and regulated by Comissão de Valores Mobiliários and Brazilian Central Bank. Western Asset Management Company Pty Ltd ABN 41 117 767 923 is the holder of the Australian Financial Services Licence 303160. Western Asset Management Company Pte. Ltd. Co. Reg. No. 200007692R is a holder of a Capital Markets Services Licence for fund management and regulated by the Monetary Authority of Singapore. Western Asset Management Company Ltd is a registered Financial Instruments Business Operator and regulated by the Financial Services Agency of Japan. Western Asset Management Company Limited is authorised and regulated by the Financial Conduct Authority ("FCA") (FRN 145930). This communication is intended for distribution to Professional Clients only if deemed to be a financial promotion in the UK as defined by the FCA. This communication may also be intended for certain EEA countries where Western Asset has been granted permission to do so. For the current list of the approved EEA countries please contact Western Asset at +44 (0)20 7422 3000.