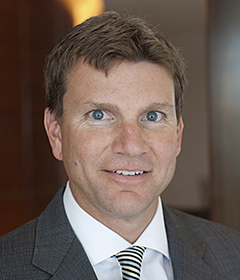 Standing Our Ground: There Continues to Be Value in Credit
Executive Summary
After a very challenging start of the year, the credit rally since mid-February, briefly interrupted by the Brexit rollercoaster, has been nothing short of remarkable. Despite healthy year-to-date returns, however, the rally has only taken valuations back to what we would consider attractive levels given our macro outlook and credit fundamentals.
Looking forward, we continue to expect slow but steady economic growth and muted inflation.This is a positive backdrop for credit and we believe the credit cycle has room to run.
Credit cycles don't die from old age but from declining fundamentals. Credit fundamentals overall are quite strong, but specific industries are in different stages of the credit cycle. The major areas of weakness are energy and other commodity-based industries. This, however, is more than priced into valuations, and we don't see this as reflective of the overall healthy picture of credit.
Further, current global economic conditions and investors' quest for yield in a negative interest rate environment are providing a fairly strong technical tailwind for US corporate credit.
The main risk to our base case is a global recession, which we believe is unlikely. The risk of rising interest rates is less of a concern to credit as higher rates will likely be accompanied by accelerating growth and stronger corporate fundamentals.
While some risk reduction is prudent, we continue to believe that there is value in credit. We encourage our clients to remain long corporate credit.
Introduction
Since our webcast in early February, the credit rally has been nothing short of remarkable. More specifically, since February 11, 2016, US high-yield and US investment-grade markets have rallied 15.75% and 7.53% (as of July 6, 2016).
Our bullish view back in February was based on the belief that corporate fundamental metrics were in far better shape than valuations implied. While valuations have improved, we maintain that at current levels, credit offers an attractive investment option.
Looking forward, we continue to expect slow but steady economic growth and muted inflation. We anticipate US growth of around 1.5% in 2016. The firming of oil prices from the lows set earlier in the year suggests some modest pickup in headline inflation, and US Core PCE data have turned up mildly. We expect the global economic recovery to proceed at a slow pace, although Brexit may induce a slight drag to this outlook. However, our base case is that the recovery remains on track—sluggish but steady—thanks in large part to central bank policies that have collectively infused $14 trillion into the global economies. We believe central banks will continue their accommodative policies until the major economies demonstrate an ability to sustain growth without such support. This is a positive backdrop for credit and we believe the credit cycle has more room to run.
The Current Credit Cycle Still Has Room to Run
The current credit cycle has extended beyond the duration of the average bull cycle but we don't believe that credit cycles die of old age. Rather, they end because corporate balance sheets become overextended and companies become challenged to meet current obligations. In general, we see little evidence that balance sheets are over-levered and see ample evidence of significant liquidity to meet obligations.
We believe credit fundamentals overall are more than adequate, recognizing there are specific areas of weakness. The major areas of weakness are energy and other commodity-based industries. This, however, is more than priced into valuations, and we don't see this as reflective of the overall healthy picture of credit.
One indicator of when a credit cycle has moved into the downturn stage is when the default rate moves from below to above the long-term average. Exhibit 1 shows that the trailing 12-month US speculative grade default rate has recently done just that.
This, however, is not enough to definitively mark the end of the credit cycle. That would take a determination that a broad array of industries were weakening and contributing to the rising default rate. In conducting a comprehensive review of the various industries, it would be challenging to come to that conclusion as defaults have been concentrated in the commodities industries. Ex-energy and metals and mining, the trailing 12-month market default rate was only 1.4%1, well below the long-term average. The commodity industries are under a great degree of stress and are at a different point in the credit cycle than most other industries. As witnessed by the historically low ex-energy and metals and mining default rate, most industries remain in solid fundamental credit condition, supporting the argument that the market remains in a favorable stage of the credit cycle.

Stage in the Credit Cycle
So where are we in the credit cycle? The reality is we are all over the map. Let's look at a few examples.
As mentioned earlier, commodity industries have been under a significant amount of stress. On the energy front the sudden and dramatic collapse in crude and natural gas prices in late 2014 caught many energy issuers by surprise. Most energy companies were investing heavily in their businesses and the crash in crude prices left them with reduced liquidity and higher leverage. At that point in time, clearly the energy industry was in a downturn. Subsequently, energy companies slashed capital expenditures, took write-downs on their asset base and entered the repair phase as they attempted to right-size their businesses.
The healthcare industry has experienced a tremendous amount of growth since the passage of the Affordable Care Act, also known as Obamacare. Clearly the industry as a whole is in the expansion phase.
The banking industry suffered severe stress during the financial crisis. Banks have spent years reducing leverage, improving their balance sheets and enhancing liquidity. Today US banks are fundamentally sounder than at any time in the past 50 years, driven by regulatory changes making them more "utility-like," and can be placed well into the recovery phase. European banks have followed the same formula as those in the US.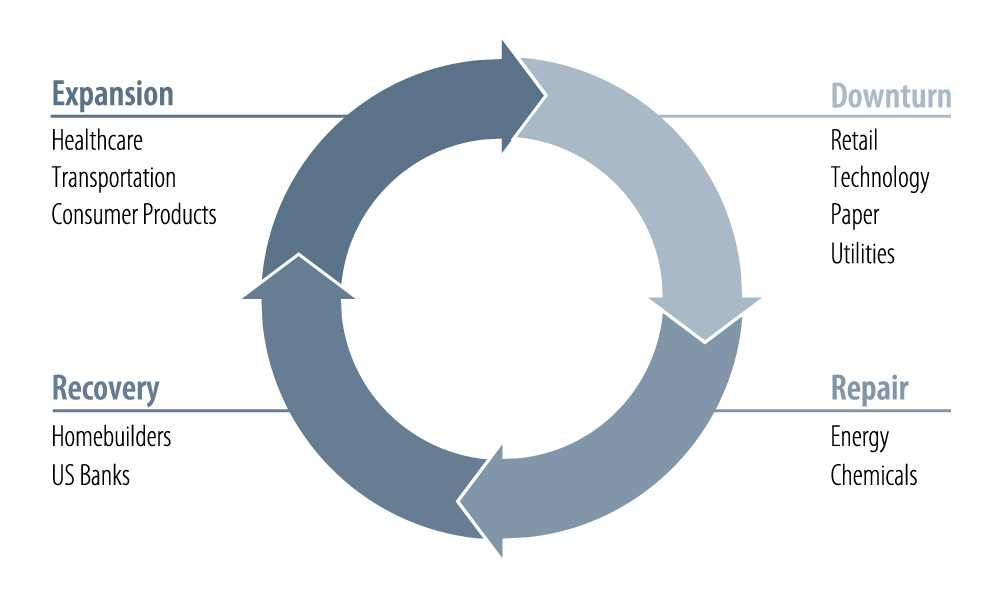 However, improvement has been halting, particularly for those in Italy and the UK. European banks are in multiple phases of the credit cycle: downturn, repair and recovery.
In our view, accurately assessing where specific industries reside within the credit cycle continuum is both insightful and has a meaningful impact on performance (Exhibit 2).
We do believe this credit cycle is different. More than anything, the severity of the financial crisis has been a key driver in changing behaviors and resulted in the enactment of restrictive regulations. Corporations are much more conservative today in managing their balance sheets and cost basis than they were leading up to the financial crisis. Further, the volume of leveraged buyouts (LBOs), historically a meaningful contributor to rising defaults when markets turn, have been muted. Post-crisis regulations restrict underwriters from arranging financing for the purpose of an LBO if the resulting leverage level for the company exceeds 6x's. Large LBO transactions that were financed at leverage levels of greater than 6x's have historically been a major contributor to the market default rate 3–4 years after the original financing.
Valuations
In the end, value depends on prices relative to fundamentals. Valuations have improved, but spreads still remain wide from a historical perspective, as shown in Exhibit 3. Given our view that fundamentals, in general, remain positive, we believe that spreads could tighten through historical averages and therefore have potential for further compression. Notably, this is true also for the energy and commodities-based industries. Recognizing the challenging fundamentals in these industries, being in the repair stage of the credit cycle, we believe this is more than reflected in spreads and that there is also value in these areas.
Technical Tailwinds
We are currently living through a policy experiment of negative interest rates in large parts of the developed world. It is very difficult to see how this will play out. It is clear, however, that it provides a powerful incentive for investors to shift capital to regions that offer the prospect of a positive real return. Of the approximately $82 trillion in global debt, $60.7 trillion (or almost 75%) trades at a 1% yield or lower, including $18.9 trillion that trades at a negative yield. This presents a potentially powerful technical tailwind that could support further spread compression for the US corporate credit markets.
Bank of America estimates that negative to low rates in Europe and Asia could result in incremental demand for US credit over the next 12 months of $300 billion-$500 billion. While our investment recommendations are based on careful fundamental and relative value analysis, we believe the negative rate experiment could provide a strong technical impetus for US corporate credit (Exhibits 4, 5).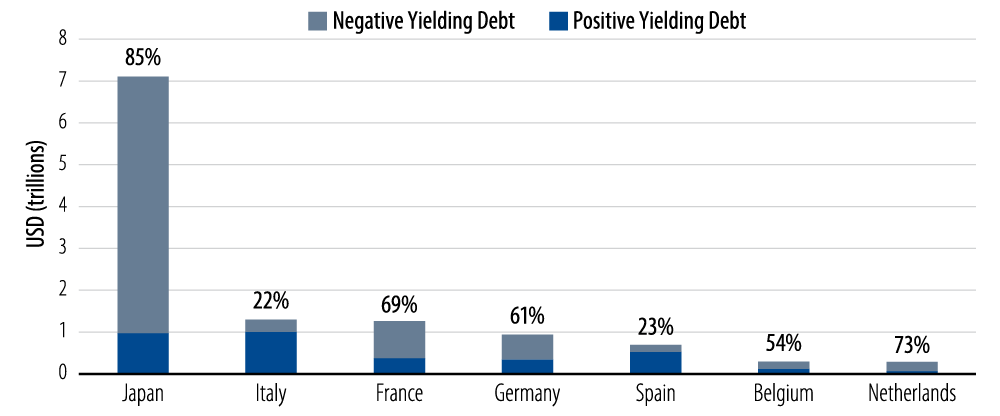 What if We're Wrong?
We have strong conviction in our base case, but it is always prudent to consider how we could be wrong. We see two major alternate scenarios to our base case of slow economic growth and muted inflation.
The case we worry most about is the global economy slipping into a recession. This has the potential to drive rates further into uncharted negative territory and for fundamental credit deterioration to widen beyond commodity industries. However, we believe this is highly unlikely for two main reasons. First, the global economy has not yet built up the excesses that would normally propel economies into recession. Second, central banks stand ready to provide further accommodative policy support to boost economic activity. This is a key consideration that takes on a heightened level of importance in light of the vote by the UK to exit the EU. It is widely viewed that the vote to leave may have a slight negative impact on global economic growth because of the uncertainty it induces, primarily in the European economies, and because of potential contagion. While we agree that global growth could be negatively impacted, we also note that central banks are on red alert and are committed to implementing supportive policies to boost growth and limit the impact, if any, as the UK exits the EU. Interpreting the UK vote, some media were quick to conclude that the results portend an anti-establishment sentiment that could gain traction across Europe. While that remains a possibility, this sentiment did not surface in the June 26 Spanish general election, which the conservative party won, increasing its seat count.
Another risk to our view is that economic data surprise to the upside, giving the Federal Reserve (Fed) the confidence it needs to increase rates again, and that this translates into broadly higher interest rates. We are less worried about this scenario for two reasons. First, we believe the Fed will refrain from raising rates until global financial conditions improve significantly, economic growth is in line with the Fed's forecast and inflation expectations rise. At this point we don't believe any of these conditions are being met and our expectation is that the earliest this could be accomplished is in the latter half of 2016. Second, if these conditions were met or exceeded, it is reasonable to expect that corporations would benefit from improving economic conditions.
Conclusion
While quantitative easing and other monetary policy tools have aided and most likely extended the current credit cycle, we believe fundamentals, by-and-large, are still strong and that this bull cycle has room to run.
While some risk reduction from February's positioning is sensible, we are standing our ground. We believe there is value in credit and have positioned our clients' portfolios accordingly.
Endnotes
Source: Moody's, Goldman Sachs Global Investment Research. As of 31 May 16.
© Western Asset Management Company, LLC 2021. This publication is the property of Western Asset and is intended for the sole use of its clients, consultants, and other intended recipients. It should not be forwarded to any other person. Contents herein should be treated as confidential and proprietary information. This material may not be reproduced or used in any form or medium without express written permission.
Past results are not indicative of future investment results. This publication is for informational purposes only and reflects the current opinions of Western Asset. Information contained herein is believed to be accurate, but cannot be guaranteed. Opinions represented are not intended as an offer or solicitation with respect to the purchase or sale of any security and are subject to change without notice. Statements in this material should not be considered investment advice. Employees and/or clients of Western Asset may have a position in the securities mentioned. This publication has been prepared without taking into account your objectives, financial situation or needs. Before acting on this information, you should consider its appropriateness having regard to your objectives, financial situation or needs. It is your responsibility to be aware of and observe the applicable laws and regulations of your country of residence.
Western Asset Management Company Distribuidora de Títulos e Valores Mobiliários Limitada is authorised and regulated by Comissão de Valores Mobiliários and Banco Central do Brasil. Western Asset Management Company Pty Ltd ABN 41 117 767 923 is the holder of the Australian Financial Services Licence 303160. Western Asset Management Company Pte. Ltd. Co. Reg. No. 200007692R is a holder of a Capital Markets Services Licence for fund management and regulated by the Monetary Authority of Singapore. Western Asset Management Company Ltd is a registered Financial Instruments Business Operator and regulated by the Financial Services Agency of Japan. Western Asset Management Company Limited is authorised and regulated by the Financial Conduct Authority ("FCA") (FRN 145930). This communication is intended for distribution to Professional Clients only if deemed to be a financial promotion in the UK as defined by the FCA. This communication may also be intended for certain EEA countries where Western Asset has been granted permission to do so. For the current list of the approved EEA countries please contact Western Asset at +44 (0)20 7422 3000.