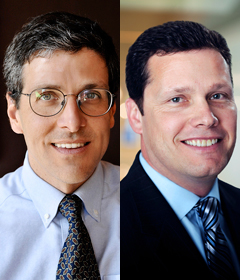 Executive Summary
The objective of the US Core strategy is to outperform the Bloomberg Barclays Aggregate Index in a risk-controlled manner.
The Core strategy actively allocates among the sectors where we see the best value and the most attractive risk-adjusted returns while maintaining good liquidity.
Core is a strategy that is fairly high-yielding relative to its volatility and compared with what we see in other financial market sectors, such as equities.
In risk-off periods, Core tends to do well and can help offset the volatility a client may have in other parts of their portfolio.
In this Q&A, Portfolio Manager Frederick Marki and Product Specialist Travis Carr discuss Western Asset's US Core strategy. With many investment options available, Mr. Marki and Mr. Carr explain why US Core is still relevant to today's investors.
Q: How would you describe the strategy to an investor?
FM: Western Asset's Core strategy allocates across all of the investment-grade fixed-income sectors. The strategy consists of approximately one-third Treasuries, one-third agency mortgages and one-third corporates along with some allocations to residential and commercial real estate mortgage-backed securities (MBS) and other asset-backed securities. We actively allocate among these sectors where we see the best value and the most attractive risk-adjusted returns while maintaining good liquidity.
Q: What do you consider to be the main objectives of the strategy?
TC: In addition to maintaining good liquidity, the objective of the Core strategy is to outperform the Bloomberg Barclays Aggregate Index in a risk-controlled manner. Our main philosophy, besides long-term fundamental value, is multiple, diversified strategies. Some of the strategies in the portfolio are intended to be hedges or insurance which will help to mute volatility when our base case strategies are out of favor.
Q: How do you see the Core strategy being used by an investor?
FM: It's a fixed-income allocation that is designed to offset risks in the client's overall portfolio (equities and non-investment-grade sectors). We make active sector allocations relative to the investment benchmark and that's something that can be customized for individual clients given their risk tolerance. Core is a strategy that is fairly high-yielding relative to its volatility and compared with what we see in other financial market sectors, such as equities.
TC: It's really used as a high-quality portion of a client's portfolio. It has duration, it's going to provide current income and it can be an offset to a larger equity exposure that a client may have in their plans or in their portfolios to serve as an anchor to windward. In risk-off periods, Core tends to do well and can help offset the volatility a client may have in other parts of their portfolio.
Q: Is Core just Core Plus without the "Plus" sectors?
TC: No, Core is a distinct strategy and is managed differently from Core Plus. It is a more conservative strategy that will have roughly half the expected tracking error of our Core Plus strategy. Because it doesn't use the Plus sectors (high-yield and non-US dollar), the target size of its allocation to sectors like investment-grade corporates and agency MBS may be different than the Core Plus targets. Also, the macro hedges such as a duration overweight may be sized differently as well if they are offsetting less spread duration in a Core mandate compared with a Core Plus mandate.
Q: How is market liquidity impacting the strategy?
FM: It is certainly something that we have to take into account when we are making our sector allocations, and we have to be more careful when we evaluate what our return expectations are and what our time horizon is. It makes security selection within any sector more important because we recognize that we may not be able to be in and out of specific investments as quickly as we might have been in the past. Fortunately we are long-term investors and we always focused on fundamental analysis when we make security selections and this only emphasizes how important that is. While we do regret the decline in market liquidity, we believe we are less affected than other managers given our investment philosophy.
Q: Is Western Asset getting a premium for that illiquidity?
FM: At times that has definitely been the case. We've seen that over the last few months, as well as in the last five years or so. When there are market fluctuations and periods of sharp declines in liquidity there are certainly opportunities as well, and that is something that we try to and have been able to take advantage of. It also means that over time there are total return advantages in certain spread sectors that our credit analysts focus on.
Q: What is the competitive advantage that Western Asset has in the strategy?
TC: Western Asset's 45 years of fixed-income experience with a focus on long-term fundamental value and multiple, diversified strategies is very important. Some of our competitors are known more as top-down, making macro calls. Some are known as more bottom-up issue selectors but not taking active macro positions, and we think Western Asset represents a really good combination of those two strategies. While macro strategies play a big part (duration and yield curve), there is also that bottom-up sector allocation and credit expertise. We think it's a good combination of both those top-down and bottom-up sources of alpha.
Q: What determines a change in sector allocation?
FM: Certainly there will be times in the business cycle where we can see a change in the expected returns of different sectors. Where they're priced in terms of both yield spread and volatility will also affect where we see relative value. While we do try to maximize our expected return, it's not just our return expectation that determines sector allocation, it's also where we see the risks in the overall portfolio. Even though we might at times see higher expected returns in one sector over another, we will look at the portfolio as a whole. We seek to keep our expected return higher than the benchmark, but without a substantial increase in the risk of the portfolio.
For example, over a year ago, we reduced our exposure to the agency mortgage sector, which is one of the three major components of our investable universe. Although we expected mortgages to outperform Treasuries, we saw that risk as somewhat correlated with our exposure in the corporate sector. We also believed the low volatility recently seen in the market was at risk of changing to one of higher volatility, which would have hurt the mortgage sector in particular. And so within the context of an overweight exposure in corporates and a concern about higher volatility going forward, we reduced our position in agency MBS.
Q: What are the main drivers of excess return within the strategy?
FM: We believe sector allocation is one of the most important generators of excess returns. We're certainly trying to increase the yield in the portfolio, but we do so recognizing that our main scenario for the economy and fixed-income markets may not be right and so we do try to hedge that return by using an overall macroeconomic position within our portfolio. This can be something that we're doing in the government sectors, or even just recognizing some alternative scenario that helps us limit our risks in the overall portfolio. Security selection within sector allocations is almost as important as the sector allocation, if not more so. That's more of a function of what opportunities there are in the market at a given point in time. Duration and yield curve would also be other sources of return—those are managed through our exposures in governments generally.
Q: How do you look at drawdown risk in the strategy?
FM: One of the ways we have of evaluating the portfolio is to not only see where the historical volatility of our position has been, where it's been on average, but also how the sectors have performed in specific market environments. Not only the 2008 crisis, but also the Taper Tantrum of mid-2013 and even the oil-induced declines we've seen in credit over the last two years. Our risk management department runs a number of scenario analyses to estimate how our current portfolio structure might perform in one of these historical scenarios and also look at forward looking, "what if" scenarios to make sure that our overall return is not too exposed to any one of these risks.
In fact, the way we look at overall risk is to see where our tracking error is coming from, to make sure it is line with the expected Core risk budget and to make sure that it lines up with our highest-conviction strategies. From time to time, we do see that return opportunities may seem to be concentrated in one sector and we may overweight that sector but then we still want to be hedged to that by having some offsetting positions elsewhere.
Q: What would you say to someone who wanted to go into a passive Core strategy? What should they be conscious of?
FM: One of the features of the indices that we use is that they are market-capitalization weighted, which means that the largest borrowers have the largest weights in the index and while that's not a terrible way to construct an index if you believe that the future is going to look like the past, it is also true that with some analysis one can see that sometimes the larger borrowers are also becoming the less creditworthy borrowers. And so they can in fact become poor credits over time. Therefore, we would say that there is a real opportunity in making active decisions among the possible universes to avoid those borrowers that are in a downward spiral, and we would say this is something that a passive strategy wouldn't be able to take advantage of.
TC: I would also say that we believe that fixed-income markets are inefficient. It's reasonable to make a case in some markets that managers haven't been able to add value over long periods of time. If you look at sectors such as large cap equities, for example, active managers do struggle to add value over long periods of time. However, we believe that fixed-income markets are more inefficient and we have been able to add value over long periods of time. Please see Western Asset's recent white paper, "In Bonds, Active Beats Passive" by Ellen Cammer.
Q: What is your outlook for Core?
TC: While yields are still low historically, they've moved up since the summer and certainly since the election given that the market believes that growth and inflation will pick up due to potential fiscal stimulus. While some future pickup in growth is possible, we believe it would be less than people expect and it will take quite some time before that pickup is visible. We also see some potential negative scenarios which could keep growth at or even lower than current levels. We therefore believe that long-term interest rates will stay fairly low given our view of still slow US and global growth and muted inflation. We also believe that the market will remain volatile and there will be future risk-off events. Given this outlook, we still believe Core has a valuable place in investors' portfolios to serve as that anchor to windward and as a source of income and liquidity. We think Core fixed-income can generate modest, positive returns and will look competitive versus other high-quality investments.
© Western Asset Management Company, LLC 2022. This publication is the property of Western Asset and is intended for the sole use of its clients, consultants, and other intended recipients. It should not be forwarded to any other person. Contents herein should be treated as confidential and proprietary information. This material may not be reproduced or used in any form or medium without express written permission.
Past results are not indicative of future investment results. This publication is for informational purposes only and reflects the current opinions of Western Asset. Information contained herein is believed to be accurate, but cannot be guaranteed. Opinions represented are not intended as an offer or solicitation with respect to the purchase or sale of any security and are subject to change without notice. Statements in this material should not be considered investment advice. Employees and/or clients of Western Asset may have a position in the securities mentioned. This publication has been prepared without taking into account your objectives, financial situation or needs. Before acting on this information, you should consider its appropriateness having regard to your objectives, financial situation or needs. It is your responsibility to be aware of and observe the applicable laws and regulations of your country of residence.
Western Asset Management Company Distribuidora de Títulos e Valores Mobiliários Limitada is authorized and regulated by Comissão de Valores Mobiliários and Brazilian Central Bank. Western Asset Management Company Pty Ltd ABN 41 117 767 923 is the holder of the Australian Financial Services Licence 303160. Western Asset Management Company Pte. Ltd. Co. Reg. No. 200007692R is a holder of a Capital Markets Services Licence for fund management and regulated by the Monetary Authority of Singapore. Western Asset Management Company Ltd is a registered Financial Instruments Business Operator and regulated by the Financial Services Agency of Japan. Western Asset Management Company Limited is authorised and regulated by the Financial Conduct Authority ("FCA") (FRN 145930). This communication is intended for distribution to Professional Clients only if deemed to be a financial promotion in the UK as defined by the FCA. This communication may also be intended for certain EEA countries where Western Asset has been granted permission to do so. For the current list of the approved EEA countries please contact Western Asset at +44 (0)20 7422 3000.