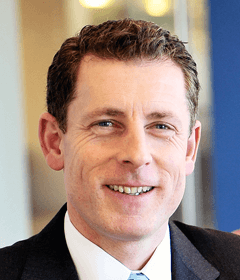 In this Q&A, Robert Amodeo, Head of Municipals, discusses Western Asset's views on the municipal market in light of the recent sell-off and subsequent increase in volatility in the sector.
Q: Why have munis sold off so much?
RA: Large redemptions from mutual funds caused a sharp sell-off in municipal bonds. Moreover, many financial markets were rattled after hearing that the Federal Reserve may begin tapering its quantitative easing program. In particular, nervous fixed-income investors were caught in a negative feedback loop whereby selling led to additional selling. The sell-off was not sparked by a weakened credit outlook, a change in economic outlook, or elevated inflation expectations.
Q: What will the catalyst be for investors to cease redeeming?
RA: Redemptions will slow when investors conclude that higher yields present an attractive investment opportunity given modest economic growth and muted inflation.
Q: How do you handle outflows?
RA: The Firm's approach to managing municipal fixed-income portfolios is designed to provide above-average liquidity to its clients during most market conditions. We track industry cash flow trends closely and seek to maintain an appropriate amount of cash equivalents in our portfolios, and other securities offering above-average liquidity, to match potential outflows.
Q: Why should investors still maintain an allocation to municipals?
RA: Fiscal discipline varies across regions, yet overall, the fundamentals for municipal securities are looking better today than they did just a few years ago. Also, for those investors who can benefit from tax-exempt income, now may be a good time to review the advantages of municipals relative to other fixed-income asset classes. On a taxable-equivalent basis, even AAA municipals are currently yielding far more than comparable Treasuries across the maturity spectrum (Exhibit 1).

Q: What is your current assessment of market valuations?
RA: The current municipal landscape can be summed up as one filled with change, challenges, and investment opportunities. The dramatic rise in municipal yields hurts. However, the municipal market is currently offering good value from a few perspectives, including a steep yield curve, generous credit spreads and cheap yields compared with US Treasury rates. We also believe that despite elevated rate volatility, munis are attractive relative to other fixed-income asset classes.
Q: How are you managing through the volatility?
RA: As active managers we are looking to opportunistically take advantage of generous credit spreads and attractive rates relative to other fixed-income asset classes. Specifically, we are looking to add sound credits priced at steep discounts. We expect stability in the ratings of well-chosen essential service revenue bonds with the potential for rating upgrades in those cases where balance sheet fundamentals are improving.
Q: What are you doing to position your portfolios during this time? Which areas do you find attractive?
RA: We continue to favor revenue sectors including transportation, healthcare, corporate backed (IDRs), and utilities over general obligation bonds. Currently, Western Asset finds value in the healthcare sector and has been a continual holder of hospital revenue bonds, ratcheting credit quality up or down as dictated by the operating environment. We are active in the power sector. Western Asset likes utilities that have diverse power generation, which shields credits to some extent both from regulatory mandates and changing commodity prices.
Some names in the higher education sector are attractive. We like universities adapting to reduced state aid by hiking out-of-state enrollment while in-state tuition remains attractive to parents. We like those institutions benefiting from diverse revenue streams (state aid, research grants, healthcare revenue, etc.) too. We like the transportation sector. Toll roads are attractive and we like some marine ports that can benefit from international trade. We're not so active in the tax-backed arena, but obviously a key credit metric here is pension funding. We like corporate-backed municipal securities (IDRs).
Q: How do you expect the situation in Detroit to play itself out? Could it be a groundbreaking outcome?
RA: Detroit's finances reinforce the idea that municipal credits can be complicated, and the importance of sound fundamental credit analysis should not be overlooked. Detroit's bonds are secured in a variety of ways, and prospects for repayment will depend in part on what security bondholders have.
However, the situation has become increasingly dire and Detroit is facing the possibility of bankruptcy. The Governor appointed an emergency manager, Kevyn Orr, who is tasked with setting the city on a path to fiscal solvency. Mr. Orr determined that Detroit does not have the funds to pay its creditors and he is seeking voluntary concessions from the city's creditors, including its 48 unions. Otherwise, the city would need permission from the Governor to file Chapter 9. The emergency manager has no legal authority outside of bankruptcy to cut pension or debt liabilities. This uncertain landscape has the potential to become precedent-setting.
Q: How have you adapted to smaller dealer balance sheets (which have led to less market liquidity)? What keeps you up at night with respect to the municipal market?
RA: We maintain an extensive network of sales coverage from both major municipal underwriters and smaller regional firms which may help to counter an industrywide dilemma regarding potential market illiquidity.
Although unlikely, major tax reform that eliminates the benefit of municipal income would obviously be hurtful to the sector.
Q: What will the impact of industry outflows be on the market's ability to absorb the forward calendar? Could this extend the volatility?
RA: Yes, investors should expect volatility to remain elevated in the short term. If outflows continue, the municipal market will find a balance between supply and demand when crossover buyers, hedge funds, and other investors surface because municipal bonds will appear cheap relative to other fixed-income sectors. The municipal market is currently attracting those investors.
Q: What has the impact been on Western Asset cash flows?
RA: So far, our cash flows have been very manageable.
© Western Asset Management Company, LLC 2021. This publication is the property of Western Asset and is intended for the sole use of its clients, consultants, and other intended recipients. It should not be forwarded to any other person. Contents herein should be treated as confidential and proprietary information. This material may not be reproduced or used in any form or medium without express written permission.
Past results are not indicative of future investment results. This publication is for informational purposes only and reflects the current opinions of Western Asset. Information contained herein is believed to be accurate, but cannot be guaranteed. Opinions represented are not intended as an offer or solicitation with respect to the purchase or sale of any security and are subject to change without notice. Statements in this material should not be considered investment advice. Employees and/or clients of Western Asset may have a position in the securities mentioned. This publication has been prepared without taking into account your objectives, financial situation or needs. Before acting on this information, you should consider its appropriateness having regard to your objectives, financial situation or needs. It is your responsibility to be aware of and observe the applicable laws and regulations of your country of residence.
Western Asset Management Company Distribuidora de Títulos e Valores Mobiliários Limitada is authorised and regulated by Comissão de Valores Mobiliários and Banco Central do Brasil. Western Asset Management Company Pty Ltd ABN 41 117 767 923 is the holder of the Australian Financial Services Licence 303160. Western Asset Management Company Pte. Ltd. Co. Reg. No. 200007692R is a holder of a Capital Markets Services Licence for fund management and regulated by the Monetary Authority of Singapore. Western Asset Management Company Ltd is a registered Financial Instruments Business Operator and regulated by the Financial Services Agency of Japan. Western Asset Management Company Limited is authorised and regulated by the Financial Conduct Authority ("FCA") (FRN 145930). This communication is intended for distribution to Professional Clients only if deemed to be a financial promotion in the UK as defined by the FCA. This communication may also be intended for certain EEA countries where Western Asset has been granted permission to do so. For the current list of the approved EEA countries please contact Western Asset at +44 (0)20 7422 3000.