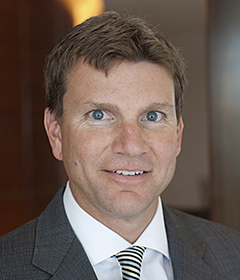 In this Q&A, Head of Credit Michael Buchanan discusses why the global high-yield asset class may be attractive for a diverse range of investors. He also describes Western Asset's current global high-yield strategy and weightings, its security selection process, and its risk management techniques.
Q: Why global high-yield?
MB: A: Global high-yield portfolios provide greater diversification than a (US-centric) high-yield portfolio. The Barclays Global High-Yield Index includes 2,975 issues with a market value of $1.8 trillion, while the US high-yield market includes 2,025 issues with a market value of $1.2 trillion. In addition to the advantages associated with greater diversification, the global high-yield market has generated outperformance versus the US high-yield market, for example, over the last 10 years global high-yield has returned 9.46% versus 8.91% for US high-yield (as of June 30, 2013)1. Technical and fundamental factors specific to a region or sector that influence market pricing often create dislocations/inefficiencies that a global high-yield portfolio can take advantage of. Investment managers such as Western Asset—with a global presence and credit analysts on the ground in the US, Europe and emerging market (EM) countries—are positioned to take advantage of those opportunities.
Q: Isn't global high-yield dominated by the US?
MB: US high-yield is the largest component of the global high-yield market. However, almost 40% of the asset class is comprised of non-US issuers. Our current strategy is overweight the US, and underweight Europe and the UK, particularly financials. However, we have not avoided Europe altogether; some of our best returners have been European high-yield names. We are very selective within the region, focusing on those companies that appear a little bit more recession-resistant and that have management teams with a proven track record of navigating a company throughout a challenging business cycle.
We are also underweight EM sovereigns, favoring instead EM credit and global high-yield credit.
Q: Please elaborate on what criteria you use when selecting bonds.
MB: The first things we consider are the strength and credibility of the corporate management team. We want a personal rapport with them. Having credit analysts located on the ground in local areas is a huge advantage for us in this regard. Our analysts evaluate management creditability and monitor their capital-expenditure strategy, as well as how they are overseeing their balance sheets, what they're seeing in terms of outlook and what their plans are in terms of dealing with the debt load that they have.
Next, we do our own proprietary work. We want to make sure that the company can generate free cash flow to pay down debt and that the cash flow is sufficient to offset any heavy capital-expenditure projects. In addition, we are looking for relative value, i.e., value on a risk-adjusted basis. That's why we view short-dated high-yield as having an attractive risk/reward relationship.
Q: Please comment on the strategies of sector allocation.
MB: In terms of sector allocation, we start with our top-down view, based on both our macro inputs as well as our industry biases. Those top-down views then create our strategic portfolio or model portfolio. We use this as guidance or as a general barometer for how we're going to build the portfolio from the ground up.
Currently, we have a big overweight to energy, as this is a sector that we believe has strong fundamentals. We also believe the sector is going to see consolidation driven by investment-grade companies, with very large cash positions, looking to make strategic acquisitions within the exploration and production space.
A year ago, we were underweight financials. Since then we have increased that weighting close to market weight, before taking advantage of the sector rally to reduce it once more. This is a sector that we watch very closely, taking advantage when pricing is attractive.
We are overweight transportation, particularly shippers such as Hamburg-based Hapag-Lloyd and France's CMA, both of which have global reach. We are also overweight metals and mining. Conversely, we are underweight technology, and have been for a while, as a result of what we view as offering unattractive relative value—although this is not a position we would expect to have throughout an entire cycle.
Q: How does the strategy allocate to different credit quality ratings?
MB: We have a slight overweight to lower-rated paper. This is not necessarily lower-quality paper. Yields on BB rated bonds are currently around 5%, while yields for bonds rated CCC and below are 8.25% to 8.75%, or even higher. We think that yield disparity is too wide, given the very low level of defaults in the market.
As a result, we are overweight to CCC and below-rated securities, based on their yield advantage and low default expectations, and underweight BB rated high-yield debt, which we believe is more sensitive to rising rates. However, neither of these strategies is so significant as the positions we held two or three quarters ago. In addition, if we ever do start to get an upward movement in rates, we think some of the lower-rated securities offer better protection.
The strategy also has a healthy allocation to BBB rated bonds. Much of this comes from the EM credit side, as our EM credit team very much favors the low-BBB securities versus the BB rated credits within that space.
Q: In your view, are fundamentals still supportive?
MB: We believe the fundamental tailwinds in high-yield are strong. Our Global Credit Committee monitors several basic measures to gauge the overall fundamental health of the high-yield market, including interest coverage, spread per unit of leverage and the cash-to-debt ratio. These measures indicate that the market is still fundamentally very strong and we don't necessarily think that will change any time soon. We think default rates for 2013 are likely to be in and around the 2% to 2.5% range, which is well below historical averages.
Q: In your view, do high-yield bonds offer the same degree of protection to upward movements in interest rates as they have in the past?
MB: It's worth noting that in managing high-yield portfolios, duration typically doesn't matter too much. Rather than being an alpha decision that managers have to consider, duration just tends to be the by-product of the credit selection process. But we believe that this situation is different at the present time, so we are a little more cognizant of duration than in the past.
The high-yield market currently has a duration of approximately four years. However, if we break that down, it's really an average of two different markets. On one hand, there is the new-issue market that has a duration of around six to seven years, with relatively low coupons and roughly 10-year maturities. On the other hand, there is the callable bond market where coupons are high and bonds are trading above their call price. The average duration of that portion of the market is probably more in the range of two to two and a half years.
We want to have more of our portfolio exposure in that shorter duration market, since we believe the risk/reward trade-off for high-yield callable bonds is really compelling compared with some of the longer-duration high-yield paper.
Q: How are you managing risk?
MB: At present, we are using more hedges in our portfolio as we want to ensure that our investors are protected if we do get another pullback. That said, longer term, we believe that any kind of pullback is only going to generate more buy interest.
We use tail hedges to reduce systematic risk and market exposure. These include CDX, options on CDX and crossover indices.
One technical risk we are mindful of is liquidity risk. For example, while we have benefited over the past couple of years from retail and institutional inflows into the high-yield sector, we are mindful of the possible impact that a reversal would have and how it would manifest in terms of overall returns. For this reason, we want to have hedges in the portfolio that could protect us in a scenario whereby we get a short-term rapid reduction in overall market prices.
Q: What about technical factors?
MB: Refinancing has been a major story over the past 18 months or so. Currently, over 50% of high-yield issuance is for refinancing purposes according to Morgan Stanley, which we think is a very healthy and encouraging trend since it is linked to default risk. The more companies can pay down near-term debt and near-term maturities, the more that reduces near-term refinancing risk, which is one of the key risks of default to a high-yield issuer. We believe this trend of refinancing will continue, particularly because almost 50% of the market is trading above its call price, implying that these companies could refinance below their coupon right now.
Q: Where would you expect the key sources of return to come from?
MB: Over time, we'd expect about 35% of the strategy's alpha to come from top-down strategies like ratings positioning and industry allocation and the balance, about 65%, to come from individual bottom-up credit selections.
If we look at the high-yield market on a spread basis, we are fairly close to historical averages at present. As managers, we tend to believe that spread is more relevant than yield right now, especially since we've been told by various central banks that there is a proactive policy or desire to keep interest rates low for the foreseeable future.
In 2013, we also see the continuation of some of the trends we saw in 2012. Firstly, we believe that there is quite a bit of disparity when you look at any given sector between the bonds that perform best and worst within that sector. In other words, there is an emphasis on issue selection. We see a significant variation between the generic high-yield market and certain individual securities. Within the market, there are certainly very compelling opportunities that we remain very enthusiastic about.
Second, I don't think you're going to see one rating category dramatically outperform or underperform another rating category. I think it will be more on a case-by-case and credit-by-credit basis.
Third, we believe duration will matter. We think that within the high-yield market, the real outperformers are going to be shorter-dated callable bonds. In our view, these should offer some protection against any upward move in rates, while some of the new-issue credits, though very strong fundamentally, will be more strongly correlated with interest-rate movements.
Q: What kind of investor would be interested in global high-yield?
With interest rates still at historically low levels, investors concerned about rising rates and those looking for yield should consider global high-yield. The correlation between rising rates and global high-yield has traditionally been very low. Much of that has to do with the fact that rising rates are typically associated with an improving economic backdrop which historically helped improve high-yield company financial metrics. And for those investors looking for yield, today's spread differential between Treasuries and the global high-yield market is elevated. The yield-to-worst of the global high-yield index is approximately 5.4x's that of the US Treasury. That's well in excess of the historical average of 2.8x's.
Barclays Global High Yield Index; past performance is no guarantee of future results.
© Western Asset Management Company, LLC 2021. This publication is the property of Western Asset and is intended for the sole use of its clients, consultants, and other intended recipients. It should not be forwarded to any other person. Contents herein should be treated as confidential and proprietary information. This material may not be reproduced or used in any form or medium without express written permission.
Past results are not indicative of future investment results. This publication is for informational purposes only and reflects the current opinions of Western Asset. Information contained herein is believed to be accurate, but cannot be guaranteed. Opinions represented are not intended as an offer or solicitation with respect to the purchase or sale of any security and are subject to change without notice. Statements in this material should not be considered investment advice. Employees and/or clients of Western Asset may have a position in the securities mentioned. This publication has been prepared without taking into account your objectives, financial situation or needs. Before acting on this information, you should consider its appropriateness having regard to your objectives, financial situation or needs. It is your responsibility to be aware of and observe the applicable laws and regulations of your country of residence.
Western Asset Management Company Distribuidora de Títulos e Valores Mobiliários Limitada is authorised and regulated by Comissão de Valores Mobiliários and Banco Central do Brasil. Western Asset Management Company Pty Ltd ABN 41 117 767 923 is the holder of the Australian Financial Services Licence 303160. Western Asset Management Company Pte. Ltd. Co. Reg. No. 200007692R is a holder of a Capital Markets Services Licence for fund management and regulated by the Monetary Authority of Singapore. Western Asset Management Company Ltd is a registered Financial Instruments Business Operator and regulated by the Financial Services Agency of Japan. Western Asset Management Company Limited is authorised and regulated by the Financial Conduct Authority ("FCA") (FRN 145930). This communication is intended for distribution to Professional Clients only if deemed to be a financial promotion in the UK as defined by the FCA. This communication may also be intended for certain EEA countries where Western Asset has been granted permission to do so. For the current list of the approved EEA countries please contact Western Asset at +44 (0)20 7422 3000.