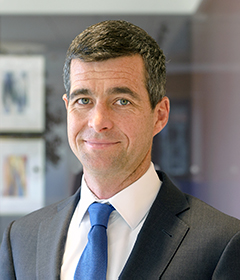 Policy Matters
Markets and US Political Developments
Investment Management Strategy Analyst John L. Bellows, PhD, considers a few recent developments out of Washington DC that may be relevant for markets.
Summary
The US federal deficit is declining rapidly, and is projected to continue declining through 2015. This is due to fiscal consolidation, an improving economy, and an end to the extraordinary countercyclical policies.
The debt limit will need to be raised by September, or possibly October. This has the potential to be disruptive for markets. But, our current outlook is cautiously optimistic due to a delayed deadline, a favorable precedent from the previous debt limit increase, and early indications that both parties are looking for a way out of their respective boxes. The debt limit negotiation is something to watch closely.
Corporate tax reform still seems like a long shot. Although there is bi-partisan support for pursuing some sort of corporate tax reform, the two parties are far apart on the most basic issues and corporate tax reform will inevitably create motivated opponents afraid of losing their loopholes.
President Barack Obama's choice for a new Federal Housing Finance Agency (FHFA) director is likely to be confirmed. This may mean more borrower-friendly policies from Fannie Mae and Freddie Mac, and more public discussion of future housing finance reforms. However, significant reforms of Fannie Mae and Freddie Mac require Congressional action, which does not appear imminent.
The next credit rating action remains a close call. We think there is a good chance that Moody's and Fitch will maintain their AAA ratings. The progress on the deficit has been substantial and policymakers deserve credit for avoiding any big blow-ups over the past few months; it seems likely the ratings agencies will acknowledge these positive developments.
Background
First, a short recap of what has happened in the past few months: The January 1 deal to avoid the fiscal cliff resulted in an increase in tax rates for upper-income taxpayers and an expiration of the payroll tax cut. Congress temporarily raised the debt limit in early-February without any real fighting (more on the debt limit below). Negotiations to address the sequester failed in late February and the sequester is now in effect. Congress avoided a government shut-down in mid-March and the government is now funded through September 30. Both the Senate and the House of Representatives passed budgets in April, which doesn't really have any impact, as neither budget has been passed into law. Policymakers are currently focused on immigration and gun control bills. While it hasn't been pretty (approval ratings for Congress and the President are both lower since January) DC policymakers have made it through the last few months without disrupting markets.
The Deficit is Declining Rapidly
Due to the fiscal consolidation that has been enacted over the past few years—tax increases, the sequester, etc.—as well as the continuing recovery of the US economy, US federal deficits are declining. The US deficit reached 10% of GDP in FY2009 and remained close to that level in FY2010 and FY2011. In FY2012 the deficit declined to 7%. The CBO projects the deficit will decline to 4.0% in FY2013, and continue falling for two more years, reaching 2.1% in FY2015.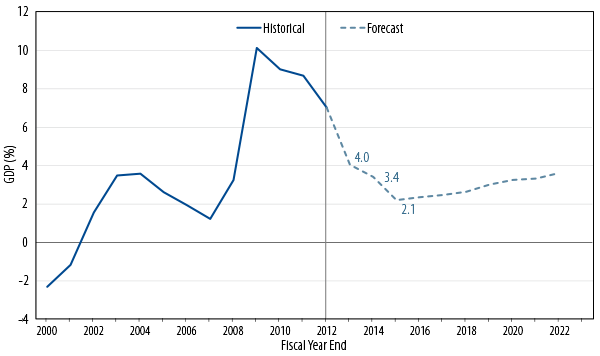 Debt Limit
The debt limit remains one of the most difficult problems facing DC policymakers. Neither party likes to vote to increase the debt limit, and posturing on both sides has created a potentially zero-sum negotiation. The impact of not raising the debt limit is uncertain, and there is a possibility of a severely negative impact in the case of failure. As a consequence, the negotiations around the debt limit have the potential to disrupt markets sometime in the second half of 2013. However, our initial outlook for the debt limit is cautiously optimistic, and right now the risk of an acrimonious negotiation or failing to raise the debt limit seems relatively low, due in great part to the following:
Previous debt limit increase set a good precedent: In early February Congress raised the debt limit in a no-strings-attached bill and without any real fighting. At the time, it appeared that neither side had an appetite for a high stakes negotiation. This suggests that the politics around the debt limit may have shifted, and that policymakers now view the debt limit as something to get through rather than to take advantage of. To the extent that this sets a precedent for the next debt limit increase, it was very positive.
Next debt limit deadline delayed until September, possibly October: US Treasury debt officially reached its statutory limit on May 18, after which the U.S. Department of Treasury began using its "extraordinary measures" to continue borrowing for a number of months. The exact timing of when those "extraordinary measures" will be exhausted is uncertain, because it depends on the amount of government revenues and spending over the coming months. Private economists currently estimate that the "extraordinary measures" will be exhausted sometime in September, with the possibility that they last into October.1 There are a few factors that are contributing to the delayed deadline: (1) the deficit is coming down, due to higher tax revenues and lower spending; (2) Fannie Mae will make a one-time $50 billion payment to the US Treasury in 2Q13 related to its deferred-tax asset; and (3) the timing of the tax revenues is such that if the Treasury can make it to September 15, the quarterly corporate tax payments that it receives on this date will carry it to early October.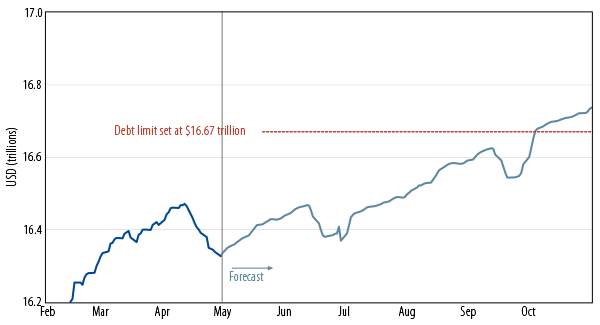 Delay has some positive implications: The delayed deadline is a potentially positive development for the upcoming negotiations. Because of the delay, the debt limit will likely coincide with the expiration of government funding at the end of FY2013, so Congress will need to pass a new budget at the same time it has to raise the debt limit. Having the two deadlines coincide may make it possible for the White House to negotiate on a broader package without abandoning its position that it won't negotiate around the debt limit. This could help the White House save face while still giving the Republicans what they are looking for. In addition, the coincidence of the two deadlines may make horsetrading somewhat easier.
Republicans may soften their negotiating position: In the past, House of Representatives Speaker John Boehner said that he would demand "dollar-for-dollar" spending cuts in exchange for a debt limit increase.2 This position has led to a stalemate because the White House refuses to cut spending without simultaneously raising taxes. However, a few recent press stories have suggested that the Republicans may be willing to shift their negotiating position to something that has a better chance of being agreeable to the White House. For example, they may shift to demanding a corporate tax reform process in exchange for a debt limit increase. This too has hurdles (see below on corporate tax reform), but would be a significant improvement over the "dollar-for-dollar" request. To be clear, it is still very early and the Republican strategy is far from final, and they are only planning at this stage. The more important point is that Republicans appear to be looking for ways to move off their "dollar-for-dollar" demand, and will potentially adopt a more reasonable negotiating position. This is a positive development and bodes well for the process.
Prioritization will not become law: On May 9, the House of Representatives passed a bill that would require the Treasury to prioritize debt interest payments in the case that the debt ceiling was not raised. This bill will not pass the Senate, and therefore will not become law. The White House will maintain its position that failing to raise the debt limit would be extremely disruptive and damaging for US credit. Many business groups, including the Business Roundtable, appear to agree with the White House on this point. Without a prioritization bill, Republican leverage around the debt limit is significantly reduced.
There are a few reasons to be optimistic about the next debt limit increase: (1) the precedent from the last increase; (2) the deadline will likely be delayed, giving policymakers more time to figure things out; and (3) the Republicans appear to be actively looking for ways out of the box, and some of the initial ideas appear feasible. However, it is still early and a lot can happen between now and September. This negotiation will be important to watch going forward.
Corporate Tax Reform Still a Long Shot
Both Republicans and Democrats have said that they would like to rewrite the corporate tax code to "broaden the base and lower the rate." Last month Democratic Senator Max Baucus, the Chair of the Finance Committee, announced he would not run for re-election in 2014, which will possibly make it easier to cut a deal on tax reform. Republican Representative Dave Camp has drafted a number of proposals and shared them with the Treasury department. In theory, this could all be the foundation for corporate tax reform sometime this year.3 However, in spite of all this, comprehensive corporate tax reform still seems a long ways off. There are some very important differences between the two parties: Democrats want reform to be "revenue neutral" while Republicans want to reduce total revenue. In addition, the process of cutting loopholes will inevitably create some very unhappy constituencies that will lobby hard against losing their loopholes. Finally, policymakers are currently struggling with non-fiscal issues (immigration and guns) and there is very little sign of a "thaw" between the two parties in DC.
FHFA Director Nominee Likely to be Confirmed
President Obama has nominated Representative Mel Watt to be the new director of the FHFA (the regulator for Fannie Mae and Freddie Mac). While the Senate confirmation process will be contentious (some Republicans have already voiced their disapproval), Watt does have some bipartisan support, including from the Republican Senator Richard Burr, and the odds of him being confirmed appear to be better than 50/50. Should Watt be confirmed, there would be two market implications. First, Fannie Mae and Freddie Mac policy may become more borrower-friendly in HARP and in mortgage modifications. Our MBS Team thinks this could include a change in the HARP cutoff date, which would negatively impact higher coupon MBS. Including principal write-downs in mortgage modifications is unlikely to have a big impact on Agency MBS. Second, Congress may start a more serious discussion of housing finance reform.
Fannie Mae and Freddie Mac Reform a Ways Off
The Mel Watt confirmation process will re-start discussions about what to do with Fannie Mae and Freddie Mac. There has not been any legislative progress on this since the Treasury released a white paper in early 2011. In the absence of legislative action, the FHFA has been quietly making progress on reform. This has included winding down the retained portfolio, setting up a new, joint securitization platform, raising guarantee-fees to more accurately reflect the credit risk, and most recently, exploring ways to share risk with private investors through issuing non-guaranteed MBS. All of this is positive, but the FHFA cannot fully reform Fannie Mae and Freddie Mac without Congress. Congressional action is not imminent for a few reasons: (1) there is no real agreement on what should replace Fannie Mae and Freddie Mac; (2) the housing market is still fragile and policymakers will be nervous about disrupting the nascent recovery; and (3) it is not anybody's priority right now. Until Congress turns to housing finance reform in a more focused way, Fannie Mae and Freddie Mac will remain in government conservatorship and the government role in the mortgage market will remain exceptionally large.
Credit Rating Agencies
On March 6 we wrote: "The outlook for the US rating depends on how the negotiations go over the next few months. If the sequester (or some version of the sequester) stays in place and policymakers avoid a government shutdown, then there is a chance that Moody's and Fitch will maintain the AAA credit rating. In [our] view, this is a close call either way, and very much dependent on events." Both of the events referenced—the sequester staying in effect and avoiding a government shutdown—have materialized, and therefore there is a good chance that Moody's and Fitch maintain the AAA rating (S&P is unlikely to upgrade its rating). In particular, the recent budget estimates from the CBO suggest a much improved US fiscal situation, although challenges still remain in the long run. The ratings action remains a close call, but the progress on the deficit has been substantial and policymakers deserve credit for avoiding any big blow-ups over the past few months. It seems likely that the ratings agencies will acknowledge this progress.
© Western Asset Management Company, LLC 2022. This publication is the property of Western Asset and is intended for the sole use of its clients, consultants, and other intended recipients. It should not be forwarded to any other person. Contents herein should be treated as confidential and proprietary information. This material may not be reproduced or used in any form or medium without express written permission.
Past results are not indicative of future investment results. This publication is for informational purposes only and reflects the current opinions of Western Asset. Information contained herein is believed to be accurate, but cannot be guaranteed. Opinions represented are not intended as an offer or solicitation with respect to the purchase or sale of any security and are subject to change without notice. Statements in this material should not be considered investment advice. Employees and/or clients of Western Asset may have a position in the securities mentioned. This publication has been prepared without taking into account your objectives, financial situation or needs. Before acting on this information, you should consider its appropriateness having regard to your objectives, financial situation or needs. It is your responsibility to be aware of and observe the applicable laws and regulations of your country of residence.
Western Asset Management Company Distribuidora de Títulos e Valores Mobiliários Limitada is authorized and regulated by Comissão de Valores Mobiliários and Brazilian Central Bank. Western Asset Management Company Pty Ltd ABN 41 117 767 923 is the holder of the Australian Financial Services Licence 303160. Western Asset Management Company Pte. Ltd. Co. Reg. No. 200007692R is a holder of a Capital Markets Services Licence for fund management and regulated by the Monetary Authority of Singapore. Western Asset Management Company Ltd is a registered Financial Instruments Business Operator and regulated by the Financial Services Agency of Japan. Western Asset Management Company Limited is authorised and regulated by the Financial Conduct Authority ("FCA") (FRN 145930). This communication is intended for distribution to Professional Clients only if deemed to be a financial promotion in the UK as defined by the FCA. This communication may also be intended for certain EEA countries where Western Asset has been granted permission to do so. For the current list of the approved EEA countries please contact Western Asset at +44 (0)20 7422 3000.