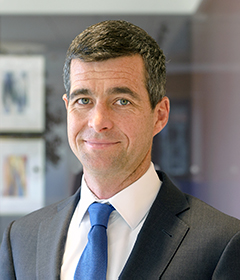 Policy Matters
Fed Update: Don't Write Off 2015 Just Yet...
The market's outlook for Federal Reserve (Fed) hikes in 2015 has shifted dramatically since the beginning of the year. The reasons for the change in sentiment are well known. US inflation remains below levels that would make the Fed "reasonably confident" about the prospects for price stability. Growth has downshifted from a heady pace of 4% in the middle of last year to a much more subdued pace of around 1% in 1Q15. And the most recent Fed-speak has taken a decidedly dovish tone, including the Fed pushing out its own expectations for when the first hike will occur. In this context, it is perhaps not surprising that some commentators have started to wonder whether 2015 will turn out to be another year when short-term interest rates remain pinned at zero.
While there is certainly continued scope for low inflation to concern the dovish Fed, we think it's premature to write off 2015 completely. Our view has been that the Fed has a strong desire to continue its process of normalizing monetary policy, and it seems likely that the conditions will be met for the Fed to do so later this year.
Three considerations point to an increase in short-term interest rates coming later this year. First, the Fed has lowered its expectations for growth and inflation, and the new set of expectations looks much more realistic. Simply put, if growth and inflation come in more or less as the Fed expects, then the Fed will likely proceed with hikes more or less as it has guided. Second, the sharp appreciation in the US dollar likely contributed to the Fed's dovish shift at its March meeting. If the dollar were to continue its torrid appreciation, then the Fed could very well push back again. Conversely, if the dollar appreciation were to slow, then the Fed would see less reason to delay. Third, in a recent speech Fed Chair Janet Yellen made an affirmative case for raising rates later this year. Such a direct signal from the Fed chair needs to be taken into consideration.
Even if short-term interest rates increase later this year, as we currently expect them to, we don't think such a move will represent much of a sea change for the Fed. Its stance is likely to remain dovish. The Fed is keenly aware of the risks of tightening prematurely—risks that are heightened today because of the persistently weak underlying growth outlook and because rates are at the zero lower bound—and as such, it is unlikely to over-tighten or do anything that jeopardizes the recovery.
The Fed's Outlook
At the beginning of the year the Fed's forecast for accelerating inflation looked to be offside. Inflation had started to move lower in 4Q14, and by early January, it was clear that inflation had much further to fall, especially considering the continued declines in oil prices and increases in the US dollar. The prospect for a significant downside miss relative to its inflation forecast was a key reason why we started the year expecting that the Fed would not hike in June.
Since then the Fed has made a major downward revision to its inflation forecast, "marking it to market" so to speak. The extent of its revisions are apparent in Exhibit 1. In contrast to its previous forecast for an acceleration in inflation, its current forecast has inflation moving sideways in 2015, and then increasing in 2016 and 2017. While we are somewhat skeptical about the forecast for a move higher in 2016 and 2017, a sideways move in inflation this year seems realistic, and anyway, is substantially more likely than the previous forecast for an acceleration.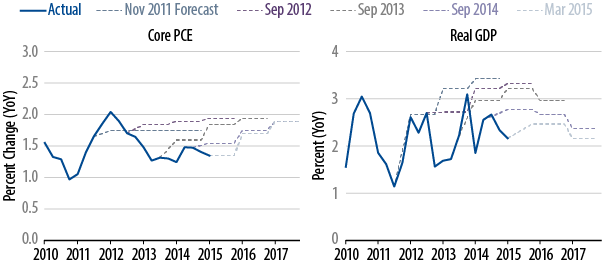 The Fed also lowered its growth forecast to 2.5% for 2015. As is apparent from Exhibit 1, this is the lowest growth forecast that the Fed has ever made for year-ahead growth, and suggests that the persistent misses on growth have finally started to be incorporated in the Fed's forecasting process. The Fed's forecast is now at the upper-end of our own expectations—we expect growth to remain in the same 2% to 2.5% range that it has been in for the past few years—but it is much more realistic than the previous forecast.
The importance of the Fed's forecasts shouldn't be overstated. Forecasts can and will change, and the Fed has missed on its growth forecasts in the past with no obvious consequences. Nevertheless, we think there is some signal value in the Fed's forecast. In particular, the Fed's forecast sets the bar that the data must clear in order to justify an increase in interest rates. If the inflation and growth data clear the bar, or are even in the vicinity of it, then the Fed may feel justified in proceeding with the hikes. Now that the bar has been substantially lowered, there is a better chance the data will clear, and the Fed will proceed as it has guided.
The US Dollar and the Fed
The sharp appreciation of the US dollar has been one of the most consequential developments over the past few months. On a broad trade-weighted basis, the US dollar has appreciated by approximately 20% since last summer (Exhibit 2). Aside from a short-lived, flight-to-safety-fueled rally during the depths of the financial crisis, the US dollar has moved this much only during the bull markets of the early 1980s and the late 1990s.
The standard view is that a currency appreciation lowers domestic growth (exports suffer while imports increase, which widens the trade deficit) and lowers domestic inflation (the dollar prices of imported goods decline, which puts downward pressure on a large set of consumer goods). Recent comments from Fed speakers indicate that their analysis is in line with this standard view. In recent remarks, Chair Yellen highlighted both a "weaker outlook for net exports" and "lower import prices" as contributors to the change in the Fed's outlook for 2015.
Using the Fed's own macroeconomic model we can get a sense of just how much the dollar appreciation contributed to the change in the Fed's outlook. According to estimates published online1, the Fed's macroeconomic model predicts that a 10% increase in the US dollar will reduce growth by three-fourths of a percentage point over 2 years and will lower Core PCE inflation by one-quarter to one-half of a percentage point over 2 years. As a consequence of lower growth and inflation, the Fed's model says that a 10% increase in the dollar will lead to a three-quarters to a full percentage point decrease in the optimal fed funds rate over 2 years. From December to March, the Fed marked down its forecast for optimal fed funds by a little more than half of a percentage point, which is surprisingly close to the response suggested by its model, given the dollar appreciation that occurred over that time.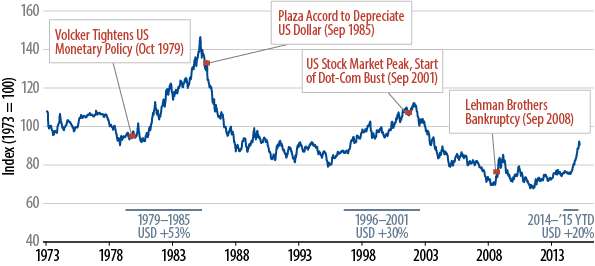 The exact implications of the dollar rally depend crucially on what is causing it, which of course is a matter of debate. More importantly for the current discussion is that the Fed appears to have responded to the strengthening dollar by pushing back rate hikes. This creates a feedback loop between the dollar and the Fed that may in turn take some steam out of the dollar rally. In fact, the dollar has taken a pause and is actually down slightly from its peak before the March Fed meeting. We expect that the path of the dollar will continue to matter for the Fed. If the dollar's appreciation in the months ahead were to be slower than the meteoric pace of 1Q15, then the Fed would have more confidence in proceeding with rate hikes later this year.
Yellen's Case for Rate Hikes This Year
In a recent speech Chair Yellen said "…I expect that conditions may warrant an increase in the federal funds rate target sometime this year." This is a remarkably direct statement from a Fed chair. Of course Yellen's speech contained the usual caveats and qualifiers, as should be expected from any policymaker concerned with preserving optionality, but the fact remains that Yellen is now definitively on record as supporting rate hikes later this year.
There are two parts to Yellen's argument. First, Yellen believes that the Fed will meet both its mandate for full employment and for price stability in the next few years. The labor market improvement has been substantial, in Yellen's opinion, and she expects that a tighter labor market will eventually lead to accelerating inflation. Her view that the labor market has improved is not especially controversial, as the unemployment rate is now near estimates of normal (Exhibit 3). There is considerably more uncertainty about the link between the labor market and inflation, but Yellen's assessment is that this link is supported by "a substantial body of theory" and "informed by considerable historical evidence."
The second part of Yellen's argument has to do with timing and whether a hike this year will be appropriate, considering that inflation will likely be below mandate-consistent levels all year. In defense of hiking before both mandates are met, Yellen pointed out that monetary policy will remain accommodative even after the first hike. While this is true, it is not a very compelling reason for hiking now versus waiting to hike later. Yellen's stronger argument is that by hiking before the mandates are reached, the Fed reduces the chances of either a disruptive rise in inflation or an unsustainable buildup in risk-taking. There is nothing new in Yellen acknowledging the trade-off between keeping monetary policy accommodative for too long, which risks inflation and inappropriate risk taking, and tightening monetary policy prematurely, which risks damaging the recovery. What is new is that Yellen is now indicating some concern about staying at zero for too long, which says something about how she views that trade-off in the current environment.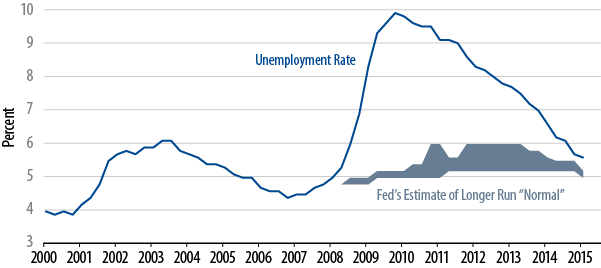 Of course, there is room to disagree with Yellen's views. The link between the labor market and inflation may not be as robust as Yellen thinks it is, and the risks of a premature tightening may outweigh the risks to staying at zero for too long. Whether or not Yellen is right on these points will be consequential over the coming years. However, for the purposes of anticipating when the first hike will come, it's enough to know that, in Yellen's opinion, the Fed is on track to meet its mandates and prudent risk management suggests the Fed should start the hiking cycle before those mandates are actually met. Absent a significant change in the data or the risk environment, it seems likely that this will continue to be Yellen's view when the Fed considers raising rates later this year.
Conclusion and Market Implications
Just because we expect the Fed to increase short-term interest rates does not mean that we expect the Fed to suddenly become hawkish. Far from it. We expect the Fed will maintain a dovish stance even after the first increase in interest rates, and that it will be quick to ease policy in response to any re-emergence of growth concerns. Since the start of the financial crisis, the Fed has been aggressive in providing accommodative monetary policy to boost growth, and this has contributed to the US being the bright spot in the global economy. The Fed is unlikely to jeopardize its record by doing anything that could potentially derail the recovery.
The dovish shift from the Fed at its March meeting underscores this point. In response to a deteriorating inflation outlook and a stronger dollar, the Fed shifted out its path of expected interest rate increases. This is exactly the response we would expect from a cautious and dovish Fed, and we see no reason why its responsiveness to economic or financial developments will decrease in the future.
There are a few implications of our Fed view for markets and for portfolios. First, we are wary of market pricing on the very front end of the yield curve, especially as there has been a notable uptick in the market-implied probability that the Fed will not hike at all this year. However, as our CIO Ken Leech said in his recent commentary, our wariness on the level of yields has not translated into a decisive negative duration position because we feel there are other, better areas with the potential to add value. More relevant for our portfolios is our view that the Fed remains ready to respond to weaker growth with easier monetary policy. If true, then interest rate duration will provide a useful diversifier to credit positions. A final point is that we see little risk of the Fed making a "policy mistake" by tightening so much that it damages the US economy. To the extent that this was a concern of some market participants, there may be a compression in risk premium as it becomes increasingly clear that the Fed will not make such a mistake. US credit and emerging market bonds seem well positioned to benefit from any compression in risk premium.
© Western Asset Management Company, LLC 2022. This publication is the property of Western Asset and is intended for the sole use of its clients, consultants, and other intended recipients. It should not be forwarded to any other person. Contents herein should be treated as confidential and proprietary information. This material may not be reproduced or used in any form or medium without express written permission.
Past results are not indicative of future investment results. This publication is for informational purposes only and reflects the current opinions of Western Asset. Information contained herein is believed to be accurate, but cannot be guaranteed. Opinions represented are not intended as an offer or solicitation with respect to the purchase or sale of any security and are subject to change without notice. Statements in this material should not be considered investment advice. Employees and/or clients of Western Asset may have a position in the securities mentioned. This publication has been prepared without taking into account your objectives, financial situation or needs. Before acting on this information, you should consider its appropriateness having regard to your objectives, financial situation or needs. It is your responsibility to be aware of and observe the applicable laws and regulations of your country of residence.
Western Asset Management Company Distribuidora de Títulos e Valores Mobiliários Limitada is authorized and regulated by Comissão de Valores Mobiliários and Brazilian Central Bank. Western Asset Management Company Pty Ltd ABN 41 117 767 923 is the holder of the Australian Financial Services Licence 303160. Western Asset Management Company Pte. Ltd. Co. Reg. No. 200007692R is a holder of a Capital Markets Services Licence for fund management and regulated by the Monetary Authority of Singapore. Western Asset Management Company Ltd is a registered Financial Instruments Business Operator and regulated by the Financial Services Agency of Japan. Western Asset Management Company Limited is authorised and regulated by the Financial Conduct Authority ("FCA") (FRN 145930). This communication is intended for distribution to Professional Clients only if deemed to be a financial promotion in the UK as defined by the FCA. This communication may also be intended for certain EEA countries where Western Asset has been granted permission to do so. For the current list of the approved EEA countries please contact Western Asset at +44 (0)20 7422 3000.