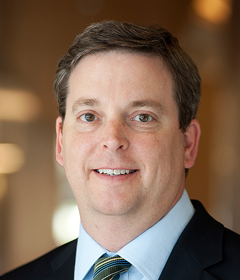 Opportunities in Middle Market Debt
Executive Summary
In US credit markets, one area of continued focus at Western Asset is the upper end of the middle market, composed of issuers with up to $1 billion in annual sales.
While these securities are less liquid than high-yield bonds as a comparison, we believe the package of terms available in these issues can provide attractive returns, particularly in a market where investors seek higher current income.
The package of terms can include seniority, security, shorter maturities, significant call protection and negotiated covenants.
It takes specialized resources to source, negotiate, close and monitor middle market investments.
When one door is closed, don't you know, another is open ~Bob Marley
At Western Asset, middle market debt specifically means debt issued primarily by US companies that posted revenues last year of less than $1 billion. These are generally smaller companies than those we see in the high-yield bond market and the syndicated term loan market. We characterize these issuers with up to $1 billion of revenues as the upper end of the middle market, which is adjacent to high-yield. With middle market debt currently producing approximately 8.0% to 8.5% in annual net cash distributions, and featuring significantly more investor-friendly terms, there seem to be many potential appropriate applications for the investments. We believe that middle market debt can be attractive as a single-asset class investment or part of a broader multi-sector portfolio depending on the investor's needs and objectives.
Of course middle market debt investments are not as liquid as, say, high-yield debt, since there is a less developed secondary market in this area. Each issuance is unique. Over time, however, we have seen the interest rates on middle market debt include a premium for this perceived illiquidity from 1.00% to 3.50%, in addition to other enhancements such as shorter term, better call protection and stronger covenants.
The debt from these issuers comes in various structures—on the less risky end of the spectrum, some first-lien senior secured floating rate term loans with amortization schedules and maintenance covenants, and on the other end, higher potential return and higher risk investments in junior unsecured subordinated notes with perhaps some equity-linked securities, such as warrants, attached. Among these options, at Western Asset we are finding attractive value in the secured and unsecured senior notes segment of the upper end of the middle market. These are generally five- to seven-year maturity senior notes; about half of the time the investor gets security through a lien on all the issuer's hard assets, and the notes pay cash interest of 8% to 12% per year, with most in the 8% to 10% area. The indentures governing these notes contain negotiated covenants designed to offer investors more and better protection than we see in the high-yield bond and syndicated term loan markets. Typically, there is little debt senior to the notes, most likely just a small revolving credit facility used for temporary working capital purposes. This structure can compare favorably from a risk-return perspective with the larger, more liquid high-yield market, which we also find attractive. Exhibit 1 provides some description of this upper end of the middle market by comparing the terms on a typical issue to the better known high-yield bond market.
Frequently these middle market issuers—while smaller companies than their big brothers in the high-yield market—show lower leverage and higher interest coverage metrics. While many of these issuers may be rated in the CCC and Caa categories by S&P and Moody's, respectively, Western Asset's experience with defaults and recoveries has shown us that investors can get the better part of the bargain, in many cases, by including investments in middle market debt in diversified fixed-income portfolios and/or including an allocation to a pure middle market fund in a broad portfolio.
Based on several long-term market trends, we have been increasing our investing in middle market debt since 2010. To date, the results have been very favorable. The middle market debt opportunity—like other areas of the credit markets—has tightened since 2010. We believe the investment opportunity is still compelling, and while markets always evolve, we do not foresee any changes that will significantly reduce the opportunity. Two key factors driving our focus on middle market debt are the decrease in lending after the financial crisis by traditional bank lenders, and the growth of the high-yield market and a commensurate increase in the average issue size. These trends have left companies looking for $75 million to $250 million of debt with fewer alternatives.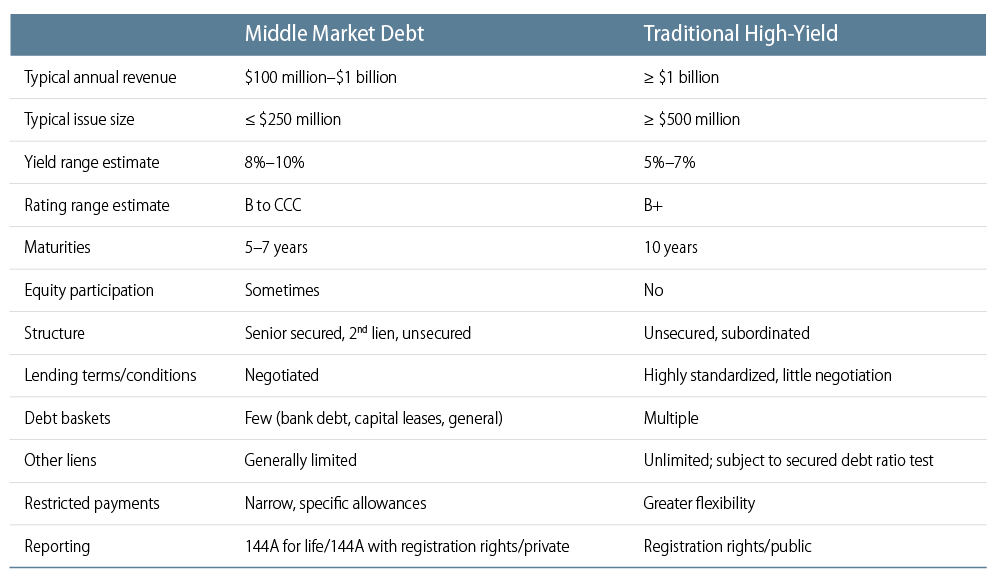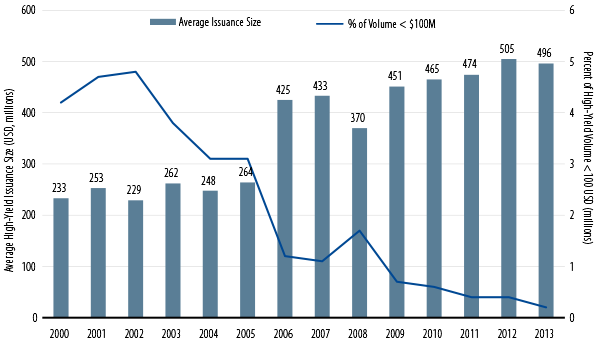 Western Asset is not alone in recognizing middle market companies' need for financing, and there is some focus on this space from alternative credit providers, including some middle market collateralized loan obligations (CLOs), the financing arms of private equity groups, private and public business development corporations or "BDCs," some high-yield investors and credit hedge funds. While each of these lenders focuses on a specific area or structure, all share the notion that the middle market is marked by less competition among lenders, and recognize the chance to customize the terms of an investment including interest rate, maturity, call protection and key covenants through a negotiation with the issuer. With the benefit of their proprietary underwriting experience, lenders in the middle market space perhaps put less emphasis on the output of the rating agencies in making their investment decisions and monitoring portfolio risk on an ongoing basis. In our view, some middle market issuers are given CCC ratings based solely on the size of the business, without accounting for the actual credit metrics.
Navigating this asset class presents a variety of challenges. It requires the ability to source deals, analyze businesses, and evaluate management teams—all with the perspective of experience and expertise that is specific to the leveraged finance asset class generally and particular industries more specifically. It requires wisdom and prudence in negotiating terms with issuers, along with the earned credibility that provides strength when negotiating. It requires the ability to effectively analyze the less liquid characteristics of the asset class, and to structure portfolios and manage trading needs in light of that risk. However, it also requires a recognition that the facts and circumstances of issuers can change. They can grow and become part of the broader high-yield market which requires familiarity with managing more liquid and larger transactions for larger and more complex issuers. Issuers can also falter and struggle, requiring effective workout management and restructuring situations. In addition to the investment management perspective, legal knowledge and support is often critical as well. Western Asset believes its depth of experience and skill sets uniquely position it to be an effective manager of middle market debt investments.
Western Asset has been investing in this space for a long time, and with particular emphasis since 2010. In the last four years we have seen some trends in pricing and terms becoming less attractive to investors. This is expected in the context of what we see in credit markets overall, but on balance the opportunity here still looks attractive. There has certainly been greater deterioration in the value of potential investments in the high-yield and syndicated term loan markets. As investors everywhere search for higher income in a low interest rate environment, they have poured money into high-yield and bank loans, but with a commensurate decrease in the value offered to investors. It takes time and specialized expertise to build a middle market debt portfolio; while not completely immune to the trends in credit markets, we have found middle market to be somewhat less correlated.
We are regularly asked "How big is this market?" along with the companion question "How much money could you put to work?" We don't have a specific answer to how big the market is; at present there is no middle market index for the notes and loans that Western Asset is buying. We are focused on the upper end of the middle market, but we believe even that sub-segment is very large. By the broader traditional definition of the middle market, these companies generate over a third of US GDP and employ 18.6 million people. In terms of how much can be invested, depending on current market conditions and particular investor guidelines, we think that we can invest up to $500 million in middle market assets over a given 60- to 90-day ramp up period. We believe that we can utilize both the primary and secondary markets to construct a portfolio of approximately 100 names with attractive issuer and industry diversification in approximately two to three months.
Conclusion
Since the onset of the financial crisis, Western Asset has increased its focus on investing in middle market debt, and we continue to see attractive value and opportunity in the sector.
The terms of the notes issued by companies with under $1 billion in revenues can contain terms that offer attractive potential returns versus the credit risk. These financing transactions are often highly-negotiated between a small group of investors and the issuing company.
We believe that Western Asset's strong credit culture, significant research, legal, and trading infrastructure position us well to invest in middle market debt.
In the current low interest rate environment, a portfolio allocation to middle market debt can provide meaningfully higher income, in the 8% to 8.5% area to a fixed-income investor.
© Western Asset Management Company, LLC 2021. This publication is the property of Western Asset and is intended for the sole use of its clients, consultants, and other intended recipients. It should not be forwarded to any other person. Contents herein should be treated as confidential and proprietary information. This material may not be reproduced or used in any form or medium without express written permission.
Past results are not indicative of future investment results. This publication is for informational purposes only and reflects the current opinions of Western Asset. Information contained herein is believed to be accurate, but cannot be guaranteed. Opinions represented are not intended as an offer or solicitation with respect to the purchase or sale of any security and are subject to change without notice. Statements in this material should not be considered investment advice. Employees and/or clients of Western Asset may have a position in the securities mentioned. This publication has been prepared without taking into account your objectives, financial situation or needs. Before acting on this information, you should consider its appropriateness having regard to your objectives, financial situation or needs. It is your responsibility to be aware of and observe the applicable laws and regulations of your country of residence.
Western Asset Management Company Distribuidora de Títulos e Valores Mobiliários Limitada is authorised and regulated by Comissão de Valores Mobiliários and Banco Central do Brasil. Western Asset Management Company Pty Ltd ABN 41 117 767 923 is the holder of the Australian Financial Services Licence 303160. Western Asset Management Company Pte. Ltd. Co. Reg. No. 200007692R is a holder of a Capital Markets Services Licence for fund management and regulated by the Monetary Authority of Singapore. Western Asset Management Company Ltd is a registered Financial Instruments Business Operator and regulated by the Financial Services Agency of Japan. Western Asset Management Company Limited is authorised and regulated by the Financial Conduct Authority ("FCA") (FRN 145930). This communication is intended for distribution to Professional Clients only if deemed to be a financial promotion in the UK as defined by the FCA. This communication may also be intended for certain EEA countries where Western Asset has been granted permission to do so. For the current list of the approved EEA countries please contact Western Asset at +44 (0)20 7422 3000.