KEY TAKEAWAYS
MAC portfolios were well positioned to capture the value opportunities that presented themselves during the recent selloff.

Since the selloff, MAC portfolios have been active in riding the wave of economic reopening and refinancing activity across credit markets to deliver strong performance results.

Against the backdrop of potentially rising rates, MAC portfolios have a healthy allocation to bank loans, CLOs and structured credit.

The key benefit of a multi-sector bond strategy such as MAC is its ability to adapt quickly to changing market environments.

Given the uncertainty around the future of macro conditions, policy and valuations, we think diversification, flexibility and adaptability are all crucial elements that investors should look for in an income-generating solution such as MAC.
Just over a year has passed since markets were broad-sided by the COVID-19 pandemic. As we have commented upon in various reports, the comeback from the lows of March 2020 has been spectacular and in line with our views around the drivers supporting a sharp rebound in sentiment: a forceful policy response by central banks and governments globally, the advent of vaccines and the transition of power in the US. Multi-Asset Credit (MAC) portfolios were well positioned to capture the value opportunities that presented themselves during the selloff and have been active in riding the wave of economic reopening and refinancing activity across credit markets to deliver strong performance results.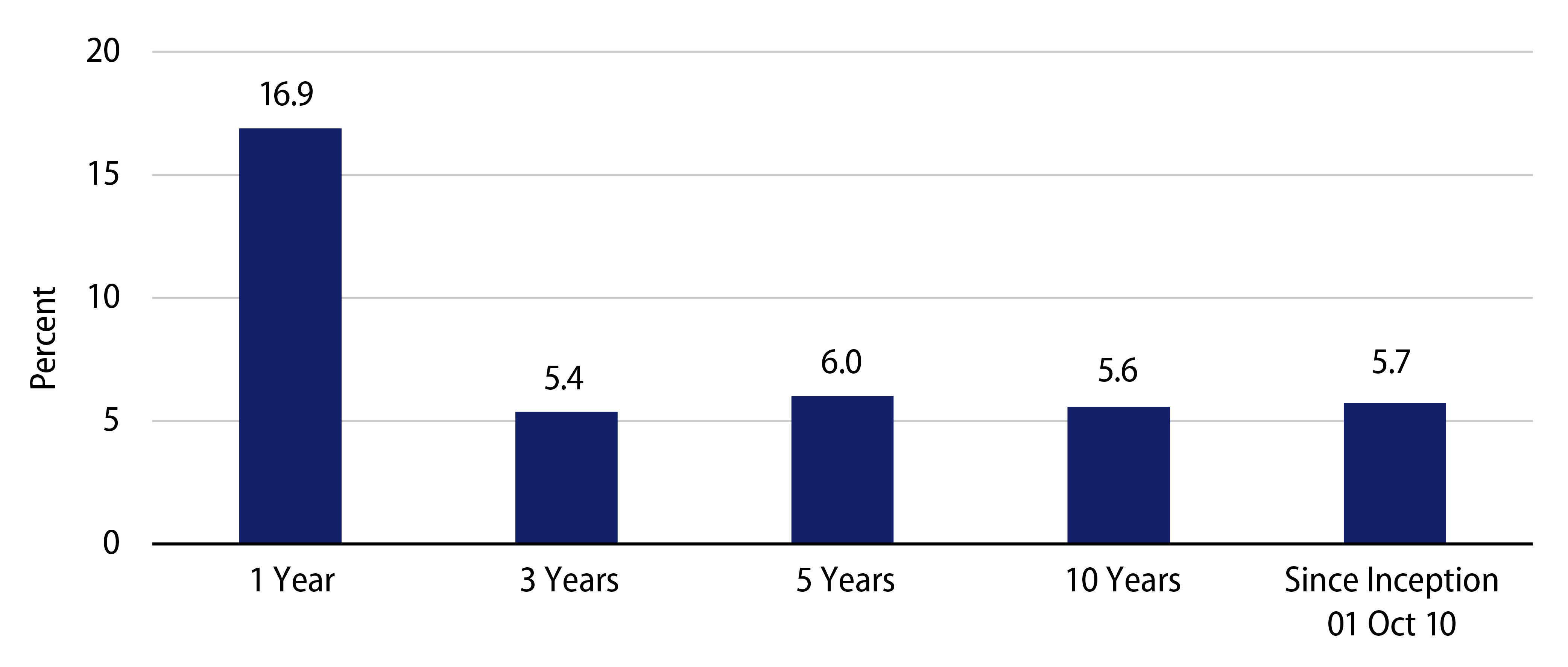 So where do we go from here? It's fair to say that there are still plenty of risks to worry about. First, we have the ongoing COVID-19 pandemic, which is still a nightmare in many places around the world with the proliferation of new mutations and variants. While we've seen a lot of progress on vaccine development over the past year, the rollout process across countries has been erratic. Emerging markets (EM), in particular, are experiencing tremendous challenges in accessing vaccines and dealing with surges of infections.
Second, global growth prospects are indeed improving as economies such as the US and Europe continue to reopen, but the overall path to recovery remains fragile. Governments and central banks have been forceful in responding to pandemic-related shocks and lockdowns, but we believe they'll need to remain highly accommodative for the next several years to address the secular forces that were already weighing on global economic activity before Covid appeared—specifically, the deflationary effect of high government debt burdens, the tendency for higher savings due to aging demographics and the displacement of labor by technological advances.
Third, markets have stormed back from the global depression mentality that prevailed during the lows of last year. This has been a welcome development, but valuations in some sectors are now trading at or through pre-Covid levels, raising concerns that markets may be too forward-looking or too optimistic given the macro risks we're facing, and vulnerable to any abrupt shifts in the interest-rate environment.
Despite all of these headwinds, we think risk assets still look attractive for a number of reasons. In the US, we're expecting to see a healthy growth bounce in 2021 and as we move into 2022. Looking back to 2020, real GDP declined 10% over the first half of the year and rebounded 8.5% over the second half to put full-year GDP at -2.5%. To get back to the pre-pandemic annual growth trend of 2.3% (which we observed from 2014 to 2019), 2021 growth will have to come in around 7.5%, which we think is achievable and is our estimate for this year. We would note that this is a unique recession, in which fiscal policy and increased saving have had a positive impact on the financial health of the US consumer, and in which the corporate sector has been supported by monetary policy and prudent balance sheet management. Both consumers and corporates are arguably better positioned today than they were pre-Covid.
This macro backdrop is very supportive for corporate credit, which continues to be a core holding in MAC portfolios. We recognize that both investment-grade and high-yield have completed their round trip back to where they began 2020, but we still see attractive income-generating potential and room for additional spread compression in those industries poised to benefit from a reopening of the economy, for example airlines, energy and transport to name a few. From a fundamental standpoint, corporate balance sheet strength is encouraging: 2020 was a record year for issuance, with companies aggressively refinancing near-term debt and putting cash on their balance sheets. Companies, in general, now have lower impairment risk and are better protected in the event of another capital markets shutdown. In the high-yield space, strong technicals continue to persist most notably from institutional demand seeking income and prospects of additional total return. We also note that defaults are on a sustained downtrend and the quality of the high-yield market is improving as fallen angels are now moving back to the status of "rising stars". As highlighted in Exhibit 2, we expect both of these trends to continue.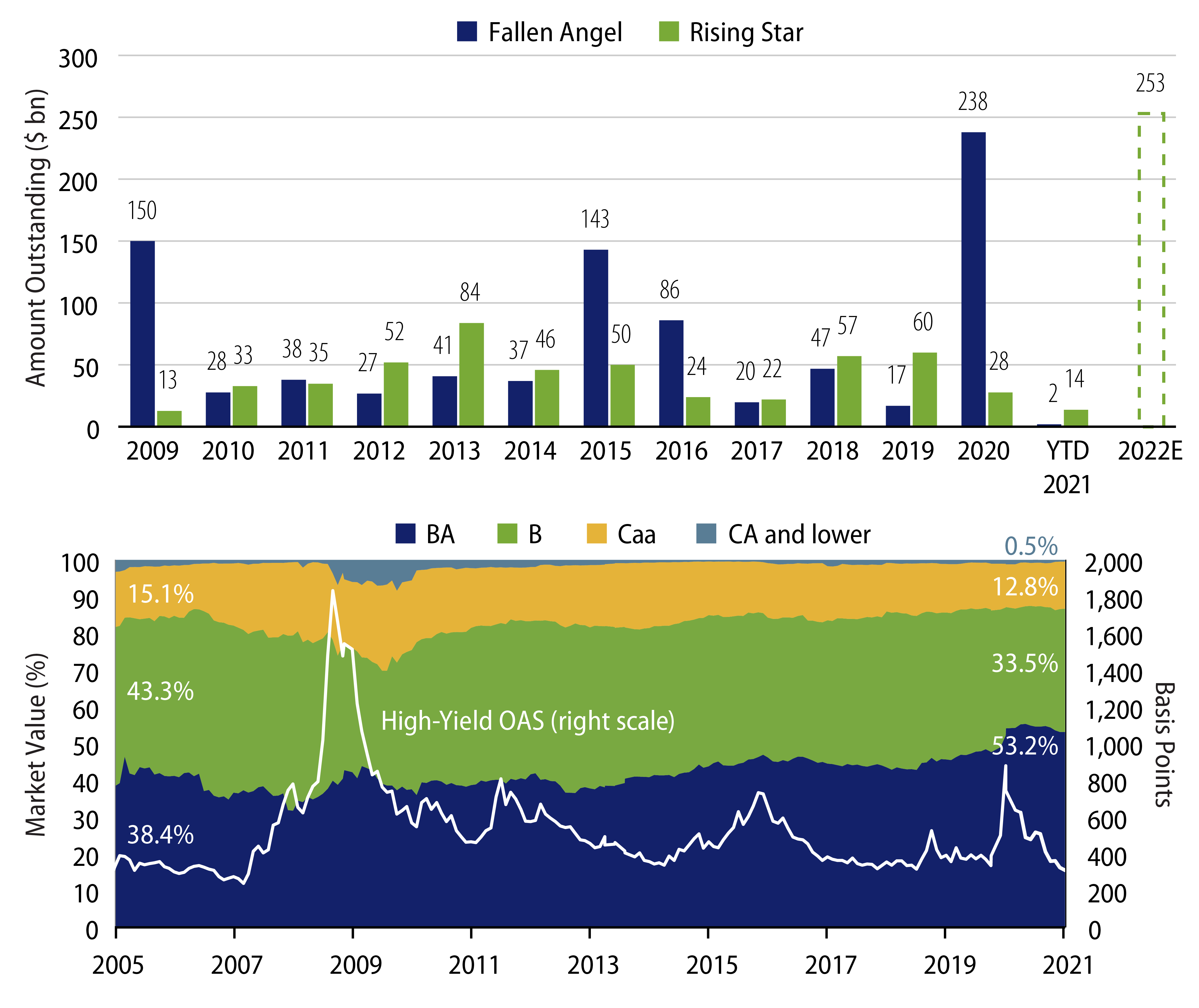 We also can't discount what the Federal Reserve (Fed) has done to support corporate credit markets. To date, the Fed has been very responsive to market conditions by adding new credit-specific support facilities as a policy tool, and it continues to carefully monitor market conditions. Finally, we think inflation will remain within the Fed's boundaries despite current market fears of inflation shooting higher. Historically, high-yield performs best in periods of below average and rising inflation—as long as inflation is rising for the right reasons such as expectations for higher growth.
On this note, we recognize that the prospect of rising rates may unnerve investors and rightly so, given how much global government bond yields have declined over the last few years. With this in mind, MAC portfolios have a healthy allocation in aggregate to bank loans, collateralized loan obligations (CLOs) and structured credit. All of these sectors comprise adjustable or floating-rate securities, which have minimal interest-rate sensitivity and can provide some immunity in a rising-rate environment. Exposure to these sectors also provides diversification benefits as they have a relatively low correlation to other fixed-income sectors and offer a compliment to existing fixed-income holdings.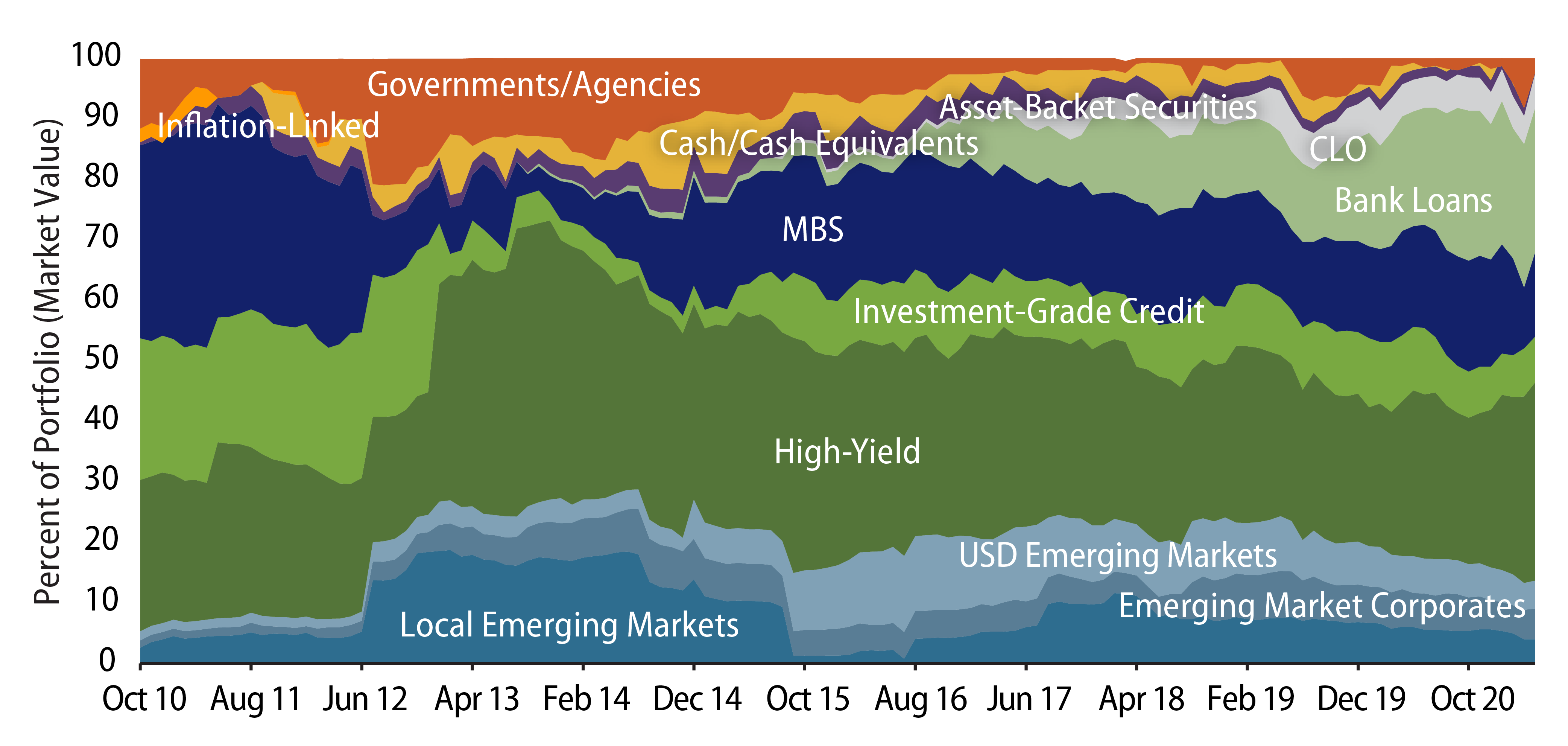 As an example, bank loans offer the combined benefit of a high relative level of yield and little to no duration risk. In an environment of rising rates, the coupons on loans would increase, maintaining or enhancing their already attractive current relative value. This feature has helped loans outperform other fixed-income asset classes with longer duration in past periods of rising rates. To date, we've seen strong retail inflows into the bank loan space. If this momentum builds, demand in the asset class could increase exponentially as retail is only 5% of the market today versus over 20% in the previous rising-rate period. Demand for bank loans is also a function of CLO creation. Because both loans and CLOs are based on floating-rate contracts, we would not expect rising rates to have a material impact on CLO creation as both the assets and liabilities would rise in tandem. Within the CLO space, we continue to see value opportunities across the CLO capital structure, especially within BBB/BB CLOs where spreads continue to compress from last year's highs. CLOs should remain well insulated from potential losses due to very conservative structures and protections in place for debt investors.
Turning to the residential and commercial mortgages space, it's good to see COVID-19 fears slowly turning into reopening optimism. However, credit spreads for certain subsectors in non-agency mortgages and asset-backed securities remain at wider levels relative to the pre-Covid period despite strong consumer and US housing fundamentals. Home price appreciation posted a year-over-year (YoY) gain of 11.9% as of February 2021. Fueling the current housing boom are historically low mortgage rates, a dismal lack of supply on the market, tight lending conditions and a rebirth of household formations. Consumer fundamentals have also improved in the Covid era with increased savings rates, lower revolving consumer credit outstanding YoY and lower interest rates, which have decreased debt burden levels to the lowest in 20 years. In the residential mortgage-backed space, we're focusing on more seasoned borrowers with low loan-to-value ratios, which provides more downside protection in a scenario of declining housing prices.
The commercial mortgage-backed securities (CMBS) sector remains further behind in terms of recovery, but momentum is building in this sector with vaccine rollouts and reopening optimism. In the near term, we remain cautious as it's uncertain how long it will take for commercial real estate markets to recover fully from the negative impacts of the pandemic. The fundamental outlook across property types and markets likely will be uneven as the impact of the pandemic varies on each property type and geography. That stated, additional economic reopening should be a positive catalyst for CMBS spreads to continue recovering. We believe single-asset single-borrower (SASB) non-agency mortgages—those secured by high-quality commercial properties with strong equity sponsors—are poised to benefit the most.
One area that we are monitoring closely is EM. We reduced exposure to the asset class last year due to concerns over EM countries' ability to weather the economic effects of the growing pandemic. The recent bout of US rate volatility and a stronger US dollar in the first quarter of 2021 also gave us pause given EM's historical vulnerability to those risk factors. That stated, we think there are four key factors that augur well for EM: 1) the pace of vaccinations is bound to pick up in the second half of this year, 2) the recovery in oil and commodity prices is expected to continue on increased global economic activity, 3) international trade and tourism are on the mend, and 4) inflows into the asset class continue despite all of the headline noise. In the hard currency space, we're looking to take advantage of primary issuance from short- and intermediate-dated investment-grade and high-yield EM corporates. In local rates, we're being a bit more selective due to the potential for additional currency market volatility on any Covid-induced growth setbacks and the fact that certain EM central banks' easing cycles are coming to a close.
In closing, we would remind investors that the key benefit of a multi-sector bond strategy is its ability to adapt quickly to changing market environments. Over the past few years, we've seen market expectations swing from hyperinflation to deflation and from economic bust to boom. Different single-sector strategies can perform well in certain environments, but not all. MAC was specifically designed to be flexible to allow our Investment Team the ability to quickly move to those sectors that offer the best risk-adjusted value given an expected scenario, while also maintaining exposure to defensive sectors in case conditions rapidly change. With all of the present and future uncertainty around macro conditions, policy and valuations, we think diversification, flexibility and adaptability are crucial elements that investors should look for in an income-generating solution such as MAC.
For more details about our latest economic and investment views, please see both our Global Outlook and Global Credit Monitor, which are updated quarterly with our global team's views by region, sector and industry.
View the Performance and Risk Disclosures for Multi-Asset Credit.