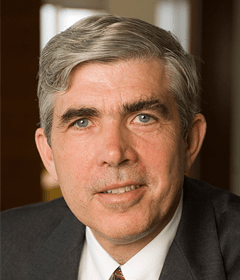 Market Commentary
You can sum up the game of baseball in one word: "You never know." ~Joaquin Andujar, St. Louis Cardinals
Executive Summary
Fears that plagued financial markets during the start of the first quarter have abated somewhat and there has been a substantial rally in spread sectors.
Increases in central bank accommodation bode well for growth trends and prospective spread sector performance.
We believed that the Fed had made a decisively dovish pivot, choosing to focus on risk management. However, the Fed's rapid change in communication and focus ahead of its June meeting has re-priced the odds for further rate moves, which has also put spread sectors, particularly emerging markets, under downward pressure.
It is our thinking that the underlying change in fundamentals does not warrant a rate hike in June.
Our belief is that improving economic growth can beget non-recessionary credit pricing levels.
Our contention remains that the US and global economy are experiencing slow but stable growth. Central banks are largely supportive and valuations remain attractive for spread product sectors, despite the rebounding spread rally since early February. The three fears that overlapped to collapse risk markets earlier this year were: 1) fears of imploding Chinese growth, 2) fears that oil price declines into the 20s would have severe deflationary consequences globally and 3) fears that banks would be exposed both to these issues and to negative interest rates.
In our last note, we argued none of these concerns were as dire as market consensus feared. Additionally, we felt the Federal Reserve (Fed) would have to pause until growth, global financial conditions and inflation expectations improved substantially. Exhibit 1 displays the returns for spread sectors for the year and from the February 11 market bottom.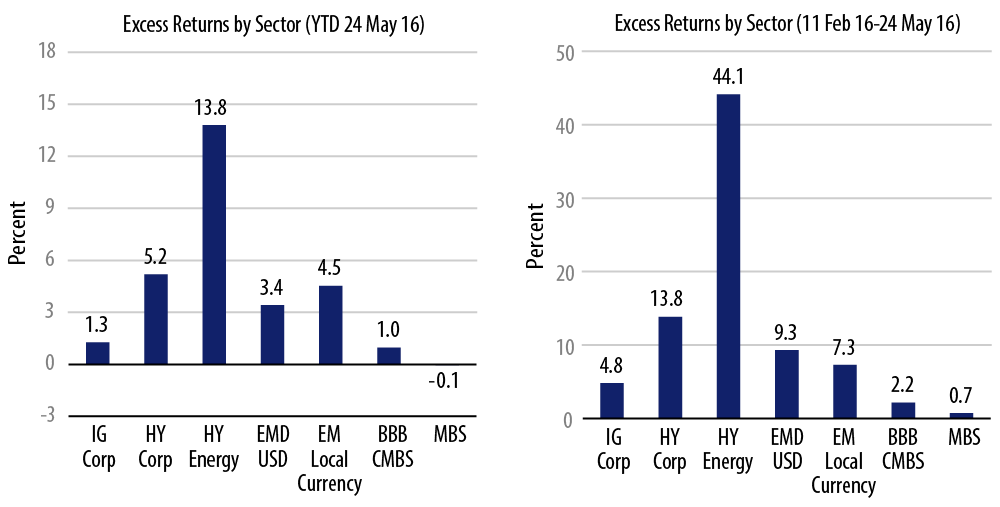 The question now is whether to reduce positions given the sharp improvement in prices. As value investors, we believe the spring bounce has moved valuations back to reasonably attractive levels from depressed levels. From this perspective, we prefer to stay the course. From a macro perspective, the underlying growth trends need to hold up, as slow global and US growth leave a lower downside cushion for margin of error. From a policy perspective, the increase in monetary accommodation from the European Central Bank, the Bank of Japan and the People's Bank of China all augur well for growth trends and spread sector prospective performance.
The Fed pause has also been a positive. Markets understand the key risk to global growth comes from the challenging economic transition that China is undergoing from an investment- and export-based economy to a consumer- and services-based economy. If Chinese growth slows sharply or the yuan comes under sharp downward pressure, the global growth and market outlook will dim quickly. This is why the Fed pause, which diminished the appreciation of the dollar and reduced US slowdown risks, was beneficial.
It is the current change in Fed rhetoric, implying a meaningful desire to get restarted on raising rates, which has introduced some uncertainty into this reasonably benign backdrop. The Fed has very clearly signaled a discomfort with market pricing of prospective rate hikes as being too low. Our belief has been that the Fed had executed a dovish pivot. The Fed would no longer be providing forward guidance, in light of its need to see clear improvement in growth, financial conditions and inflation expectations. The message from Fed Chair Janet Yellen was very clearly supportive of just this interpretation. Her March 29, 2016 speech laid out the need to observe global financial conditions very carefully. Her discussion of the asymmetry of policy risks when growth was at a low level clarified the need for greater caution in raising rates, and the Fed staff forecast for the diminution in the core personal consumption expenditures (PCE) rate of inflation for this year and next put a much longer ramp on worries over short-term bounces in inflation measures.
Now the Fed has shifted its message abruptly, and reinforced its position coming into this year of a central bank with a clear and definitive bias to tighten, awaiting only the expected improvement in the data to warrant the next hike. The Fed's rapid change in communication and focus has re-priced the odds for further rate moves, which has also put spread sectors, particularly emerging markets, under downward pressure.
Our thinking on this issue is that the underlying change in fundamentals does not warrant a rate hike. The Fed has explicitly endorsed the notion that growth will be improving sharply from the disappointing 0.5% growth of 2016. Once again, the Fed's confidence in its forecast of a meaningful pickup in US economic activity appears to be misplaced, just as it has been for each of the last 5 years.
On the financial conditions front, though, there has been a significant improvement. The headwinds from wider credit spreads have abated to some degree. Additionally, global growth fears seem to have diminished. But is the coast really clear? The "China question" seems very crucial to us in assessing the global outlook.
While recent data trends have suggested that US economic growth has stabilized, it is much too early to be sanguine. Another bout of weakness, or market challenges from further yuan devaluations, cannot be ruled out. A Fed rate hike puts pressure on both.
On inflation, the firming of oil from lows early in the year suggests some pickup in headline inflation, and, admittedly, US Core PCE data have turned up mildly. But we would agree with the Fed that the inflation upturn will be slow. Furthermore, US inflation should be judged in the context of a substantial downward trend in global inflation (Exhibit 2). Global central bankers are working diligently to arrest this disturbing downward trend, and a Fed rate hike might prove to be counterproductive.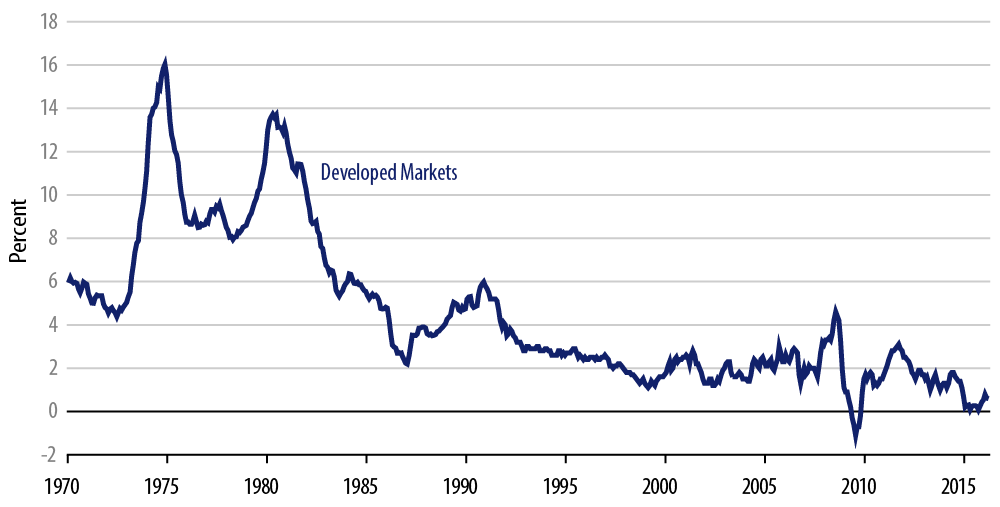 Early in the rate cycle but "late innings" in the credit cycle?
One of the important investor concerns with an overweight to credit or spread products is whether we are too late in the credit cycle. (See related white paper, The Case for Long Credit by Michael Bazdarich). Current market jargon usually centers on "what inning are we in." Many contend that after a 7-year economic expansion, the credit cycle is long in the tooth and risk needs to be reduced or eliminated. Interestingly, many of the same investors make the case that the Fed is behind the curve and needs to move rates up because inflationary pressure will begin to surface. We believe there is a serious conflict between these two points.
The growth paths implied by concerns over the narrative of the Fed being behind the curve and the credit cycle being in the "late innings" seem totally at variance with each other. The fears that the economy is unduly accelerating and that the Fed must start the lengthy process of normalizing rates suggest the early stages of economic lift-off after protracted subpar growth. In contrast, the fear that the credit cycle is long in the tooth and a recession may loom in the near future clearly anticipates economic weakness. One fear is economic acceleration, the other, deceleration.
A crucial point we would make about the credit cycle is that the late stages of a credit cycle often refer to the behavior of markets as spreads reach their tights in yields. Investors chase deals that are gapping tighter. Credit fundamentals are not assessed as the need to get invested dominates behavior. Lending standards and underwriting standards become lax. When credit cycles are studied in retrospect, this type of behavior typifies the end stage—but it transpires when credit peaks, meaning that yield spreads have compressed to their tightest point.
We are categorically not in this "late stage" of a cycle. We, in fact, are in a bear market in credit. Spreads reached their tights in June of 2014, virtually 2 years ago. Lending standards are being tightened, not relaxed. None of the traditional behaviors associated with a late-stage bull market in credit are in evidence, simply because we have not been in a bull market for 2 years.
The cautionary credit signal is the very opposite. The lengthy periods of spread widening have moved implied calculations of probability of default into very pessimistic territory. This is the benefit of a bear market: valuation. With markets priced for very poor economic outcomes, the opportunity for favorable results is not dependent on splendid economic performance. We covered the favorable credit fundamentals in our last note. Our central theme remains that favorable valuation, strong fundamentals and reasonable growth are a powerful backdrop for credit. The risk here is that market pessimism is not deep enough—implying an imminent economic contraction. Here, the fear of the Fed is that it tightens too soon, not too late.
From a purely US growth perspective, the Fed's argument that tightening is necessary because the policy rate is just too low is not unreasonable. Basing this timing on its renewed forecast of imminent improving economic conditions seems to us to be misplaced. Most importantly, though, we believe the US economy is a part of a highly interconnected global economy where the recovery is extraordinarily fragile. We believe Janet Yellen's speech laying out the need for US monetary caution and focusing on risk management in this global context was appropriate.
We continue to be cautiously optimistic that growth will hold up. Our belief is that improving economic growth will beget non-recessionary credit pricing levels. We expect that the US economy can continue to expand at a moderate 1.5%-ish growth rate and the global economy at a 3%-ish growth rate. This will necessitate that monetary policy remain a tailwind, but it suggests that spread sectors should outperform Treasury and developed country sovereign bonds. But the downside risks to growth and inflation are real and may be revisited. We continue to only partially hedge some of our lower-quality spread positions. We are also carrying extra Treasury duration to cushion any adverse downside shocks.
© Western Asset Management Company, LLC 2021. This publication is the property of Western Asset and is intended for the sole use of its clients, consultants, and other intended recipients. It should not be forwarded to any other person. Contents herein should be treated as confidential and proprietary information. This material may not be reproduced or used in any form or medium without express written permission.
Past results are not indicative of future investment results. This publication is for informational purposes only and reflects the current opinions of Western Asset. Information contained herein is believed to be accurate, but cannot be guaranteed. Opinions represented are not intended as an offer or solicitation with respect to the purchase or sale of any security and are subject to change without notice. Statements in this material should not be considered investment advice. Employees and/or clients of Western Asset may have a position in the securities mentioned. This publication has been prepared without taking into account your objectives, financial situation or needs. Before acting on this information, you should consider its appropriateness having regard to your objectives, financial situation or needs. It is your responsibility to be aware of and observe the applicable laws and regulations of your country of residence.
Western Asset Management Company Distribuidora de Títulos e Valores Mobiliários Limitada is authorised and regulated by Comissão de Valores Mobiliários and Banco Central do Brasil. Western Asset Management Company Pty Ltd ABN 41 117 767 923 is the holder of the Australian Financial Services Licence 303160. Western Asset Management Company Pte. Ltd. Co. Reg. No. 200007692R is a holder of a Capital Markets Services Licence for fund management and regulated by the Monetary Authority of Singapore. Western Asset Management Company Ltd is a registered Financial Instruments Business Operator and regulated by the Financial Services Agency of Japan. Western Asset Management Company Limited is authorised and regulated by the Financial Conduct Authority ("FCA") (FRN 145930). This communication is intended for distribution to Professional Clients only if deemed to be a financial promotion in the UK as defined by the FCA. This communication may also be intended for certain EEA countries where Western Asset has been granted permission to do so. For the current list of the approved EEA countries please contact Western Asset at +44 (0)20 7422 3000.