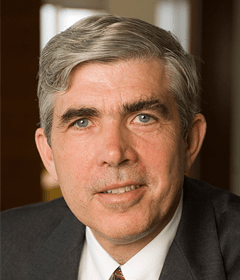 Market Commentary
If something cannot go on forever, it will stop ~Herbert Stein, What I Think: Essays on Economics, Politics, and Life
Executive Summary
Despite subpar growth and the possibility of postponed Fed rate hikes, 30-year USTs have sold off sharply, largely reflecting spillover from Europe, fundamental factors and position unwinds.
Adding duration in the current mild growth, low inflation, and policy-heavy rate environment appears particularly attractive.
We continue to focus portfolio construction around the global and US recovery theme but are attentive to the risks on either side: faster or slower growth.
We continue to believe the path to normalization will be long but we will remain diligent in frequently readjusting portfolios, constantly striving for the best combination of risk and reward.
In our previous note, we discussed the "Alice in Wonderland" nature of negative interest rates. Indeed, the concept of negative-yield, long-dated German bunds struck us as a potentially unfathomable "rabbit hole." Since then, we have seen some extraordinary mayhem in the European bond markets. Yields on the German 10-year bund shot up from a mere 7 basis points (bps) to 83 bps in just a few days. This occurred even as the European Central Bank (ECB) was embarking on a historic asset purchase program likely to last at least through September 2016. The ECB's package at roughly €1.14 trillion aims to forestall deflationary pressures and improve growth through the mechanisms of lower interest rates and a weaker euro.
While we agree that the ECB's program would indeed lower yields and euro exchange rates, we thought market valuations had become stretched when bund yields approached zero and the euro approached parity to the dollar—so much so that underweighting or even shorting bunds seemed to be in order. We thought valuations would win out slowly. The ECB's formidable firepower and intentions were clear. Our view was borne out, but to a stunningly quick degree and with surprising ramifications for other markets. Over the last four weeks, German bund volatility has surged, and prices of 30-year securities have fallen by as much as 30 points, as shown in Exhibit 1.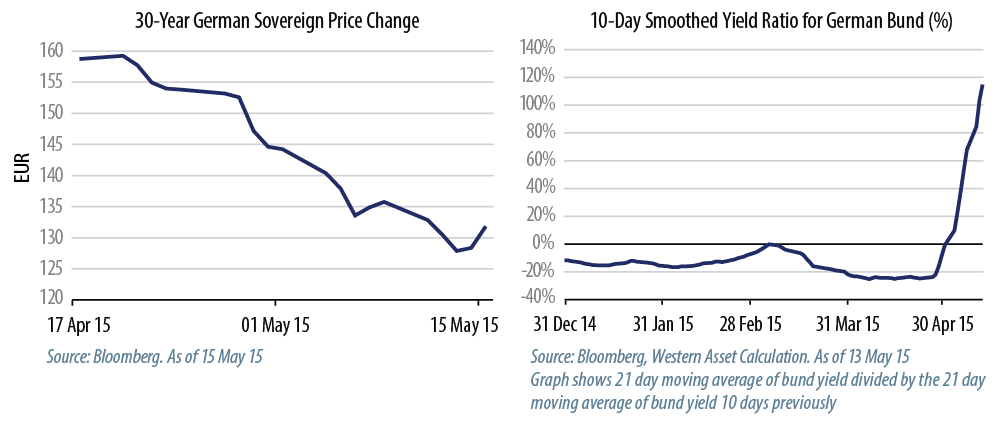 The spillover to the US market has been pronounced. Longer maturity UST yields have moved up sharply, even as US economic growth has sputtered. First-quarter GDP came in at a meager 0.2% and is likely to be downwardly revised to negative. Consensus estimates for the second quarter are now down to near 2%, and the Federal Reserve Bank of Atlanta's GDP gauge is currently tracking only at 0.7% for 2Q15 growth.
Normally, subpar growth and the stronger possibility of the Federal Reserve (Fed) postponing rate hikes would cause USTs to rally. As seen in Exhibit 2, short-term USTs have indeed rallied, but 30-year USTs have sold off sharply.

Much of the UST bond selloff reflects spillover from Europe, but we also propose two other explanations. The first focuses on the fundamentals. While part of the rich valuations of USTs could be attributed to their relative attractiveness to other developed markets, part was also driven by fears of deflation late last year (thanks to plunging oil prices), fears of European recession, the slowdown in China, a potential Greek exit and even the Ukraine conflict. Since then, oil prices have stabilized, European growth looks better, Chinese authorities are rushing to provide stimulus, and the truce in Ukraine is still holding. These developments explain some of the retracement of bond prices from their winter gains.
A second explanation is that once this downward price move was initiated, position unwinds, particularly in Europe and among leveraged players, led to outsized moves in prices and volatility. Understanding the potential parameters of this situation is mostly guesswork. The dynamics of market position unwinds suggest further turbulence, particularly if fundamentals worsen at the same time.
Where does this leave us? Recently, we've spent a lot of time discussing uncertainty. Given the enormity of current policy experimentation, it is imperative to be modest in forecasting macro outcomes. We thought our risk budget was best allocated to non-UST sectors because they came under pressure as fears of deflation rose. With respect to USTs, we felt there was no value case for a long position with UST bond yields barely above 2%, despite our beliefs that US growth would remain only modest and inflation subdued.
Our allocation to non-USTs has been beneficial as our bottom-up approach, characterized by careful valuation analysis and research-driven selectivity, puts us in a good position to find value in these sectors. Our allocation to high-yield energy companies—a primary focus of ours this year—has been particularly advantageous. We continue to be positive on spread sectors, particularly emerging markets, where we are optimistic that the recent sharp turnaround will continue.
We did not initiate short positions on USTs as we felt any increase in yields would be a long time coming. We also did not hedge out our below-investment-grade quality spread positions, leaving portfolios mildly "optically" long. Our feeling was investors buying oil bonds were counting on oil company management teams and oil prices. If hedged, the "soft duration" would suffer both ways during a period of risk, let alone a recession. Looking back, not seeing value in USTs was correct, but underweighting UST duration and fully hedging spread sectors would have been better.
However, our diversified strategy approach demands that different strategies benefit from different scenario outcomes, helping to dampen volatility. Since spread sector overweights are most at risk in economic downturns, underweight UST positions usually add to this scenario risk. Indeed, with reasonable valuations, especially in a slow growth, low inflation environment, we prefer to overweight UST duration as a complement to our often higher yielding securities. (We have published extensively on the correlation benefits of this portfolio design, see particularly, the Market Commentary from April 2013.)
With long bonds above 3%, the opportunity to add UST duration to our portfolio is apparent. Valuations, while not exceptional, are compelling and USTs have particular merit as a diversifying asset. The most dangerous risk to spread product positions is a downturn in growth or inflation. In the low growth, low inflation world we currently live in—and as we have seen so often over the past 5 years—this risk cannot be ignored. Additionally, the unusual steepness of the yield curve presents an attractive entry point. Recent market activity has led to an 80-bp spread between 10- and 30-year USTs. Furthermore, long UST bond yields are substantially higher than other developed market long yields.
In our previous note, we emphasized that the growth and economic environment was favorable for UST duration, but we held back as valuations were too stretched. Now, the environment is even more favorable. US growth came in even lower than we previously thought. While we maintain our 2% to 2.5% growth forecast, the risk is clearly to the downside, and the threat of such an undershoot is already leading short rates lower, yet the valuations of longer securities have become meaningfully more attractive.
From a global perspective, our view is similar. The downshift in US and Chinese growth, combined with ongoing challenges to many commodity-export-driven emerging markets increases the downside risks to global growth. The good news is that global policy has been responsive, but the rebound in growth is still elusive. Therefore, adding duration in this mild growth, low inflation, and policy-heavy rate environment appears particularly attractive.
So let's revisit Europe and the now-infamous bund. Now that German and other European rates have moved up sharply, and the euro has appreciated over 7% from the bottom, the policy objectives of the ECB have been stymied. Another round of yield increases and further euro strength would clearly be counterproductive. However, the ECB has gone to enormous lengths to build the political coalition for both its enormous asset purchasing program and its extended timetable of commitment so its goal of improving growth and strengthening inflation remains strong. Even if the yield increase is not reversed, keeping bond markets well behaved will be the ECB's top priority, and we believe it has the resources and will to accomplish that objective.
We continue to focus portfolio construction around the global and US recovery theme. Despite the recent pullbacks in growth, monetary policy remains very accommodative—so much so that markets can violently overshoot, bringing greater volatility. Therefore, investors trying to reap the rewards from the global recovery must stay attentive to risks to both the upside and the downside, that is, faster and slower growth. The former seems to be the most likely, but the latter would clearly cause the most pain.
Adding long-dated UST duration helps protect against downside risks. With the highest yield in more than six months and the widest yield curve spread in over a year, the entry point seems eminently reasonable. If yields move up sharply as growth and inflation expectations increase, our view is that the yield curve will once again flatten as investors, complacent about the lack of Fed moves, will have to readjust sharply. Our core view, however, is that neither of these risk scenarios will be realized. We continue to believe that the path to normalization will be a long one but we will remain diligent in frequently readjusting portfolios, constantly striving for the best combination of risk and reward. Adding short maturity duration helped us late last year and early this year. Our underweight in USTs has helped over the past few months. Hopefully, our current retention of some additional UST insurance will also prove beneficial.
© Western Asset Management Company, LLC 2021. This publication is the property of Western Asset and is intended for the sole use of its clients, consultants, and other intended recipients. It should not be forwarded to any other person. Contents herein should be treated as confidential and proprietary information. This material may not be reproduced or used in any form or medium without express written permission.
Past results are not indicative of future investment results. This publication is for informational purposes only and reflects the current opinions of Western Asset. Information contained herein is believed to be accurate, but cannot be guaranteed. Opinions represented are not intended as an offer or solicitation with respect to the purchase or sale of any security and are subject to change without notice. Statements in this material should not be considered investment advice. Employees and/or clients of Western Asset may have a position in the securities mentioned. This publication has been prepared without taking into account your objectives, financial situation or needs. Before acting on this information, you should consider its appropriateness having regard to your objectives, financial situation or needs. It is your responsibility to be aware of and observe the applicable laws and regulations of your country of residence.
Western Asset Management Company Distribuidora de Títulos e Valores Mobiliários Limitada is authorised and regulated by Comissão de Valores Mobiliários and Banco Central do Brasil. Western Asset Management Company Pty Ltd ABN 41 117 767 923 is the holder of the Australian Financial Services Licence 303160. Western Asset Management Company Pte. Ltd. Co. Reg. No. 200007692R is a holder of a Capital Markets Services Licence for fund management and regulated by the Monetary Authority of Singapore. Western Asset Management Company Ltd is a registered Financial Instruments Business Operator and regulated by the Financial Services Agency of Japan. Western Asset Management Company Limited is authorised and regulated by the Financial Conduct Authority ("FCA") (FRN 145930). This communication is intended for distribution to Professional Clients only if deemed to be a financial promotion in the UK as defined by the FCA. This communication may also be intended for certain EEA countries where Western Asset has been granted permission to do so. For the current list of the approved EEA countries please contact Western Asset at +44 (0)20 7422 3000.