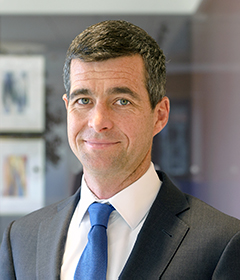 Policy Matters
Jackson Hole Preview
Next week Federal Reserve (Fed) Chair Janet Yellen will give the opening speech at the annual conference of central bankers in Jackson Hole, Wyoming. In the past, the Jackson Hole conference has been an opportunity for Fed chairs to argue for adjustments to monetary policy. Alan Greenspan used the 1998 conference to convince his colleagues that the sovereign debt crisis in Russia justified easing monetary policy, and, a few weeks later, the Fed cut rates at its September meeting. Ben Bernanke used the 2011 and 2012 conferences to argue for a more forceful monetary policy response to the weak US recovery. Shortly thereafter, the Fed initiated Operation Twist in September 2011, and a third round of quantitative easing in September 2012.
Although some have been memorable, not all Jackson Hole conferences are market-moving. In fact, last year's event was rather forgettable. Then-Chairman Bernanke did not even attend. Instead of Bernanke, the conference featured Stanley Fischer and Janet Yellen, neither of whom had yet been nominated for their current roles and were instead listed on the program as "Former Governor, Bank of Israel" and "Vice Chair of the Fed," respectively.
The theme of this year's conference is "Re-evaluating Labor Market Dynamics." The topic is appropriate, considering all the outstanding questions regarding the state of the US labor market. Because her answers to those questions have the potential to move the Fed in one direction or another, Chair Yellen could certainly move markets with her speech next week. However, we expect her to sidestep the opportunity, opting instead to reiterate familiar points while refraining from offering any hints about upcoming changes to policy.
In this paper, we discuss the four reasons why we expect this year's conference will be more reminiscent of the uneventful 2013 event, rather than the market-moving events of 1998, 2011 or 2012:
Although the economy is moving closer to the Fed's goals, growth has been disappointing and there is substantial uncertainty around prospects for the second half of 2014. With these cross-currents in the economic data, there is no need for the Fed to change course right now.
Yellen is likely broadly satisfied with current pricing in financial markets. Financial conditions are accommodative, and the market's expectation for future Fed policy is consistent with Yellen's guidance.
Yellen's views on the labor market are well known. The recent data has not yet forced a re-evaluation, and she will likely reiterate her previous arguments on labor market slack.
Other participants in the Jackson Hole conference may argue that the labor market is somewhat tighter than Yellen has acknowledged. At this stage of the debate, we suspect Yellen will be content to listen to these arguments and won't feel the need to endorse them.
Economic Data
When developing monetary policy, the Fed targets "maximum employment" and "price stability." Historically, Fed communications have focused on the unemployment rate and year-over-year PCE inflation to evaluate performance on these two objectives. As shown in Exhibit 1, both measures have moved substantially toward the Fed's objectives. At 6.2%, the unemployment rate is less than one percentage point above the Fed's estimate of the natural rate of unemployment. And while PCE inflation remains below the Fed's target of 2%, inflation appears to have rebounded off its recent lows, providing some reassurance that deflation risks have subsided.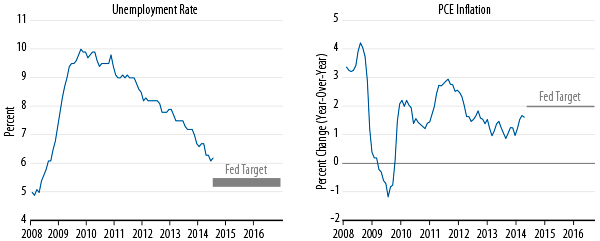 However, there are caveats to both measures. Other labor market data suggest declines in the unemployment rate may overstate the improvement in the employment picture. Regarding higher inflation levels, the relatively weak performance of energy markets in recent months suggests that headline PCE could potentially retrace somewhat in the near future. While these are salient caveats, neither obviates the need to acknowledge the substantial movement toward the Fed's objectives. A falling unemployment rate and rising inflation are signals of real progress that Yellen is unlikely to ignore—particularly because Yellen has previously emphasized the importance of the Fed being accountable and transparent in its objectives.
Despite recent progress on unemployment and inflation, Fed officials are likely quite concerned about the pace of growth in the US. In the first half of the year, the US economy expanded at a paltry 1% rate. Underneath the disappointing headlines, the components of growth haven't been much more encouraging. Personal consumption and business investment are showing no signs of acceleration, and activity in the housing market has slowed since early 2013. (Our Senior Economist Mike Bazdarich has highlighted the lack of acceleration in some of his recent By the Numbers articles.) At a minimum, the disappointing data has raised questions about whether growth will accelerate in the second half of the year—and whether progress toward the Fed's objectives will be sustained.
The improvement in unemployment and inflation means the Fed has no reason to ease policy, while ample uncertainties surrounding the pace of growth suggests there is also no reason to tighten policy. The cross-currents in the economic data suggest Yellen will not want to change Fed policy at this point.
Financial Markets
The Fed is inherently limited in what it can do to bolster the US economy. It cannot invest in capital projects, buy real assets, hire workers or otherwise spend money. It can only support the economy through its interaction with financial markets, specifically, the market for risk-free financial assets (overnight deposits and financial securities guaranteed by the US government). This limitation has been a source of frustration, especially because the normal linkages between financial markets and the real economy have been damaged by the financial crisis. For example, lowering mortgage rates has not spurred housing investment as much as it did in previous cycles because of abnormally tight underwriting standards. Additionally, the significant gains in equity markets have not boosted consumption as much as they might have because of the continued deleveraging of consumer balance sheets.
However frustrating it may be, the Fed's only tool to support the economy is to ease financial conditions by lowering interest rates and boosting prices for risky assets. According to the Chicago Fed's financial conditions index, the Fed has been quite successful in this respect, especially in the last few years. Note that the recent volatility in markets has not materially affected this index, and as of August 8, financial conditions are still estimated to be as loose as they have been at any point since the start of the recovery.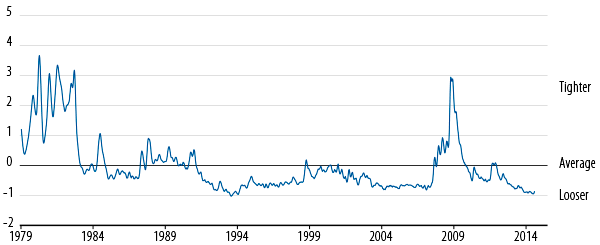 Fed officials are also focused on market-based expectations for the tightening process. As with overall financial conditions, they are likely quite satisfied with current market pricing in this regard. Currently, the market is pricing the first increase in interest rates to occur sometime in the middle of next year, which is completely in line with Yellen's guidance. In her July testimony, Yellen said "almost all [Federal Open Market Committee (FOMC)] participants anticipate that the first increase in the federal funds rate, if things continue on the trajectories they expect, would come sometime in 2015."
Yellen and her colleagues believe a "highly accommodative stance of monetary policy remains appropriate." Given that financial conditions remain loose and that the market pricing of gradual interest rate hikes starting next year is in line with the Fed's guidance, Yellen is likely satisfied with the current market state of financial markets, and does not see the need to change policy right now.
Yellen's Views on the Labor Market
Yellen has made her stance on the labor market very clear. In her first speech as Fed Chair, she argued that "there remains considerable slack in the economy and the labor market"—a theme she has repeated numerous times in subsequent speeches, testimonies and press conferences. In support of her view, Yellen frequently points to economic data other than the unemployment rate, including the large number of part-time workers and the low level of turnover among employed workers. Yellen has also highlighted very sluggish wage growth as a signal that the supply of workers substantially outstrips demand. Finally, Yellen has said that she expects the participation rate to eventually pick back up, thereby increasing the supply of workers.
Since Yellen's first speech as Fed Chair, the incoming data have not forced a re-evaluation of her main points. While it is true that labor force participation has not picked up as she had expected, the participation rate has stopped declining. This means the supply of workers has actually expanded over the past few months as the population has grown. More importantly, wage growth continues to be quite sluggish. As Exhibit 3 shows, even after some recent improvement, wage growth is still stuck around 2% (annual rate), which is well below what Yellen would consider a normal level.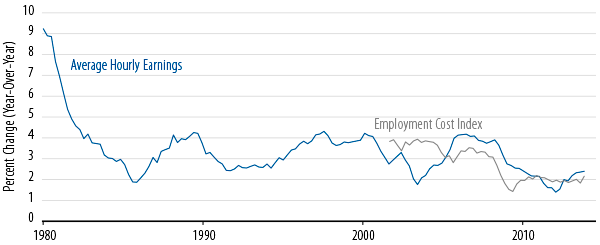 Part of Yellen's message has been that it's important to consider a broad range of indicators to construct a holistic view of the state of the labor market. On that front, there will certainly be a lot of material for Yellen to discuss next week. It will be particularly interesting to hear whether her views on the participation rate have evolved, and if so, what that means for her assessment of labor market slack. Nonetheless, we don't expect Yellen's main message to change, as the data have not yet forced a re-evaluation. Until wage growth shows a more convincing acceleration, Yellen is likely to continue arguing that labor market slack remains substantial.
Dissenting Opinions: Is the Labor Market Tightening?
The organizers of the Jackson Hole conference will almost certainly invite participants who have a different view of the labor market. After all, the point of the conference is to have a discussion, not just a single speech. There are a number of academics who have recently argued that the labor market is somewhat tighter than Yellen thinks. Among the dissenters is Princeton Professor Alan Krueger, whose research has attracted a lot of attention. He argues that the slow recovery has permanently scarred the long-term unemployed, which has made them less employable and may ultimately force them to drop out of the labor force. If Professor Krueger is correct, then the unemployment rate actually overstates the amount of slack in labor market. Although the conference organizers have not yet published the list of attendees, Professor Krueger would be a natural candidate, and it would be interesting to see how Yellen might respond to his research.
Conference participants may also point to recent data from employers regarding their ability to find qualified workers as evidence of tightening in the labor market. Two measures of employer demand released this week suggest that it is becoming harder for employers to find skilled workers, which could eventually lead to an increase in wages. Although evidence of increased demand relative to supply has yet to show up in the wage data, these recent surveys are worth watching and will likely be part of the conversation in Jackson Hole.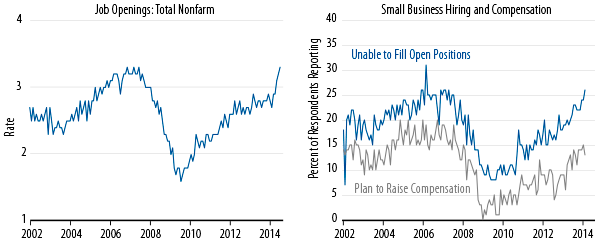 While we expect that papers presented at the Jackson Hole conference will likely include countervailing viewpoints on the labor market, we would be surprised if Yellen is compelled to endorse any of these arguments. Instead, at this stage of the debate, and especially considering the slow wage growth discussed above, Yellen is more likely to acknowledge that there are differing opinions, while sticking closely to her message of ample slack in the labor market.
Conclusion
Even though we do not expect Yellen's speech to signal a shift in monetary policy, there are likely to be many interesting side conversations at next week's conference. As part of its planning for the exit process, the Fed is currently working through the complications related to how to raise interest rates. The mechanical issues involved are non-trivial and have been the source of considerable debate both within the Fed and the market. We expect to learn more about the latest thinking on exit mechanics following the September FOMC meeting.
The other topic sure to be on participants' minds next week is the outlook for US growth. The incoming economic data over the next few months may help to clarify the outlook, and as a consequence, help clarify the Fed's plans for 2015 and beyond. The Fed's outlook and plans may become somewhat clearer at the September meeting, which will take place after another month of labor market data becomes available, and will include revisions to published forecasts. But, it may not be until late October—when the 3Q14 GDP and wage growth data are released—that the outlook for 2015 really comes into focus. If the Jackson Hole conference is as uneventful as we expect it to be, investors may wish to take advantage of the temporary respite because the Fed meetings this fall have the potential to be much more exciting.
© Western Asset Management Company, LLC 2022. This publication is the property of Western Asset and is intended for the sole use of its clients, consultants, and other intended recipients. It should not be forwarded to any other person. Contents herein should be treated as confidential and proprietary information. This material may not be reproduced or used in any form or medium without express written permission.
Past results are not indicative of future investment results. This publication is for informational purposes only and reflects the current opinions of Western Asset. Information contained herein is believed to be accurate, but cannot be guaranteed. Opinions represented are not intended as an offer or solicitation with respect to the purchase or sale of any security and are subject to change without notice. Statements in this material should not be considered investment advice. Employees and/or clients of Western Asset may have a position in the securities mentioned. This publication has been prepared without taking into account your objectives, financial situation or needs. Before acting on this information, you should consider its appropriateness having regard to your objectives, financial situation or needs. It is your responsibility to be aware of and observe the applicable laws and regulations of your country of residence.
Western Asset Management Company Distribuidora de Títulos e Valores Mobiliários Limitada is authorized and regulated by Comissão de Valores Mobiliários and Brazilian Central Bank. Western Asset Management Company Pty Ltd ABN 41 117 767 923 is the holder of the Australian Financial Services Licence 303160. Western Asset Management Company Pte. Ltd. Co. Reg. No. 200007692R is a holder of a Capital Markets Services Licence for fund management and regulated by the Monetary Authority of Singapore. Western Asset Management Company Ltd is a registered Financial Instruments Business Operator and regulated by the Financial Services Agency of Japan. Western Asset Management Company Limited is authorised and regulated by the Financial Conduct Authority ("FCA") (FRN 145930). This communication is intended for distribution to Professional Clients only if deemed to be a financial promotion in the UK as defined by the FCA. This communication may also be intended for certain EEA countries where Western Asset has been granted permission to do so. For the current list of the approved EEA countries please contact Western Asset at +44 (0)20 7422 3000.