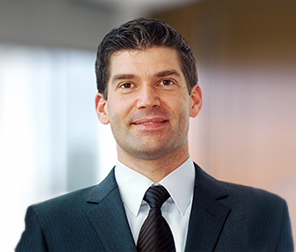 Investment Implications of the Upcoming Italian Referendum on Constitutional Reform
Executive Summary
Italy's upcoming referendum is as much of a referendum on the Renzi government as it is on constitutional reform. The key aim of the reform is to reduce political gridlock and Prime Minister Matteo Renzi has said he will resign if the electorate votes "no".
A "no" vote could open up a period of political instability and the market may price in the possibility of an Italian exit from the EU.
Those supporting the "no" vote are trying to capitalise on the anti-establishment sentiment seen across Europe. We explain why we think the Italian referendum should be viewed differently.
We explore the anti-establishment risk and provide three key factors that could influence the vote.
We believe Italian government bond spreads remain supported by national central bank buying and look to increase exposure on any significant spread widening; given the referendum event risk we will manage the overweight exposure tactically.
Introduction
Italian bonds have experienced a spectacular rally since the eurozone crisis in late 2011. Despite the changing valuations, Western Asset has remained constructive. Key to our positive thesis was the seminal shift in Italian politics ushered in under Prime Minister Matteo Renzi to break the cycle of political instability that has delivered 63 governments since Italy reconstituted itself as a republic in 1946. Today, as Prime Minister Renzi prepares for the constitutional referendum, we believe investors are at a crossroads. A "no" vote could lead to years of political uncertainty, anti-establishment party ascendency and a possible Italian exit from the EU at some point in the future. A "yes" vote could pave the way for political change, allowing Renzi to push forward with the structural reforms that Italy desperately needs. Both scenarios have significant implications for the bond market and our position. We think markets remain complacent regarding the risks surrounding the referendum vote. Italian bond spreads continue to trade well below recent highs and euro currency implied volatility remains well below levels witnessed in June.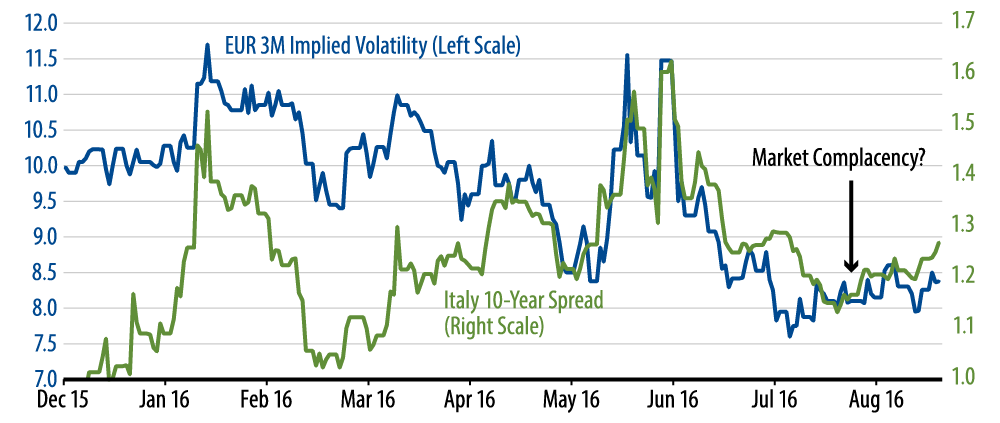 We think Renzi has enough time to sway the large undecided vote to his cause, arguing that a "yes" vote is a vote for change. This should clear the way for further Italian bond outperformance through 2017. We remain overweight Italian bonds with an emphasis on the 10-year sector. There are significant uncertainties in this process, however. We have been tactically reducing our exposure over recent weeks for technical supply and demand reasons with the view to add this back if the market experiences some spread widening.
In this paper we will examine in some detail the background of our assumptions and risk scenarios, and provide the rationale for our position.
Why Is the Referendum Taking Place?
Italy requires structural reforms in order to boost competitiveness, improve growth and ultimately reduce its large stock of government debt.1 Structural reforms often require governments to make tough decisions that have an unequal effect on different parts of society; one prerequisite for passing such difficult measures is stable and effective governance, something Italy has not experienced for the last 70 years.
In 2014, Renzi proposed a new constitutional bill that included drastic changes to the electoral law and a complete overhaul of the senate in its current form; it has yet to become law. Italy's bicameral parliamentary system requires both the Chamber of Deputies (the lower house) and Senate of the Republic (the upper house) to sign off on legislation. Bills can be passed back and forth between houses in what is often referred to as a game of legislative "ping-pong," greatly reducing the effectiveness and efficiency of government. Renzi's bill aims to reduce the size and legislative powers of the senate, thus removing its ability to hold a vote of no confidence in the government. He also plans to introduce a new electoral law based on proportional representation but guaranteeing a large majority for the winning party. These proposals should result in a more stable government capable of implementing structural reforms. The constitutional bill was approved by an absolute majority in both the upper and lower houses earlier this year but it did not receive a qualified majority (over two-thirds of the vote), so a referendum is required for the bill to become law. The Italian electorate will be asked to vote "yes" or "no" when asked if it approves the constitutional bill in order to:2
Overcome the perfect bicameralism

Reduce the number of members of parliament

Restrain institutions' operating costs
The Anti-Establishment Risk
Disillusionment with the established political classes can be seen across a number of developed countries. In the UK, the electorate unexpectedly voted to leave the EU in June and in the US, Donald Trump was unexpectedly chosen as the Republican presidential nominee. In Italy, those supporting a "no" vote are trying to capitalise on this populist sentiment by turning the referendum into a vote on the Renzi administration itself. The vote is a risk for global financial markets because Renzi has pledged to resign if the Italian electorate votes "no," thus rejecting the constitutional reform bill. This could result in a protracted period under a transitional government or possibly new elections ushering in a new phase of Italian political instability. Under either scenario the reform agenda would certainly be put on hold and political support would most likely shift away from Renzi towards other parties including the anti-establishment Five Star Movement (M5S). This outcome would be particularly worrisome for European policymakers because M5S have been pushing for Italy to hold its own referendum on membership of the EU. Under this scenario markets could price in a greater risk premium of Italy leaving the EU at some point in the future, thereby pushing Italian spreads wider versus Germany and weakening the euro. We would expect contagion into other peripheral European bond markets.
Why We Think the Italian Case is Different
Because the constitutional bill itself aims to shrink the size, scope and cost of government,3 we don't think understanding the situation in Italy is as simple as drawing a parallel between its referendum and that of the UK, concluding that a "no" vote is likely to prevail in Italy. In the UK, a vote to "remain" in sympathy with the Conservative government and former Prime Minister David Cameron was a vote for the status quo. In Italy, voting "yes" in sympathy with Matteo Renzi would be a vote to tear up the established Italian political playbook, to vote for change and something new.
In our opinion, there are three key reasons why we have seen a rise in the anti-establishment vote in Italy. An improvement in any one of these factors could swing the vote in favour of Renzi and a "yes" outcome.
Immigration
It is estimated some 150,000 refugees arrived in Italy in 2015 and another 70,000 have since arrived between January and June 2016.4 The influx of refugees has been politically damaging for Renzi, who has tried to counter the negative criticism by taking a tough stance with his European peers. For example, in June, Renzi threatened to issue migrants with temporary visas allowing them to travel wherever in Europe they wanted to go.
Growth and Austerity
The severity of the global financial crisis and subsequent contraction in investment and consumption was not unique to Italy during the recessionary phase of the cycle. What has been unique, when compared to the wider eurozone economy, is the sluggish growth experienced during the recovery phase.5 In fact, the Italian economy is smaller today than it was at the start of the global recovery, whereas the eurozone economy as a whole has expanded by 6.5% (Exhibit 2). Many of Italy's problems result from low levels of productivity which Renzi's structural reforms aim to improve.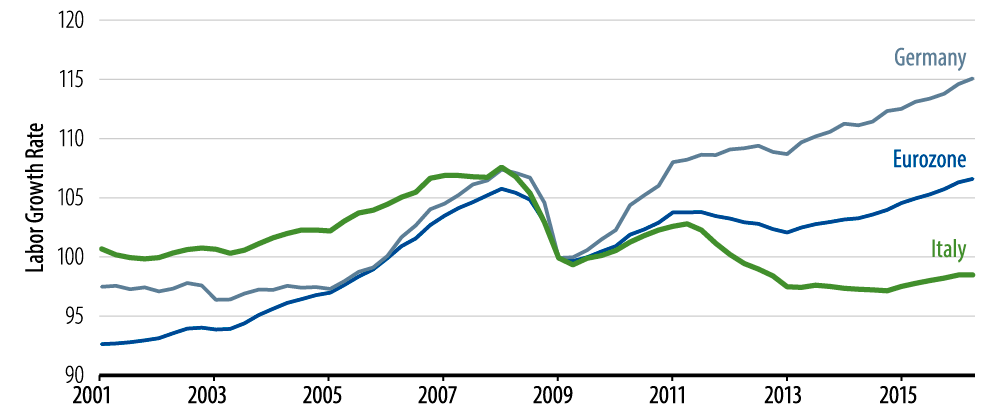 In May, Italy was granted extra fiscal room by the European Commission equivalent to 0.85% of GDP following heavy lobbying by Renzi. In return the commission made clear Italy must tighten fiscal policy next year to reduce its deficit to 1.8% in 2017. Final GDP data released September 2 confirmed that the Italian economy stagnated in the second quarter following five successive quarters of expansion, putting this deficit target at risk. Costs associated with the Accumoli earthquake only add to Renzi's woes and he is already posturing with European policymakers to relax the rules to allow for a more growth-friendly 2017 budget.6 The debate between the European Commission, pushing for tighter fiscal policy, and Renzi, looking for a more expansionary 2017 budget in light of the economic slowdown, will likely become more confrontational as we approach the referendum. Renzi will want to prove to his electorate he is willing to stand up to the rest of Europe and fight for what is in Italy's best interest. Any sign that the commission is likely to give into Renzi's demand for a more expansionary 2017 budget will likely be received well by markets and by the Italian electorate, helping sway the vote in favour of "yes."
Italian Banks
Italian bank shares have fallen sharply since the beginning of the year, down 42% versus 20% for the European Banks Index. Consequently, the major Italian banks trade at a very low average price/book ratio of around 0.38x. At the same time, with increasing concerns around how the ECB's policy of negative interest rates and quantitative easing (QE) could further challenge banks' earnings power, and as a consequence make it harder for them to clean up their balance sheets and support growth in the Italian economy, the health and vulnerability of Italy's banking system has once again come to the centre of investor focus.
Figures from the latest Bank of Italy Financial Stability Report show that Italian banks are burdened with €360 billion of non-performing loans (NPLs). Results of the European Banking Authority stress test released on July 29 further highlight the challenges of the sector and that the Italian banking system remains amongst the most vulnerable in Europe.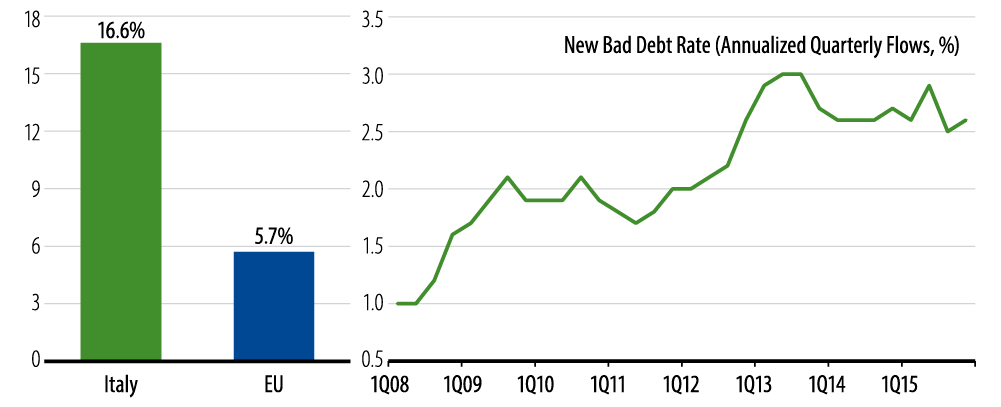 Italian authorities are trying to clean up the banks' balance sheets against a changed backdrop of EU state aid rules. Today's rules prohibit governments from recapitalising their respective banking systems without some burden sharing or "bail-in" from existing creditors. Beyond the authorities' fears regarding the impact of bail-in on financial stability, bail-ins in Italy are further complicated by the fact that significant amounts of subordinated and senior unsecured bonds have been sold to banks' retail clients. The Bank of Italy estimates that subordinated bonds totalling €29 billion (equivalent to 0.7% of household wealth) and €173 billion of senior unsecured bonds (equivalent to 4.3% of household wealth) are held by retail investors. Clearly any sign that retail investors are likely to suffer losses in event of bank recapitalisations would reflect badly on Renzi and push voters towards a "no" vote.
With retail involvement making bail-ins politically undesirable and state aid rules limiting the options of governments to provide public funds to address the asset quality issues of the system, the Italian authorities have been exploring options to strengthen banks' balance sheets. One of the key initiatives was the setting up of a government-organised bank support fund called Atlante. The fund (designed not to violate state aid rules) will invest both in shares of banks that have been asked to raise capital by the supervisory authorities and in junior/mezzanine tranches of bad debt securitisations. While the former is intended to effectively create a backstop to bank capital raises, the latter aims to encourage the development of the traded NPL market. Overall, Atlante funds have raised around €6 billion, which can provide relief to parts of the system, but we do not see this as a systemic fix given that this is dwarfed by the volume of bad loans in the system. Legislative changes, such as trying to make the workout process of impaired loans more efficient could help banks work through their asset quality problems. With workout procedures taking very long in Italy when compared with other European jurisdictions (around seven years), we see the reform agenda of the country's bankruptcy system as another sign that the authorities are committed to tackling a key issue that has contributed to the country's bank-asset quality problems. The situation remains fluid. We are encouraged that policymakers outside of Italy are open to finding a solution that avoids the "bail-in" of retail creditors. From a credit perspective, Western Asset remains underweight the majority of Italian banks.
How Western Asset is Positioning Our Clients' Portfolios
We think Italian sovereign bond spreads continue to offer value and remain overweight across global portfolios focussed on the 10-year part of the yield curve. From a technical standpoint we have been gradually reducing our position ahead of negative supply dynamics that hit the Italian bond market in October. The net cash requirement7 (NCR) is essentially flat in October, having been negative for the preceding six months (see Exhibit 4).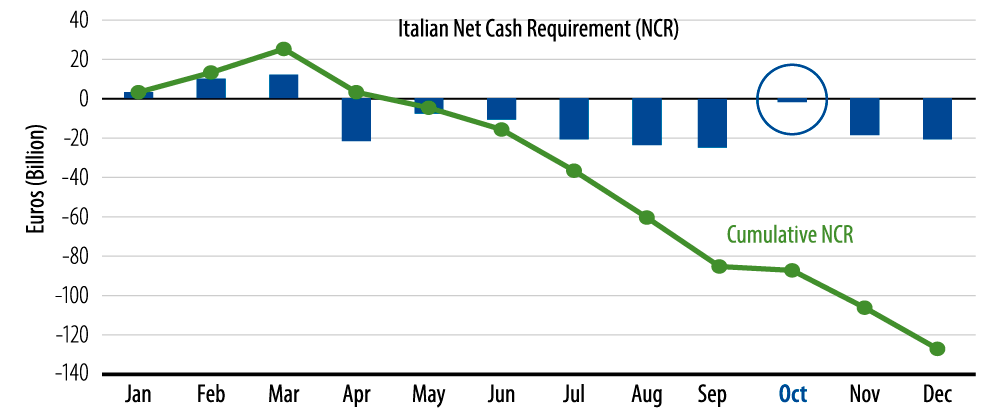 When the NCR is negative, the demand for Italian debt, assuming coupon payments and redemptions are reinvested into the market, exceeds supply introducing a strong technical tailwind for spread compression. Because there are no Italian government bond redemptions in October, the NCR is flat, and this means the aggregate of coupon reinvestment and ECB QE bond purchases will only just about cover gross supply leaving no room to absorb selling pressure if investors look to reducing holdings ahead of the referendum. For this reason, we have been tactically reducing our exposure over recent weeks with the view to add this back if the market experiences some spread widening. Longer-term we continue to see value in Italian bonds on a spread basis and if Renzi is successful later this year, a "yes" vote in the referendum should be the catalyst for the next leg of Italian bond outperformance.
The risk to our position is if the Italian electorate votes "no." We think the initial market reaction would be negative, pushing peripheral spreads wider and the euro lower. We think this would present a buying opportunity and we would look for any spread widening to increase our overweight position, as we think the ECB backstop is credible and fully flexible. To protect portfolios against this outcome investors can take advantage of low levels of euro currency volatility by buying put options on the euro. We think the euro currency volatility market is too complacent and misjudges the negative euro-wide consequences of a "no" vote. To fund this position we like selling out-of-the-money (OTM) euro calls. We think deflationary forces across the eurozone place a ceiling on potential euro currency strength versus the US dollar. The ECB policy response would be key to determining how markets navigate the post "no" vote fallout. ECB President Mario Draghi refrained from easing policy at the September 8 meeting; however, he left a number of possible options on the table. The current QE program is scheduled to end in March 2017. Our view is that inflation expectations in the eurozone remain at risk of becoming unanchored to the downside and that QE will be extended to at least the end of 2017 alongside some technical adjustments made to the current purchase program rules.
A "no" vote later this year in Italy would only lower the hurdle for more policy action. Once again, Draghi may be forced to do whatever it takes to preserve the euro.
Endnotes
Estimated to be 132.6% of GDP as of December 2015, Source Bloomberg.
Full question: Do you approve the constitutional bill concerning the dispositions to overcome the perfect bicameralism, the reduction of the number of members of the Parliament, the restraint of the institutions' operating costs, the abolition of CNEL and the revision of Titolo V of the 2nd part of the Constitution, which was approved by the Parliament and publicated on the Gazzetta Ufficiale n. 88, on April 15, 2016?
"If the referendum passes, a regional governor will no longer earn more than the Prime Minister. Or more than the US President." -Matteo Renzi
Source: UN Refugee Agency Monthly Update June 2016.
Here we define the cycle recovery period as 31/3/2009–30/6/2016.
The Italian President Sergio Mattarella would like the 2017 budget agreed before the referendum.
Defined as Italian government bond gross supply—coupons—redemptions—ECB QE purchases
© Western Asset Management Company, LLC 2022. This publication is the property of Western Asset and is intended for the sole use of its clients, consultants, and other intended recipients. It should not be forwarded to any other person. Contents herein should be treated as confidential and proprietary information. This material may not be reproduced or used in any form or medium without express written permission.
Past results are not indicative of future investment results. This publication is for informational purposes only and reflects the current opinions of Western Asset. Information contained herein is believed to be accurate, but cannot be guaranteed. Opinions represented are not intended as an offer or solicitation with respect to the purchase or sale of any security and are subject to change without notice. Statements in this material should not be considered investment advice. Employees and/or clients of Western Asset may have a position in the securities mentioned. This publication has been prepared without taking into account your objectives, financial situation or needs. Before acting on this information, you should consider its appropriateness having regard to your objectives, financial situation or needs. It is your responsibility to be aware of and observe the applicable laws and regulations of your country of residence.
Western Asset Management Company Distribuidora de Títulos e Valores Mobiliários Limitada is authorized and regulated by Comissão de Valores Mobiliários and Brazilian Central Bank. Western Asset Management Company Pty Ltd ABN 41 117 767 923 is the holder of the Australian Financial Services Licence 303160. Western Asset Management Company Pte. Ltd. Co. Reg. No. 200007692R is a holder of a Capital Markets Services Licence for fund management and regulated by the Monetary Authority of Singapore. Western Asset Management Company Ltd is a registered Financial Instruments Business Operator and regulated by the Financial Services Agency of Japan. Western Asset Management Company Limited is authorised and regulated by the Financial Conduct Authority ("FCA") (FRN 145930). This communication is intended for distribution to Professional Clients only if deemed to be a financial promotion in the UK as defined by the FCA. This communication may also be intended for certain EEA countries where Western Asset has been granted permission to do so. For the current list of the approved EEA countries please contact Western Asset at +44 (0)20 7422 3000.