KEY TAKEAWAYS
Western Asset has been managing multi-sector bond portfolios since 1996.

We offer three unique multi-sector bond strategies: Global Multi-Sector (GMS), Multi-Asset Credit (MAC) and Credit Opportunities (CO).

Each strategy varies in terms of investment objective, opportunity set and guidelines—and each was created at a different point in time to address specific investor needs.

Western Asset is distinguished by our global footprint, depth of resources and long history in actively managing multi-sector strategies.
Multi-sector bond strategies have become increasingly popular over the past few years. There are two key reasons for this. First, yields on government bonds and risk assets globally have continued to fall while duration has extended, making it harder for investors to both manage portfolio risk and identify reliable sources of income and total return. Second, more investors have been looking for ways to consolidate their lineup of funds and/or asset managers, and have begun turning to "one stop" credit solutions where an experienced manager makes the asset allocation decisions for them. That stated, identifying the best strategy can be daunting given the number and variety of options in the marketplace.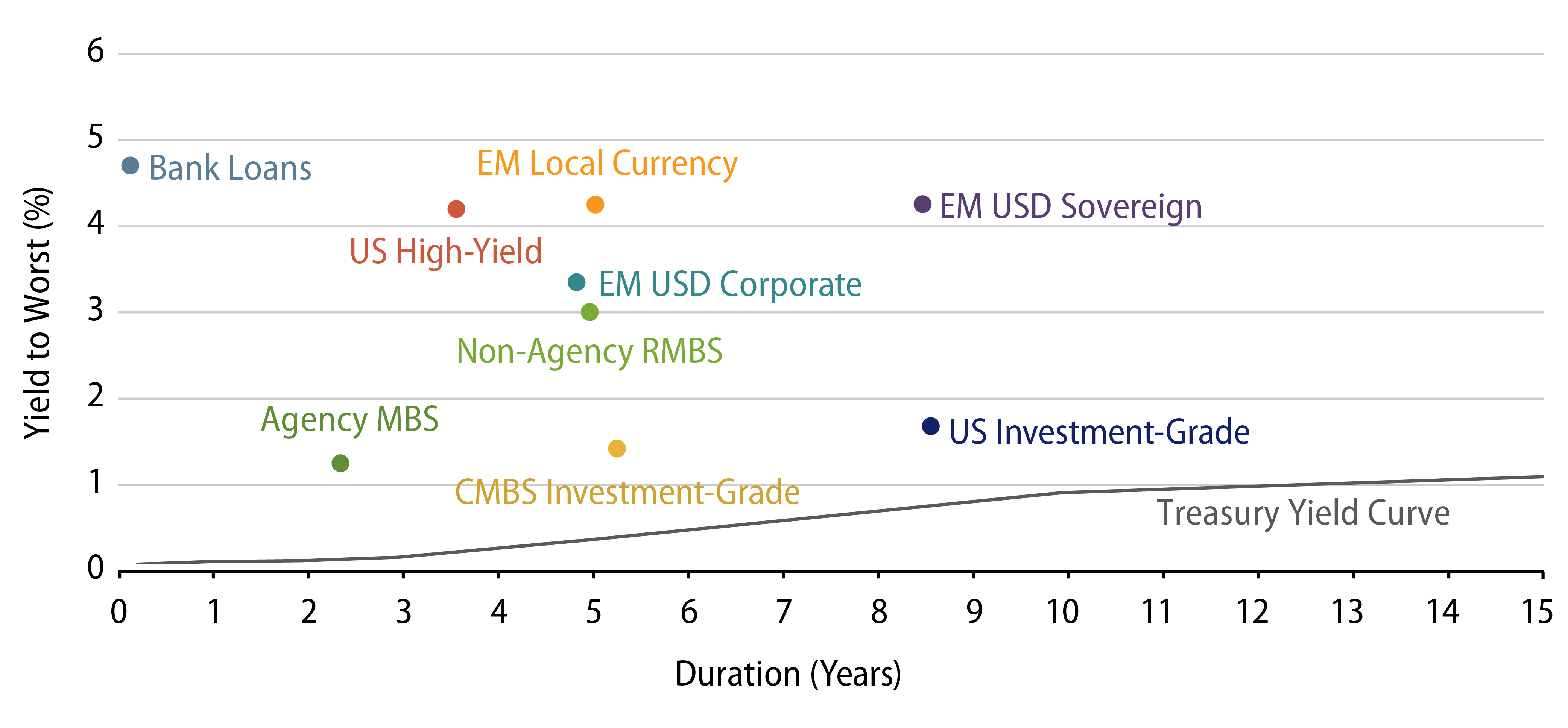 For instance, some multi-sector strategies invest in just a handful of sectors (e.g., corporate credit and bank loans) while others invest across the entire credit spectrum, both public and private. There are strategies that are more global in nature while others are more regional or country-focused. Some are managed on an unconstrained (or non benchmarked) basis while others use a soft benchmark as a measuring post. You may also find strategies that include equity, real estate or distressed debt to boost their return profile and others that focus only on investment-grade rated securities to minimize drawdown risk. At the end of the day, the choice you make should boil down to your comfort level with an asset manager's fixed-income capabilities, their history investing in global credit markets and their experience and success in managing multi-sector bond strategies.
Multi-Sector Bond Strategies at Western Asset
Western Asset has been managing multi-sector bond portfolios since 1996. As you can see in Exhibit 2, we offer investors three unique multi-sector bond strategies: Global Multi-Sector (GMS), Multi-Asset Credit (MAC) and Credit Opportunities (CO). Each one of these strategies is different in terms of investment objective, opportunity set and guidelines, and were introduced to the marketplace at different points in time to solve for specific investor needs. However, they all leverage our collective experience in identifying relative value across sectors, informed by managing both benchmarked and unconstrained single-sector credit portfolios.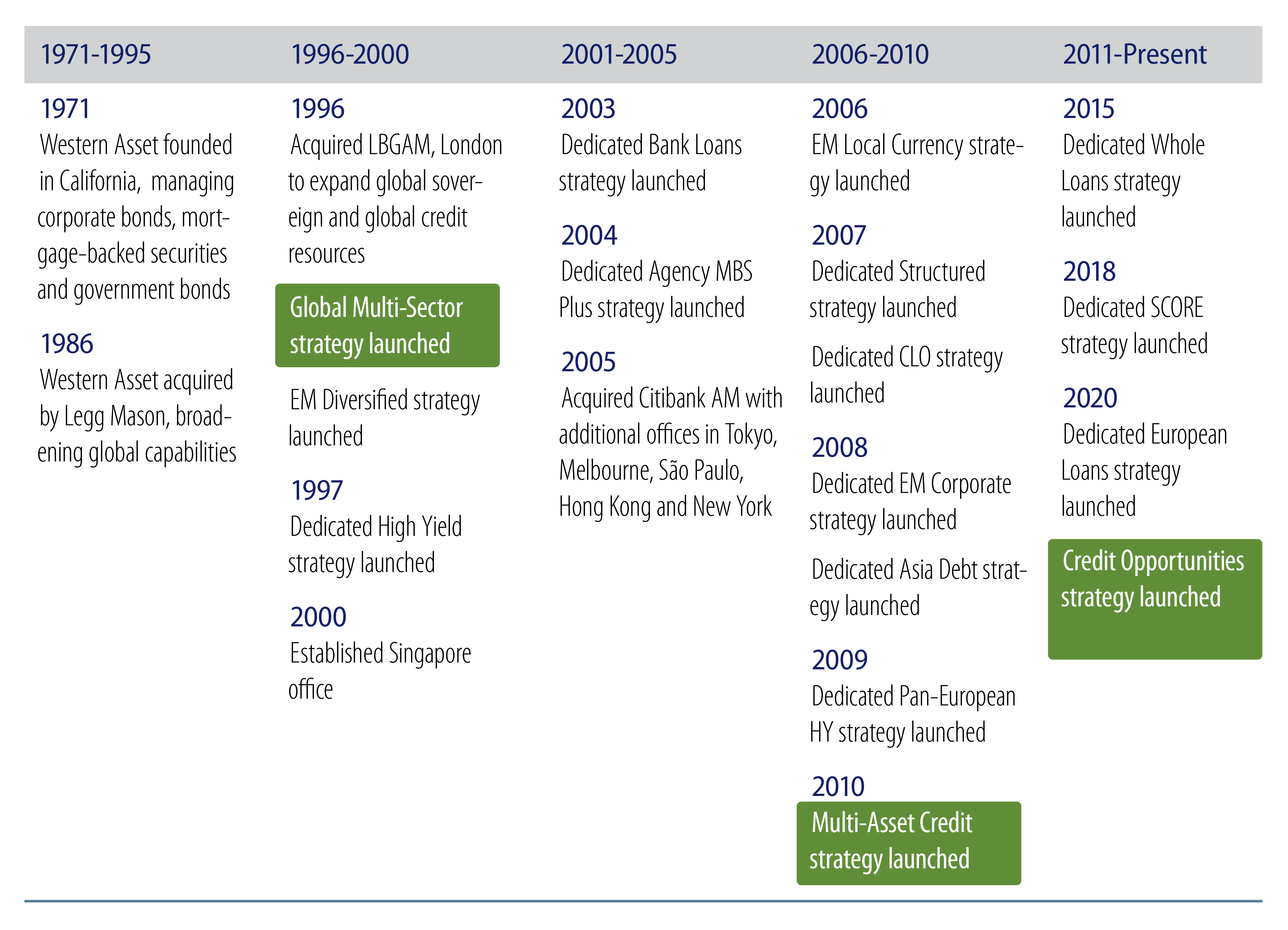 At Western Asset, our investment process for managing multi-sector bond portfolios is very similar to what you would see with our broad market strategies. While there will always be differences in portfolio construction, the essential oversight and investment themes are very similar. Our process always starts with the top-down view from the Firm's Global Investment Strategy Committee. This is the group of senior portfolio managers and sector heads who discuss and develop the Firm's views on global growth conditions, interest rates, central bank policy and anything you can think of that you'd consider a macro insider perspective. All related issues are debated and discussed, then ultimately a recommendation is determined by this Committee.
In addition, Western Asset's Global Credit Committee, which includes the heads of the various credit asset classes, meets monthly to discuss value across credit markets. Topics of discussion always include investment-grade (IG) and high-yield (HY) credit/bank loans, both US and non-US. This Committee oversees broad credit strategies for broad market and dedicated credit assignments. It publishes its views on value across credit asset classes and can influence industry and rating positioning in dedicated credit portfolios. These are the central top-down influences on the Firm's credit investment process and portfolio construction decisions.
We then bring those views to our Unconstrained Asset Allocation Committee. This Committee meets on a biweekly basis with the goal of honing the Firm's relative value views. We always emphasize the importance of this Committee in client discussions because we believe it's something that Western Asset does very well. When you talk to sector portfolio managers or sector specialists, they're always well versed at evaluating opportunities, risks and other nuances in their overall space. But it gets a lot more challenging when you ask a portfolio manager to compare and contrast their particular sector versus others; for example, comparing IG corporate credit with non-agency mortgages.
Looking at Western Asset's long investment history, especially with our US Core and US Core Plus strategies, we've cut our teeth on making opportunistic allocations through all kinds of market cycles. We believe this collective experience combined with our investment philosophy—one that emphasizes long-term, fundamental value with a diversified strategies approach—provides a solid, battle-tested framework for actively identifying opportunities in different sectors and reacting and responding to them appropriately. This process is baked into our history and we believe this Committee does an excellent job of homing in on those particular insights that lead to adding value in client portfolios.
Global Multi-Sector (GMS)
GMS is a highly diversified strategy that seeks to deliver positive, risk-adjusted returns over time. We aim to achieve a return over a market cycle of cash plus 2% to 3%, with a volatility target or risk budget in the range of 5% to 7%. When we were designing the GMS strategy back in 1996, we had in mind investors with a volatility tolerance broadly consistent with IG corporate bonds, so we set the investment parameters to ensure the strategy maintains an average credit rating profile that is at all times Baa3/BBB- or better. GMS effectively combines some of the higher-yielding, more-volatile asset classes such as high-yield and emerging market (EM) debt (typically between 30% and 70% exposure) with some of the less-correlated, lower-volatility asset classes such as IG corporate bonds, government bonds and agency mortgages that can help dampen portfolio volatility during periods of market stress.
GMS uses a flexible approach to duration management and also uses active currency overlays to add to returns or hedge various risks within the portfolio, such as those arising from credit, European peripheral markets or declining commodity prices. Because exchange-rate volatility can be significantly higher than that of bonds, we're always thoughtful with the sizing of any currency exposures to ensure they don't overwhelm investment results.
GMS has a globally diversified investor base that includes pension funds, insurance companies and other institutional investors. Our investors use GMS for a variety of purposes. For example, pension funds that have hedged out their long-term liabilities via an interest-rate swap often invest in GMS to help meet the cost of the swap. Other clients who use GMS are those who wish to invest in EM and high-yield, but don't have the resources to manage sector allocation. Also, some clients who have exposure to more traditional core fixed-income mandates invest a portion of their portfolios in GMS to seek more of a "core plus" style of investment.
Multi-Asset Credit (MAC)
Launched in 2010, MAC is a diversified, unconstrained strategy with high income as its primary objective. MAC's investable universe spans the whole global fixed-income spectrum: IG and HY corporate bonds, bank loans, collateralized loan obligations (CLOs), EM debt and structured securities. Unlike GMS, MAC has no credit quality or sector bias. However, the strategy is managed to a risk budget of 5% to 7%, which allows the investment team sufficient latitude to find value across global credit markets, while simultaneously acting as a key risk-control factor.
MAC has the flexibility to adjust portfolio duration from 0 to 10 years. In our view, while there will always be an ideological debate over the use of duration in MAC strategies or what might be the most effective hedge for a broad fixed-income portfolio, tactical duration positioning in a credit-oriented strategy has strong merit. We favor US Treasuries as a hedging tool to protect MAC portfolios against broad market volatility based on the view that the low correlation between US government bonds and risk assets will persist.
One of the key differentiators of MAC is the inclusion of tail-risk hedges intended to protect a client's portfolio against significant drawdowns when credit markets come under pressure. We generally prefer to use option strategies on the S&P 500 Index given their low cost and meaningful correlation to higher-beta segments of the fixed-income market (e.g., US high-yield) during periods of market turbulence.
Western Asset MAC clients include official institutions, corporate accounts, pension plans, insurance companies and retail investors. In addition to an "off-the-shelf" version of MAC, the Firm manages a number of customized mandates for clients with varying objectives, risk tolerances and portfolio preferences (e.g., shorter-duration MAC, portfolios without the tail risk feature or with more or less exposure to a particular sector).
Credit Opportunities (CO)
Credit Opportunities is the third and latest addition to Western Asset's multi-sector strategy lineup. Launched in late August 2020, CO has a singular focus: to exploit high total return opportunities across credit markets. This is very different from MAC, which primarily has an income focus, and GMS, which looks to generate returns of cash plus 2% to 3% and is IG-constrained at the portfolio level. CO responds aggressively to where we see the best risk-adjusted opportunities in the IG, HY, bank loan, CLO and structured credit markets. The strategy does not invest in private or distressed debt or look to capitalize on the outcome of a complex debt restructuring. Instead, it focuses on reasonably liquid markets, on issuers with a decent liquidity profile and securities that are severely mispriced due to market dislocations. To allow for maximum flexibility, CO is not constrained by either a benchmark or risk budget, credit rating quality or other portfolio-level guidelines. As such, the allocation to credit sectors in the portfolio can look very different at any point in time.
At present, total return prospects for CO are compelling. This is premised on our view of a long, U-shaped recovery in 2021 and our expectation that central banks will continue to be extraordinarily accommodative and will remain so to support the recovery (more details about our latest views can be found in our Global Credit Monitor, which is updated every quarter). Given this outlook, we developed assumptions for where spreads for each asset class may trend to over the next 12 months. For example, as indicated in Exhibit 5, the spread level for the US high-yield market closed at 361 basis points (bps) on December 31, 2020. If markets begin to respond more positively to the progress being made around combatting COVID-19 and we see a steady and sustained recovery in global economic activity, it's not unreasonable that we'd see HY and bank loan spreads compressing further by another 50-100 bps (cognizant of the fact that there may be episodes of market volatility along the way). You can also compare December month-end spreads to where they closed in 2019. In either case, that degree of spread tightening over a one-year period can translate into a meaningful total return, especially when you include carry or income return.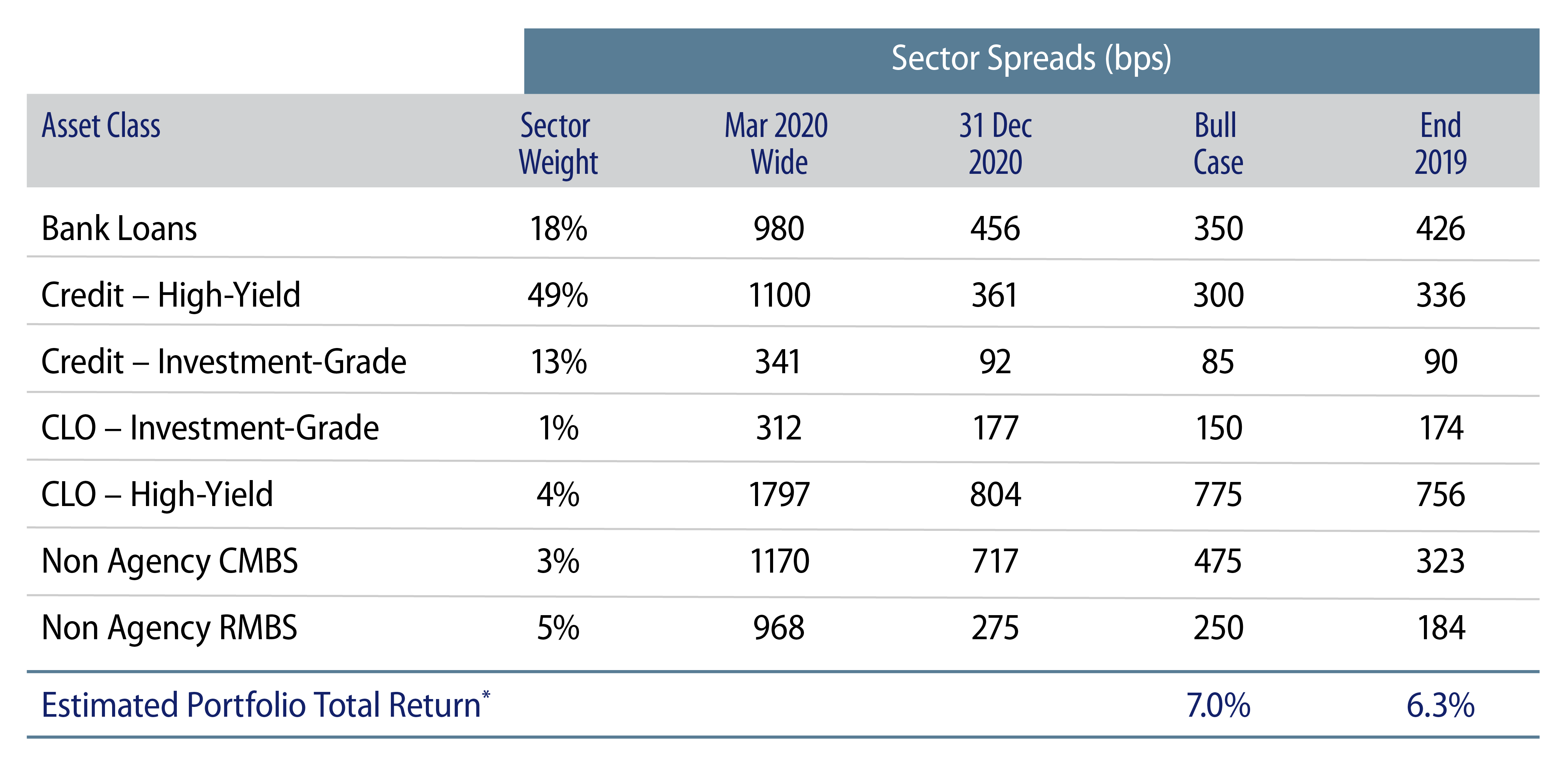 Why Invest in Western Asset Multi-Sector Bond Strategies?
In this period of low interest rates and macro uncertainties globally, multi-sector bond strategies can help investors address their concerns around asset allocation, market timing and risk management. At Western Asset, we offer three unique solutions—each aimed at solving for varying objectives—along with the ability to customize portfolios based on your individual risk tolerance and investment needs. We recognize that the marketplace for these strategies is crowded, but we believe that our global footprint, depth of resources and long history in actively managing multi-sector strategies are important, differentiating factors that set us apart.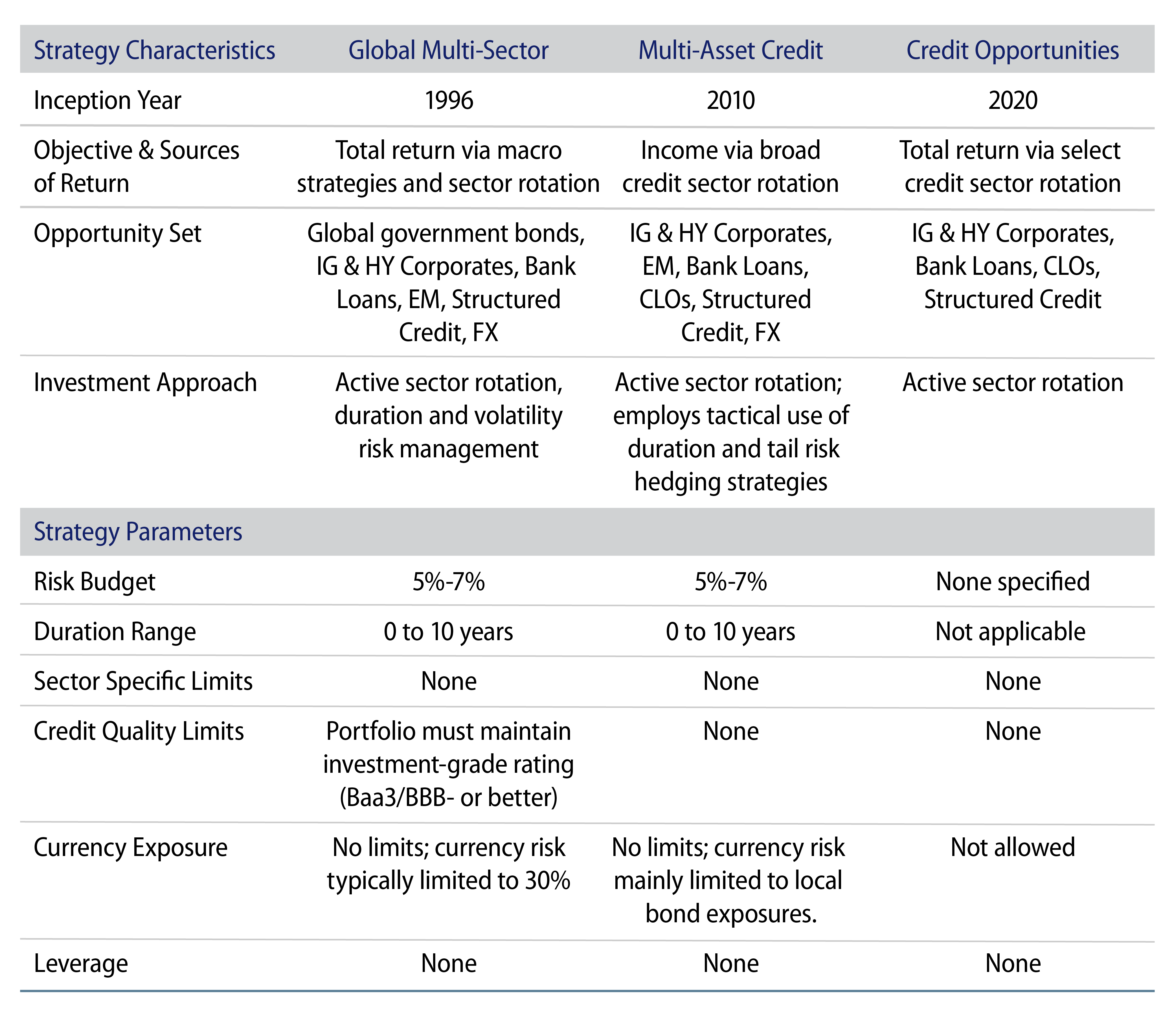 View the Performance and Risk Disclosures for Multi-Sector Bond Strategies.